At only 22 miles long, the beautiful island of St. Croix is a perfect tiny island getaway full of family resorts, making it perfect for your next family vacation.
A short distance from mainland USA, the island is rich in colonial history, as well as being host to a range of duty-free shopping experiences and a breath-taking array of marine activities.
Both St. Croix and St. Thomas make up the US Virgin Islands. Why not also check out our guides to the best St. Thomas all-inclusive family resorts and the best US Virgin Islands all-inclusive resorts?
We've compiled a list of some of the finest inclusive resorts and available properties on St. Croix Island, all of which boast stunning views of the ocean and a range of activities to ensure your family's getaway is one to remember.
The tastefully decorated rooms at the Divi Carina Bay Beach Resort all have fully equipped kitchens and boast private balconies as standard, so when you wake up in the cooling blue and white interiors of their luxury rooms, enjoying a coffee overlooking their stunning private beach is just moments away.
As of February 2022, the all-inclusive option at the Divi Carina Bay Resort will give your family unlimited dining at all four of their gourmet restaurants such as poolside al fresco dining at the Ocean Bar and Grill or seasonal buffet-style eating at The Wave.
The Divi Carina Bay is moments from a sugar-white sand beach typical to St. Croix, with lounging chairs, shady trees, and a range of water sports including pickleball, beach workout classes, and even a mini-golf course.
The Divi Carina Bay also has its own on-site spa and water center with access to surfing, paddleboarding, scuba diving, and snorkeling.
The Cane Bay Wall is also nearby, a stunning underwater dive site that drops from 40ft to over 13,200ft, offering a host of stunning underwater wildlife and coral reefs, if you're feeling adventurous!
By night, try your luck at the on-site Oceans Casino complete with a restaurant and bar and a host of slots and table games.
This cozy 28 room hotel is perched on a secluded hilltop, giving families a million-dollar view over the beautiful bay and clear waters of historic Charlotte Amalie, the capital city of the US Virgin Islands. The rooms are generously sized and come either as one-bedroom suites or as a suite sleeping up to four party members.
All of which come equipped with a private balcony, washer/dryer, and flat-screen television.
Each also has a fully equipped kitchen so you can turn your resort stay into a comfortable self-catering one if you don't want to take advantage of the resort's three on-site, tax-free restaurants.
Founded in 1666, the town of Charlotte Amalie is home to a host of family-friendly activities showcasing the history of the area such as the Marie Lawaetz Museum, as well as a bundle of snorkeling and scuba attractions, not to mention that all the shopping opportunities available in the area are tax-free.
The Coral World Ocean Park is a 5-acre nature complex featuring aquariums, an observatory, and outdoor tidal pools where your family can swim with sea lions and feed stingrays.
The town of St. Thomas is also home to over forty beaches, each offering something to suit every family's needs, whether it's solitude or water sports, and all of them are only a short distance from the hilltop vantage of the Pirate's Pension.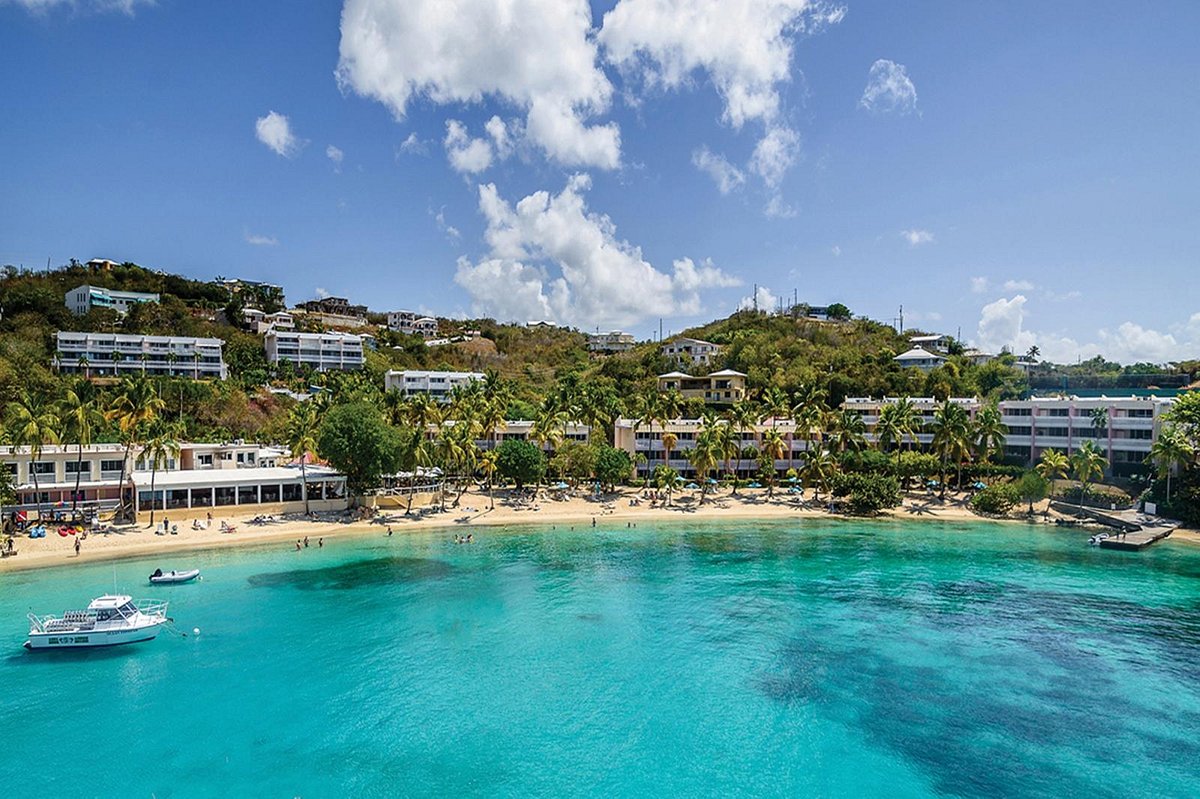 Living up to its name, The Secret Harbour Beach inclusive resort is located on the tranquil East end of St. Thomas in a secluded beachfront location with a host of 1, 2, and 3 bedroom condo-style apartments nestled in a prime hillside and beachfront locations making it perfect for families of every size.
Each of Secret Harbour Beach Resort's spacious condos were renovated in 2018/19 and come decorated in a beautiful island-style, equipped with a fully functioning kitchen, air conditioning, and a private patio or balcony to soak up the beautiful ocean views as the crystal water laps at the beach which is only a stone's throw from your apartment.
If you do decide to eat out the resort has two gourmet restaurants both offering waterfront dining.
You can have food ordered and delivered to your condo from the Patio restaurant and the resort also offers a convenient grocer delivery service to ensure you've got all the makings you need for home cooking.
The resort has a host of special features beginning with an air-conditioned fitness center and tennis courts, an on-site spa as well as a host of water activities to take advantage of the seafront location, including professionally-led family-friendly scuba diving instruction and day-long boat trips to explore the nearby marine beauty.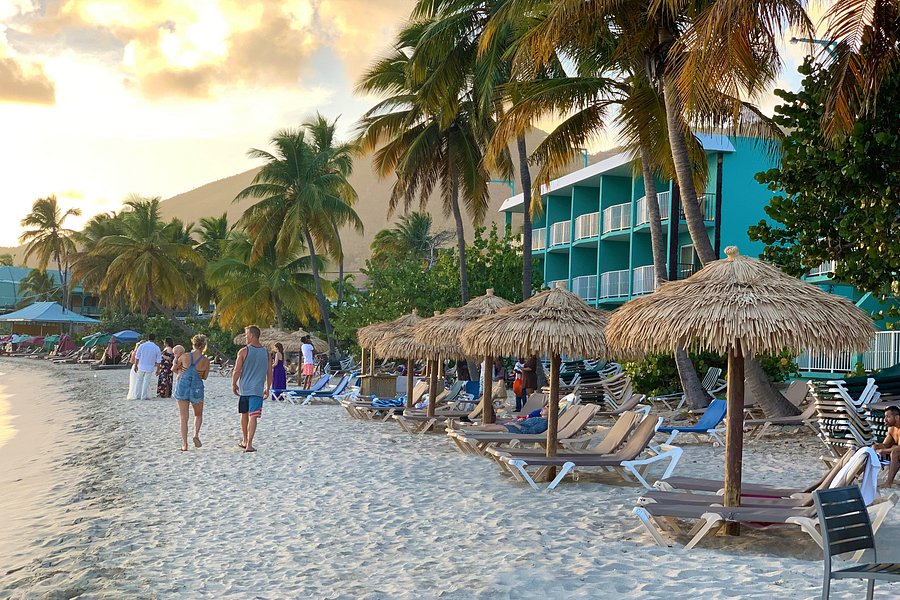 Ensconced in lush tropical rain forest-style gardens and only a few minutes walk from beautiful downtown Charlotte Amalie, Emerald Beach Resort is special among family-friendly all-inclusive resorts in St. Croix as its full-frontal beachfront situation offers stunning ocean views no matter where your room is.
This 90 room boutique-style resort offers a peaceful beachfront environment where you can lounge on your private balcony, or o a poolside or beachfront lounge chair or take in the authentic Virgin Islands flavor strolling the peaceful streets of Charlotte Amalie.
The resort is home to an oceanfront resort where you can try locally sourced authentic seafood in the Virgin Islands style, as well as a fitness suite, water sports rental service, and a weekly cocktail party every Monday!
Voted one of the top 15 hotels in the Caribbean, The Blue Horizon Resort is located on the beautiful and peaceful Isla de Vieques, a small island 7 miles off the coast of Puerto Rico.
Easily accessed by ferry or small aircraft, Isla de Vieques offers a quiet getaway in the authentic heart of the US Virgin Islands.
The newly renovated rooms either offer a stunning ocean view or are situated a few steps from the sandy beach.
Each is plush and comfortable with cooling tile flooring and a soothing open plan feel.
Have a bite to eat at the oceanfront Carambola restaurant, set on 54 acres of private property which offers a fantastic brunch. And to make the most of the island's beautiful selection of secluded beaches the resort offers a Jeep rental service, so you can explore the island your way.
The relaxed and welcoming atmosphere of the Flamboyan on The Bay makes it one of St. Croix's top family-friendly hotels.
Situated on 7 acres of land, The Flamboyan has two outdoor swimming pools, one of which overlooks the beautiful Magens Bay beach.
It also has two tennis courts and a video game center, a spa, and the option to rent your own barbecue to host your family cookout.
St. Thomas is home to over 40 beaches, with a host of water-based activities, and it's only a short distance from the chilled mountaintop perch of the Flamboyan.
Here you can try saltwater kayaking and scuba diving as well hiking the beautiful island trails, not to mention the longest-running duty-free shopping available in the downtown area.
One of the longest-running all-inclusive family resorts in the St. Croix, Bolongo Bay prides itself on the extensive special features included in the all-inclusive packages.
They do not run a buffet but instead, a full restaurant experience prepared to order including lobster, prime rib, and steak, though a breakfast buffet is available for those looking to fill up before an excursion-filled day.
Further to this, there's an unlimited supply of bottled beer and house wine, not to mention bottomless cocktails, access to the spa, and to those who book the 5-day all-inclusive 53-foot package, the Bolongo Bay offers a harbor cocktail cruise on their 53-foot catamaran.
Access to sailing, snorkeling, paddleboarding, and kayaking are also included in their comprehensive package.
There's even the opportunity to go snorkeling with turtles or even scuba dive to underwater shipwrecks.
The unpretentious authenticity of the Bolongo Bay ensures you and your family will enjoy a warm and personable stay, just a short trip from mainland USA.
One of the smaller resorts in St Croix, the 40 room Tamarind Reef Resort is located a short journey from the Christiansted resort and offers a tranquil getaway among palm trees and lush tropical lawns in a beautiful seafront environment.
The beach at the Tamarind Reef resort was voted the best beach on St. Croix Island for two years running in 2013 and 2014.
It offers a serene blend of shade, sun, and a -friendly wading area as well as thatched cabanas and lounge chairs, and a volleyball net for sporty guests and families.
The Green Cay Marina is just moments from the hotel and offers the opportunity to take a chartered cruise. The hotel also allows the use of all their amenities to those with boats making landfall nearby.
Soak in the history of the area at the Christiansted National Historic Site, covering over 7 acres and encompassing the rich international history of the area, as well as visiting the Apothecary Museum.
The plush St. Croix Island accommodations at the Tamarind Reef Resort offer a variety of rooms depending on your needs all complete with tile flooring and king or queen size beds, some coming equipped with kitchenette facilities.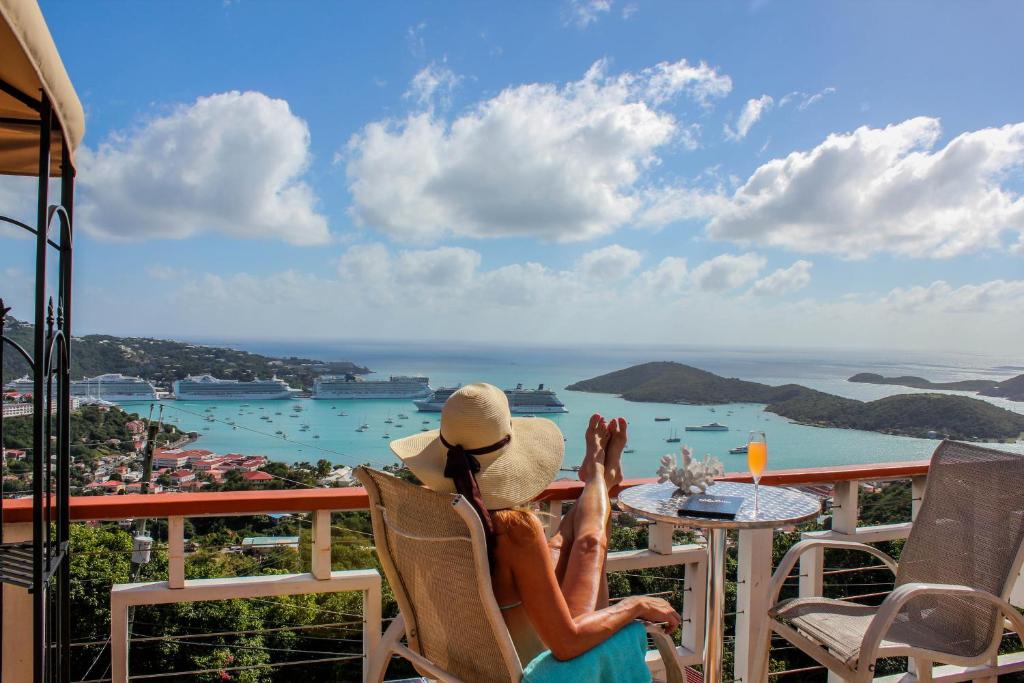 Sitting at 866ft above sea level, the Mafolie Hotel boasts the finest million-dollar view of all hotels in St. Croix Island for the lowest nightly price on our list.
The sweeping view is available while relaxing at the pool or enjoying the daily complimentary breakfast at the bar.
The pocket-sized Mafolie Hotel has only 22 rooms to its name and is renowned for its value with no cost to the comfort.
All the rooms have plush beds and cable television in a beautifully decorated cooling open plan style.
It's also home to the tiniest hotel room on St. Croix Island, perfect for a cozy getaway after a night on the tiles.
By night enjoy an authentic meal at the renowned Mafolie restaurant which serves a host of locally sourced authentic seafood fare with a view across St. Croix Island as it twinkles to life.
Positioned in a site once used as an anchor point for pirates, the Hotel on the Cay (pronounced 'key') is set in a 5-acre idyll only a 2-minute ferry ride from downtown Christiansted resort.
One of the most truly unique and historic hotels in St. Croix island getaway prides itself on character over luxury.
The 53 rooms are nestled in a historic building surrounded by lush greenery, filled with unique and rare wildlife.
The beach at the Hotel on The Cay is the only one in downtown Christiansted, meaning you'll have the perfect opportunity to meet other St. Croix holiday goers while you relax.
Authentic barbecue is available at the Rolling Smoke on the Cay and refreshing cocktails can be had from 10-1o daily on the waterfront.
In Summary
Whether it's plush luxury or US Virgin Islands authenticity you're searching for your family vacation, the magical St. Croix Island has an extensive range of resorts to suit your needs.
Regardless of whether it's peace or a fun-filled hotels week of excursions you're after, each of the select resorts in this list guarantees plush lodgings, beautiful ocean views, authentic St. Croix cuisine, and idyllic sugar-white beaches just a moment's stroll away.
More about our TFVG Author
A seasoned traveller, Dad, and avid sports tourist, James foundered The Family Vacation Guide to share his expert vacation experiences- especially when it comes to being a travelling family man.
Featured in Travel articles such as Travel + Leisure, TripSavvy and SFGate, you know you're reading some of the best vacation tips online.