If you're planning a trip to the Caribbean, you're probably dreaming of white sand beaches and crystal blue waters. But what about your kids? Which Caribbean island will they be likely to enjoy the most?
St. Lucia and St. Thomas are two of the most popular vacation destinations in the Caribbean, but let's discuss which one is better for you and your family so everyone can have the perfect trip. 
St. Lucia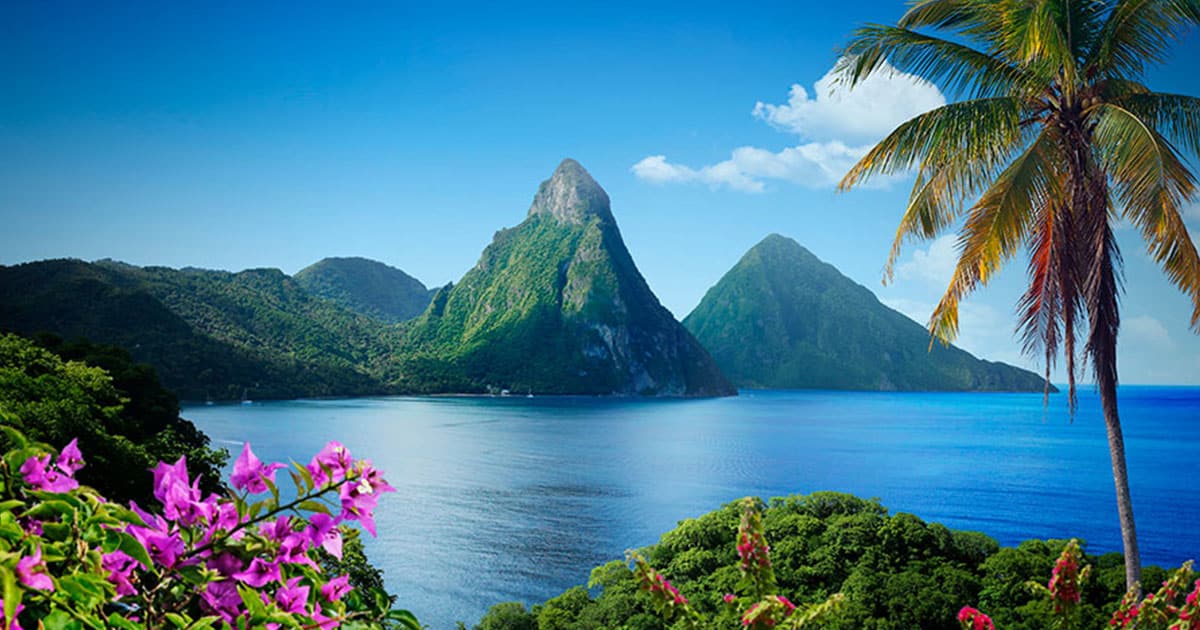 St. Lucia is a relatively new location for people looking for a Caribbean vacation, but it's a stunning island with much to offer visitors. From soft, blue beaches to fancy restaurants to day-long nature tours, St. Lucia is an exciting spot for families and couples!
Why not check out our guide to the best all-inclusive family resorts in St. Lucia for inspiration?
Beaches
The beaches in St. Lucia are known for being postcard-worthy and isolated, so you can enjoy a relaxing beach day. Many have restaurants or bars along the shore, so you can eat while sunbathing and find your peace.
Reduit Beach
Reduit Beach is a beautiful 5-mile stretch of soft sand and brilliant blue water. This beach is beloved by tourists and locals alike because of the space and views. There is a small island off the shore to gaze at and plenty of people watching to do if you're bored.
Kids can enjoy the clear water and delicate sand-free or rocks. And to keep everyone satisfied, there are bars and restaurants right on the beach, so you don't have to leave for lunch.
Reduit is a classic beach with all the activities one would expect, plus jet ski rentals are available if you're looking for something more thrilling than tanning.
Sugar Beach
One of the most idyllic beaches in the Caribbean, Sugar Beach or Jalousie Beach, has pure white, powdery sand with brilliant blue water and sea life.
This serene beach is the perfect place for snorkeling because of the stunning wildlife under the waves as well as the drastic 1800-foot drop not too far from the shore.
The beach is located at the base of the Piton Mountains, which is the cause of the dramatic drop in the seafloor. If you have a water-loving kid, this place is fun for diving, paddle-boarding, kayaking, and so much more. 
Marigot Bay
A luscious and popular beach on St. Lucia, Marigot Bay is a hub for boats and locals. You can relax on the beach with a drink or a sandwich while you watch the boats whizz by and soak up the buzz of this Caribbean atmosphere.
The bay has small beaches running along it, so there's a decent chance you can find a little private nook to relax with your family. But because of all the boats, you may not want small children swimming out too far. 
Why not check out our guide to the best St. Lucia beaches for families for more suggestions?
Food
St. Lucia has a romantic, honeymoon kind of vibe that is excellent for couples that want an intimate vacation. The trendy bars, fancy restaurants, and energetic nightlife is great for young people and newlyweds, but not so much for families. It can be tough to find chain restaurants or casual spots on the island, but if you look hard enough, they are there.
You'll get more of a taste for high-end, local cuisine on St. Lucia, which young children may not be on board for. However, if you are a family of foodies, St. Lucia has interesting and delicious cuisine to offer.
Activities
Kids get bored, but there are many activities on the island that can keep them busy and satisfied. Check out three of the most popular activities for families in St. Lucia. 
Tet Paul Nature Trail Day Tour
Want to explore the tropical wilderness the Caribbean has to offer? Take a full-day nature trail tour through the lush forest past waterfalls and rocky coves. Some tours are private, so you and your family get the full attention of your guide.
Check out babbling brooks and the incredible views St. Lucia has, following around this experienced local. Because it's a private tour, you can go at your own pace, skip things you don't care for, and enjoy certain areas for longer.
Horseback Riding at Atlantic Shores Beach
Kids and families that love horses will have the best time on this excursion. Ride majestic horses across the idyllic sands of the Atlantic Shores and connect as a family through this enchanting journey.
The activity is perfect for beginners or experienced riders and leads you down stunning trails and forest paths. And at the end, you get to walk or canter around the sandy beach with your new four-legged friend.
Treetop Canopy Adventure
An exhilarating ride through the luscious forest, a ziplining adventure is an exciting treat for the whole family that lasts a few hours. You can see the Caribbean forest from a whole new perspective.
Older kids will love this adventure, and as long as your little ones are over 4.1 feet tall, they can join in the fun too. And up to 14 people can participate, making it perfect for large families that want to do excursions together.
St. Thomas
St. Thomas is a popular vacation location, with loads of tourists visiting every year to enjoy the dazzling beaches and exciting excursions. St. Thomas may be a bit busier than St. Lucia because of its popularity, but the island still has plenty of space for you and your family!
Beaches
St. Thomas has some of the most beautiful shores in the world, making for stunning beaches. Check out these three exquisite beaches on St. Thomas.
Smith Bay Beach Park
Smith Beach Park is a wonderful spot for families with young children because there are plenty of shallow areas to swim around. The beach is more isolated from the rest of the island, so it doesn't get crowded and is usually quiet and peaceful.
The clear water, exquisite seashells, and swaying coconut trees makes this one of the best Caribbean beaches that won't be swarmed with tourists.
Sapphire Beach
Located right on the edge of a cover brimming with wild sea life, Sapphire Beach is one of the best beaches for mild explorations and snorkeling adventures. If you have kids that like to interact with nature, this is a great spot where they can do so safely.
The waves here are gentle, so small kids can enjoy the water, and you can enjoy the incredible view of the neighboring islands. If you're looking for something more exciting, wind-surfing is one of the most popular activities at Sapphire Beach.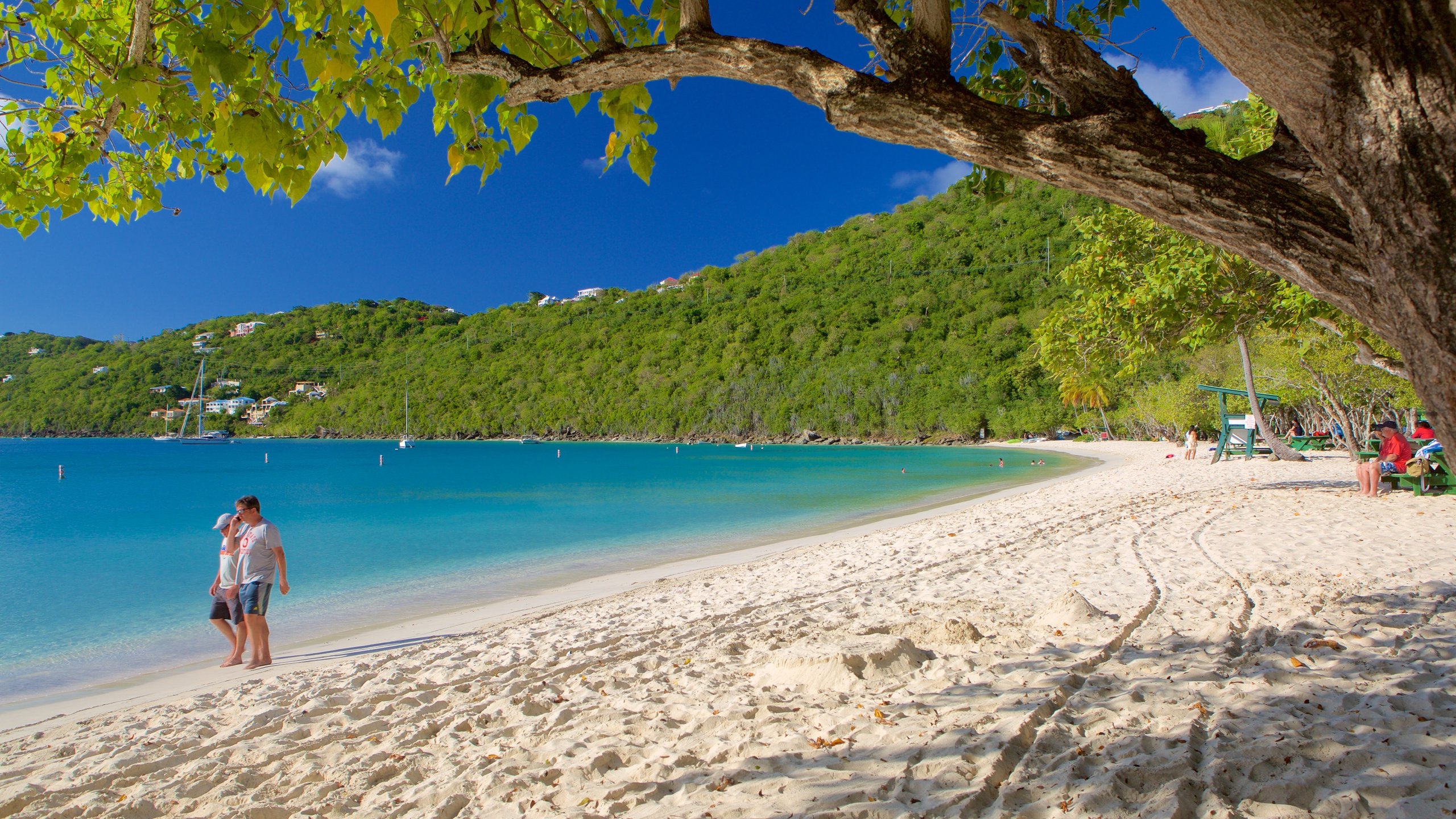 Magen's Bay Beach
While this mile-long beach has plenty of space for beach-goers, it can get crowded. However, this is one of the best beaches for families because there are bathrooms, showers, and changing stalls to make the beach visit more comfortable.
If you're a family that doesn't do well without creature comforts, even for a few hours, this is likely the best beach for you. Enjoy your lunch at one of the picnic tables set back from the sandy shore and enjoy the panorama view of the bay.
Food
St. Thomas has a wider range of food options than St. Lucia. There are many more casual eateries and on-the-go food options. The island is ideal for a family on the go that doesn't want to blow their budget on food or bring their kids to overly-fancy restaurants.
Chain restaurants are few and far between in the Caribbean, but St. Thomas has some familiar restaurants if you have picky eaters. Chain restaurants like Wendy's and Subway aren't difficult to find to satisfy any difficult diners in your family.
Activities
From museums to exhilarating adventures, St. Thomas has a plethora of fun excursions to offer a wide array of families.
Pirates Treasure Museum
The Pirates Treasure museum is the perfect activity for kids under 14. It's an interactive museum with a strong pirate theme throughout, perfect for make-believe. Learn about fascinating pirate legends and check out coins from pirate's booty.
The museum takes about an hour or so to get through, so it is a great way to keep your kids engaged if they're getting antsy laying on the beach.
99 Steps
A unique walk through the island, the 99 steps is a stone path used by locals that have been there since the island was colonized. The walk is a relaxed hike, and most people start at the top and walk down, making it a laidback activity.
Challenge your kids to count the steps; there are 103 instead of 99! This is an awesome way to get to know the island better and what life there is like.
Coral World Ocean Park
Coral World Ocean Park puts American aquariums to shame with its diverse exhibits and stunning animals. This is one of the top excursions to do on St. Thomas, as it offers a wide array of interactive activities where you can get up close and personal with the Caribbean sea creatures.
Swim or kayak with dolphins, feed a rainbow lorikeet or sign up for the thrilling shark encounter. You and your kids can enjoy what the Carribran sea has to offer in a controlled environment.
Other Factors to Consider
Not every family is the same, so there isn't a one-size-fits-all perfect family vacation. Varying factors like children's age can play a huge role in how you plan your trip.
When booking your trip and deciding which island is best, keep these aspects in mind.
Family Size
Some vacation activities, like a beach day or museum trip, can include everybody. But certain excursions limit the number of participants, so if you have a large family, don't book these kinds of excursions.
Family Age
Toddlers and teenagers probably have a different idea of what a family vacation looks like. If you have independent teenagers, you can plan activities just for them, while toddlers need to be with you all the time.
Duration of Visit
Are you staying for a weekend or three weeks? If you have a long vacation, you can space out activities and reserve time for relaxing. But if you have a condensed trip, you may want to get the most out of your time, so a carefully planned itinerary will be helpful.
Which Island Is Ideal for Your Family?
Both islands have so much to offer tourists, so you can't choose wrong. However, St. Lucia has a focus on bars, nightlife, and serene beach days, perfect for couples on their honeymoon or a romantic vacation. But for families, St Thomas is the better option, as it offers more kid-friendly excursions and locations.
If you have teenagers, you'll have a better time in St. Lucia, as the activities are geared towards an older crowd.
No matter which island you visit, you and your family are sure to have a blast in the beautiful Caribbean.
More about our TFVG Author
A seasoned traveller, Dad, and avid sports tourist, James foundered The Family Vacation Guide to share his expert vacation experiences- especially when it comes to being a travelling family man.
Featured in Travel articles such as Travel + Leisure, TripSavvy and SFGate, you know you're reading some of the best vacation tips online.