For many families, a vacation at Walt Disney World in Florida is a dream trip. Walt Disney World offers something for everyone, young and old, from thrilling theme park rides to unique hotels and restaurants.
However, there are so many hotel options to choose from that it's a challenge, especially if you have a family of five. To help out, read through this list of 15 of the best Disney World resort hotels for larger families.
These hotels cover a variety of price ranges across the Disney World property, and one of them is sure to be a perfect fit for you and your family!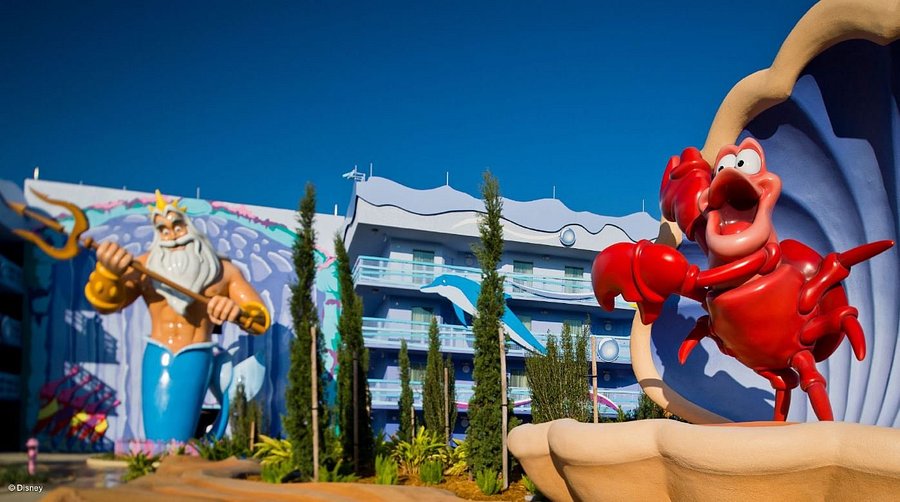 Art of Animation is a newer resort on the Disney World property. With areas themed to Disney and Pixar classics like Cars, Finding Nemo, The Lion King, and The Little Mermaid, Art of Animation was explicitly designed to suit families.
The great thing about Art of Animation is the family suites. These are larger rooms that can accommodate parties of up to 6 people. Family suites include a bedroom with a queen-sized bed, a convertible table bed, a sleeper sofa, two bathrooms, and even a kitchenette!
That much room gives families tons of space to stretch out, and the kitchenette means you can do some cooking and save some money in the parks. The great theming and the size makes Art of Animation a great option.
All-Star Music is a tremendous Value-level resort at Disney World. Value means that you may be a bit further from the Magic Kingdom and Epcot, but you're saving some money and still getting some great amenities.
All-Star Music has brand-new family suites, which have a bedroom with a queen bed, a sleeper chair, a sleeper ottoman, a kitchenette, and two bathrooms.
This resort also has fantastic theming for the music lover. The main pool is shaped like a guitar and has a fountain starring The Three Caballeros! There are musical notes and instruments everywhere you look. The Intermissions Food Court is centrally located and has great food options, even for picky eaters.
Port Orleans brings a Louisana flavor to Disney, with a setting that feels like you're in old colonial-style cottages in New Orleans. With the recent success of The Princess and the Frog, theming from that movie adds a little extra magic.
Port Orleans offers what they call Royal Guest Rooms. These rooms sleep up to 5 guests, so a great match. If your party is five adults, you might be a bit cramped, but this is an excellent match if you have kids.
Kids will especially love the signature pool, complete with a waterslide! And, if you're driving down to Florida, Port Orleans is one of the Disney resort hotels that are dog-friendly. So even the family dog can join in on the fun!
If you have any Pirates of the Caribbean lovers in your family, Caribbean Beach may just be the family resort for you!
This resort, located near Epcot, offers an experience that feels like you've been transported over to a tropical island. The rooms are pirate-themed (but not too heavily, if that's not your thing) and can comfortably sleep up to five guests.
Caribbean Beach has a fabulous pool with water slides and cannons that make you feel like you're swashbuckling with Jack Sparrow.
One great amenity of Caribbean Beach is that it's connected to the Skyliner. This brand-new transportation system will take guests directly from the hotel to Epcot or Hollywood Studios. So, no bus, rental car, or Uber needed!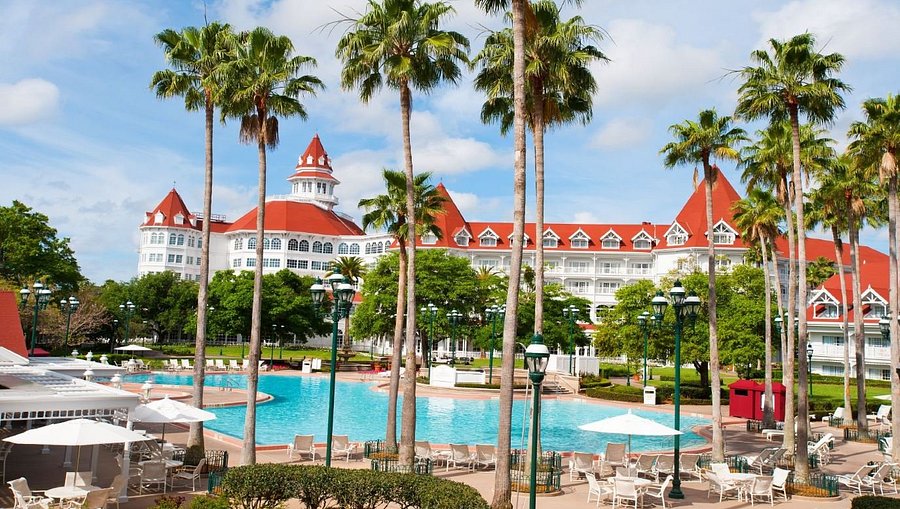 The Grand Floridian is one of the most well-regarded resorts on all of Disney property. It was designed to be a love letter to Victorian-era Florida – and it definitely is! Luxurious and modern, the Grand Floridian is a home run. As a Deluxe resort, it can be very pricy. But if you have the means, it's a must-stay.
All rooms at the Grand Floridian come with two queen-size beds and a sleeper sofa, so ideal for your family at 5. Rooms are also a little bigger than some of the cheaper hotels, so you have room for yourself, your luggage, and your souvenirs.
The Grand Floridian is also right near the Magic Kingdom. So you can take the monorail one stop or even walk over! It's way faster than any of the other transportation methods.
The Contemporary opened up as one of Disney World's original hotels, so it has a lot of history. It's also undergoing a massive refurbishment in 2021 and 2022 to make it even more of a destination.
This posh hotel offers great restaurant options and sits on the Magic Kingdom loop, meaning you can get to it by monorail or walking. The time saved in transportation is almost worth the cost on its own.
Guests with big families can also book a Disney Deluxe Villa. These can accommodate even large families and feels more like an apartment than a hotel! Features include a washer and dryer, kitchenette, and private bedrooms. If you're going with a lot of adults, this is a great option.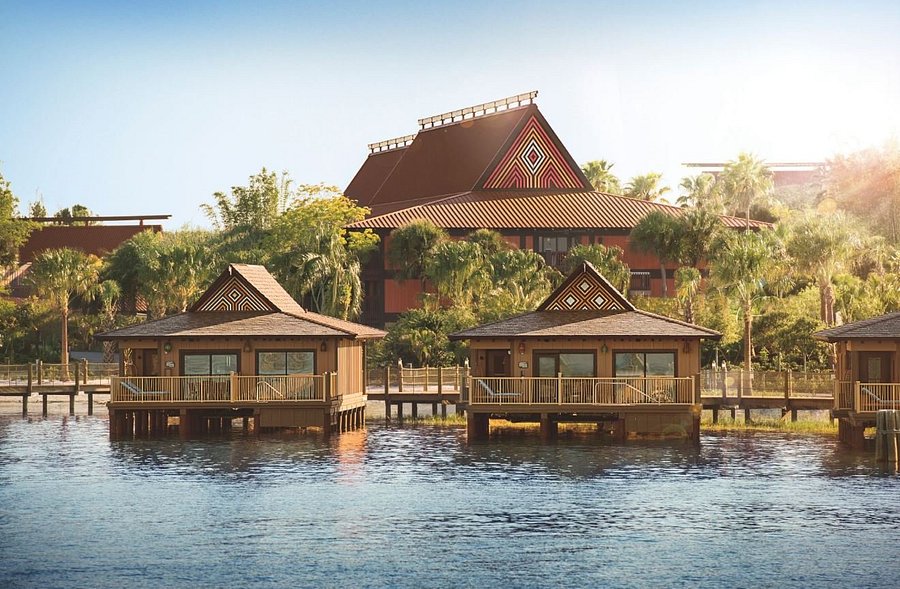 Another original Disney World hotel is the Polynesian. That's a great hotel, but we're talking about the newer villas and bungalows set up on the same property!
The Polynesian is renowned for its ambiance, food, and proximity to the Magic Kingdom. The villas and bungalows keep all those beloved items and add modern touches and more space for the bigger family.
These bungalows are built right on the water and have breathtaking views of the surrounding area. They also are big enough to have a washer and dryer as well as separate bedrooms. Privacy can be a little hard to find in some Disney hotels, but that's not a problem here. Relax on the beach before and after you hit the parks.
As a brainchild of former CEO Michael Eisner, the Yacht Club is a hotel meant to evoke memories of boating in New England during the summer. It's a classy hotel that avoids feeling too stuffy.
Guests can book villas, and even the standard rooms can fit whole families. What makes the Yacht Club really attractive for families, though, is the amenities.
The Yacht Club offers The Yachtsman steakhouse, one of the best restaurants on property. The hotel also boasts a 3-acre water play area that goes way beyond your standard pool.
Maybe the best part of all is that you can get to both Epcot and Hollywood Studios in minutes. If you have your walking legs, both parks are about a 15-minute walk away. To save your energy, just take the Skyliner.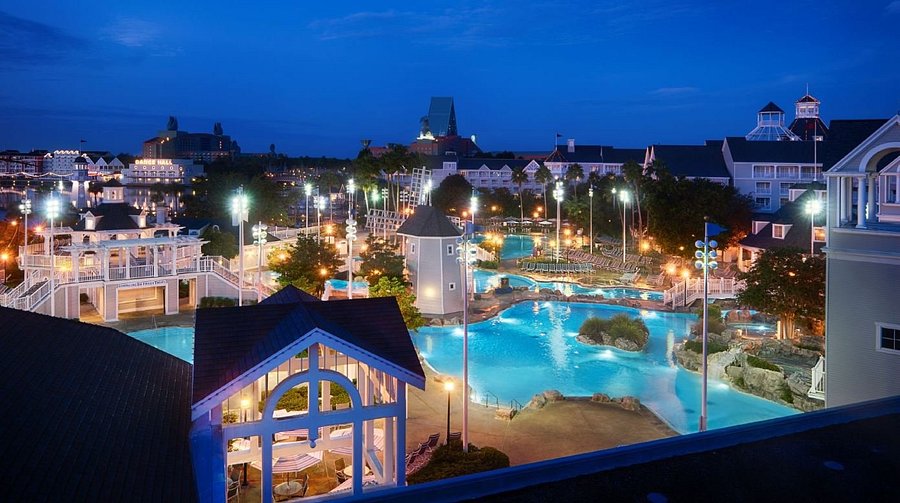 Take just about everything we love from the Yacht Club and apply it to the Beach Club as well. The Beach Club is the Yacht Club's sister resort and offers many of the same amenities.
A key difference is the theming. Less formal than its sister, the Beach Club is more like staying on a New England beach. It's a little more rustic and a little more fun.
It has ample guest rooms and villas available to accommodate large families. Guests have access to Stormalong Bay, a 3-acre water park, and can rent boats to putter around on Crescent Lake.
The Beach Club also houses Beaches and Cream, a classic ice cream shop offering sweet treats and savory burgers. Add that in with proximity to Epcot and Hollywood Studios, and you have a winner.
The Boardwalk Inn is located in the same Boardwalk area as both the Beach Club and the Yacht Club, meaning that you still have all the same location and transportation benefits.
The Boardwalk Inn is great for families with young kids. The theme resembles an old Coney Island carnival, so everything from the pool and decor to the food court has a light, whimsical feel that kids absolutely love.
Guests can book a Club-level suite, which provides the benefit of more room and grants you access to Disney's outstanding concierge service. These cast members can get you access to planning tools and reservations that would be otherwise difficult. It's a great benefit!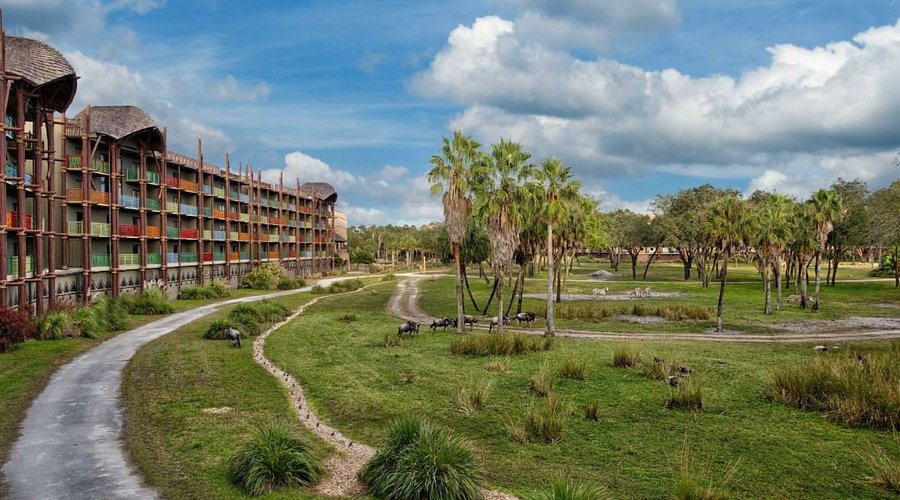 Situated right off the Animal Kingdom theme park is the magnificent Animal Kingdom Lodge. This spectacular hotel hints at African gathering houses. You have to see the incredible dark woods and lighting to believe.
As a Deluxe resort, the Animal Kingdom Lodge offers many options from large rooms to villas that will satisfy any size family. The resort also has some of Disney World's best-rated restaurants right on site.
The real draw, though, is the ambiance. The resort grounds host over 200 species of wild birds and animals. Open your window in the morning, and you may see a giraffe feeding. Where else can you say that?
Inspired by the American Northwest circa 1900, the Wilderness Lodge is simply breathtaking. With pine forests and nature trails surrounding a gorgeous hotel, you'll feel less like you're in Central Florida and more like you're at the foot of the Rocky Mountains.
Wilderness Lodge offers Deluxe Villas for families, and you can also request adjoining rooms. The flexibility is there for whatever your family needs.
If you have younger children, Wilderness Lodge offers a storybook dining experience where guests can meet Snow White in a rustic setting that feels like you've just entered Disney's first animated film!
The resort is also on the Magic Kingdom monorail, meaning you can access the parks quickly and efficiently without relying on a bus. It may not sound like a huge deal, but that saved time means more memories!

For a different kind of experience, try a stay at Fort Wilderness. It's by far the cheapest option available to a family of 5 while still being at an official resort. Why is that? Because it's a campground and not a hotel!
Fort Wilderness offers four kinds of fully-equipped campgrounds, which can handle everything from tents all the way up to the biggest RVs. You're responsible for your own food and equipment, but it's a great option. There are limited cabins available at Fort Wilderness, but they fill up quickly.
Another great feature of Fort Wilderness is its proximity to the Magic Kingdom. While the monorail doesn't go through Fort Wilderness, the boats do, meaning you can get picked up near your campsite and dropped off right outside the park!
The Swan and the Dolphin are two twin hotels located right outside of Epcot. These high-class hotels are a bit different in that, while they're on Disney property, Disney does not technically run them.
So what does that mean for guests? A better possibility of deals. The Swan and Dolphin will appear on travel discount sites much more frequently than official Disney hotels. And, with their wide variety of family-sized suites, that means the potential of an excellent day for watchful guests.
If that's not enough, the Swan and the Dolphin offer many of the perks that on-site guests enjoy, like complimentary travel to the parks as well as early and late hours.
The Doubletree Suites are right next to Disney Springs, Disney's enormous new shopping and dining emporium. If you need a break from the parks, some of the best souvenir stores and restaurants around are right across the street.
As you might have guessed from the names, this Doubletree specializes in suites of all sizes, perfect for larger families. Many of these come with kitchenettes, so a great opportunity to save some money.
With a free shuttle to and from all the Disney parks, Doubletree Suites allows you to save a few dollars on your vacation and still get a great experience!
More about our TFVG Author
A seasoned traveller, Dad, and avid sports tourist, James foundered The Family Vacation Guide to share his expert vacation experiences- especially when it comes to being a travelling family man.
Featured in Travel articles such as Travel + Leisure, TripSavvy and SFGate, you know you're reading some of the best vacation tips online.