You want to take a trip to the Sunshine State and bring along your favorite pet. We don't blame you; Florida is a fantastic place to visit with your dog. The trouble is finding a pet-friendly hotel to accommodate your family.
Whether you're visiting the Panhandle or the Florida Keys, we gathered the best dog-friendly hotels in Florida for your consideration.
You can visit all the theme parks in Central Florida, tour the oldest city in the United States, or spend the day on your favorite beach and not worry about your pet.
So book a room in one of the best pet-friendly hotels and enjoy the incredible sights and sounds only found in Florida.
If you know where in Florida you're wanting to stay, check out our guides to:
1. Sun Dek House, Ocean Ridge
If you have visited Florida before, you know that there's a particular Florida style that is tropical and beachy, without overdoing it. It makes you want to throw on some flip-flops, don a sun hat, and enjoy a nice cold beverage.
The Sun Dek House in Ocean Ridge is the embodiment of Florida-style. 
While the Sun Dek House is not on the beach, it is just a short walk to the sand. The hotel is also near golf courses, fabulous local restaurants, and several parks in Palm Beach County.
It's also a pet-friendly hotel that allows dogs of all shapes and sizes. Guests simply need to pay a $150 pet deposit at the time of booking and a fee of $30 per night. The hotel will book a first-floor room for you and your pet's convenience. There are grassy areas nearby, and the hotel asks that you pick up any waste.
Ocean Ridge is near Boynton Beach, between West Palm Beach and Delray Beach. The hotel is located at 6666 N Ocean Blvd.
2. St. George Inn, St. Augustine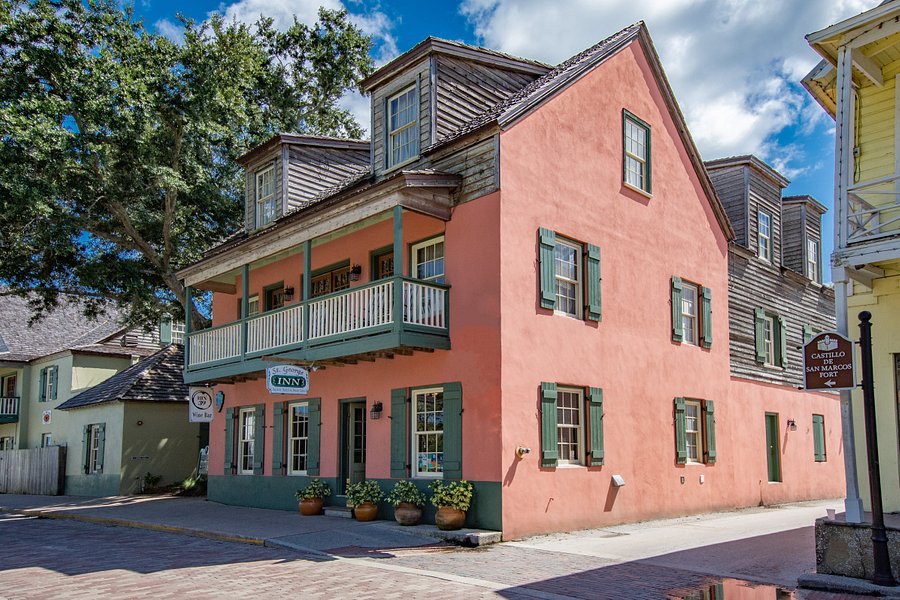 The oldest city in the United States is St. Augustine, Florida. Every year, students take a field trip to tour the city and learn about the many explorers who once inhabited the seaport. Your family can bring your dog and tour the historical sites too. However, it won't seem like a field trip! The city is filled with people passionate about its place in history and enjoy sharing its story.
Just book a room at the St. George Inn, located across the street from the Castillo de San Marco, to stay in Saint Augustine. Visitors may also view the nearby City Gate, Matanzas Inlet, or the Oldest Wooden Schoolhouse.
But you don't have to be a history buff to enjoy St. Augustine. The weather is nice 12-months of the year, and there are superb shopping and restaurants to visit. If you enjoy pirates, there are attractions and museums that you should check out, including a real-life working pirate ship complete with daily shows.
The St. George Inn is friendly to pets, allowing visitors to bring pets that weigh less than 25 pounds. However, there is an additional one-time $50 fee. The hotel also recommends nearby pet-friendly restaurants and attractions so that your dog can enjoy the historic city too.
The St. George Inn is located at 4 St. George St. #101 and is close to the best sights in the city.
3. The Sea Spray Resort, Siesta Key
Between Clearwater and Fort Myers is a string of beach towns and keys, or small islands, with white sandy beaches and magnificent views of the Gulf of Mexico. Siesta Key is among these islands, near Sarasota, and offers the perfect getaway for families with dogs.
Reserve your stay at the Sea Spray Resort and select from a variety of suites and condos. Each room includes a living room, kitchen, and one or two bedrooms. Some rooms are just steps away from the pool. The hotel is not beachside, but it's just a short walk to the Gulf of Mexico.
The Sea Spray Resort is a small hotel with only 16 units, which means more attention to guests' satisfaction. There is also a fantastic room for two, the Starfish Suite, a private room complete with its own pool, walled-in patio area, and BBQ grill.
The hotel is pet-friendly, and guests can bring two pets up to 30 pounds for an additional $30. Keep in mind that not all rooms are pet-friendly, so you will need to check when making your reservation. The hotel is at 574 Canal Rd.
4. Old Colorado Inn, Stuart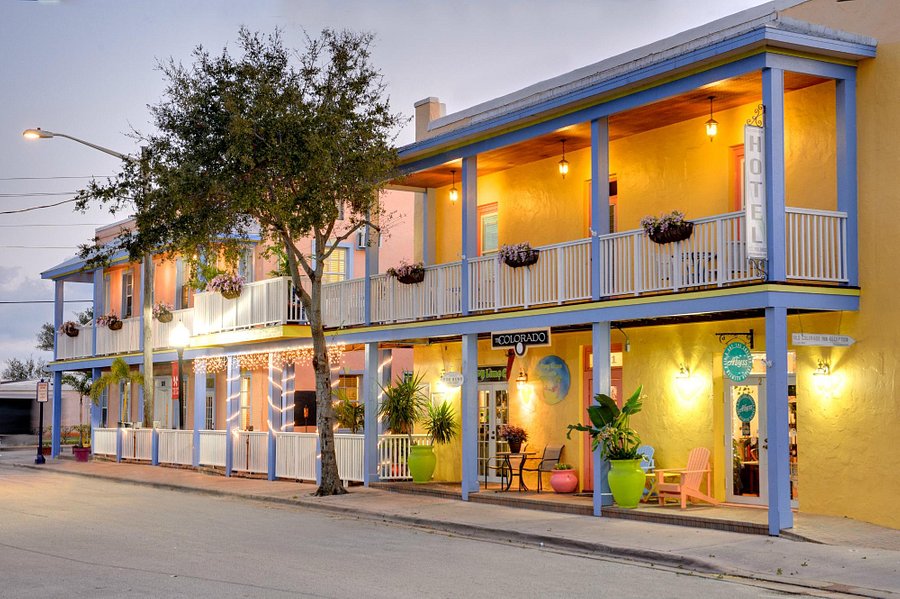 There is a section of Florida's east coast that is known as Treasure Coast. History tells of sunken pirate ships and lost treasure just off the coast in the Atlantic Ocean. Stuart is a small city on the Treasure Coast, which also includes Port St. Lucie near the St. Lucie River.
Bring your dog and family to stay at the Old Colorado Inn, a historic hotel near the river, local restaurants, and great shopping. The hotel is a treasure all its own.
Even though the Old Colorado Inn was built in the 1890s, the owners recently restored the beautiful hotel and added modern amenities for your enjoyment. This inn is unique because there are several properties and rooms for you to choose from, including the Owl House (with three bedrooms and 2.5 baths), the Clifton Guest & Fishing Lodge (with four bedrooms and four baths), as well as several cottages and suites in the historic hotel.
Some accommodations have access to a pool, while others do not (for example, rooms in the hotel do not have pool access). So if swimming is a must-do activity for your family, then you will want to reserve one of the other properties. You can tell the staff when booking your preferred accommodations.
You will also want to tell them that you are bringing a pet to get a room that can accommodate your family. The hotel allows two pets that weigh no more than 100 lbs in the Coastal Cottage only.
Visit Stuart to find a treasure of a hotel at the Old Colorado Inn; the hotel is at 211 S Colorado Avenue near the Stuart Heritage Museum.
5. Four Seasons Resort Orlando at Walt Disney World, Orlando
Central Florida is the land of theme parks – and, of course, home to the Happiest Place on Earth: Walt Disney World.
Don't leave your pet behind when you visit Orlando. Stay at the Four Seasons Resort Orlando at Walt Disney World, and they can enjoy the vacation too!
A resort like no other, Four Seasons knows how to pamper and treat their guests. Enjoy your luxurious stay at the pool, on the golf course, or visit the spa. Or spend the day at any of the Disney Parks (Magic Kingdom, Epcot, Hollywood Studios, or Animal Kingdom). There is a Disney Planning Center in the lobby to help you plan your day at the parks.
Your family can also enjoy the Character Breakfast, where Goofy & Friends like to stop by and say hello on Thursday and Saturday mornings. Other amenities include on-site boutiques, basketball and sand volleyball courts, and water activities, including water slides and a lazy river.
Your pet also gets pampered when you stay at the Four Seasons. They receive treats, a bed, and bowls in the room. Guests can bring one pet up to 25 pounds for no additional fee but cannot leave them in the room unattended. There are also several pet relief areas on the property to walk your dog.
You and your pet may never want to leave after staying at the Four Seasons Resort Orlando at Walt Disney World, located at 10100 Dream Tree Blvd.
6. Coconut Inn, St. Pete Beach
St. Petersburg Beach is neighbors with Tampa, located on Florida's west coast. It's a great place to swim, fish, and enjoy the laid-back vibe of the beach.
Speaking of laid-back, be sure to stay at Coconut Inn when you bring your dog to St. Pete Beach. It's an authentic Florida hotel complete with fully-equipped kitchens, outdoor lounges, and a pool. Located at 113 11th Avenue, the hotel welcomes dogs of all sizes for an additional $25 fee per stay.
There are 11 guest rooms at the Coconut Inn, all designed with works from local artists. You'll also find a flat-screen Smart TV, free high-speed Wi-Fi, and Bath & Body Works products in each room. The hotel also provides complimentary beach cruiser bicycles, kayaks, and access to beach necessities such as towels, chairs, umbrellas, coolers, and more.
The Coconut Inn is a block away from the beach, which is easy to walk to and enjoy the day. You can also walk to Paradise Grille for dinner or drive a short distance to more local restaurants and stores.
The hotel is technically in the small town of Pass-a-Grille at the southern end of St. Pete Beach. Here you can discover four miles of undeveloped beaches on the island. You can spend part of your day on the Gulf of Mexico side of the island or head east towards the harbor and enjoy snorkeling and shelling on Shell Key.
If you enjoy relaxing and exploring marine life, the Coconut Inn is the perfect vacation hotel for you and your dog.
7. Drury Inn & Suites, Gainesville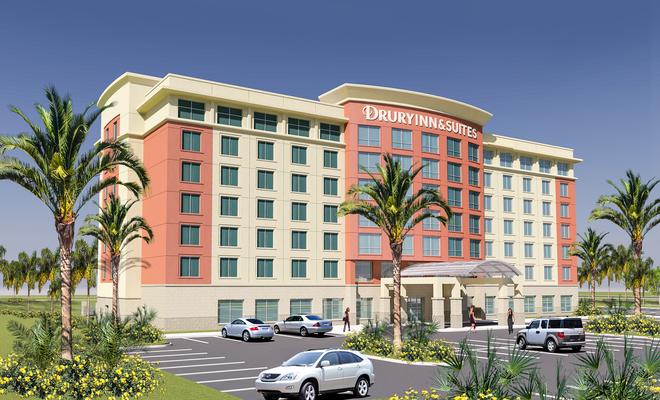 Gainesville is a college town located in north Florida off Interstate-75. It's home of the University of Florida, where there are currently 50,000+ students.
Families who come to town for various school events can bring their dog and stay at Drury Inn & Suites, located at I-75 and Archer Road. Archer is one of the main roads that lead to the University and is near tons of restaurants and shops. Whether you're in town to move your student into a dorm or nearby apartment or visiting for graduation, Drury Inn & Suites provides excellent accommodations.
And you can bring two pets with a combined weight of 80 lbs for $40 per night plus tax. And keep in mind, you won't be able to take your dog to the pool, dining area, or fitness center. It's also best that you don't leave your pet unattended in the room.
It's also important to note that service animals can stay at the hotel free of charge. The hotel is one of the more accessible-friendly places to stay in Gainesville, with lifts into the pool and spa and wheelchair ramps throughout the property.
Whether you're in town for school, business, or visiting old friends, bring your dog and stay at Drury Inn, 4000 SW 40th Boulevard.
8. Barbary Beach House, Key West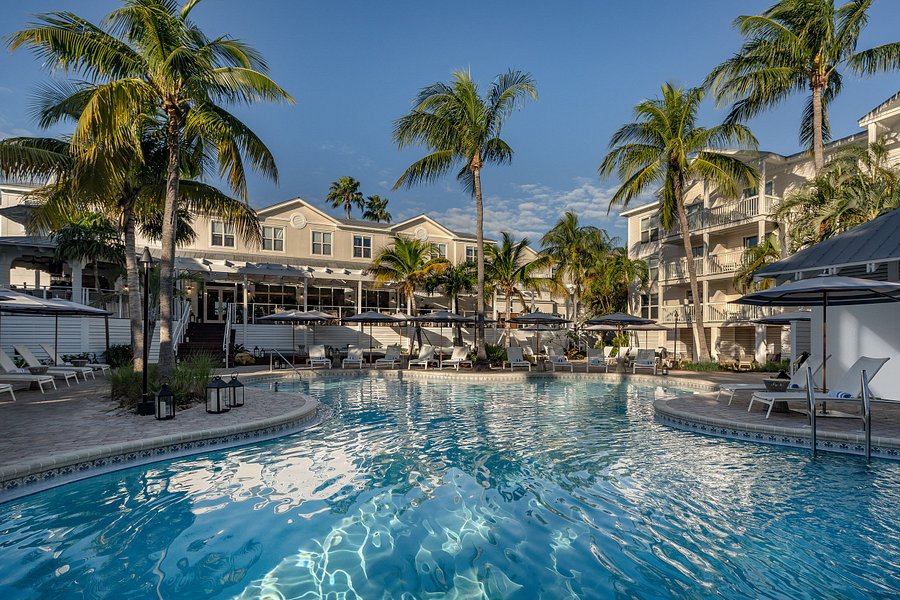 To visit the southernmost point of Florida, head to the Florida Keys and the island of Key West. While you're there, stay at Barbary Beach House, a pet-friendly hotel in Key West.
This hotel allows two dogs for each room, but they must be well-behaved and weigh 30 lbs or less. There is a $75 fee per night per dog; however, service dogs are not subject to these policies or fees.
The Barbary Beach House is a large hotel on the south side of the island with beachfront property. There is also a pool in the center of the property, so guests have their choice of sitting by the pool or heading to the ocean. Neither answer is wrong.
You catch a bit of the Key West vibe when you stay at this hotel. It's laid back and luxurious all at the same time. The rooms are either guestrooms (a typical hotel set-up), or you can choose a one-room or two-room suite. There are also mobility accessible suites for those who need this accommodation.
The motto at Barbary Beach House is "Drift Wrecklessly," a perfect play on words as you consider the many reefs that are just offshore. If you enjoy fishing, swimming, or just escaping reality for a few days, then a stay at Barbary Beach House is exactly what you need.
The Barbary Beach House address is 2001 South Roosevelt Boulevard.
9. Homewood Suites by Hilton Sarasota Lakewood Ranch, Sarasota
Even though Sarasota is on the west coast of Florida, and a great place to spend the day in the sand and sun, the Homewood Suites by Hilton Sarasota Lakewood Ranch is more inland, closer to Interstate-75.
In fact, the hotel is super close to Nathan Benderson Park, a popular place for rowing teams, paddlers, and bicyclists. It's also near The Mall at University Town Center and other favorite shops and restaurants.
Dogs and cats are allowed at Homewood Suites by Hilton. Guests can bring two pets with a combined weight of 75 lbs to the hotel, although there is a fee of $50 for the first night and $10 for each additional night (not to exceed $300 for each stay).
You can also leave your pet unattended in the room as long as they are in a crate, and you leave the Pet in Room hanger on the door before you leave. There is also a pet relief area on the property for your (and your pet's) convenience.
Homewood Suites offers studio, one-bedroom, and two-bedroom suites with full kitchens, living rooms, and spaces to work. This hotel also provides two meeting rooms with more than 1,000 square feet available for your event. Whether you're hosting a family reunion or staying in town for a long period, you and your pet will be comfortable staying at Homewood Suites.
The hotel is at 305 N Cattlemen Rd, between the mall and the park.
10. Havana Cabana, Key West
If you enjoy Key West and the Cuban culture, the Havana Cabana hotel on the northside of Key West is a prime spot to stay. Key West is a fantastic city to visit, but when you're at the hotel, it's like you're a world away. 
The Havana Cabana has a particular style that transports visitors to old Florida. But the hotel has all the modern amenities you need for the perfect vacation.
And it's a very pet-friendly hotel. Your pet is allowed in several places throughout the hotel, including the lobby, pool bar, tiki hut, and more. Guests are allowed to have dogs up to 50 lbs for an additional $75 a night fee.
And your furry friends get pampered just as much as you do. When you check-in, they receive a goodie bag with a portable water bowl and biscuit. The hotel also recommends several nearby beaches that are pet-friendly so you and your dog can spend the day together in the sun and water.
The Havana Cabana is also near bars and restaurants that have pet-friendly areas. You can sit outside or on the patio of local restaurants with your dog and enjoy great music, good food, and delicious drinks.
The hotel is on the northeast section of the island at 3420 N. Roosevelt Boulevard.
11. Faena Hotel, Miami Beach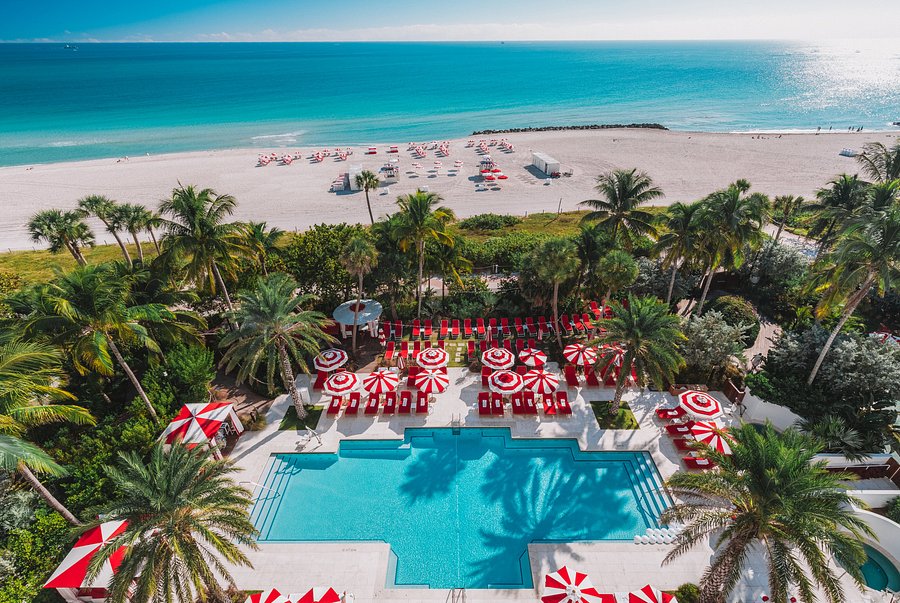 Visitors to Miami Beach know that this is a special place to visit. Even though it's in South Florida, Miami Beach feels like another world. The culture and vibe are unlike any place else in Florida, in the best possible way.
If you like luxury and Miami Beach, there's only one place to book your stay: the Faena Hotel. The rooms come in a variety of sizes and accommodations with either an ocean or a bay view. The hotel also has an incredible restaurant, shops, and a theater with live shows. Guests can enjoy a variety of shows and entertainment during their stay.
You can also bring your pet during your stay at Faena Hotel for an additional (undisclosed) fee.
Faena is all about style and class. The hotel incorporates cultural designs and stylish art throughout. It's also just two miles north of the iconic South Beach and the nightlife opportunities found in Miami Beach.
The hotel is right on the beach at 3201 Collins Avenue.
12. Hampton Inn & Suites by Hilton, Ocala
The city of Ocala is in northern Central Florida off Interstate-75 between Orlando and Gainesville. It's known for its wide-open spaces and horses. And John Travolta lives there.
If you and your pet want to stay in Ocala, book a room at the Hampton Inn near I-75. They offer free breakfast, and it's minutes away from downtown Ocala.
The Hampton Inn allows guests to bring two pets up to 30 pounds for $25 per night for each pet. Your room will either be on the first or second floor for your convenience, and the front desk has treats. You can also ask for pet bowls and waste bags if needed. The hotel also has a nearby grassy area for pet relief needs.
If you and your pet are traveling long distances throughout the state of Florida, this is a great place to stop for a day or two to rest. It's right off the Interstate and near several shops and restaurants.
The hotel is located at 3601 SW 38th Avenue, just seven miles from the Ocala International Airport.
13. The Betsy South Beach, Miami Beach
As soon as you walk into The Betsy Hotel, you will know it's a pet-loving hotel. Betsy and Rosa, their two golden retrievers, will likely greet you while you're in the lobby.
Located in Miami Beach, the Betsy South Beach hotel is all about luxury and leisure. It's considered a boutique hotel with exceptional service and amenities, designed with 1940s decor.
Let the hotel know that you are bringing your pet when making reservations so that they can accommodate them. You may need special clearance for any pet over 40 pounds. There is also a one-time fee of $150, of which 50% gets donated to the Miami-Dade Animal Rescue and SPCA in Zimbabwe.
The Betsy Hotel also goes above and beyond for your pet, offering spa treatments (a gentle message) for your pet and a healthy treat afterward. If your pet needs a vacation as much as you do, the Betsy Hotel is the perfect getaway resort.
The Betsy Hotel is a family-owned hotel located near the quiet part of South Beach at 1440 Ocean Drive.
More about our TFVG Author
A seasoned traveller, Dad, and avid sports tourist, James foundered The Family Vacation Guide to share his expert vacation experiences- especially when it comes to being a travelling family man.
Featured in Travel articles such as Travel + Leisure, TripSavvy and SFGate, you know you're reading some of the best vacation tips online.