While immersed in all of the fun that a vacation spot like Universal Studios in Orlando, Florida, offers, it can be easy to forget some of the simple things that are important to our day—like breakfast.
Read on to see our recommendations for the best spots for breakfast in and around the parks.
Why not also check out our guide to Universal Studios vs Islands of Adventure if you've not yet decided which park to hit up first?
Planning for the Most Important Meal of the Day
Whether you are a plan-to-the-minute vacationer or tend to go with the flow, taking a little time to think about where you'll be having your meals can enhance your vacation experience.
You will have more time to do all of the fun things and less stress of trying to find a place to eat last-minute and realizing your best option is all the way across the park.
You may also make some memories that you would not have otherwise had as you experience some of the best spots for breakfast at Universal Studios Orlando.
Figure Breakfast Into Your Plans for Each Day at the Parks
While planning where to have breakfast, something to consider is where you will be in the parks that day. Universal Studios is made up of several different areas, and if you choose to focus on a particular location, you'll also likely want to plan to dine in that area.
Universal Studios Florida is the northernmost park, including themed attractions such as Despicable Me, Transformers, Men in Black, The Simpsons, and E.T., among many others.
The Islands of Adventure park is located just to the south and features such attractions as Marvel superheroes, Jurassic Park, Dr. Seuss, Toon Lagoon, Skull Island: Reign of Kong, and more.
Universal Studios Florida and Islands of Adventure are connected by Universal CityWalk Orlando, which offers many dining, shopping, and entertainment options.
The southernmost park is Volcano Bay, Universal's water park. This is the one that will require the most planning ahead for breakfast. 
Consider What You Will Be Doing That Day
You will also want to consider what activities you have on the schedule for the day. For example, if you'll be doing a lot of big rides, a lighter breakfast may be something to consider. Another option would be planning a late breakfast or brunch after hitting a few of the wilder rides first thing in the morning.
Spending some time on a filling breakfast is a good option if you've got a busy day ahead and don't want to take time out at noon to have a sit-down lunch.
If you're planning to cover a lot of ground during the day and want to get an early start, a grab-and-go breakfast might be perfect for you.
You will also want to consider what to do for breakfast if you won't have options available in the part of the park you will be visiting that morning.
No matter your specific plans, there is a breakfast option that will help you make the most of your day.
Best Breakfast Options in Universal Studios Florida
The top breakfast spots in the Universal Studios Florida park are both themed experiences—one taking you into the world of wizards and the other onto the set of a morning show.
1. Leaky Cauldron
The Leaky Cauldron is located at the far north end of Universal Studios Florida in The Wizarding World of Harry Potter – Diagon Alley.
The Leaky Cauldron is a Harry Potter-themed restaurant that offers breakfast until 10:30 a.m. daily with menus including typical American offerings such as a pancake breakfast, sausage, and orange juice.
There are also authentic British options like the "traditional breakfast," which consists of the following:
Scrambled eggs
Sausage
Breakfast potatoes
English bacon
Black pudding
Bake beans
Sauteed mushrooms
Grilled tomato
The menu also includes items such as blood sausage and pumpkin juice for those who want to dabble in something new but aren't adventurous enough to commit to the traditional breakfast.
For those wanting to get their fruit for the day, apple oatmeal flan is also served with yogurt and fruit.
The prices at the Leaky Cauldron definitely reflect that you're a captive audience in a theme park, but where else are you going to get an experience like this?
2. TODAY Cafe
Located in the Hollywood area of Universal Studios Florida, the TODAY Cafe is inspired by the long-running NBC morning show and designed to make you feel like you're right on the set. The personalities on the show inspire even dishes on the menu.
Some of the menu items include breakfast sandwiches, overnight oat and chia pudding bowls, and an assortment of pastries from the traditional muffins to the more decadent eclairs.
Breakfast sandwich options include:
Egg white florentine
Ham, egg, and cheese
Park Avenue avocado toast
Smoked salmon lox bagel
Mushroom and leek quiche
An example of one of the unique items on the menu is the Park Avenue Avocado Toast, featuring smashed avocado on toasted artisan bread with toasted cashews, arugula, radicchio, roasted tomato puree, shaved fennel, and lemon vinaigrette.
Prices are surprisingly reasonable for the breakfast sandwiches, while maybe nearing the higher side for the pastries.
Islands of Adventure Breakfast Choices
The best breakfast spots in the Islands of Adventure park offer a place specializing in baked goods and another option to enter the world of magic.
1. Croissant Moon Bakery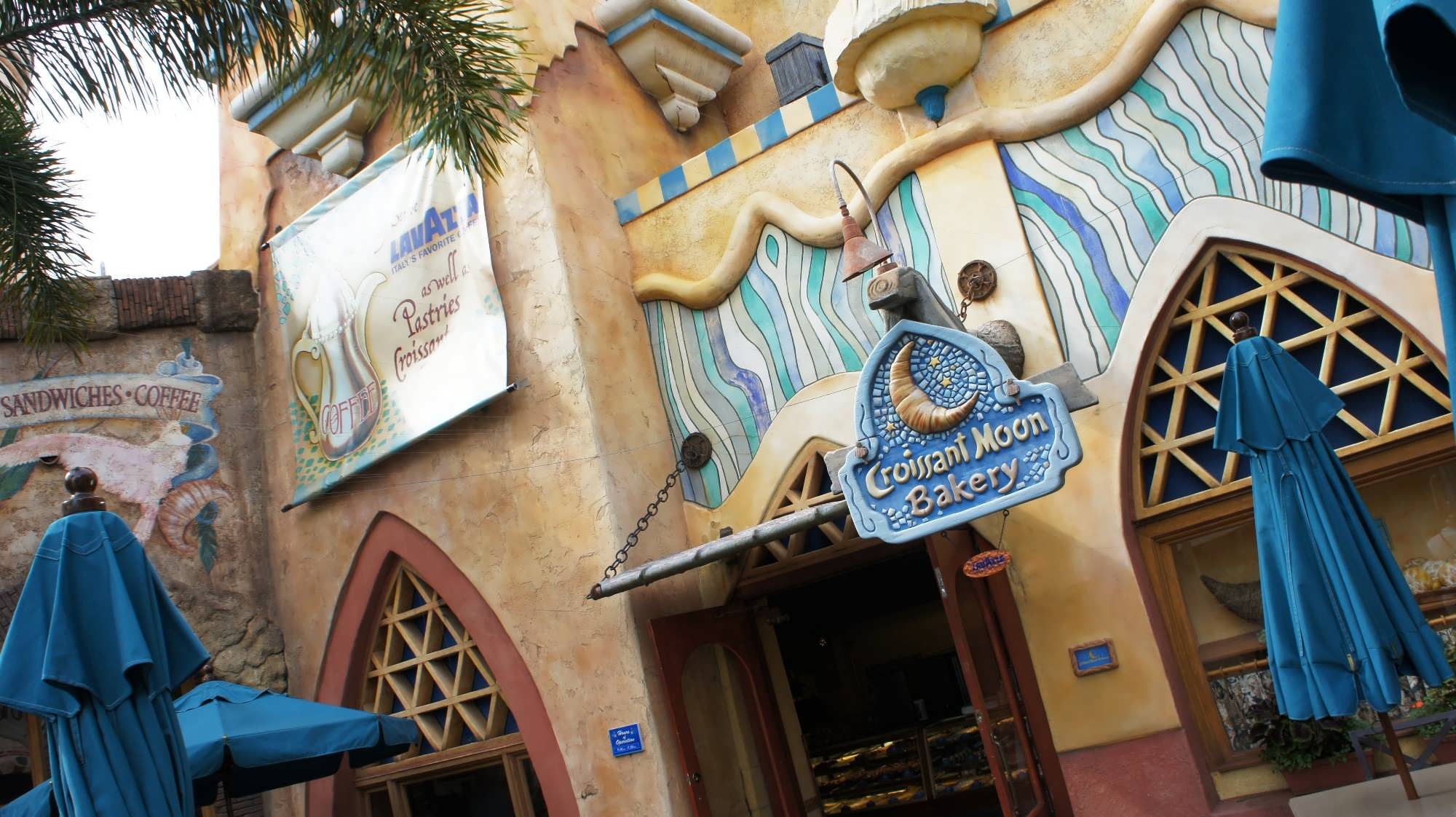 One of the very first sites to greet you upon entering the Islands of Adventure park is the Croissant Moon Bakery. Serving breakfast until 11 a.m. each day, this bakery offers several breakfast sandwiches and a wide assortment of pastries and baked goods.
The sandwiches include:
Ham, egg, and cheese croissant
Bacon, egg, and cheese croissant
Ham, egg, and cheese empanada (it's encased in bread, so we're calling it a sandwich)
Pastries and baked goods choices include:
Croissants
Danishes
Cheesecake
Cookies
Muffins
Pies and tarts
Eclairs
There are also fruit cups, juices, and milk to choose from to round out your breakfast.
One menu item worth noting is the "On the Run" continental breakfast. It features a fruit cup, a danish or muffin, and a breakfast drink, a perfect grab-and-go option for when you just want to get right into all the park has to offer.
You can pick up a great breakfast sandwich here for quite a reasonable price, while the pastries may be a bit more of a splurge.
2. Three Broomsticks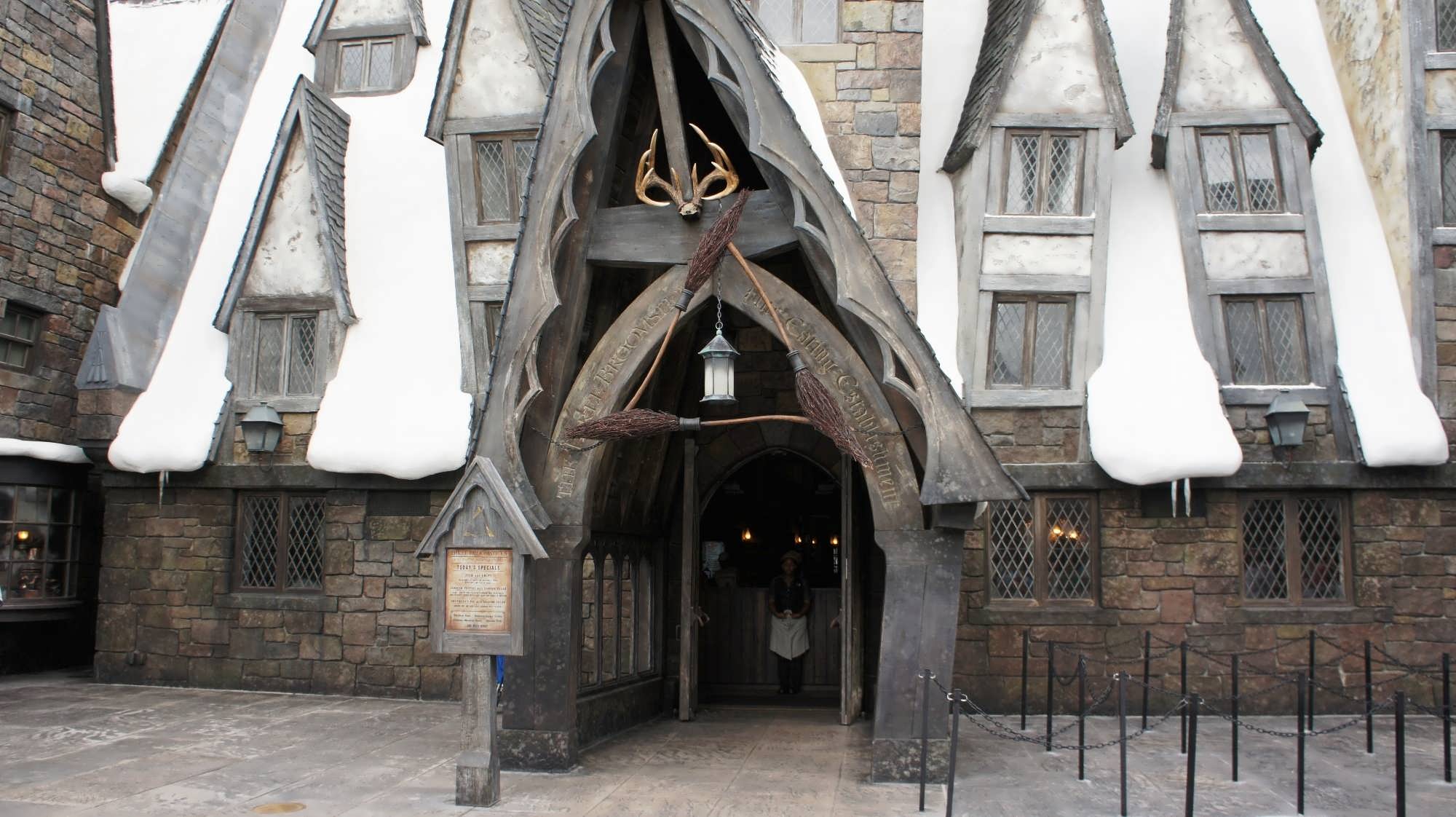 The Three Broomsticks is located in The Wizarding World of Harry Potter – Hogsmeade area. It is essentially the same as the Leaky Cauldron mentioned above, except for its location.
If the Harry Potter experience is one you definitely don't want to miss, it's great to know you've got two options!
CityWalk Offers Grab-and-Go Breakfast Options
The place to break your fast in CityWalk is a donut lover's paradise where you may actually hope for a long line — you are going to need the time to make your selection! There is also a grab-and-go kiosk.
1. Voodoo Doughnut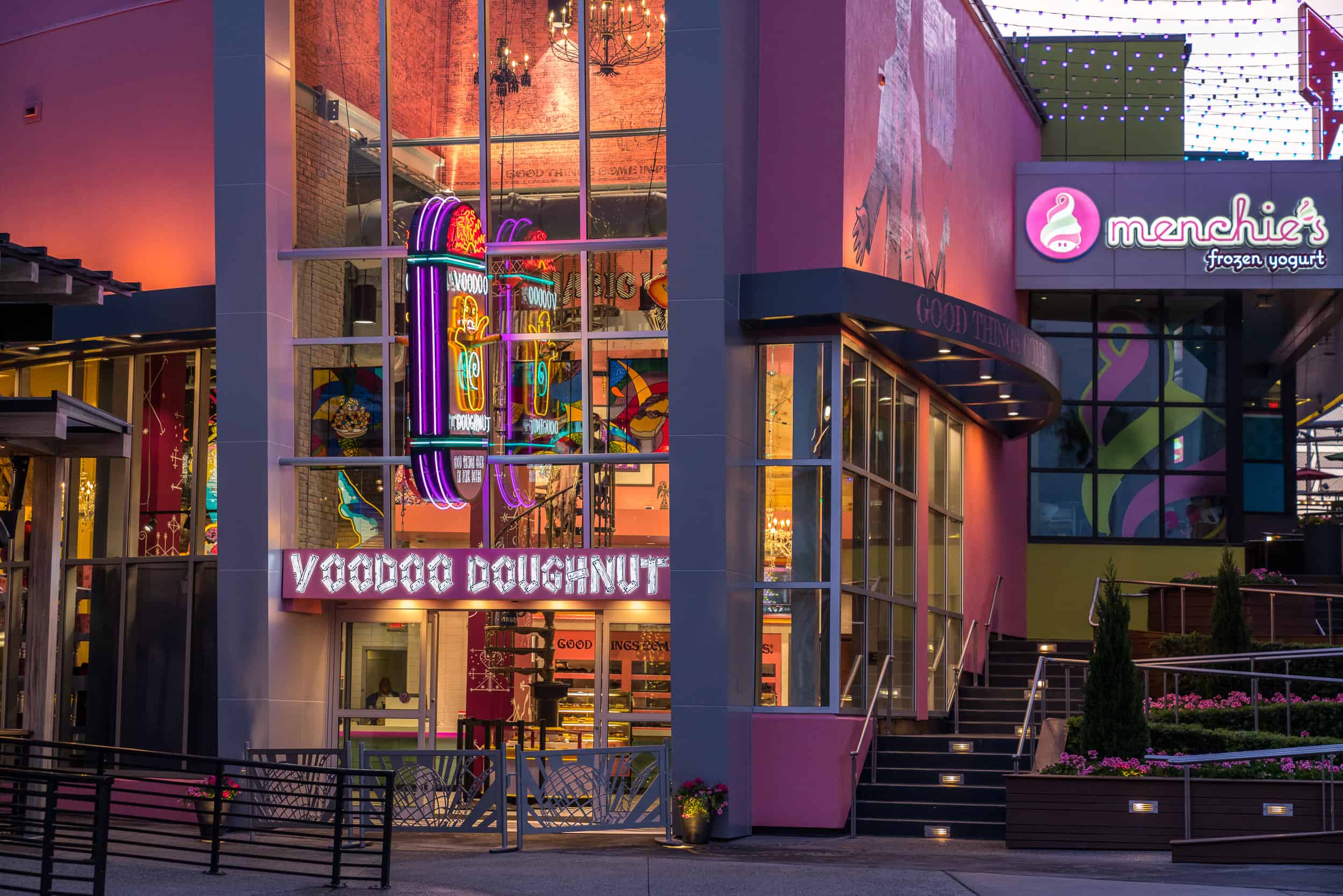 If you enjoy donuts, the Voodoo Doughnut is the place to stop! Serving more than 50 flavors of donuts each day, it may take some decision-making power to choose just one (or three). Heck, just go for the dozen and get the full experience!
Your choices at Voodoo Doughnut include:
Specialty donuts
Donuts by the dozen or half-dozen
Cake donuts
Devil's food cake donuts
Fritters
Raised donuts
Bars
Pastry shells with various fillings
Vegan donuts
Just a few of the specialty donut flavors for you to consider include the Voodoo Doll with raspberry jam, chocolate frosting, and a pretzel stake; the Shamrock, filled with Oreo buttercream and dipped in vanilla mint icing; and the Miami Viceberry with vanilla icing, blue raspberry sugar, and pink sprinkles.
One particular item to note at Voodoo Doughnut is the Fryer Flyer Dozen. This is a pre-selected box of a dozen of their premium donuts to give you a true Voodoo experience.
Price-wise, there's really something for every wallet here, from the inexpensive cake donuts to the $10 Texas-sized glazed donut.
2. Fresh Eats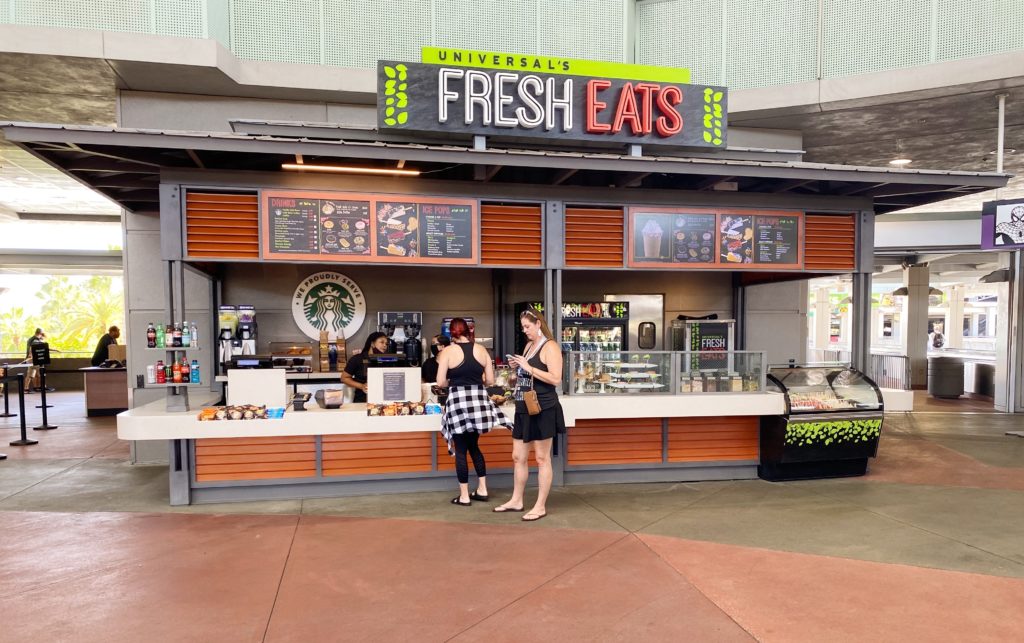 This kiosk is one to plan ahead for since it's located in the hub of the parking garages near the security checkpoint before entering the park. Fresh Eats gives you the chance to grab something quick to eat, whether that be a pastry, sandwich, or coffee.
Breakfast items on the menu at Fresh Eats include:
Voodoo doughnuts (limited selection of Voodoo Doughnut flavors)
Starbucks coffee (limited selection from Starbucks menu)
Juices and other beverages
Convenience does come with a price, and you can expect to pay premium prices for items such as bottled water at this kiosk.
Grab Breakfast Before Heading to Volcano Bay
Universal's Volcano Bay water park does not have breakfast options available on-site, so you'll need to look outside the park for places to have a light breakfast before enjoying your day in the sun and the water.
If you're staying at one of Universal's resorts or hotels, chances are you can fill yourself up before even leaving for the day.
Hotels and Resorts Also Offer Breakfast
If you're staying at one of the many Universal hotels and resorts, chances are you already have a great breakfast option available to you without leaving the premises.
If you want the convenience of breakfast at your hotel, consider these options when booking accommodations:
Consider Breakfast Part of the Vacation Experience
There are definitely some great options for breakfast at Universal Studios Orlando, whether you're dashing off to see all of the sights or you are looking to immerse yourself in a uniquely themed experience.
Taking a bit of time to plan out where you'll be and what you will be participating in that day will allow your breakfast to be another integral piece of an amazing experience.
But don't worry too much if you forget to take time for breakfast and find your stomach grumbling a couple of hours into the day. There are a variety of vendors and kiosks in the parks where you can grab a quick bite.
Meals can truly be a valuable component of the vacation experience, though, so do consider choosing your favorites from this list of the best spots for breakfast at Universal Studios Orlando, and you're sure to add some breakfast moments to your list of fun memories from your trip!
More about our TFVG Author
A seasoned traveller, Dad, and avid sports tourist, James foundered The Family Vacation Guide to share his expert vacation experiences- especially when it comes to being a travelling family man.
Featured in Travel articles such as Travel + Leisure, TripSavvy and SFGate, you know you're reading some of the best vacation tips online.