Walt Disney World near Orlando, Florida, is one of the most fun and immersive places to take a family vacation. The show doesn't stop when the sun goes down, either. Disney World is one of the best places on earth to see fireworks.
You can see fireworks every night from various locations throughout the property. Since Disney Springs is always open past nightfall, you might wonder, can you see fireworks from Disney Springs? 
The answer is: sort of. Below, read about what you can see from Disney Springs, other things to do at night, places to see a full fireworks display, and much more.
Can You See Fireworks From Disney Springs?
Technically, you can see fireworks from Disney Springs since some of the Magic Kingdom's fireworks are visible. The best view is from the upper deck of Paddlefish, the restaurant on the old riverboat docked in Lake Buena Vista.
The other best place to see them is from the Aerophile hot air balloon, but you can't always control your time on that attraction.
If you want to see Magic Kingdom fireworks, though, we strongly recommend seeing them in the park. You won't hear the music or get the whole experience anywhere else.
There is one exception: some years, Disney does a fireworks show in Disney Springs on the Fourth of July. In past years it has gone off at 10:30 PM. If you plan to visit on Independence Day, ask your hotel concierge if it's happening.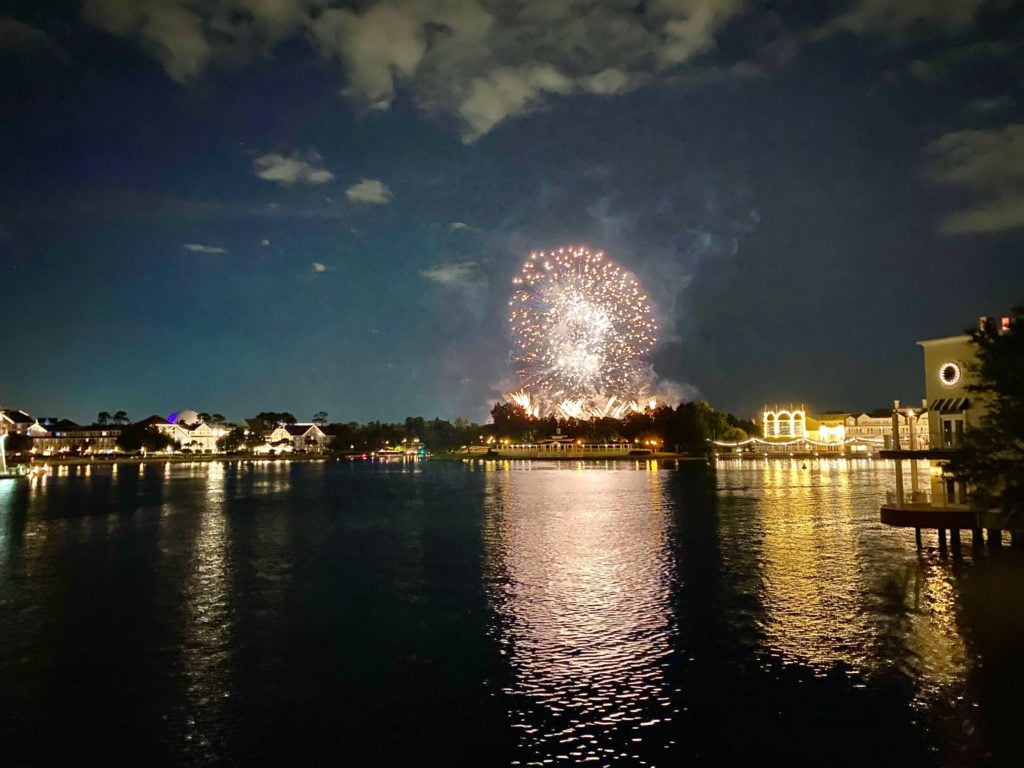 Things to Do at Night in Disney Springs
Even though you won't get a full fireworks show in Disney Springs, there are many other things to do after sunset. In fact, Disney envisioned Disney Springs partly to accommodate resort guests who weren't ready to call it a day when the parks close.
Shop 'Til You Drop
The vast majority of stores in Disney Springs stay open until at least 9 PM and very often later. Disney Springs offers some of the best shopping in the Orlando area, with more than 100 shops, pavilions, and pop-ups.
Disney runs several of its own stores, where you can find mouse ears on just about anything. Be sure to check out World of Disney, the world's largest Disney store.
The current motto for Disney Springs is "Happily Whatever You're After," and they mean it. The wide array of stores includes:
Anthropologie
Art of Shaving
Build a Dino
Columbia Sportswear
Everything But Water
Goofy's Candy Company
Jo Malone London
Kate Spade
Kendra Scott
MAC Cosmetics
Orlando Harley-Davidson
Once Upon a Toy
Ron Jon Surf Shop
Super Dry
The Spice and Tea Exchange
Vera Bradley
Eat, Drink, and Be Merry
There are more than 60 restaurants, bars, cafes, bakeries, and other purveyors of food and drink. From a 1920s Speakeasy style joint to burgers and bowling to James Beard Award-winning chefs, find whatever your taste buds want in Disney Springs.
Reservations are always strongly recommended if you plan to enjoy a meal at a table-service restaurant. You can make reservations on the Disney Dining website. Most restaurants have bar areas with first-come, first-served seating. It's a great option, especially if you have a small family.
While Disney's infamous Pleasure Island is a thing of the past, many trendy bars have late-night hours. If the adults in your family can get a night away from the kids, Disney Springs is the place to be!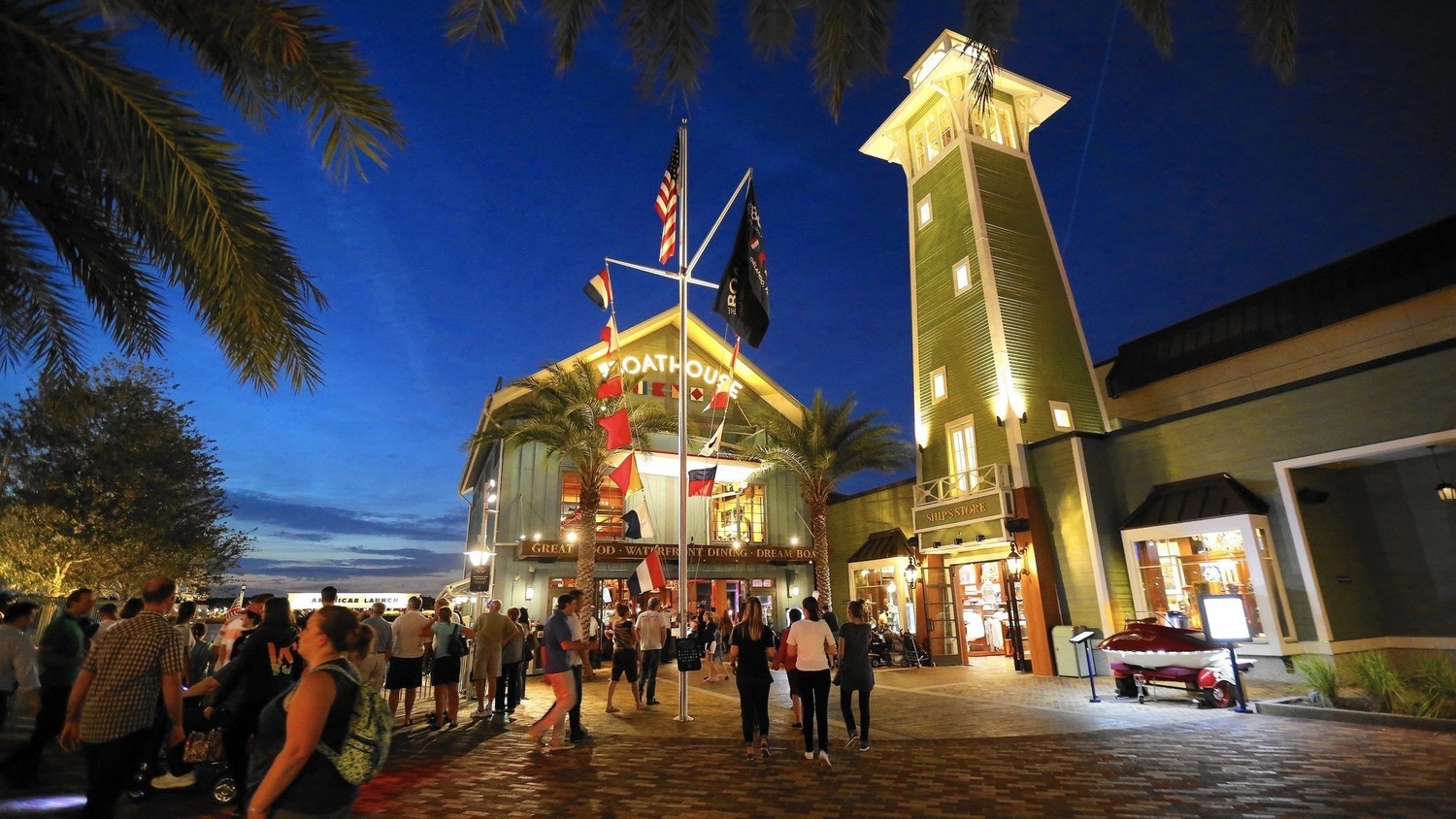 Live Music and Special Events
Disney Springs has more than 20 other attractions, including a brand new Cirque du Soleil show, Drawn to Life. There's also a carousel and train ride for kids.
Disney Springs hosts seasonal events, especially during the fall and holiday seasons. Complete the Christmas Tree Stroll and Scavenger Hunt and indulge in limited edition treats and merchandise.
It's an excellent location for live music. The Waterside Stage near the World of Disney store hosts an array of performers, including musicians and dancers. You can also find live music at restaurants and throughout the shopping center. Check their events page for more information.
Places in Walt Disney World to See Fireworks
Just because you can't see fireworks in Disney Springs doesn't mean there's a shortage in Walt Disney World. Two fireworks shows are held nightly, and both are worth fighting crowds and staying in the park late.
If you want to treat your family, consider booking a dining or other special experience package that includes VIP seating for the fireworks. EPCOT, in particular, often does a dessert and fireworks viewing event.
Be aware that fireworks at either or both parks may be delayed or canceled due to inclement weather. To find fireworks times, check online or check out the showtimes option on your My Disney Experience app.
The Magic Kingdom
The nighttime spectacular at the Magic Kingdom is called Disney Enchantment. Referring to it as just a fireworks show is inaccurate since it's so much more. You can watch Cinderella's Castle and the buildings along Main Street, U.S.A. come to life in stunning lights and sound.
As you may have come to expect from Walt Disney World, the entire show is choreographed to some of your favorite Disney tunes. You'll also enjoy visits from classic and recent beloved Disney characters.
Disney Enchantment plays nightly at the Magic Kingdom, though showtimes vary. On certain nights from September-January, the Magic Kingdom closes early for separately ticketed events. There are different nighttime shows on those evenings.
EPCOT
EPCOT's nighttime show, Harmonious, incorporates fireworks and music, water, lights, and Disney storytelling. Disney Imagineers worked with more than 200 artists from around the world to create this stunning, emotionally evocative show.
Harmonious plays nightly at EPCOT except during inclement weather. It usually happens around 9 PM, but check a showtimes guide to be sure. The fireworks might also be later if the park stays open later since Disney typically shows them around the park closing.
Other Nighttime Shows and Events
There is much to do throughout Walt Disney World, including at night. In addition to the events described below, don't forget about your hotel!
If you're staying at a Disney resort, check with the concierge or front desk about nighttime events. Many resorts do bonfires, outdoor movies, storytelling, and more at night.
All Disney hotel main pools remain open at night (usually until 10 or 11 PM), and lifeguards patrol on duty until closing. Be sure to go for an evening swim during your stay!
Nighttime Spectaculars
In addition to the fireworks shows at Magic Kingdom and EPCOT, Hollywood Studios and Animal Kingdom come alive after dark.
At Hollywood Studios, Fantasmic is slated to return sometime in 2022. This outdoor theater show incorporates familiar music and characters, pyrotechnics, giant sets, and more to stun guests and leave them in awe.
Also, at Hollywood Studios, Star Wars: A Galactic Spectacular projects some of your favorite moments from the franchise along with fireworks and music. Disney has not announced a return date for this show.
At Animal Kingdom, even though the Rivers of Light Show and Tree of Life Awakenings have not returned, that doesn't mean nighttime is boring. You absolutely must see Pandora at night. The entire land comes alive with bioluminescence, making guests feel like they have truly stepped onto another planet.
Special Events
One of the best tips we can give for a visit to Walt Disney World is always to check the events calendar when planning your vacation.
In terms of nighttime shows, Magic Kingdom hosts Disney's Not So Spooky Spectacular in September and October and Mickey's Very Merry Christmas Party in November and December. The parks also display special fireworks shows on New Year's Eve and the Fourth of July.
How Late Does Disney World Stay Open at Night?
Every location at Disney World has its own hours, including Disney Springs, parks and water parks, and more. Check the hours page for your specific dates.
Magic Kingdom, EPCOT, and Hollywood Studios typically stay open until 9 or 10 PM (unless it closes early for a special event). Animal Kingdom sometimes closes earlier so the animals can rest. Even when Animal Kingdom stays open past dark, certain attractions may close sooner, especially those featuring live animals.
Disney Springs usually stays open until 11 PM, sometimes later on weekends and holidays, especially in the summer.
We've emphasized how much there is to do after dark in Walt Disney World. However, there isn't a lot going on late at night. As you might expect, Disney wants to discourage its guests from too much rowdy revelry into the wee hours of the morning. After all, it is a family destination.
Enjoy Nights at Walt Disney World
Walt Disney World may not be the best place to go if you're looking for a raucous late-night party, but that doesn't mean that there isn't plenty to keep your family entertained after the sun goes down. That includes a multitude of things to do at Disney Springs.
While you can't enjoy a full fireworks display at Disney Springs, it's still a wonderful place to pass the night. And the good news is that when you're in the mood for fireworks, there are plenty of options at Walt Disney World.
More about our TFVG Author
A seasoned traveller, Dad, and avid sports tourist, James foundered The Family Vacation Guide to share his expert vacation experiences- especially when it comes to being a travelling family man.
Featured in Travel articles such as Travel + Leisure, TripSavvy and SFGate, you know you're reading some of the best vacation tips online.