Walt Disney World in Florida is one of the most family-friendly places in the world, but that doesn't mean that everyone can ride every attraction. Many rides at Walt Disney World have strict height requirements for the safety of all guests.
You can use this article to help plan your visit since we've compiled the height requirements at every theme park and water park, even those with no minimum height. Let's jump in.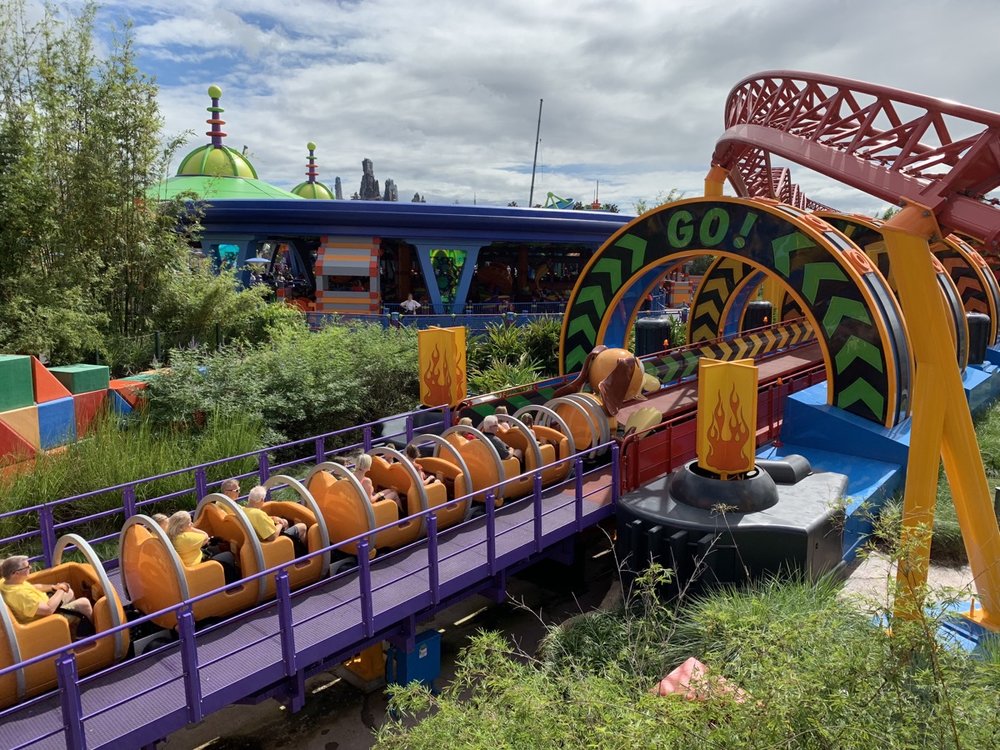 How Height Requirements at Walt Disney World Work
Figuring out and working with Walt Disney World's height requirements isn't tricky. Disney makes it easy to find height requirements. First, you can bookmark this page for reference.
You can find information on all height requirements through the My Disney Experience app for your smartphone, and they're posted at the entrances and loading area of all the rides as well.
Another option is always to ask a cast member. If they don't know the height requirement of an attraction you want to ride, they will find out for you quickly, and they'll be happy to do so.
Disney expects cast members to be very diligent about checking the heights of riders when they load the rides. They will measure children against the posts they have (the identical posts you'll see at the entrance to the ride) and turn them away if they don't reach the bottom of the post.
If the top of your child's head reaches the very bottom of the post, even if barely, they will be allowed to ride the ride. If not, parents still have another option, the Rider Switch Service.
What Can You Do If Someone in Your Family Is Too Short?
Luckily, Disney has thought of that, too. Parents and other family members can use the Rider Switch Service so that everyone tall enough can get on the ride without waiting in line twice.
Everyone gets in line together to use the Rider Switch Service, even the young child. When your family reaches the front of the line, tell the cast member working as the ride operator that you want to use that system.
One of the parents or adults will get on the ride while the other remains on the platform with the child. Once the first parent has ridden the ride, they "swap" with the second parent by taking the child and allowing the second parent to get on the ride. Everyone meets at the ride's exit at the end.
Height Requirements at the Magic Kingdom
Magic Kingdom is well-known to be the best of the four theme parks for families, and it has earned that reputation. For one thing, it has more attractions than any of the parks, and many of them do not have any height requirement, which means that anyone can ride it.
Of the six attractions that have minimum height requirements at the Magic Kingdom, only one ride requires a height of 44 inches (Space Mountain), and two require 40 inches (Big Thunder Mountain and Splash Mountain). All others are close to three feet, the average height of a three-year-old.
EPCOT
EPCOT has fewer attractions than the Magic Kingdom. Despite having some of Disney's most exhilarating thrill rides, it also has several great rides without height requirements for kids, including Frozen Ever After, Journey Into Imagination, and The Seas with Nemo and Friends. Also, don't miss Turtle Talk with Crush for little ones.
Hollywood Studios
Hollywood Studios used to have a lower attendance rate than the other parks, but since Toy Story Land and Star Wars: Galaxy's Edge opened, it has gone back up. 
That being said, Hollywood Studios is the least friendly for our short friends. Of the ten attractions in the park, seven have minimum height requirements of at least 32 inches, and most of them are 40 inches or more. Plan carefully if you want to visit with small children.
Animal Kingdom
Kids of all ages love animals, so visiting Animal Kingdom is a must for families. Luckily, despite having several thrill rides, tons of rides and other attractions in this park require no minimum height.
Disney's Blizzard Beach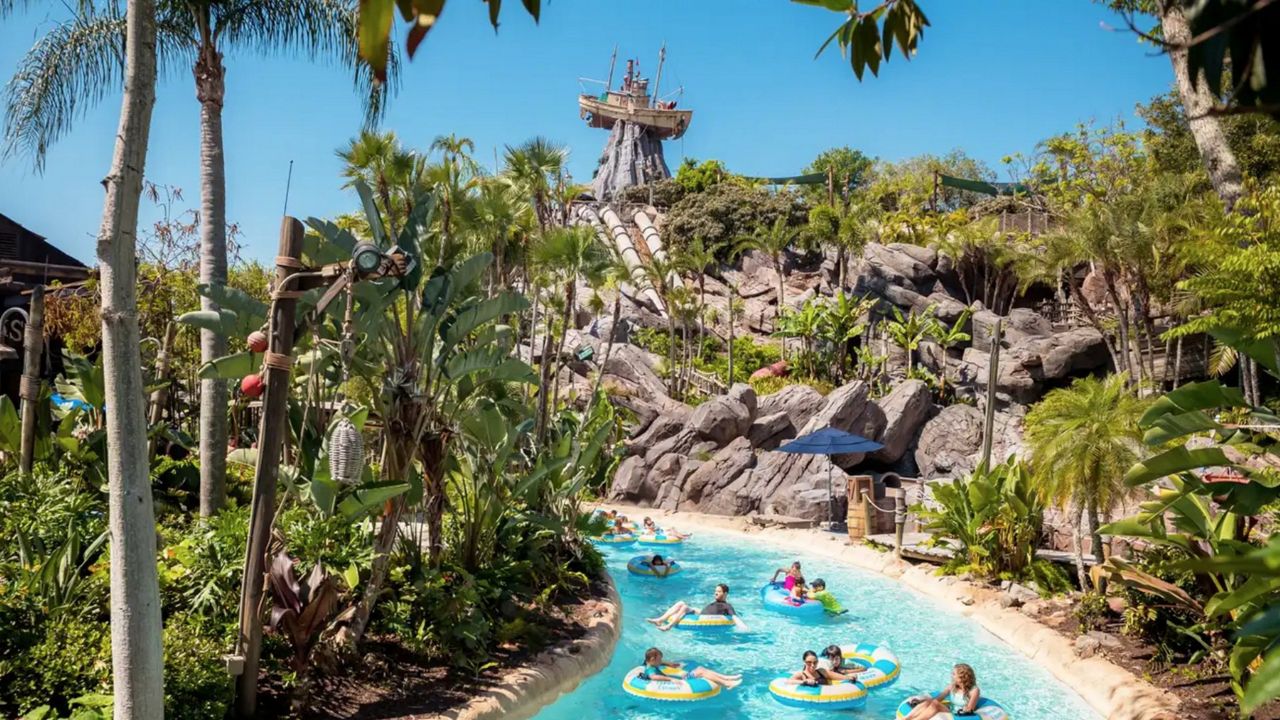 Disney's Typhoon Lagoon
Walt Disney World Attraction Height Requirements by Height
Above, we've provided a list of all attractions throughout Walt Disney World organized by theme park and alphabetically, but we thought it might be handy to have a ride guide organized by height as well. That way, you can measure your child and see what they can and cannot ride.
Note: if a ride is not listed below, it has no height requirement. You can double-check on the list above.
Rides with a 32-Inch Minimum Height Requirement
Alien Swirling Saucers (Hollywood Studios)
Chairlift (Blizzard Beach)
Tomorrowland Speedway (Magic Kingdom)
Rides with a 35-Inch Minimum Height Requirement
The Barnstormer (Magic Kingdom)
Rides with a 38-Inch Minimum Height Requirement
Kali River Rapids (Animal Kingdom)
Millennium Falcon: Smugglers Run (Hollywood Studios)
Seven Dwarfs' Mine Train (Magic Kingdom)
Slinky Dog Dash (Hollywood Studios)
Rides with a 40-Inch Minimum Height Requirement
Big Thunder Mountain Railroad (Magic Kingdom)
DINOSAUR (Animal Kingdom)
Mission: SPACE (EPCOT)
Soarin' Around the World (EPCOT)
Splash Mountain (Magic Kingdom)
Star Tours–The Adventures Continue (Hollywood Studios)
Star Wars: Rise of the Resistance (Hollywood Studios)
Test Track (EPCOT)
The Twilight Zone Tower of Terror (Hollywood Studios)
Rides with a 44-Inch Height Requirement
Avatar Flight of Passage (Animal Kingdom)
Expedition Everest: The Legend of the Forbidden Mountain (Animal Kingdom)
Space Mountain (Magic Kingdom)
Rides with a 48-Inch Height Requirement
Crush 'n' Gusher (Typhoon Lagoon)
Downhill Double Dipper (Blizzard Beach)
Humunga Kowabunga (Typhoon Lagoon)
Mayday Falls (Typhoon Lagoon)
Primeval Whirl (Animal Kingdom)
Rock 'n' Roller Coaster Starring Aerosmith (Hollywood Studios)
Slush Gusher (Blizzard Beach)
Summit Plummet (Blizzard Beach)
Tike's Peak (Blizzard Beach)
How to Deal with Disappointment from Height Requirements
The last thing you want is a sad (or mad) kiddo because they're too short to ride an attraction that they want to experience. We recommend carefully going over this list against your child's height and discussing it with them.
Focus on all of the exciting rides they will get to do and the thrills they will experience on your trip to Walt Disney World. Don't pretend that the ones they can't ride don't exist, though. It's better to prepare them by providing all of the information than trying to hide it, only to discover these exciting rides when they get there.
How to Get a Thrill for Little Ones
There are lots of ways for little kids to get a thrill. You can also use this list of rides to determine what you might want to avoid if your kids scare easily.
Magic Kingdom
Astro Orbiter: this ride climbs pretty high, much higher than Dumbo and Magic Carpets of Aladdin, which are similar.
Haunted Mansion: while most of the ride is silly, the beginning is a little bit scary, and talk of ghosts can always give a thrill.
Mad Tea Party: spin, spin, spin! You can control how fast and how much you spin, and it is a bit of a thrill ride, for sure.
Tomorrowland Transit Authority People Mover: this ride travels through Space Mountain, and you can hear the screams of riders.
EPCOT
Remy's Ratatouille Adventure: this 3D ride has a lot of surprises, even if it doesn't have drops, high speeds, or scares.
Hollywood Studios
Toy Story Mania!: this ride has a video game component and is fast-moving, which can be very exciting.
Animal Kingdom
It's Tough to Be a Bug!: While you're seated in a theater for the entire show, it can get scary.
Blizzard Beach and Typhoon Lagoon
Melt-Away Bay and Typhoon Lagoon Surf Pool: both are wave pools and can be scary, in a good way.
Runoff Rapids, Snow Stormers, Toboggan Racers, Gangplank Falls, Keelhaul Falls, Mayday Falls, and Storm Slides: all of these are water slides and tons of fun for little ones.
Teamboat Springs (Blizzard Beach) and Miss Adventure Falls: these are whitewater raft experiences that the whole family can enjoy together.
Enjoy All the Thrills at Walt Disney World
No matter how old or how tall your family members are, there are plenty of thrills to be found at Walt Disney World. The most important thing is that you and your family enjoy spending time together, whether you're scared (in a good way!), thrilled, or just plain having fun!
More about our TFVG Author
A seasoned traveller, Dad, and avid sports tourist, James foundered The Family Vacation Guide to share his expert vacation experiences- especially when it comes to being a travelling family man.
Featured in Travel articles such as Travel + Leisure, TripSavvy and SFGate, you know you're reading some of the best vacation tips online.