The Grand Floridian is the Walt Disney Company's flagship hotel at Walt Disney World in Orlando, Florida. It's an elegant retreat in the middle of the most magical—and one of the busiest—places on earth.
In this article, learn everything you need to know about Disney's Grand Floridian. We'll describe all the accommodations, activities, and amenities you and your family can enjoy together. That way, you can decide if it's the perfect place for your family getaway.
The Grand Floridian: All the Basics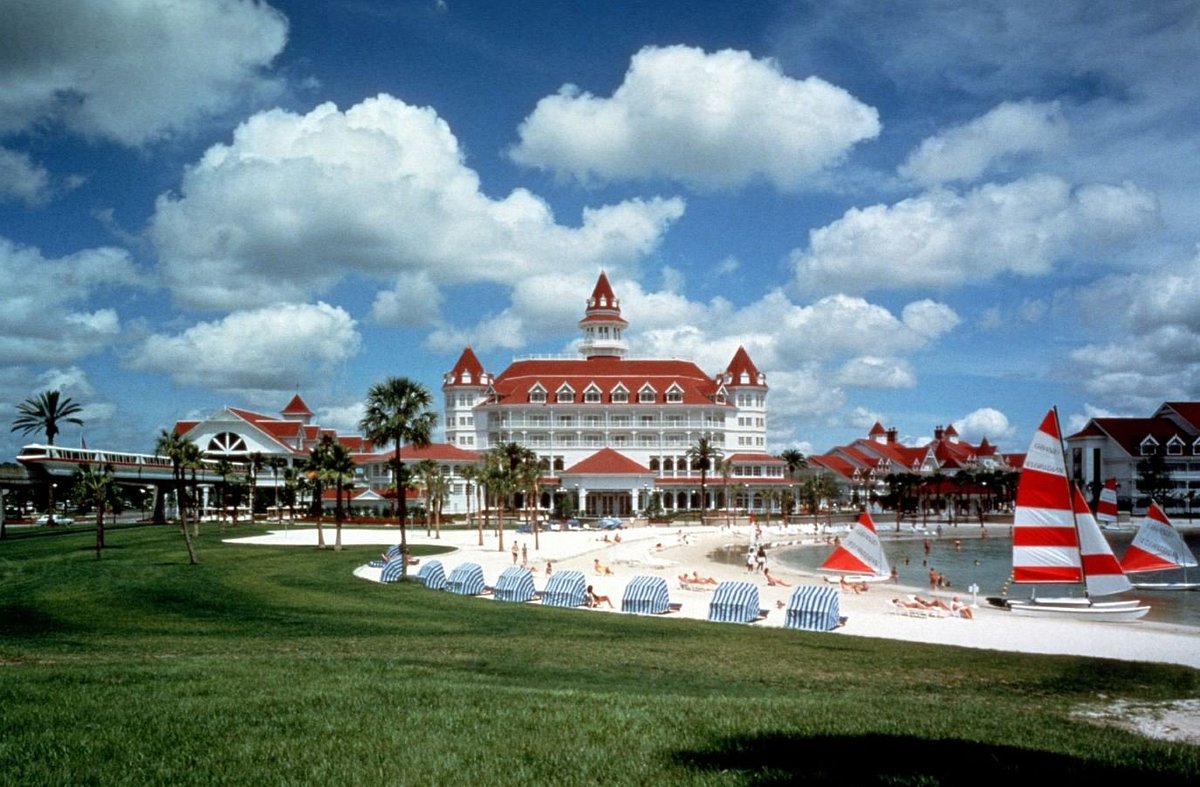 Let's start with the essentials.
Where Is the Grand Floridian?
The address of the Grand Floridian is 4401 Floridian Way, Lake Buena Vista, FL 32830. It is in Walt Disney World, southwest of Orlando, in central Florida.
The Grand Floridian is in the heart of Disney World on the Seven Seas Lagoon. The Magic Kingdom theme park and two other hotels are also located on this body of water.
What Is the Theme of the Grand Floridian?
All Disney World hotels have a theme, though the Grand Floridian's is relatively understated. It has a Victorian theme with subtle, elegant details throughout. You'll feel like you've escaped the modern world and can move at a slower pace.
Disney's Imagineers used two resorts as the inspiration for the Grand Floridian. The first is the Hotel del Coronado in Coronado, California, and the other is the Mount Washington Resort in Bretton Woods, New Hampshire.
What Kind of Hotel Is the Grand Floridian?
The Grand Floridian is a Deluxe Resort. Disney categorizes its Florida hotels into three main categories:
As a Deluxe Resort, it is in the top tier. That means it has the best access to theme parks, excellent finishes, and the most amenities.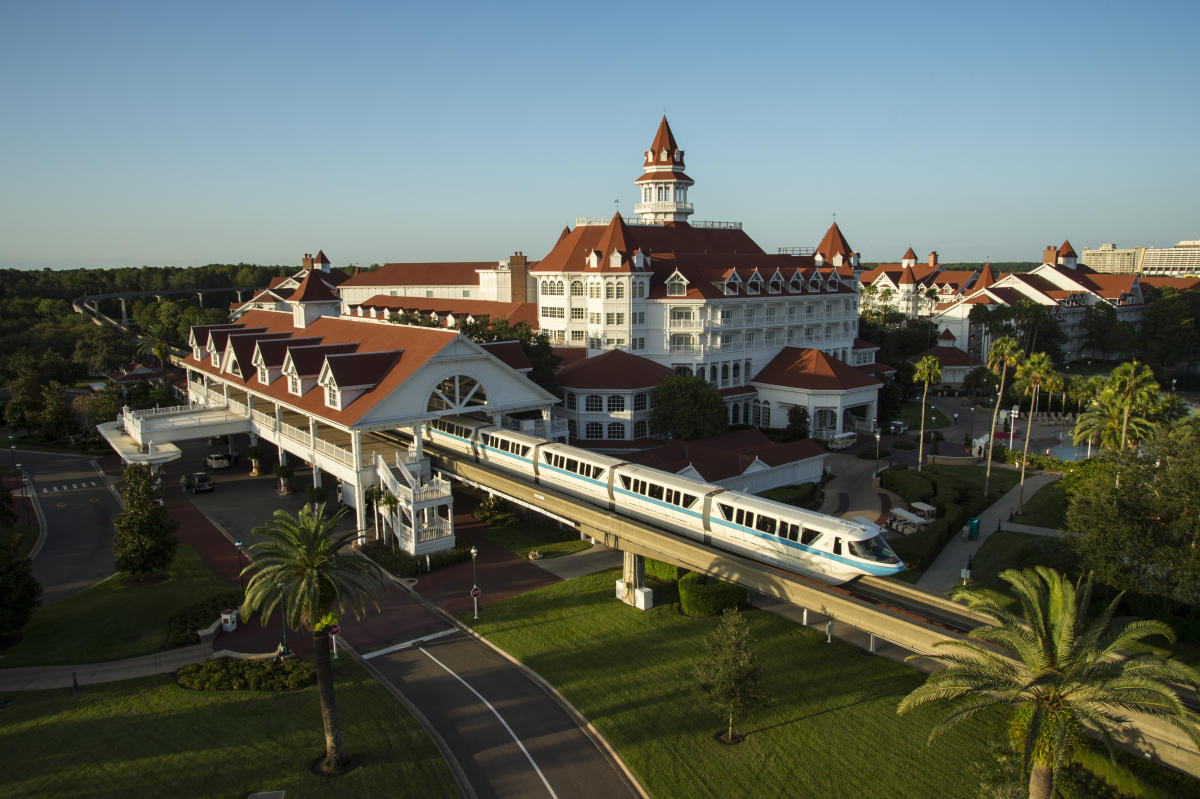 How Many Buildings Does the Grand Floridian Have?
Six buildings make up the Grand Floridian. In addition to the main building, Big Pine Key, Boca Chica, and Sugarloaf surround the Courtyard Pool. There's also Conch Key (closest to the boat dock and water taxis) and Sago Cay.
How Much Does the Grand Floridian Cost?
As a Deluxe Resort, the Grand Floridian is not only one of the nicest hotels in Disney World but also one of the most expensive.
Prices at the Grand Floridian for standard rooms rarely dip below $700 per night, even during the off-season. You may be able to buy packages or find discounts that bring the price down a little bit.
Rooms and Accommodations
There are well over 800 rooms at the Grand Floridian in several categories.
Standard Guest Rooms
Even standard rooms at the Grand Floridian are appointed with exquisite attention to detail, comfort, and luxury. These rooms typically have two queens or one king bed, in addition to a daybed. They can sleep up to five adults.
Some of the five-star amenities at the Grand Floridian include nightly turn-down service, luxurious bathrobes in the rooms, and triple-sheet bedding. 
Suites
Separate from the villas, there are several opulent suites in the hotel's main buildings. Guests in suites and rooms on the club level have access to the Royal Palm Club lounge, which serves refreshments and beverages from 7 AM to 10 PM daily.
Club-level guests also have access to an exceptional concierge called Disney Signature Services. You'll have to book a room to learn more!
Disney Vacation Club Villas
Disney Vacation Club villas are studio, one, two, or three-bedroom accommodations. Studios have kitchenettes, but the other villas have full kitchens and multiple bathrooms and can sleep families comfortably.
The DVC villas at the Grand Floridian are in a separate building close to one of the secondary pools.
Grand Floridian Room Views
It isn't just the type of room and time of year that affects the price of a room; it's also the view. When you visit the booking website, you'll have the option of several types of vistas.
Some rooms overlook the gardens, green spaces, swimming pools, the marina, or the Seven Seas Lagoon. There are also rooms with spectacular views of the Magic Kingdom, where you can see Cinderella Castle and the fireworks at night.
If you know you want to see something, pay close attention to the description of your view at booking to ensure you schedule what you want.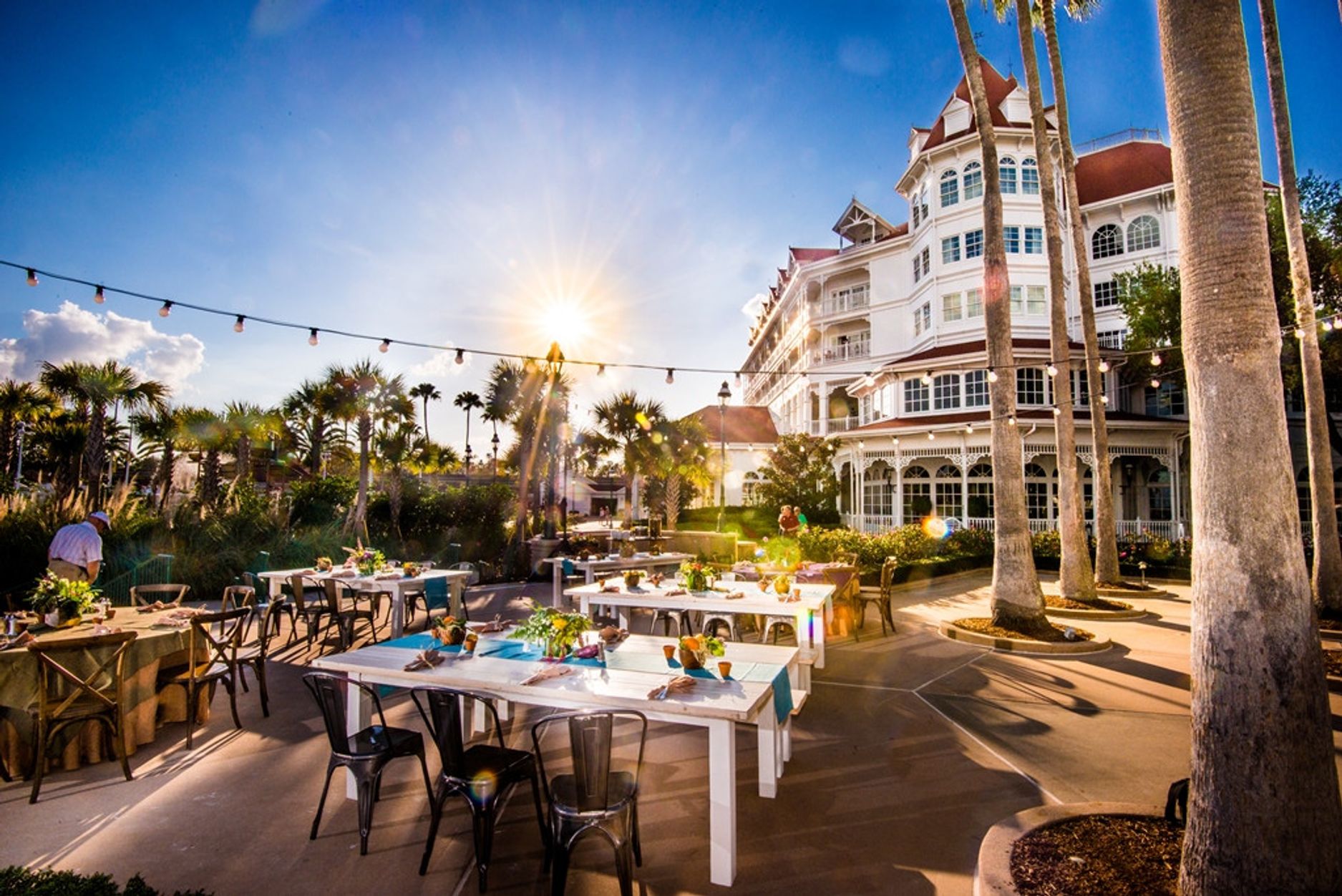 Amenities and Things To Do
Now that you're familiar with the rooms, we can explore the rest of the hotel.
Swimming Pools
The Grand Floridian pool has two pools: the Beach Pool and Courtyard Pool.
The Beach Pool is the main pool. It is the larger of the two (over 100,000 gallons!) with a 181-foot waterslide. It overlooks the Seven Seas Lagoon, features ample seating, and has a poolside bar and restaurant. The children's aquatic play area is next door.
The Courtyard Pool is smaller and quieter but no less fun. It's zero-entry, heated, and there's a whirlpool spa.
Both pools provide towels. You can rent cabanas for additional fees. Cabanas guarantee your family privacy, shade, and space. You also have an attendant on hand.
Nighttime Fun
Disney certainly provides plenty to do in the parks at night, but if you end up staying at the hotel, you won't be bored. You can enjoy campfire activities on select nights (weather permitting).
The Grand Floridian also hosts Movies Under the Stars at the Summerhouse on select nights. Your family can watch a classic Disney movie together while enjoying the warm Florida air.
All of the hotels around the Seven Seas Lagoon get to enjoy the Electrical Water Pageant. Weather permitting, you can enjoy an enchanting parade of sea creatures and other familiar friends. You can make a night of it by seeing the water pageant after some campfire activities!
Many other amenities are available after dark. The pools often stay open, as does the arcade and several restaurants and shops. Talk to Guest Services when you check in to learn more.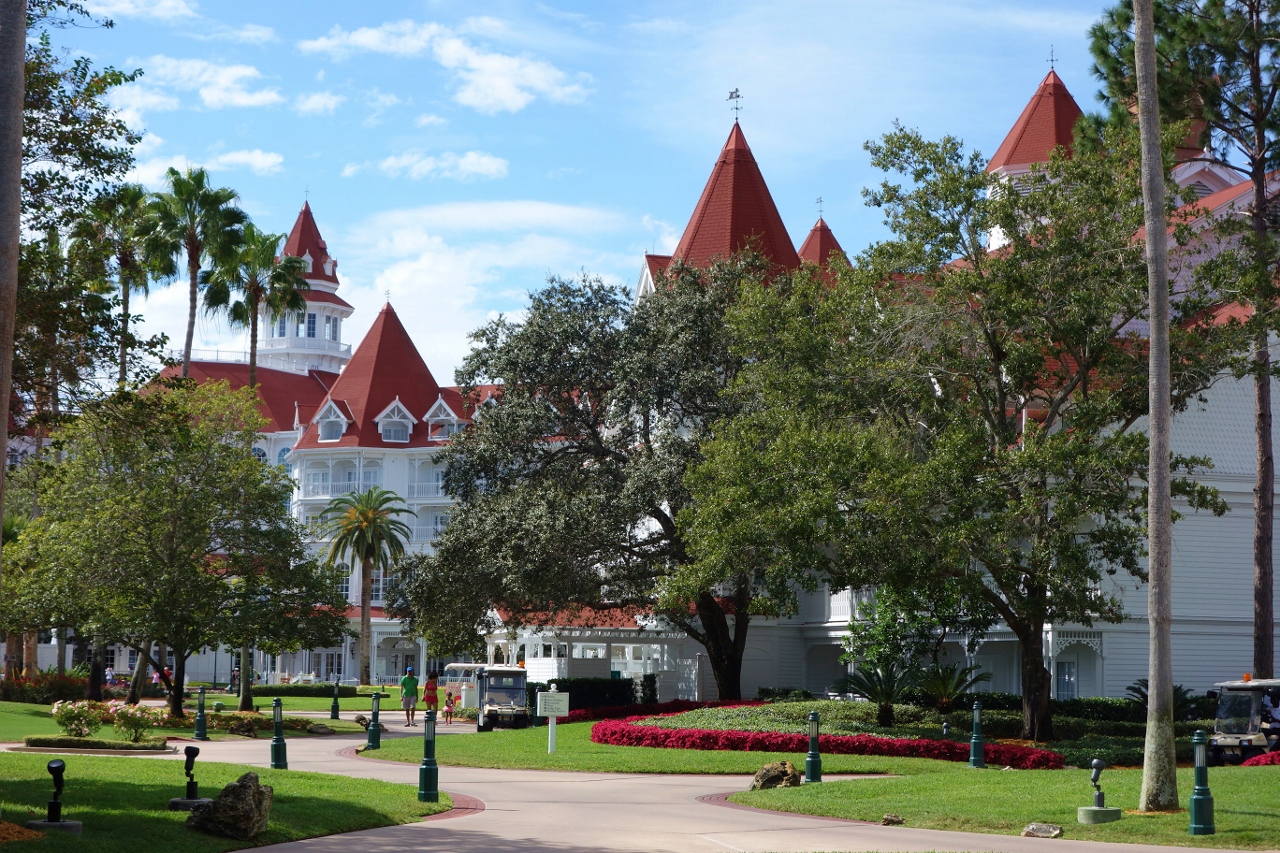 The Grand Floridian Spa
The Grand Floridian Spa is a spa, salon, and health club offering various services. You can rejuvenate with a facial or body treatment; renew your body with a massage, or recharge your look with new nails.
Shopping and More
There are several shops located in the Grand Floridian. You can shop for souvenirs, clothes, home goods, beauty and wellness products, and more at Basin White, Curiouser Clothiers, M. Mouse Mercantile, and Sandy Cove Gifts and Sundries.
There's also a location of Bibbidi Bobbidi Boutique at the hotel. If you have a little one hoping to be transformed into a favorite character, you don't even need to leave your hotel.
There is also an arcade where your kids can play some fun games. Grown-up kids are welcome, too!
Health and Fitness
The health club is located at the Grand Floridian Spa. It has state-of-the-art exercise equipment, including treadmills, stationary bikes, ellipticals, weight machines, and free weights. There's also space for stretching or independent workouts.
The Grand Floridian also has basketball courts where you and your family can take a break from the hustle and bustle of the parks to shoot some hoops.
Water Activities
The Seven Seas Lagoon and the waters it connects to aren't just lovely to look at. Disney has also arranged many activities for families on the lagoon.
You can rent a motorized boat from the marina and take your family out for a picnic meal. You can also schedule a fishing (catch and release) trip with a guide. If you want a truly unique experience, look into specialty charters. It's a wonderful way to celebrate a special event.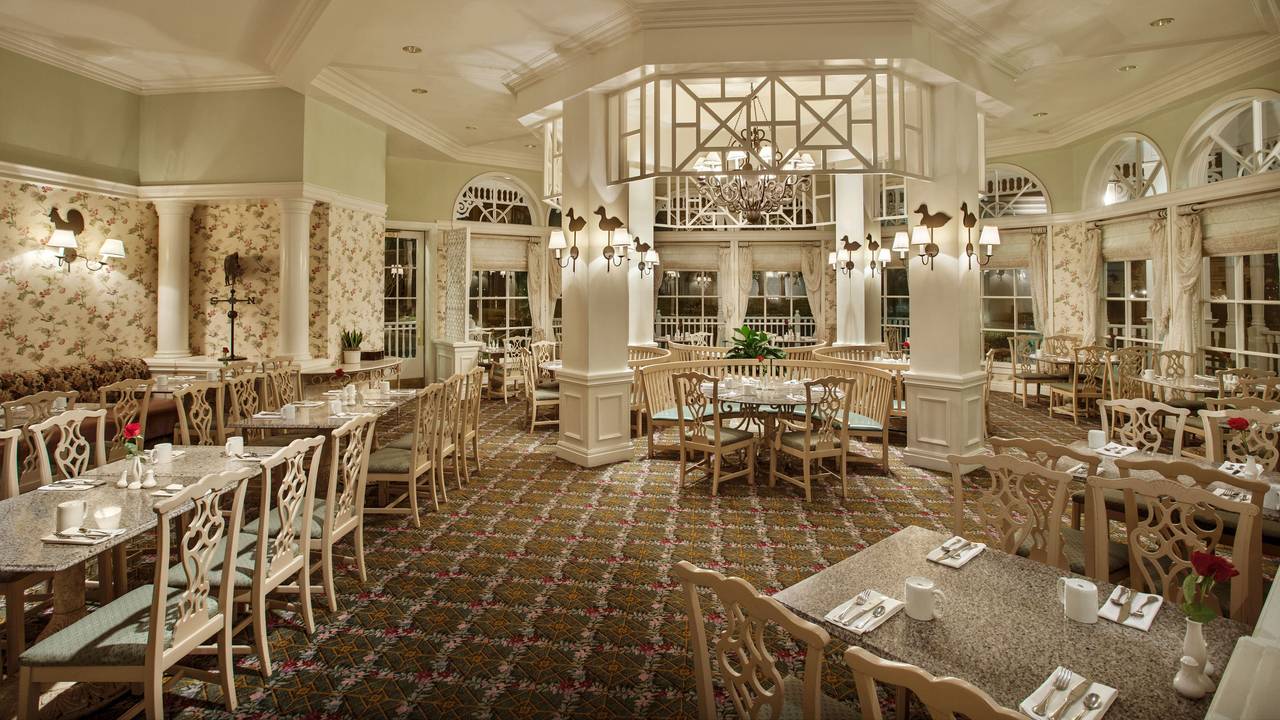 Dining and Drinking
There's delectable food throughout Walt Disney World, and some of the best are at the Grand Floridian.
1900 Park Fare
1900 Park Fare offers buffet-style character dining. You can enjoy breakfast with classic English friends such as Mary Poppins, the Mad Hatter, and Winnie the Pooh.
Cinderella and Prince Charming host dinner. Enjoy buffet favorites like fresh, sustainable catfish, mashed potatoes, seasonal vegetables, macaroni and cheese, and irresistible desserts.
The restaurant also offers traditional afternoon tea, which is quite an experience. 
Beaches Pool Bar and Grill
Located beside the Beach Pool, Beaches Pool Bar and Grill serves daily drinks, snacks, and lunch. It's covered, so even on a drizzly day, it's a nice place to unwind. Expect classics like sandwiches and burgers and surprises like fresh salads and even sushi.
Citricos
One of the fine dining establishments at the Grand Floridian is Citricos. Inspired by Mary Poppins herself, you can enjoy dinner underneath the London sky. The rest of the dining room is decorated to resemble a lush garden with whimsical colors and flowers.
Citricos' menu features fresh Florida cuisine with a Mediterranean twist. Enjoy Florida cobia fish, strawberry salad, and other tasty delights.
Enchanted Rose
Tucked away in a quiet corner, the Enchanted Rose Lounge has four distinct seating areas, each inspired by different features of the live-action film "Beauty and the Beast." If moms and dads can get a few moments to themselves, this is the perfect place to go.
Garden View Tea Room
The Garden View Tea Room does morning and afternoon tea services. Unwind with a hot cup of something uplifting while looking out over the families playing in the pool.
Gasparilla Island Grill
Gasparilla Island Grill is the Grand Floridian's cafeteria-style eatery. It's open from early morning until late at night, so famished families can get whatever they need on their way to or from the parks.
Meal selections include a range of breakfast items, salads, sandwiches, bowls, and similar foods. They also have many bakery items, snacks, and beverages, including coffees and alcoholic drinks, and other essentials.
Grand Floridian Cafe
The Grand Floridian Cafe offers casual table-service dining overlooking some of the property's manicured gardens. Open for breakfast, lunch, and dinner, there's ample seating, and you rarely need a reservation.
Narcoossee's
Situated on the water of Seven Seas Lagoon, Narcoossee's specializes in fresh seafood from Florida and around the world. Their menu also features steaks, chops, traditional dishes, and an impressive wine list.
Victoria and Albert's
Victoria and Albert's is the best restaurant in Walt Disney World. In fact, it is one of only three restaurants in all of Florida to receive the AAA Five-Diamond Award.
Formal attire is required to dine here. While it is pricey, you can expect one of the finest meals of your life. The kitchen staff uses fresh, creative ingredients to make edible masterpieces you'll never stop craving. 
Nearby Attractions and Activities
Even though it's beautiful, there's no reason to stay at your resort. There are tons to explore right out your door!
Along the Monorail
If you haven't been to Disney World before, we'll let you know that staying at a hotel connected to the monorail is a big deal. It's a privilege only three hotels enjoy, and the Grand Floridian is one of them.
You can ride the monorail directly to the other two hotels (the Polynesian and the Contemporary) and the Magic Kingdom. You can also ride it to the Transportation and Ticket Center, where you can transfer to an Epcot monorail.
There are multiple restaurants, shops, and entertainment options at Disney's Polynesian Village Resort and Disney's Contemporary Resort. Both have distinct theming, and it's fun to walk around if you have time.
Theme Parks
There are four main theme parks in Walt Disney World:
Magic Kingdom
Hollywood Studios
Animal Kingdom
The Grand Floridian is closest to the Magic Kingdom, which features more than 30 unique attractions for your family to enjoy. It's also home to Cinderella's Castle, the symbol of Disney World. You can get to the Magic Kingdom by boat or monorail.
You can also get to Epcot by monorail (or by taking a bus). Epcot has two main areas, Future World and the World Showcase. Future World highlights the best of the natural world and human innovation. 
World Showcase is composed of pavilions representing eleven countries from around the world. You can shop, dine, and drink the best of what each has to offer while interacting with representatives from their home nations.
Hollywood Studios opened its doors in 1989 and has since showcased some of the best aspects of old Hollywood glamor. It's also home to Toy Story Land, Star Wars: Galaxy's Edge, and some of the most popular attractions in all of Walt Disney World. They include the Twilight Zone Tower of Terror, Star Wars: Rise of the Resistance, and Rock-n-Roller Coaster.
The bus is the only direct way to get there, but there is a way to ride the monorail to Epcot and then walk or boat if you're feeling adventurous.
Last but certainly not least, Animal Kingdom combines the best of a traditional American zoo with a magical Disney theme park. You can see well-cared-for animals in enclosures that closely replicate their natural habitats.
You can also enjoy thrilling attractions like Expedition Everest, Avatar: Flight of Passage, and Dinosaur. Just be sure to leave time for Kilimanjaro Safaris and take a slow stroll on at least one of the nature walks. Get to Animal Kingdom by bus.
Disney Springs
Disney Springs is Walt Disney World's shopping, dining, and entertainment district. Over 100 stores, 60 eateries, and 20 entertainment venues and attractions exist. You can shop, dine, and play until you drop! Check the calendar to see what's happening during your visit.
Disney doesn't own the majority of the businesses in Disney Springs. Instead, Disney's prestige has attracted some of the most popular retailers and restaurateurs, including Coach, Kendra Scott, lululemon, Superdry, Uniqlo, and many others.
Water Parks, Mini Golf, and More
There's much more to explore in Walt Disney World. You can find two fabulous water parks, Blizzard Beach and Typhoon Lagoon. There are also places to play mini golf and regular golf, a Cirque du Soleil show, ESPN Wide World of Sports, and much more. You can spend a month and not see and do everything!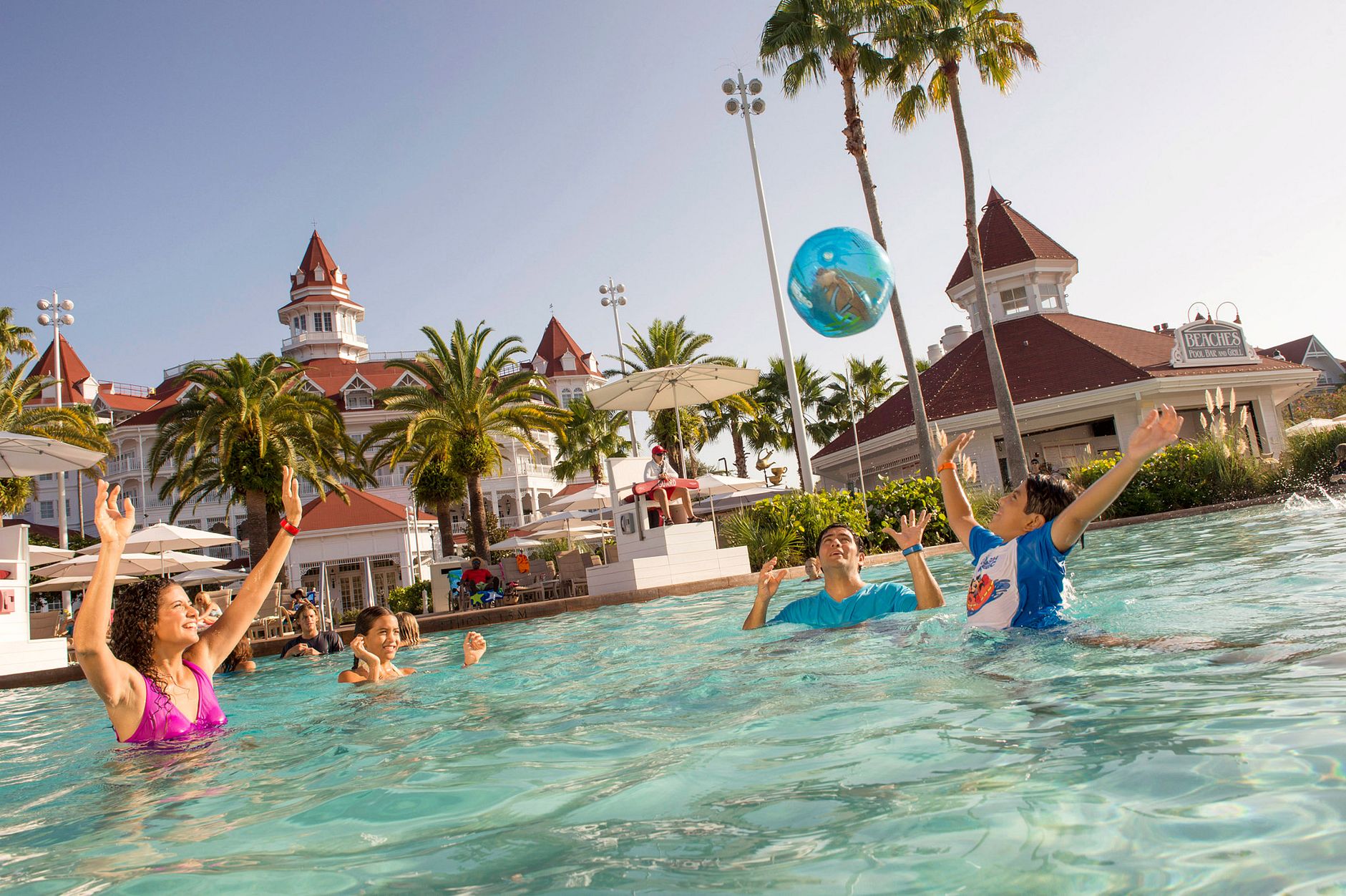 Weddings, Conferences, and Events
With more than 800 guest rooms, suites, and villas, the Grand Floridian is a terrific place to hold a conference or celebration. There is a conference center on the property.
The hotel is also next door to Disney's Wedding Pavilion, one of several locations couples can tie the knot on the property with Disney Weddings and Honeymoons. If you sit in the lobby of this picturesque hotel, you may see a bride taking photos in the moments before she walks down the aisle.
Should You Stay at the Grand Floridian?
As you can see from all the information above, the Grand Floridian is grand, indeed! It is one of the most excellent hotels in Walt Disney World and is home to one of the best restaurants in Florida. But only you can decide whether it's right for your family.
Whether you stay at the Grand Floridian, one of Disney's other Florida hotels, or other accommodations not owned by Disney, the most crucial factor is enjoying your vacation with the people you love!
More about our TFVG Author
A seasoned traveller, Dad, and avid sports tourist, James foundered The Family Vacation Guide to share his expert vacation experiences- especially when it comes to being a travelling family man.
Featured in Travel articles such as Travel + Leisure, TripSavvy and SFGate, you know you're reading some of the best vacation tips online.