Central Florida is a popular family vacation destination due to the several theme parks in the area. Disney World and Universal Studios are the two major theme park companies that attract millions of people every year.
When traveling with your family, finding a vacation destination that has something everyone will enjoy doing can be tedious.
If you know you're ready to take on some of the world's best theme parks, Central Florida is where you need to be. But when comparing Universal Studios vs. Disney World, which is the best place for you and your family's getaway?
Introducing Walt Disney World
Walt Disney is the brilliant mind behind the Disney franchise. There are several Disney theme parks around the world, but only one Disney World.
Walt Disney was alive to see his first vision of Disneyland in California open but passed away before seeing Disney World open. The idea behind Disney World was to create a fun and inviting place for people of all ages.
The one thing Walt wanted to do differently with Disney World was to have lodging and to create a theme park on a grander scale than Disneyland. Disney World opened its doors to the first of many parks, the Magic Kingdom, in 1971.
Where is Walt Disney World Located?
When everyone thinks about Walt Disney World and other Florida theme parks, most people believe Disney World and all of their theme parks are in Orlando, Florida.
Disney World is surprisingly not in Orlando, but that's the closest city that people associate it with.
The entire Walt Disney World Resort complex spreads throughout Bay Lake and Lake Buena Vista, Florida. These towns are between Kissimmee and Orlando, Florida.
Most Disney World theme parks and one of their water parks are in Bay Lake, Florida. But several other Disney World resorts and other properties have a Lake Buena Vista, Florida address.
If you're flying into the Orlando airport, it's only a 20-minute drive to Disney World without traffic.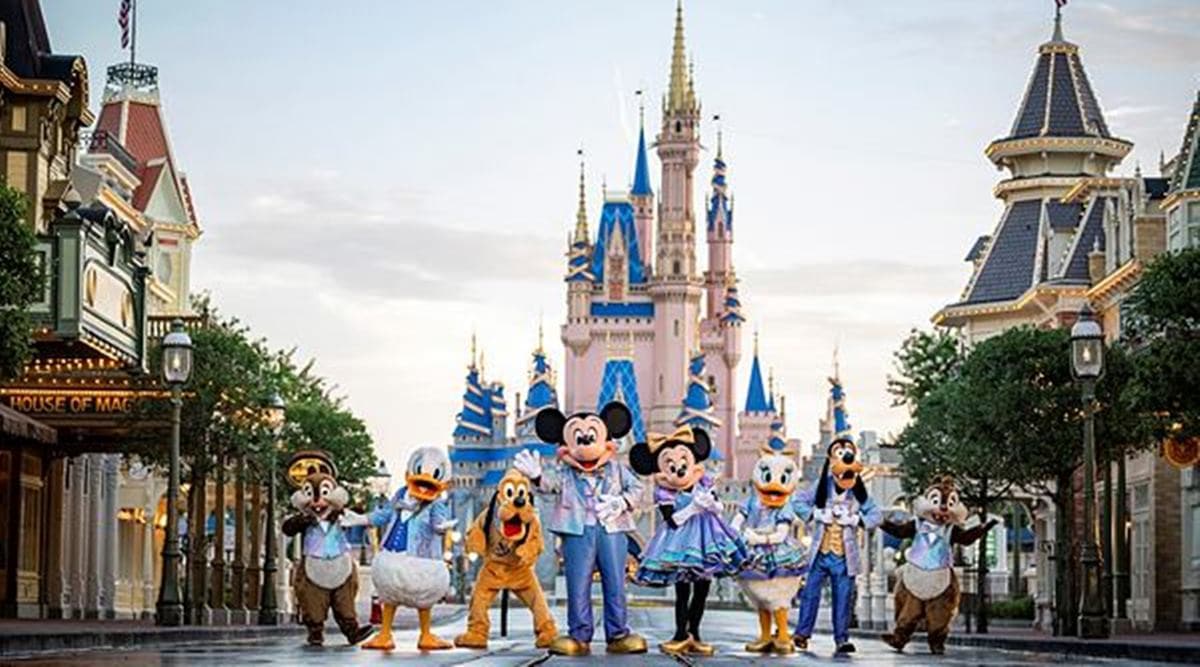 How Many Parks are at the Walt Disney World Resort?
When you visit the Walt Disney World Resort, there are four theme parks and two water parks to choose from.
Magic Kingdom
Disney's Magic Kingdom was the first park on the resort complex to open in 1971. While everything about Disney is magical, this is the park that people consider to be "the most magical place on Earth." When you think of Disney World, this is the park that generally comes to mind.
It has the classic Cinderella Castle that so many people love. This 107-acre park has six themed areas and attractions primarily based on Disney classics and some newer films and characters. The Magic Kingdom is the perfect park for the entire family.
Epcot
Eleven years later, in 1982, the 300-acre park, Epcot, opened to the public. Walt himself came up with the name for the park as The Experimental Prototype Community of Tomorrow, but everyone knows the park as Epcot. 
The theme park was to showcase a community concept based on the World's Fair. The park has a focus on technology, science, and the arts.
One side of the park has rides surrounding these themes, while the other side (Epcot's World Showcase) has 11 pavilions showcasing different countries from around the world. You can eat and drink popular cuisine from countries like Mexico, Japan, and more.
Hollywood Studios
When Hollywood Studios opened in 1989, it was going by the name MGM Studios. Disney officially changed its name to Hollywood Studios in 2008. 
This Disney park strives to immerse visitors in the Hollywood experience by surrounding them with attractions based on movies they love.
It focuses on attractions that show television and movie productions while showcasing some of their most popular movies like Star Wars, Toy Story, and the ever-popular ride, Tower of Terror.
Animal Kingdom
Besides their water parks, the final theme park to join the Disney World Resort was Animal Kingdom in 1998. Animal Kingdom pays respects to all the beautiful and exotic wildlife on our planet. 
This park combines a theme park and a zoo, and it's probably the most natural feeling park on the Disney Resort complex.
You can spend time looking at animals from almost every continent or partake in several rides. Either way, this park provides a unique theme park experience you won't get in other Disney parks.
Typhoon Lagoon
Typhoon Lagoon joined the Disney World family in 1989. This post-typhoon-style water park boasts a tropical atmosphere where families can relax in the sun or go down one of their several slides.
There are thrilling water activities for the older family members and more calm pools and slides for the younger ones.
Blizzard Beach
With the success of the first Disney water park, Disney opened Blizzard Beach in 1995. Disney engineers designed this park to look like a ski resort since you don't see those in Florida. It has the same amount of slides and attractions as Typhoon Lagoon, but has polar opposite decor.
How Much Do Tickets to Walt Disney World Resort's Parks Cost?
How much your ticket and family's tickets to Disney World will cost depend on several factors. These factors include how long you plan on staying, if you want to see multiple parks or even visit the water parks, and the ages of the people traveling with you.
Keep in mind that prices may be higher than those mentioned here depending on the day of the week you go.
Booking a standard ticket ensures your entrance to one of the four Disney parks for an entire day. A standard ticket costs $109 per day for people ten years of age and older. Children aged three to nine years old cost $104 per day, and children under three do not need a ticket.
One of the best things about Disney is that the longer you stay, the more you save on tickets. A standard ticket starts at $109 a day, but if you were to stay for ten days, your tickets would end up starting at $52 a day.
Ten days may be a long time for you to spend on vacation, but any number of days will ensure a significant amount of savings per day on tickets.
If you want to go to two parks in one day, you can book a park hopper ticket. These tickets allow you to visit two parks of your choice in one day.
These tickets range in price from $174 a day to $61 a day for people tens of years old and older, and then start at $169 for children three to nine. Similar to the standard ticket, you'll save money the longer you stay when booking park hopper tickets.
The Florida sun can be brutal, and if you want to visit the Disney water parks while you're on vacation, booking tickets via their water sports option is best. These tickets give you access to the park of your choice for however many days you book.
If you book a one-day ticket, you get one water park visit. If you book a three-day ticket, you have three water park visits—tickets start at $179 for adults and $174 for children. As always with Disney, the more days you book, the cheaper your price per day will be.
Another popular ticket choice is the park hopper plus. This combines the traditional park hopper ticket with access to the water parks. Prices start at $194 for adults and $189 for children for one day.
If you want to purchase a ticket to Blizzard Beach or Typhoon Lagoon only, prices are $69 for adults and $63 for children per day.
Disney encourages Florida Residents to visit by offering them additional savings solely for living in the state. Their Florida resident tickets are for one, three, or four days and you'll save 40% when you book three or four-day tickets. These start at $109 for adults and $107 for children.
How Many Hotels are at the Walt Disney World Resort?
There are 32 Disney Resort hotels that can make your magical family vacation even more magical. They have everything from budget-friendly hotels to super-luxurious accommodations.
Their hotels all have a different theme. There's a hotel decorated like the French Quarter, a wilderness lodge, a Caribbean beach-style resort, and so much more.
How Many Restaurants are at the Walt Disney World Resort?
It's safe to say that you won't go hungry when you visit Disney World. With all four theme parks, two water parks, Disney Springs, and over 30 hotels, you'll find more than 200 different places to eat.
Thirty of those 200 food places are within the theme parks. They range from full-service restaurants to food stands boasting those large turkey legs you hear about. There are 90 full-service restaurants if you're searching for a sit-down meal with your family.
If you're not interested in a sit-down restaurant but want something more than just a snack from a food stand, they have plenty of counter service restaurants within the complex too.
Regardless of where you plan to have your meals while visiting, you won't want to miss a character meal. You'll enjoy a delicious meal while various Disney characters roam the dining area signing autographs and posing for pictures.
What is Disney Springs?
Disney Springs is an entertainment complex that makes for the perfect evening after a long day at one of the theme parks or the perfect daytime activity if you need a break from the parks.
When you visit Disney Springs, you're greeted with over 100 places to shop, dozens of restaurants, including the ever-popular Rainforest Cafe, and several ways to entertain the whole family.
There's a bowling alley, movie theater, and the Orlando House of Blues is on the property, which regularly has performances. You don't need a ticket to visit Disney Springs, but you will need to pay for certain activities.
Introducing Universal Orlando Resort
Universal Orlando Resort is just one of the several Universal Studios theme parks in the United States. The people with the ideas behind Universal Studios created these parks to showcase the movies and productions of Universal Pictures.
Universal Orlando Resort isn't just one theme park. But the complex's flagship park, Universal Studios Orlando, opened its door for eager visitors in 1990.
Where is Universal Orlando Resort Located?
Unlike Disney World, you'll find the Universal Orlando Resort in Orlando, Florida. The two major theme parks are approximately ten miles away from one another, but Universal Orlando Resort is the only one with an Orlando mailing address.
How Many Parks are at Universal Orlando Resort?
When you're planning a trip to Universal Orlando Resort, you have the opportunity to visit two theme parks and one water park.
Check out our Universal Studios Vs. Islands Of Adventure guide to help you compare the two parks if you're only able to visit one of them.
Universal Studios
Universal Studios Orlando was the first theme park to open at the Universal Orlando Resort complex. Everything about this theme park screams the television and movie industry. Even their live shows feel like a television production in progress.
Rides and other attractions in the park are based on popular movies and tv shows like The Mummy, The Simpsons, and of course, Harry Potter.
Islands of Adventure
Islands of Adventure was next to join the Universal Orlando Resort. Only nine years after the opening of Universal Studios, the complex added this park in 1999.
While it follows a similar theme of Universal Studios in that many rides are based on popular movies and tv shows, this park is divided into seven "islands".
The seven islands are Marvel Superhero Islands, Toon Lagoon, Jurassic Park, The Wizarding World of Harry Potter, Seuss Landing, The Lost Continent, and Port of Entry.
Seuss Landing is a popular spot in the park for younger children. But adults and older kids will have a great time exploring and riding rides there too.
Volcano Bay
Volcano Bay is the first and only official water park owned and operated by Universal Orlando Resort and is widely regarded as one of the best water parks in Florida. While Wet N Wild was a water park previously associated with Universal Orlando Resort, Volcano Bay opened in 2017 and has replaced that notion.
Universal Orlando Resort's water park has a tropical theme, or more specifically, Polynesian. There are four areas of the park, the Wave Village, the River Village, the Rainforest Village, and Krakatau, where you can find the famous volcano.
There are wave pools and thrilling slides for the adrenaline junkies and a lazy river which is perfect for relaxing and floating with kids.
How Much Do Tickets To Universal Orlando Resort's Parks Cost?
Ticket prices for the various parks at the Universal Orlando Resorts are comparable to Disney World. You'll want to keep in mind when booking tickets to any of these parks that some days will cost more than the minimum price.
A 1-Park 1-Day ticket ensures you access to either Universal Studios or Islands of Adventure for one day. These tickets start at $109 for everyone ten years of age and older, and for children three to nine years old, prices start at $104.
When you book two or more days worth of tickets, you'll save on your daily ticket price. If you only plan on being in town for a day or two but don't have time to visit both theme parks on separate days, the 2-Park 1-Day ticket is a great option.
You'll be able to park hop as often as you want for the date valid on your ticket. Prices start at $164 for adults and $159 for children under nine. Please remember that children under three don't need a ticket.
Many of the pricing is similar between Universal Orlando Resort and Disney World, but a significant difference is Volcano Bay's pricing. A 1-Day Volcano Bay ticket costs $80 for adults and $75 for kids. That's more expensive than Disney World's water parks.
The best way to visit Universal Orlando Resort is to get tickets for all three parks. They have an option for you to book 2-Park 2-Day tickets where you can visit Universal Studios on one day and Islands of Adventure on the other for $136.50 per day for adults and $131.50 for kids.
Another option is to do a 3-Park 2-Day ticket which allows you to park hop among the two theme parks and Volcano Bay in two days.
If you hate waiting in lines, you have the option to purchase express passes for you and the family for an additional fee. Similar to Disney World, there are special packages and pricing in place if you happen to be a Florida resident.
How Many Hotels are at Universal Orlando Resorts?
Staying on the Universal Orlando Resort property only enhances your vacation. Every hotel provides free transportation to and from their parks, making it easier to get there and leaving you without a stressful parking experience.
There are eight hotels at the Universal Orlando Resort complex. They can all be divided into four categories based on pricing.
Their value hotels that are exceptional but are more budget-friendly include Universal's Endless Summer Resort, the Dockside Inn & Suites, and the Surfside Inn & Suites.
One of their most popular hotels falls under the premiere value category. Universal's Cabana Bay Beach Resort is incredibly popular, and Universal's Aventura Hotel is also in this category.
They only have one hotel that is considered preferred when it comes to cost. That is the Loews Sapphire Falls Resort.
Suppose money isn't a concern, or you're looking for some of the absolute best hotels at Universal Orlando Resort. In that case, you need to look at the Hard Rock Hotel, Loews Portofino Bay Hotel, or Loews Royal Pacific Resort.
How Many Restaurants are at Universal Orlando Resorts?
It wouldn't be a resort complex without fantastic dining options. At Universal Orlando Resorts, there are 20 places to have a full, sit-down meal.
You'll find eight of those dining options at several of their hotels. There are four restaurants within their two theme parks and ten at Universal CityWalk.
These 20 restaurants don't include the dozens of food stands you'll find throughout the parks for a quick snack or drink to cool you down.
What is Universal CityWalk?
The best way to describe Universal CityWalk is that it's similar to Disney Springs, with it being Universal's entertainment complex.
There are ten full-service restaurants and bars for you and your family to enjoy during your trip. You won't want to miss grabbing a bite to eat at Margaritaville or the Bubba Gump Shrimp Company.
But there's more to CityWalk than just dining. You can take pictures with the iconic Universal logo. You can find the spinning globe with Universal writing on it there. If you plan on taking home souvenirs, there's a massive shop that has everything you could imagine based on themes within the parks.
The entertainment at CityWalk is top-notch. You can participate or watch karaoke shows, live performances, catch a movie, or even play a round of mini-golf with the family.
Universal Studios vs. Disney World: Which is Best for Toddlers?
When comparing Universal Studios vs. Disney World for families that have toddlers, Disney World may be the better choice. Disney World ensures that even their youngest of guests feel all the magic there is to feel at their parks.
Many of the rides are designed with toddlers in mind, and seeing them meet the various characters around the park is truly something special. They may not be able to ride some of the rides due to height restrictions, but there's still plenty of rides they can do.
A few of the rides suitable for toddlers include Aladdin's magic carpet ride, Dumbo the flying elephant, and the Many Adventures of Winnie the Pooh.
Universal Studios vs. Disney World: Which is Best for Teens?
People of all ages can have fun at Universal Studios and Disney World, but Universal Studios may be the better option unless you have teenagers obsessed with Disney.
Universal Studios has attractions that are geared more towards an older crowd with roller coasters and thrill rides. All of their attractions and lands within the park are based on popular films that your teen more than likely enjoys.
Final Thoughts
Both Disney World and Universal Orlando Resort make for a vacation you and your family will never forget. These parks are fantastic for families regardless of age.
Disney World tends to be the preference for families with toddlers or younger kids, while families with older kids tend to favor Universal. When comparing Universal Studios vs. Disney World, there's something for everyone at both parks, and it ultimately comes down to what your family would prefer.