Disney Springs is the massive shopping, dining, and entertainment complex inside Walt Disney World near Orlando, Florida.
Like the rest of Walt Disney World, it transforms in late November into a holiday wonderland with decorations, unique merchandise, events, and more.
One of the most fun things to do during the holiday season in Disney Springs is the Christmas Tree Trail. As a bonus, it's completely free! The trees and decor also change yearly, so you can make it a holiday family tradition.
Below, discover everything about the Christmas Tree Trail. That way, you can incorporate it into your Christmas vacation to the most magical (and merry!) place on earth!
What Are the Dates for the Christmas Tree Trail at Disney Springs?
The dates for the Christmas Tree Trail vary slightly from year to year, but it is typically on full display from early or mid-November until late December or early January. If you want to guarantee that you'll see the whole thing, visit between Thanksgiving and New Year's.
Disney has already released the dates for the Christmas season at Disney Springs in 2022. It is scheduled to run from November 11 until January 8. However, a separate announcement gives the Disney Springs Christmas Tree Stroll dates as November 5 through December 30, so plan accordingly.
What Is the Disney Springs Christmas Tree Trail?
That's a great question! The Disney Springs Christmas Tree Trail, or Christmas Tree Stroll, is an officially-sanctioned activity created by Disney to encourage guests to explore all of Disney Springs.
There are several Christmas trees on display throughout the Disney Springs property. Each tree is decorated uniquely, and many have specific themes or color schemes. If you do the Christmas Tree Stroll, you'll make a point of seeing all of them.
There are two ways to do the Christmas Tree Trail. The first is casually; simply walk through Disney Springs, taking care to notice the beautiful Christmas trees. You can count or document them to ensure you don't miss any of them or just enjoy those you pass by naturally.
The second is the official Christmas Tree Stroll, which is a bit more involved. Below, we'll explain how to do it that way with step-by-step instructions.
How To Do the Christmas Tree Trail and Scavenger Hunt at Disney Springs
Disney has turned the Christmas Tree Trail into a game, making it even more fun for kids and kids at heart. Best of all, there's even a prize at the end for successful completions. Follow our step-by-step guide to get in on the action.
Step One: The Map
First, pick up your map. Disney prints maps of the Christmas Tree Stroll that tell you approximately where each tree is located in the shopping and entertainment district. Unlike most things at Walt Disney World, your map is free.
The map includes stickers to place over the tree logos that correspond to the trees' themes. Matching the correct stickers on the map locations is the object of the game.
Where can you get a map? In past years Disney has erected a kiosk to hand them out, but more recently, they have left them in select restaurants (including the BOATHOUSE and Planet Hollywood) and shops (Under Armour and Basin). Check with a cast member to find out before you go.
Finally, pay attention to your map. In past years, the back has had discount codes for some favorite shops and eateries, so take advantage of those perks.
Step Two: The Plan
Second, make a plan with your party. It doesn't matter what order you do the trail in, as long as you visit and identify all the trees. You can zig-zag through the property or do them in order. Either way, you'll wind up walking nearly all of Disney Springs.
Step Three: The Game
Third, put your plan into action and start locating trees! Remember that your map gives you the approximate location of the trees, but you'll still need to look around for them once you're there.
Don't forget to incorporate some extra fun into the game. You can take pictures of each tree or live stream parts of your adventure. Enjoy some tasty treats and shopping along the way as well.
Step Four: The Prize
Once you've found and identified all the trees, it's time to collect your prize. Simply return to the kiosk or one of the stores giving out the maps. You'll trade your completed map (remember to snap a picture) for a special pin.
Other Disney Springs Holiday Events and Activities
Walt Disney World is notorious for going all-out during the holiday season, and Disney Springs is no exception. Check their official page when the holidays get close for updates.
Aside from the Christmas Tree Trail, there are decorations virtually everywhere. Lampposts, archways, guardrails, and even topiaries are all decked out. Many stores–especially those owned by Disney–also get in the spirit by decking their halls. Therefore, another fun thing to do at Disney Springs in the holiday season is enjoying all the decorations.
In past years, Disney has done meet-and-greets with Santa and Mrs. Clause. During the pandemic, they rode in their own water sleigh on Lake Buena Vista in Santa's Winter Watercade.
Outdoor DJs and musical performers play holiday tunes throughout the season. At times, performers–including stuntpeople on stilts, ice skaters, dancers, and more–put on short shows. It will also snow periodically in Town Center.
And of course, there's shopping and dining. Many stores have holiday sales and events. With the range of shops, you will surely find something for everyone on your list. Don't forget to fuel while you shop! Virtually every eatery has special menu treats for the holidays.
Walt Disney World Christmas Tree Trail
It isn't just Disney Springs that has a Christmas Tree Trail. There are trees in all four theme parks (Magic Kingdom, Epcot, Hollywood Studios, and Animal Kingdom), at each of the resort hotels, and throughout the rest of Walt Disney World.
Frequent Disney visitors do other unofficial Christmas tree tours. You can do them in each of the parks or across all four. FYI, each park has a central hallmark Christmas tree; ask a cast member to point you in the right direction.
Another fun activity is to visit each monorail hotel (Grand Floridian, Polynesian, and Contemporary) and enjoy the trees and decor at each of them. The Grand Floridian also does stunning gingerbread houses every year.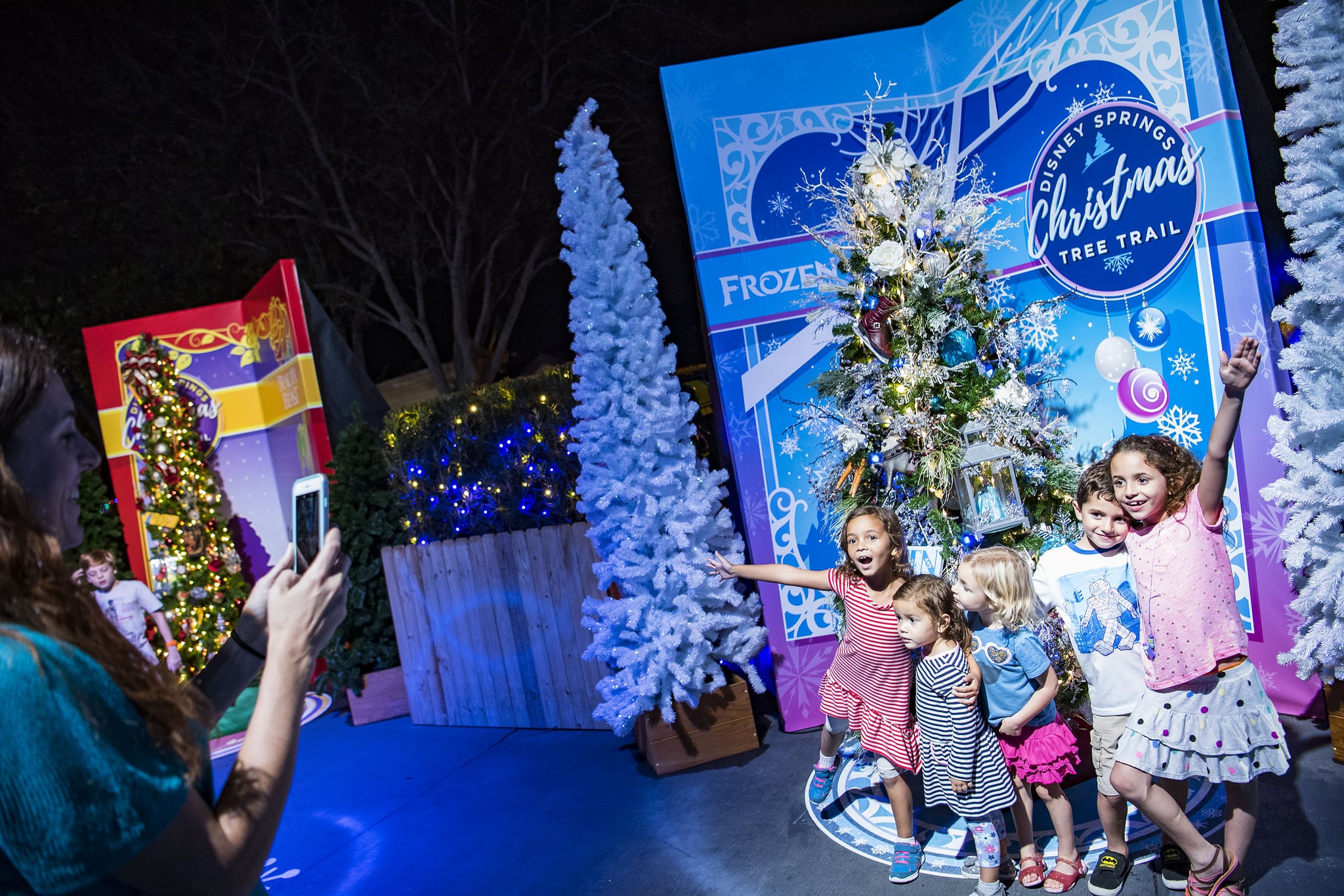 Is Disney Springs Busy During the Holidays?
Just like every shopping center, Disney Springs is very busy during the holidays, especially on the weekends.
Even though many people do their holiday shopping online, local families and visitors alike flock to Disney Springs to get in the spirit. There's so much more to do there than shop for gifts, from the Christmas Tree Stroll to enjoying special holiday treats.
Disney Springs is even busier than standard shopping centers because it is part of Walt Disney World and easily accessible from Disney's hotels and parks. What's more, with all the festivities, everyone wants to visit.
Be aware that one of the busiest times of the year at Walt Disney World starts a few days until Christmas and continues through New Year's Day. You'll face crowds everywhere, especially in the parks and Disney Springs.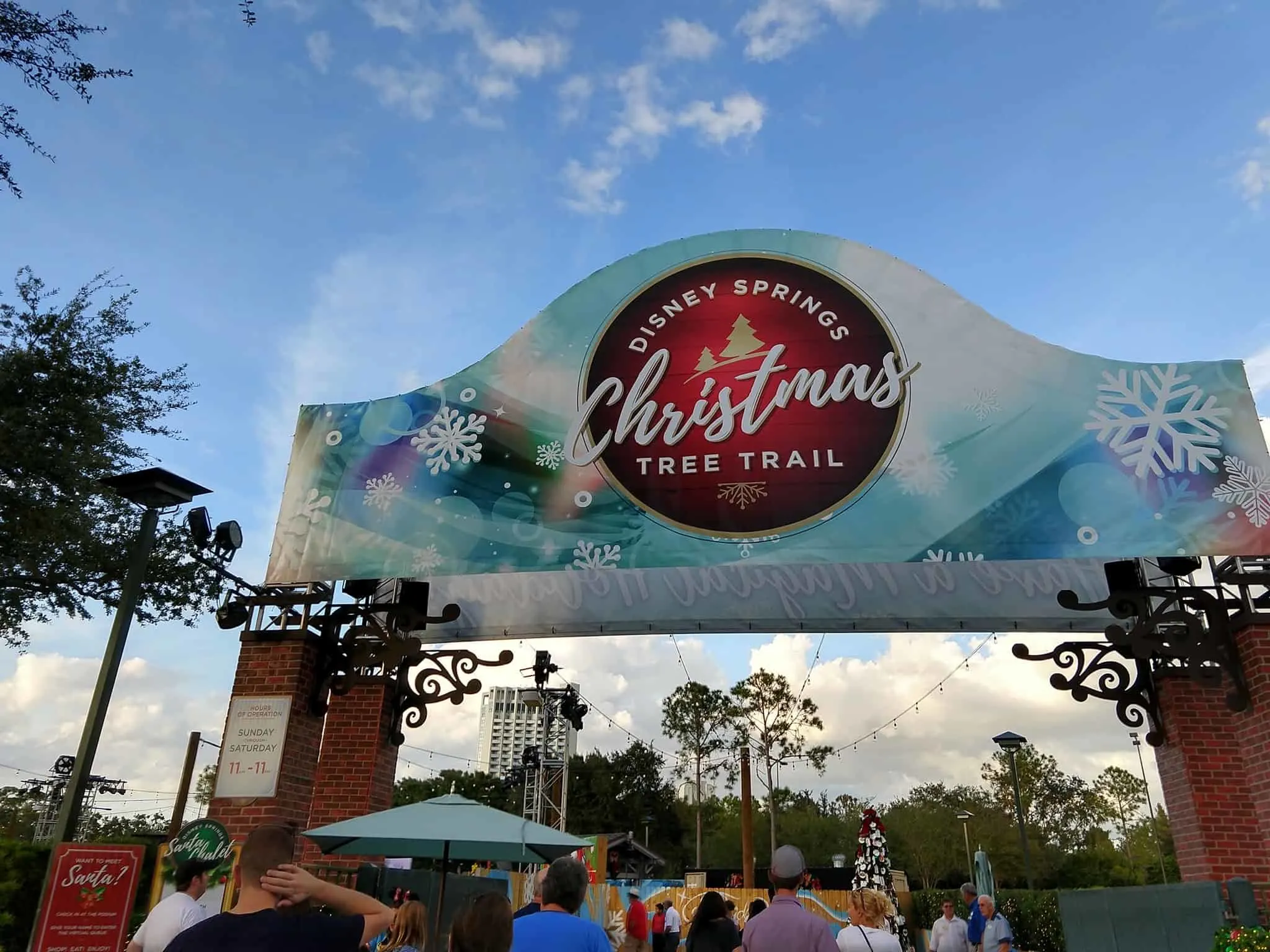 When Is the Best Time to Do the Christmas Tree Trail?
Of course, we think there's never a wrong time to do the Christmas Tree Stroll at Disney Springs! Even if it is very crowded, the number of people can help get you in the spirit of the season.
If you want to avoid crowds, go on a weekday during the day. If you're looking for even fewer people, go on a warm, sunny day. Resort guests will be drawn to their pools if they have time off from the parks. Early December is also a quieter time for Disney World since many people save their vacations for the holidays.
Consider doing the Christmas Tree Trail at night. Each of the trees is lit up beautifully, enhancing the decorations you see during the daytime. You can also get great photos. It's a good time to do it if you're visiting from out of town and need a break from the theme parks.
The Merriest, Most Magical Holiday
Walt Disney World transforms from the most magical place on earth to the merriest during the holidays! If your family is lucky enough to visit in November or December, you're in for a real treat, even if the weather gets a bit cold.
Be sure to make the best of your holiday Disney vacation. Take in all the decorations and shop for limited edition merchandise, including decorations you can use at home for future holiday seasons. Sample some of the irresistible treats from bakeries, bars, and restaurants.
We recommend putting the Christmas Tree Trail at Disney Springs on your holiday to-do list. It's a free, engaging activity that the whole family can enjoy together.
More about our TFVG Author
A seasoned traveller, Dad, and avid sports tourist, James foundered The Family Vacation Guide to share his expert vacation experiences- especially when it comes to being a travelling family man.
Featured in Travel articles such as Travel + Leisure, TripSavvy and SFGate, you know you're reading some of the best vacation tips online.