When considering a Hawaiian vacation for your family, there are many things to think about in the planning stage. For example, you need to check whether the resort is child-friendly and what activities are available for the youngest travelers.
But another element comes down to location. In the case of Maui vs. Oahu, which is better for families with kids? In this comprehensive guide, we will analyze the different features between the two areas to help you come to a decision for your upcoming family vacation.
Location
When planning a Hawaiian vacation, it is essential to take location into mind. While one area may be best suited for one family, it won't be for another.
It boils down to what your preferences are for your upcoming adventure. Suppose your focus is on glamorous resorts and having copious activities to keep all of you engaged. In that case, Oahu is probably the destination that you want to aim for on your vacation.
However, if you want a taste of authentic Hawaii with the ability to decompress and enjoy the nature that surrounds you, then Maui is the best option. Maui offers many resorts and beautiful beaches but is a bit further removed from many busy attractions. 
Family-Friendly Attractions
Both Maui and Oahu offer similar activities for individuals and families alike to participate in during their vacation. Some of the top picks are listed below for your consideration.
Maui
If you pick Maui for your next family vacation, know that it will come with the standard attractions that Hawaii is known for throughout the world. These items include beautiful beaches, surfing, swimming, snorkeling, among many others. 
Outside of those standard options, Maui has several opportunities specific to its location. These attractions include:
Driving the Hana Highway
Taking time out of you vacation to take a cruise on the Hana Highway will provide a once in a lifetime opportunity. The winding curves may bring anxiety at some points, but it's an experience you won't forget!
There are 15 different waterfalls on this stretch of highway that you can either see from the road or have areas to turn off to catch a view. The sea cliffs provide a breathtaking view that children and adults will enjoy experiencing first-hand.
Hiking the Twin Falls Waterfalls
Hawaii has gorgeous hiking trails and the Twin Falls Waterfalls will provide the perfect backdrop to a family hike!
Observing Sea Turtles at Ho'okipa Beach
Your family will adore seeing all the sea turtles when you make a trip to Ho'okipa Beach. The area is known for its large amounts of the endangered species. 
Visiting the Atlantis Submarine
It's not everyday that you get to ride on a submarine! While in Maui, carve time out of your family's schedule to visit the Atlantis Submarine and learn all about the sealife together while aboard.
Additional activities for families with kids of all ages in Maui include:
Taking a visit to Black Rock
Visiting the Maui Ocean Center
Swimming in Punalau Falls
Experiencing the smells at Ali'i Kula Lavender Farm
Checking out the black sand at ​​Wai'anapanapa Beach
Learning how to be a mermaid at Hawaii Mermaid Adventures
Smelling the flowers at Kula Botanical Gardens or Garden of Eden
Rappelling down a waterfall at Rappel Maui
Experiencing and Old Lahaina Luau
Touring Maui with the Tropical Express Tour
Additionally, you can take time out to explore the historic district and the downtown areas. Doing so will allow you to have an authentic look into life in Maui and give you and your family the opportunity to see the differences in culture and lifestyle between there and home.
Oahu
Like Maui, Oahu has the standard Hawaiian experiences of gorgeous beaches ample opportunities for swimming, snorkeling, and surfing. However, there are additional features that you will not find anywhere else. Some of the most popular choices include:
A Visit to the Pearl Harbor Memorial
Incorporating a bit of history into your family vacation brings an element you didn't know you needed, but will thoroughly enjoy. Visiting the Pearl Harbor Memorial will enlighten everyone, including the kids, as to the history of the event.
Enjoying the Animals at Honolulu Zoo
A visit to the zoo is always a welcome break from daily beach visits and swimming. And the Honolulu Zoo does not disappoint! Here you and your kids can get some terrific pictures together with a large variety of different animals.
Seeing the Largest Shopping Center in Hawaii
The Ala Moana Center is known as the most expansive area for shopping in all of Hawaii. Be sure to carve out some time to see all that it has to offer. Find the perfect vacation t-shirts for the kids, or have them pick out a unique memorabilia piece to commemorate the holiday.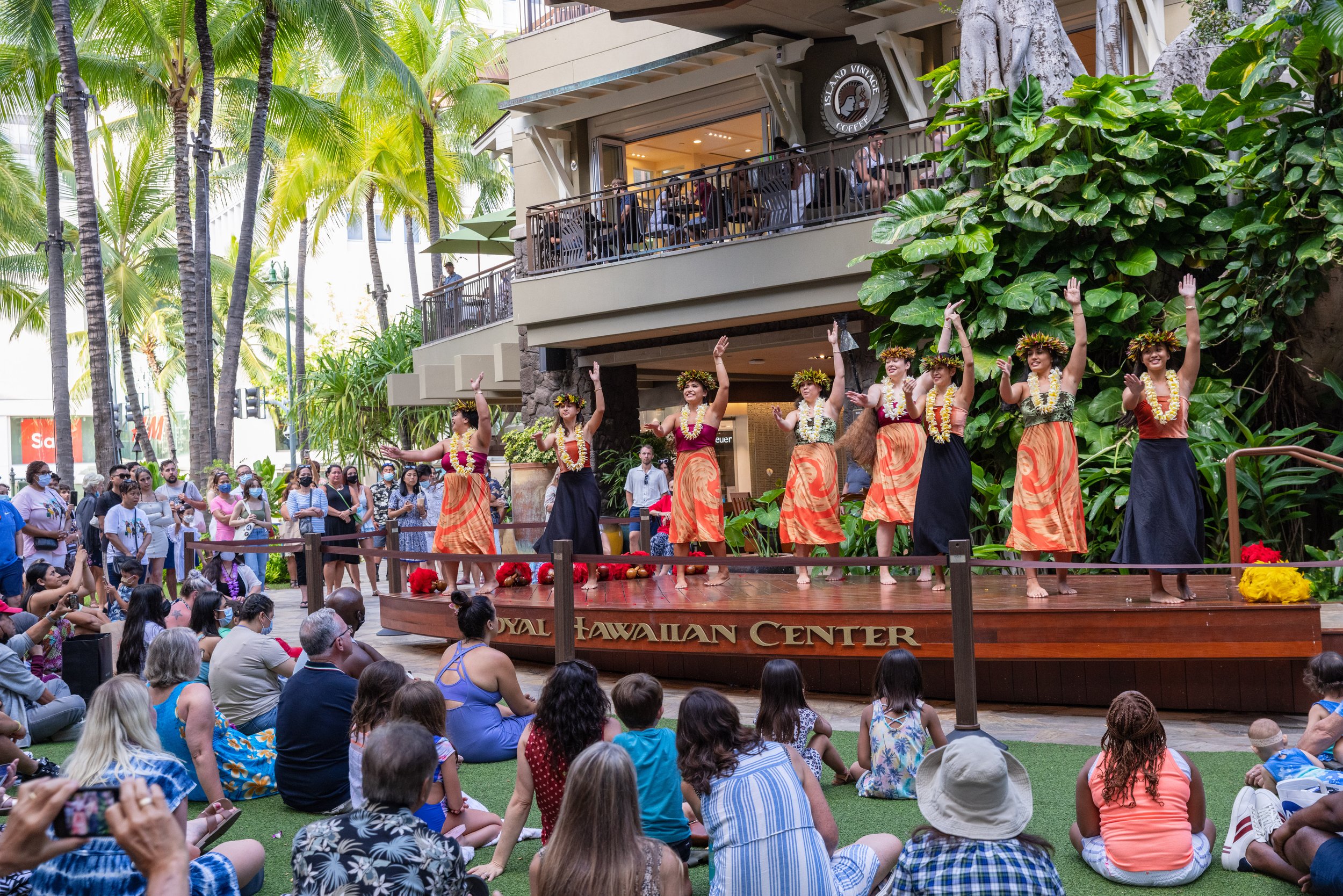 Learning Hawaiian Traditions and Customs at the Royal Hawaiian Center's Workshops
Part of visiting new areas is learning about the culture behind those who live there, and the history that goes along with it. Your entire family can learn how to make lei's and perform traditional dances at the Royal Hawaiian Center.
In addition to the above, Oahu offers terrific family-orientated activities, including:
Visiting the International Market Place
Checking out Diamond Head Volcano
Learning about culture at the Polynesian Cultural Center
Observing endangered turtles at Laniakea Beach
Taking in nature at the Hanauma Bay Nature Preserve
Riding a train through the Dole Plantation
Swimming at the Ko Olina Lagoons
Taking a trip back in time at the Bishop Museum
While Oahu offers several cultural experiences, you will find a significantly larger amount to explore while in Maui. Alternatively, you won't have as many avenues for stores and malls when staying in Maui.
Family-Friendly Beaches
Hawaii is known for its vast amount of beach property. A visit to the Hawaiian islands wouldn't be complete without a handful of trips to the ocean and beach.
When it comes to Maui vs. Oahu, both have many beaches that are conducive to the needs of a family.
Maui
The idea behind the perfect, most family-friendly beach will vary between each traveler. Thankfully, Maui has a variety of beaches to suit anyone's ideal vacation plans.
A few of the most popular and family-friendly beaches within Maui include:
Baby Beach in Lahaina and Paia
These beaches are perfect for parents of young children, as the water is extremely shallow and has minimal waves.
Maluaka Beach in Makena
This beach offers many areas of shade to allow young ones a break from the sun and heat. Additionally, you will find lifeguards on staff for extra peace of mind. There are also bathrooms and picnic areas available for use.
White Rock Beach in Wailea
If your family is interested in snorkeling, White Rock Beach provides a great opportunity to check out the local sealife. However, there are no lifeguards on staff or bathrooms on the property.
Ulua Beach in Wailea
While Ulua Beach does not have lifeguards on staff, they do have on-site bathrooms. Additionally, they have areas to clean the sand off your feet before moving on to your next activity.
Other beaches for consideration include:
Kahekili Beach Park in Kaanapali: perfect for snorkeling with the kids
Baldwin Beach Park in Paia: ideal for young children due to the breakwater from large waves
Launiupoko Beach Park in Lahaina: great spot for beginner surfers, including kids
Kapalua Bay: shallow, soft sand ideal for younger kids
Olowalu Beach in Lahaina: less crowds and easy parking for families with multiple kids
Kamaole Beach III in Kihei: terrific location for turtle-watching
Napili Bay: great for viewing coral with the kids
Sugar Beach in Kihei: a quieter beach space with ample room to spread out for the day with kids
Charley Young Beach in Kihei: moderate wave activity for boogie boards for older kids
Mokapu Beach in Wailea: offers small waves, soft sand, and outdoor showers perfect for families with young children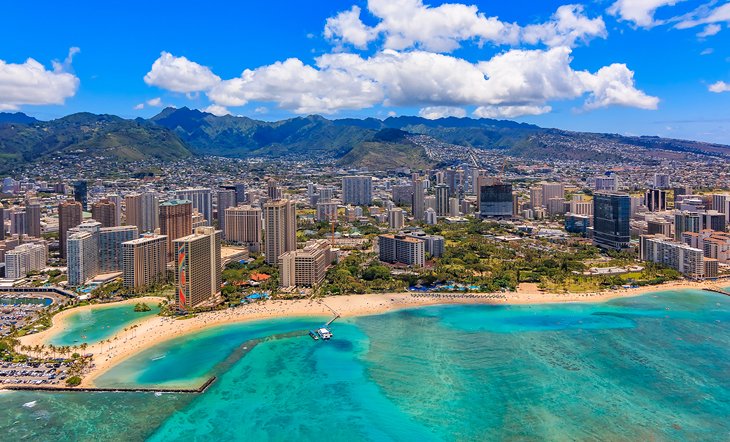 Oahu
Like Maui, Oahu has no shortage of beaches conducive to your family and their needs. Around the island, you will find various options that range in amenities. Due to Oahu being home to many luxury resorts, you will find that several of the beaches are in proximity to those accommodations.
As a result, those beaches may be only for guests of the resort. In any case, those particular resorts will display that information for you to see. However, you won't be shorthanded if you do run into that issue. Oahu has enough beaches for everyone, and some of the most popular family-friendly ones include:
Magic Island Lagoon in Honolulu
Locals love going to swim at Magic Island Lagoon because of the high seawalls and shallow lagoons, providing safe conditions for the youngest swimmers.
Baby Makapuʻu in Waimanalo
The name of this beach is indicative of the population it suits best. The conditions within Baby Makapu'u are very calm and shallow, lending itself to the very young children and families. The beach also has lifeguards on staff.
Sherwood Beach Park in Waimanalo
The locals refer to Sherwood Beach Park as a family-style country beach. The laid-back atmosphere and expansive beach area make it great for large groups. While there are several different beaches within the park, the southernmost one has a lifeguard tower and bathrooms.
Hanauma Bay Nature Preserve in East Honolulu
Hanauma Bay not only offers lifeguards on duty, but the beach also has four separate bathrooms for visitors to use while enjoying the beach and ocean.
Other beaches to consider include:
Kailua Beach in Kaneohe: offers many shady spots for kids to rest comfortably while at the beach
Waikiki Beach: popular beach with food vendors and amenities for families, such as floating devices or umbrellas and beach chairs
Kuilima Cove in Kawela Bay: great spot to rental snorkel gear for the kids
Waimanalo Bay Beach Park: less crowded beach for families with easy access to parking and washrooms
Ala Moana Beach Park in Waikiki: close proximity to the Ala Moana Mall to grab quick food options for the family
Pupukea Beach Park Tide Pools in Haleiwa: sports several tidal pools to explore with kids
Yokohama Beach in Waianae: serene beach experience with walking trails to explore the scenery
Kualoa Beach Park in Kaneohe: perfect for swimming, picnics with the family, or just hanging out in the sun
Ko Olina Lagoons in Kapolei: offers four man-made beach coves to explore with your family
Family-Friendly Accommodations
Finding family-friendly accommodations is not as challenging as you may first believe. Maui and Oahu offer terrific options for families, whether you have young children or teenagers.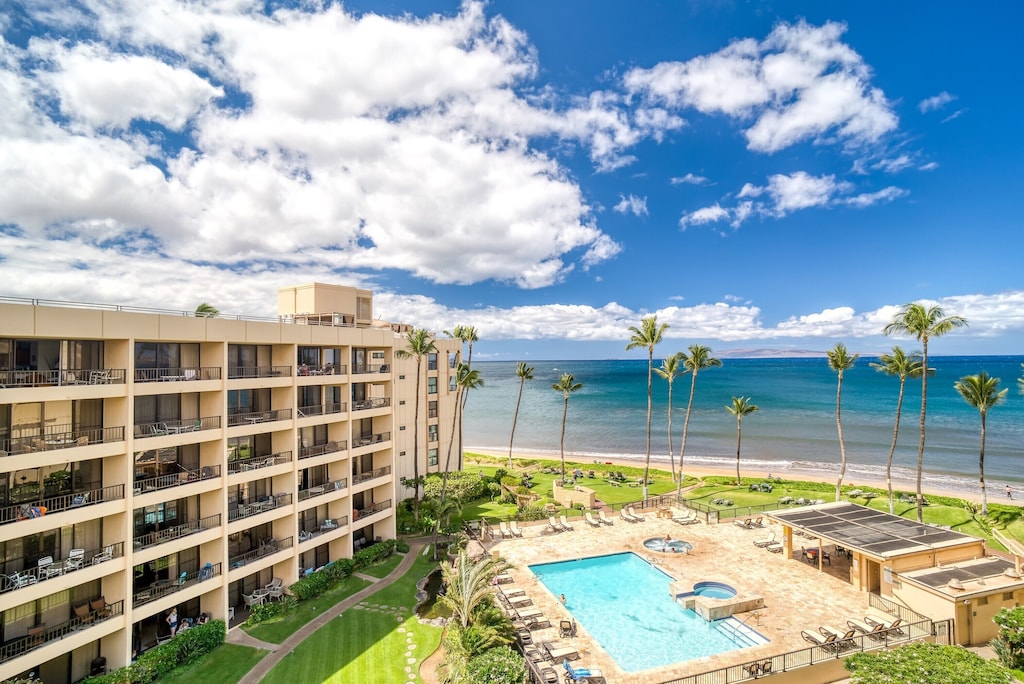 Maui
If you choose to stay in Maui when visiting the Hawaiian islands, you can choose from various lodging options, including condos and resorts for your next family vacation.
Not all accommodations will include the amenities your family wants or needs, so it is vital to determine these ahead of time. Many options within Maui will fit a wide range of families with children of all ages. Some of the most popular accommodations in the Maui area include:
As a condo rental, you will have additional amenities than what you receive in a resort. For example, you can prepare meals and spread out with a full kitchen and access to multiple bedrooms.
These elements can help your family stay on budget and allow a more comfortable vacation together. You are also steps from the beach.
As one of the top resorts in Maui, the Grand Wailea Resort pulls out all the stops for their guests. Here you can get on-site dining, children's programming, dedicated swimming pools, and additional items like cribs and high chairs as needed.
As another one of the top accommodation choices in Maui, the Four Seasons Resort offers children's programming, on-site swimming pools, concierge assistance, and various dining options.
Other accommodations to consider in Maui when traveling with children will focus on meal options, internet availability, laundry, and other family-orientated amenities. Some of these options include the Hyatt Regency Maui Resort and Spa in Lahaina, the Fairmont Kea Lani in Wailea-Makena, and the Montage Kapalua Bay in Lahaina.
Why not check out our guide to the best family resorts in Maui for more inspiration?
Oahu
When deciding to center your Hawaiian vacation in Oahu, you will need to find accommodations that allow you to reach the amenities that the island offers easily. Some of the most popular family-friendly accommodations in Oahu that allow you to do just this include:
This beautiful rental gives you a full beach house with a stocked kitchen, two bedrooms, and two beds. You will have everything you need at your fingertips, and also be steps away from the beach.
The views in this rental home make it appear as if you are literally on top of the water! As a larger option, this Airbnb has enough space for ten guests. You'll find three bedrooms, six beds, and two bathrooms for your large group.
The Aulani Hotel is typically the first choice for families because of its tie to Disney. The resort accommodates families to its fullest, offering all of the amenities that are needed for a comfortable stay.
Marriott's Ko Olina Beach Club in Kapolei
As a popular worldwide chain, the Marriott's Ko Olina Beach Club offers multiple bedroom suites, on-site laundry facilities, a multi-service spa, and convenience store. These perks allow for a seamless vacation with minimal worries.
For further family-style accommodations in Oahu, you will find many locations that offer beach rentals, discounts on local retailers and restaurants, along with in-room beach-views. Some terrific alternatives for parents taking their kids on holidays to Oahu include The Royal Hawaiian Hotel in Waikiki, the Hyatt Regency Waikiki Beach Resort and Spa in Honolulu, and the Sheraton Waikiki in Honolulu. 
Why not check out our guide to the best family resorts in Oahu for more inspiration?
Conclusion
So, what's the verdict? Since every family is unique, we can't make a definitive decision for you. In the end, both Maui and Oahu provide extraordinary opportunities for families and children during their time in Hawaii.
Maui can provide you and your family with a more authentic experience during your stay in Hawaii. With this, you will find fewer crowds with a more relaxing atmosphere and see genuine Hawaiian culture. However, the attractions and luxury resorts will not be as abundant in Maui as in Oahu.
If you are a family that is constantly on the go, then having a chance to acquire dedicated downtime may be highly appealing to you. But, on the other hand, you may find the kids are bored after a few days of having fewer entertainment options.
Staying in Oahu gives you easier access to high-quality shopping malls and open-air markets, as well as many cultural and dining establishments. However, some may find that this isn't the authentic Hawaiian experience they are looking for when it comes to their family vacation.The large crowds can also be a deterrent for families with small children.
While Oahu is more glamorous with an active night life and entertainment options, Maui gives you the authentic experience that many crave.
With various lodging options in each location and many family-friendly beaches, restaurants, and attractions, you will have the time of your life on your family vacation, surrounded by those you love no matter which destination you choose.
More about our TFVG Author
A seasoned traveller, Dad, and avid sports tourist, James foundered The Family Vacation Guide to share his expert vacation experiences- especially when it comes to being a travelling family man.
Featured in Travel articles such as Travel + Leisure, TripSavvy and SFGate, you know you're reading some of the best vacation tips online.