New York has plenty to offer to visitors and residents of all ages. This city has got everything about arts, sights, shopping, and parks!
But what better place to let the kids be kids than an indoor water park? After all, it's like an amusement park and a pool rolled into one! 
Even better, you can visit an indoor water park year-round, in any weather.
In this article, we're going to break down the best of these attractions to visit on your next day trip from the city!
Dreamworks Water Park is located in East Rutherford, New Jersey, just over a half-hour drive away (or an even quicker train journey).
Not only is it the closest on this list, but it's also the largest indoor waterpark in North America with the widest selection of water rides in the world!
Thrill seekers will enjoy the record-breaking slides like the Mad Flush and Shrek's Sinkhole Slammer.
Relaxation warriors will delight in the lazy river and hot tubs. And not to be forgotten, toddlers will enjoy The Penguin's Frozen Fun Zone with six mini-slides!
The whole family will love the Far Far A Bay, an 84-degree heated wave pool and the largest in the world.
You can even upgrade your experience by skipping the lines with a Turbo Pass, or book a private skybox suite or a poolside cabana and enjoy the views of the park and Manhattan. It's certainly the most luxurious and relaxing way to enjoy the place!
Finally, on select Friday nights, you can even enjoy a movie with Dive-in Movies for a cinematic experience like no other.
With many locations nationwide, Great Wolf Lodge is a family resort with an indoor water park at each branch and many other amenities such as spas, restaurants, arcades, and kid's activities.
Its Pocono mountains location is less than a two-hour drive from NYC in Scotrun Pennsylvania, making it a great weekend city escape for the family.
You'll get unlimited access to the water park from check-in until closing time on your check-out date.
There are attractions for everyone, with the Cub Paw Pool for the littlest up to the Hydro Plunge- a roller coaster-level slide for the teens and the bravest of kids!
Families can play water basketball at Chinook Cove, then move to Crooked Creek or the South Hot Springs for a rest between all the excitement.
Poolside cabanas can be reserved if you want a bit of privacy and space. Food will be delivered straight to your cabana from any of the many dining options on-site, and include delectable sections like pizza, ice cream, and Dunkin.
Camelback Resort's Aquratopia Indoor Water was voted America's best indoor water park, by USA Today's Reader's Choice 2022– and for good reason.
Located in the Poconos, you can make a weekend getaway while having full access to this #1 attraction!
This place will meet all your slide needs with 13 options including tube, mat, body, bowl, and kiddie slides.
There's an awesome interactive area just for toddlers, and plenty of poolside amenities such as shops and dining.
If it's a nice summer day, why not play outside at their outdoor water park, Camelbeach– the largest outdoor waterpark in PA! You can even learn to surf with private FlowRider sessions.
When you need a break from the water, you'll be spoiled with options for other things to do, including a massive arcade, laser tag.
And don't forget- the mountains are just outside! You can zip through the trees or slide down the slopes, depending on the season.
Dining options are plentiful, with restaurants such as Berrelli's Italian Chophouse or the Trail's End Pub and Grille.
The kids might prefer Graffiti Pizza where they can build their own pizza, or the Sugar Shake where they can craft their own frozen yogurt sundae delight!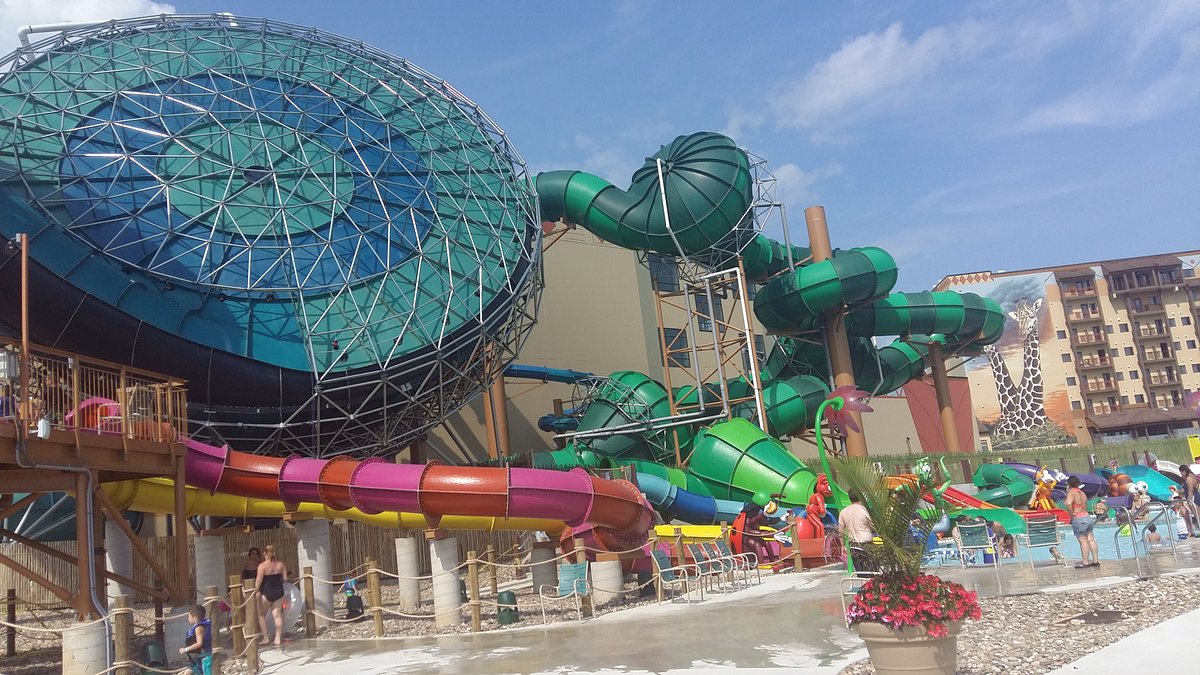 Within Kalahari Resorts and Conventions in the Poconos holds America's coolest water park. Beat the winter blues, where it's always 84 degrees and sunny!
For the ultimate relaxation, you can move from inside to outside without ever getting out of the warm spa, or simply lounge on the lazy river.
For something a bit more exciting, speed through while twisting and turning through the Anaconda, or slide through twists, dips, and oscillating funnels with the Barrelling Baboon.
Teens will love racing their friends on a mat down the Cheetah or testing their surf skills on the FlowRider. The younger ones can enjoy themselves in Coral Cove with its slides, bouncers, and mini-basketball.
Amenities are plentiful with bungalows, cabanas, and party options.
There are many dining options here, including craft cocktails and beer for the adults and caramel apples, ice cream, and homemade fudge for the kids!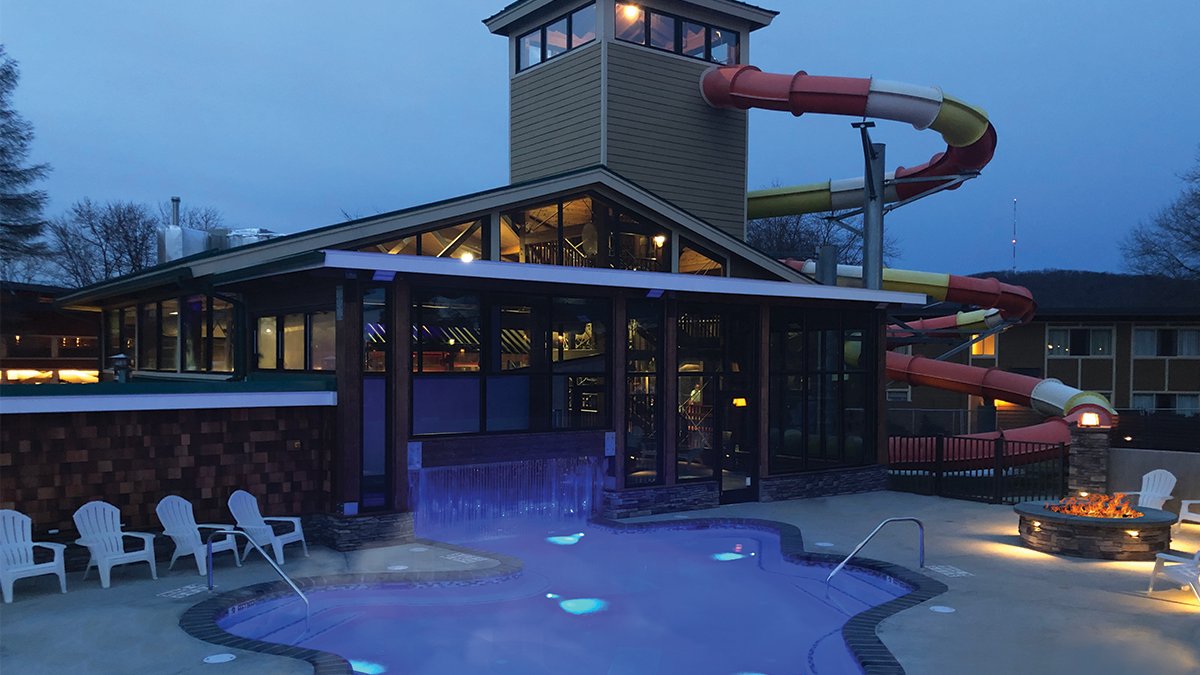 This is a great one for the adults needing a place to unwind.
The Rocking Horse Ranch is rated #1 by TripAdvisor as an all-inclusive family resort in the US.
Located in Highland NY, it's about a two-hour drive from the city- a good choice for a weekend away from the hustle and bustle!
The Eldorado Hot Springs is a new feature to their indoor water park, which we'll get to later in the list.
The 98-degree pools go from indoors to outdoors and contain therapy jets, built-in seats, and a fire pit.
It's a great place to unwind after a day in the waterpark or horseback riding, and before retiring to the award-winning accommodation.
This park is as exhilarating and action-packed as its name suggests.
H20oooh! is located at the Split Rock Hotel in the Pocono mountains. The resort is full of fun activities for the whole family, including live entertainment, sports, rowboats, hiking, a movie theater, spa, sauna, and much more- so be sure to book enough time off to enjoy it all!
The water park has over 53,000 feet of water attractions, including four-story slides, a wave pool, play structures, and an activity pool. They even have a FlowRider to practice surfing or bodyboarding.
The hot tub area is sure to keep the adults in the family happy, and the Snack Shack helps to keep the hunger at bay while the kids are at play.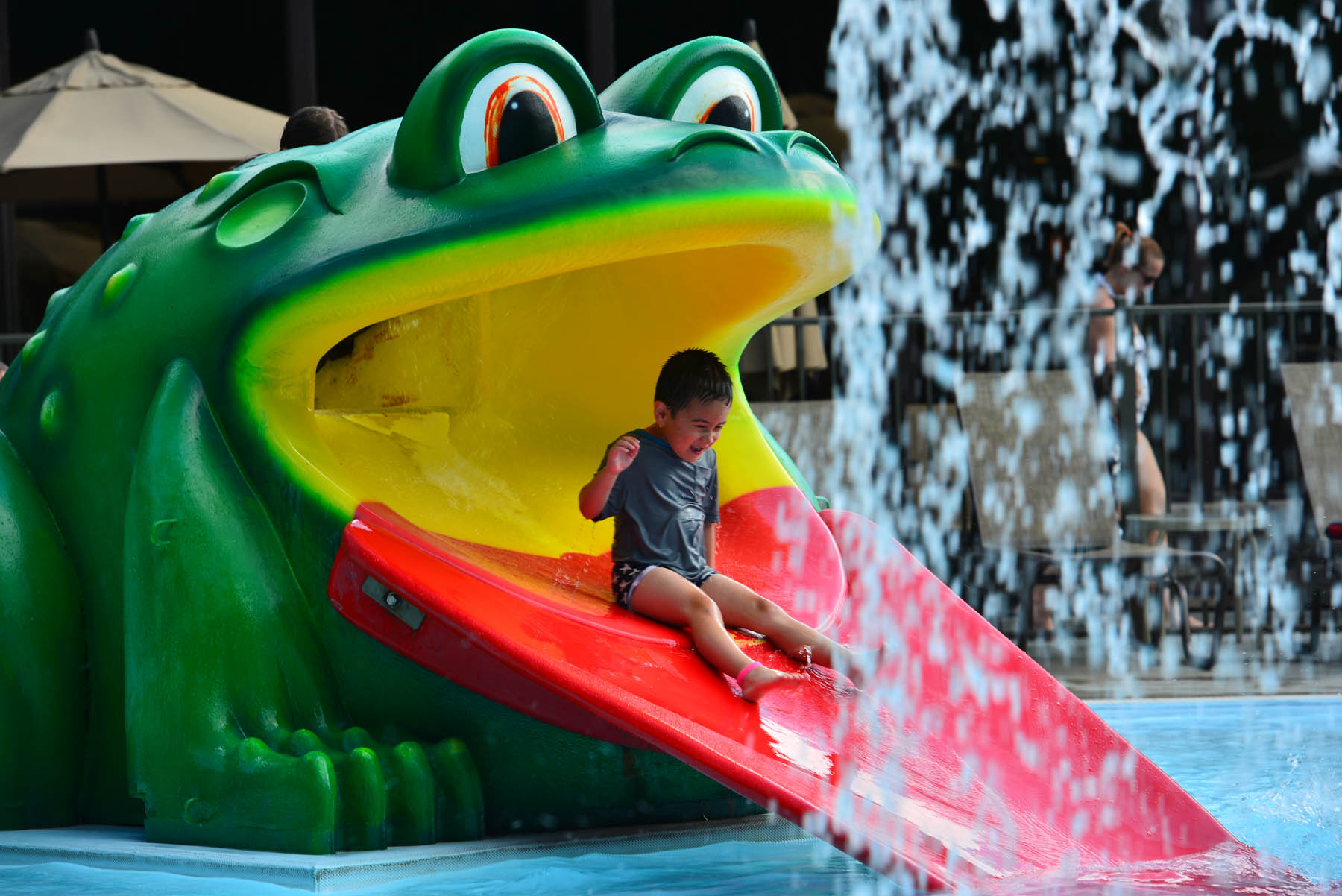 Woodloch Resort had been voted America's #1 family resort three times by USA Today. Located in the Pocono Mountains, this lakeside location has activities all year round.
While not so much of a water park with thrilling rides, the resort does have splash pools for the little ones- both indoors and outdoors.
They can play with the squirt cannons, splash in the wading pool, go down small slides, and much more!
While not the main attraction of this resort, those with young children will appreciate the less hectic atmosphere.
There are plenty of other activities to keep the whole family busy, such as go-karts, an adventure playground, bumper boats, a climbing wall, archery, arts and crafts, and mini golf.
Finally, if a speedy water slide is what you're after, there is an outdoor hydraulically fueled lake-side slide located at the beachfront.
What says "exciting thrill rides" more loudly than Six Flags?
While known for their roller coasters, Six Flags also has a water park called White Water Bay with equally exhilarating water attractions!
When staying at the Great Escape Lodge, you can get unlimited access to White Water Bay.
Located in Queensbury NY, north of Albany, this one is over 200 miles north of NY, so it's definitely better for a longer trip.
Besides, with Six Flags theme park and Hurricane Bay all right there, there's plenty to do!
The younger kids will go crazy for Tall Timber's Treehouse with over 160 play features, and Tip-a-Kanu Beach with shallow water, mini-slides, and wild-life-themed spurting fountains. Older kids can learn to ride the waves with Boogie Bear Surf.
The family can ride together down the Avalanche on rafts of four for a thrilling white-water rafting experience complete with a 41-foot drop- or just choose to chill out on the lazy river instead!
Adults will surely appreciate being able to relax in Soakum Spring, a warm water spa away from the action for grown-ups only.
Guests wanting a bit more luxury can enjoy private cabanas, and everyone can fuel up at the Birch Bar Grill with hot dogs, popcorn, Dippin Dots, and even pina coladas and margaritas!
Previously known as Sahara Sam's, Big Kahuna's New Jersey location is located less than a two-hour drive from NYC in the Berlin Township.
It features both outdoor and indoor waterpark features, which is great for both summer and other seasons.
The indoor water park caters to kids and adults of all ages and even has a massive arcade- one of the best indoor offerings in NJ.
Speed junkies can race down a five-story slide head-first, side-by-side on the Raging Rivers ride. Meanwhile, families can relax together at The Hidden Oasis leisure pool, or at the Tiki Tides lazy river.
The Big Kahuna has NJ's only indoor big FlowRider surf simulator where older kids, teens, or adults can practice their surf skills.
The Jungle Hideout is an adventure playground where kids can feel like they're out exploring a treehouse village deep in the rainforest.
And when they're done there, they can test their strength and balance by trying not to fall into the water at Komodo's Crossing, a cargo obstacle course!
The smallest members of the family will appreciate Little Lizard Landing, where all the slides and attractions are just the right size for toddlers.
The oldest members of the family will love finding Paradise Cove, a tucked away secret, to kick back in a hot tub away from the kids.
With plenty of other attractions including a variety of tube, body, and raft slides, there's plenty to fill the day!
Big Splash Indoor Waterpark at Rocking Horse Ranch Resort is a great place for those that love that summer weather, even in the middle of winter.
Always 85 degrees, this place is sure to make you feel like summer has come early- or that you've hit the tropics a mere two-hour drive from New York.
In an award-winning resort with numerous activities, the fact that there is also an indoor waterpark as well is really quite astounding.
What a place to go when you truly want an all-inclusive experience! Best of all, admission is included with your stay.
Those looking for the thrills will love the Gold Rush, an enclosed 250-foot-long water slide that curves around the outside of the park.
There's also a ropes course that will test the kid's abilities to the max, located above the largest swimming pool.
Finally, the little ones are going to go crazy for the Fort Geyser Aqua Staton, a splash area with waterslides, sprayers, and a giant dumping bucket.
The CoCo Key Water Resort location in Mt Laurel Township, NJ is only an hour and a half drive from Manhattan.
It makes for a good day trip, but you're going to want to head out early to enjoy all it has to offer!
The 55,000 sq feet indoor water park is always a tropical 84 degrees, and contains a whopping 150,000 gallons of water.
With three massive slides, splash pools, and an aquatic jungle gym, the kids can be kids! If and when they eventually need a break, they can wind down on the lazy river.
The toddler play pool called the Dip-In features baby slides and a baby bungee.
The lily pad activity pool with cargo challenges is not only for kids, but adults can show off their agility as well.
Lastly (but certainly not least) is an adult-only indoor/outdoor spa called the Palm Grotto.
The resort also has a state-of-the-art arcade and a wide variety of dining options to keep everyone happy.
You can try Talia's Restaurant and Bar for a sit-down full-service meal that has healthy options and comfort food, or visit the Little Shop of Coffee for that kick you need to keep up with the kids!
If you've simply got no time to stop, Gater's Grab and Go will be your go-to for quick snacks so you can keep playing all day long.