runDisney is the branch of the Walt Disney Company that organizes and hosts official races on the company's property around the world, from 5ks to full marathons. If you're a Disney fan, you may have accidentally visited on a race weekend and faced unexpected traffic and crowds. Should you be an avid runner, you likely have a runner friend who's raved about their runDisney experience.
In this article, we'll cover everything you need to know about runDisney. We'll start with race descriptions and dates for Disney properties around the globe. Then, we'll describe what makes them so unique and provide critical instructions on how to prepare, starting from registration to race day.
What Are Disney's Annual Races?
If you're considering a runDisney race, it helps to know when, where, and what they are.
Walt Disney World–Central Florida
Walt Disney World in Florida is home to Disney's original marathon weekend and remains an ultimate running destination. All the races run throughout Walt Disney have early start times; usually, 5:00 AM. While that allows the parks to open as scheduled, participants must train accordingly.
Walt Disney World Marathon Weekend–January
Of all the runDisney events, marathon weekend is the biggest, spanning five exhilarating days. The first day is usually registration for in-person runners and the start of virtual races.
The subsequent four mornings see a 5K, 10K, half marathon, and full marathon on the final day.
There are two "challenges" attached to the marathon weekend. The first is the Goofy Challenge, in which runners participate in the half marathon and full marathon. If that sounds intense, consider that the Dopey Challenge includes entry for all four races!
Disney Princess Half Marathon Weekend–February
The Disney Princess Half Marathon consists of three events: sunrise yoga in front of Cinderella Castle, a 5K, 10K, and half marathon. You can also register for the Fairy Tale Challenge and run the 10K and half marathon on back-to-back days.
runDisney Springtime Surprise Weekend–April
The runDisney Springtime Surprise, held in April, consists of four days of events that are Disney Pixar-themed. There's sunrise yoga at Hollywood Studios, a 5K, a 10K, and a 10-miler. You can also choose the challenge to run all three races.
Disney Wine and Dine Half Marathon Weekend–November
Typically held the first weekend of November, the events spanning the three days of the Wine and Dine Half Marathon tie into Epcot's International Food and Wine Festival, an annual event held from July to November.
The race started to boost attendance toward the end of the festival. While that's hardly necessary anymore, it is still held on one of the last weekends.
Disneyland–Anaheim, California
runDisney races in California are occasionally disrupted by circumstances beyond the control of the organizers. For instance, several runDisney events have been disrupted by construction work.
However, ordinarily, there are several annual race weekends in Disneyland. These include:
Disneyland Half Marathon Weekend: 5K, 10K, half marathon, and Dumbo Double Dare
Tinker Bell Half Marathon Weekend: Never Land 5K, Tinker Bell 10K, half marathon, and Pixie Dust Challenge
Super Heroes Half Marathon Weekend: Spiderman 5K, Thor 10K, half marathon, and Infinity Gauntlet Challenge
Star Wars Half Marathon Weekend: 5K, 10K, half marathon, and Rebel Challenge
Other Disney Parks
While fans are still waiting for runDisney to spread its magic to Tokyo, Shanghai, and Hong Kong, you can visit Paris for an international experience.
Disneyland Paris Run Weekend–September
If you've ever been lucky enough to visit France in the fall, you know how beautiful the weather and scenery are during this season. Unsurprisingly, it's also the perfect time to run through the Disney parks and properties. The Disneyland Paris Run has a 5K, 10K, half marathon, and challenges.
There's also the Castle to Chateau Challenge, which is an unforgettable opportunity to showcase your running endurance from one side of the Atlantic to the other. It involves registering for and completing the Disneyland Paris half marathon and a half marathon at Walt Disney World in the same calendar year.
Castaway Cay and Disney Cruise Line
Castaway Cay is Disney's private island in the Caribbean Sea, and many of their cruises make a stop here. If yours is one of those lucky ones, visit Guest Services aboard your ship to register for a 5K while you're docked. You'll get to experience an unforgettable race while enjoying the warm air and breathtaking sea views.
Virtual Races
Can't make it in person? Not a problem; Disney has designed virtual experiences that you can participate in from anywhere. They tie into the live races, and you can register online.
What Makes runDisney Races Special?
Vacationing at a Disney theme park is a magical experience, and running through one is even more so!
Prizes and Swag
No one does race day swag quite like runDisney. Although the packet contents vary from event to event, most registrations come with a shirt, personalized bib, medal, and other themed souvenirs.
In addition, as a race participant, you'll have access to special merchandise that only runners can buy. These items are in very high demand, so try to get to the race event center as early as you can!
Disney Service
Experienced runners have almost certainly ended up running in an event that was poorly organized and executed. That's not something you have to worry about with runDisney.
You'll see Disney magic in the planning process when you register for the race. The organizers ensure people are always available to answer questions and help you plan your visit for the race and anything else you may want to do.
On the Road
Undoubtedly, the best part of running a Disney race is what you encounter along your route. We don't want to give away too many spoilers, but we will say this: the best advice we can give for training for a Disney race is to build time into your pace to stop, take pictures, and enjoy the magic. And make sure your phone is fully charged for when you arrive at the event!
How To Prepare for a runDisney Race
Registration
If you think you can easily register for a runDisney race today, that probably won't happen. We're not exaggerating about how much fun these events are, but that also means they're in high demand.
Registration typically takes place in stages. It opens first to previous runDisney participants, Disney Vacation Club members, D23 members, and other special groups. The race won't sell out with these groups, but it does limit the number available for general registration.
On the day of your registration, be sure to log on at the start time since slots sell swiftly. Double-check your login information, password, and page navigation the night before so nothing will slow down signing on.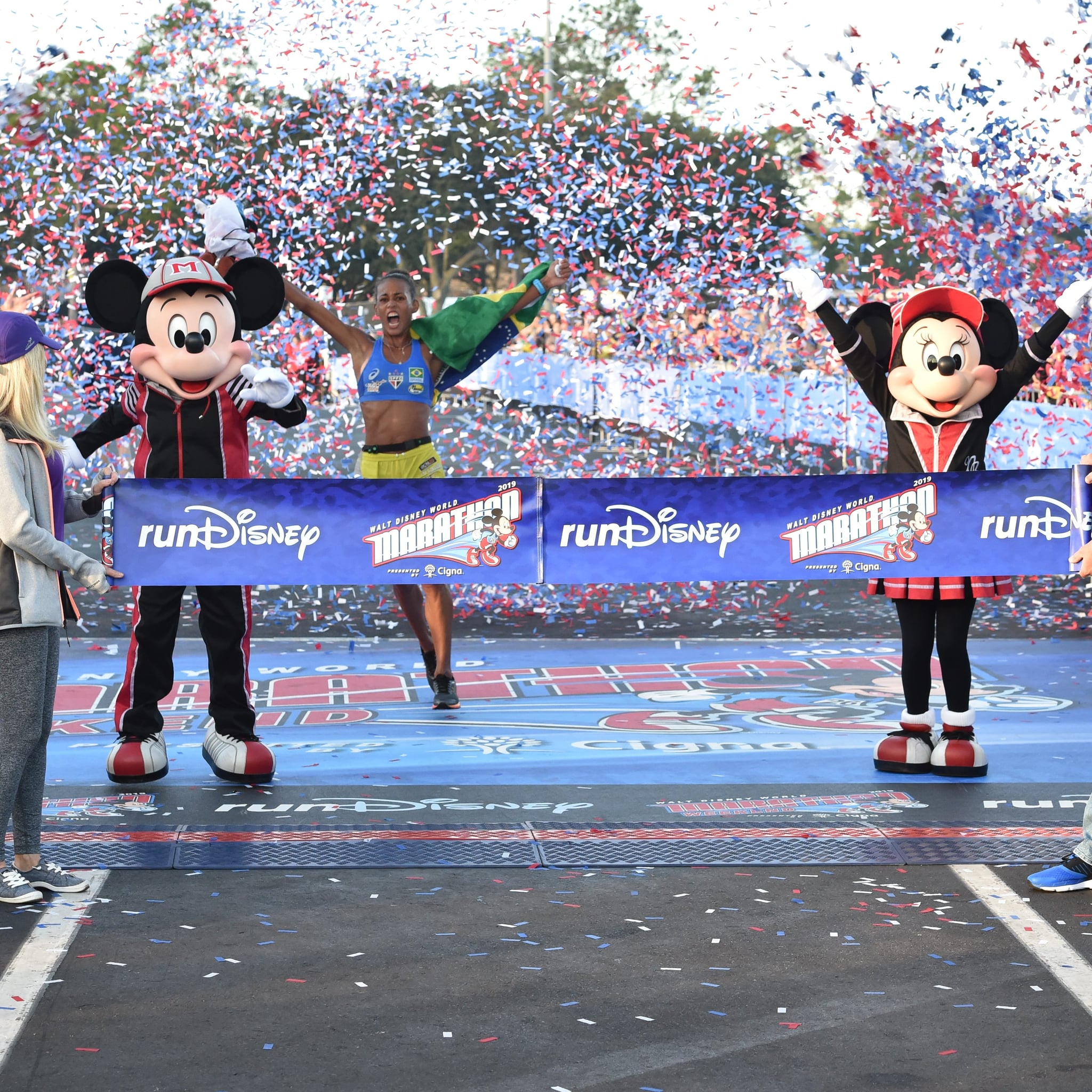 How Much Does a runDisney Race Cost?
Like most things with Disney, their races are on the pricier side. The overall costs are subject to change without notice and usually change annually, but to give you an idea, here are some costs from the 2022-2023 season:
Disney Wine and Dine 10K (November 2022): $146.04
Walt Disney World Marathon (January 2023): $218.53
Disney Princess 5K (February 2023): $103.40
runDisney Springtime Surprise Virtual Disney Pixar Monsters 10K (April 2023): $94.87
Training
Training is a personal endeavor and often needs to account for the conditions you'll encounter at a specific race. To safely and effectively train, consult with appropriate professionals, like a coach or online program, and try to research the typical experiences of past runDisney participants.
You'll have months between registration and the race to train, but don't wait. Make sure you can commit the time it takes to prepare.
Planning Your Travel
Unless you live in central Florida, you'll likely have to travel and find accommodations for the race. Luckily, registrants receive special hotel rates and information for the days before, during, and after the event weekend.
What are the best hotels to stay in for runDisney events? You'll be well-informed about which hotels will offer transportation to the starting line on the morning of the race, and all of them will get you where you need to be.
If you want to be close to the Expo Center at ESPN Wide World of Sports, your best option is either Art of Animation or Pop Century.
It's also convenient to stay near the starting lines. Traditionally, these have been in the Epcot or Magic Kingdom parking lots. Check your race details.
If you're starting at Epcot, consider the Yacht Club, Beach Club, or Boardwalk. If it's the Magic Kingdom, the closest hotels with the most uncomplicated transportation are the Grand Floridian, the Contemporary Resort, the Polynesian Village, and the Wilderness Lodge.
Book early! Rooms will sell out, especially at discounted rates. If you have to book through the main reservation system, prices will be inflated because of the event, especially at the hotels named above.
Updates
As your race date approaches, you'll get periodic emails and other updates from runDisney. These keep you in the loop and engaged in your upcoming race. If there are any changes, Disney will ensure you know well in advance.
Pack Your Bags
We won't run through everything you might need on race day. But we can tell you about special items you should bring:
Costumes or funky running gear: You might be surprised how creative people get when it comes to running in Disney parks!
Stylish bib boards: You can buy Disney-themed ones
Sunscreen: The race starts very early, but the sun will rise fast, even during the winter, so be generous with the sunscreen.
Phone or camera: runDisney events are unforgettable occasions, and the setting alone is worth bringing a camera.
One last critical note: check and double-check your bags, and bring spares of anything you might need. You'll have limited access to stores, and the influx of runners to the area will strain supplies. Avoid unnecessary headaches so you can enjoy the race as much as possible.
Race Tips and Tricks
Keep reading for tips and tricks to follow if you've decided to participate in a runDisney event.
Packet Pick-Up
The Expo Center can be overwhelming and will be busy no matter when you go. Pick up your bib and race day packet, then head to the shop and vendors.
The Night Before
If you haven't already, plan how you'll get to the starting line. Disney's transportation will be running, and you absolutely want to take advantage of that. Speak to Guest Services, as they'll be well-informed on the best way to get there from your hotel.
The Morning of the Race
Leave yourself plenty of time to get to the starting line and check your personal belongings (if you plan to do so). The pre-race area is also tons of fun for participants and families. You'll get to enjoy character meet and greets, DJs, and music!
Line up relatively early. That way, you're not near the sweepers who pick up stragglers falling behind pace.
After You Finish the Race
When you cross the finish line, smile big! Disney's Photopass photographers will capture your magical moment just as they did along the route.
As race day approaches, you'll also receive information about the after-party. These come with additional fees but offer access to live entertainment, Disney characters, and attractions.
Whether there's a party or not, be sure to celebrate your accomplishment! Wear your medals and shirts proudly through the parks, and pose for lots of pictures wearing them.
It's All About the Experience
For some serious runners, every race is about setting a personal record or achieving a goal. But when it comes to runDisney races, sometimes the best part is slowing down and enjoying everything there is to do and see along the way.
If you love running or Disney, and especially if you love both, you absolutely must try a runDisney race. The shorter races are also terrific for families, so get everyone in on the action and turn your vacation into an achievement for the whole gang!
More about our TFVG Author
A seasoned traveller, Dad, and avid sports tourist, James foundered The Family Vacation Guide to share his expert vacation experiences- especially when it comes to being a travelling family man.
Featured in Travel articles such as Travel + Leisure, TripSavvy and SFGate, you know you're reading some of the best vacation tips online.