Whether it's your first time at Disney in Florida or you have been a handful of times, if you are trying to vacation at a Disney property on a budget, you want to look into basic accommodations to help you save. One of the best places to stay to save yourself some money is at Disney Pop Century Resort. Not only will you save some money, but you'll also be taking a trip through the decades at this resort.
Pop Century, which opened in 2003, offers an unforgettable experience taking you from the 1950s to the 1990s. You'll experience fun pop culture icons and Disney characters from each era that have traveled through the decades, not to mention comfy rooms and great amenities, all included at a great budget price.
Disney Pop Century Resort is excellent for families with small children and those looking for a great vacation that won't break the bank. We consider this resort the "pearl" of the value resorts. So, what do you need to know before planning your stay at Disney's Pop Century Resort? Read on to learn everything you need about staying at Disney's Pop Century Resort.
What To Expect When Staying at Disney's Pop Century Resort
Choosing to stay at one of Disney's value resorts will shave a decent amount off your overall Disney vacation bill and hopefully allow you to spend for other add-ons Disney offers like Disney Genie+. The resort is a good fit if you plan to spend most of your time out of your room.
Disney's value resorts are the lowest-priced resorts Disney offers, but trust us in saying you won't sacrifice any of the Disney magic or conveniences of a Disney resort at Disney's Pop Century Resort. You will still get access to incredible recreational offerings, comfy and clean rooms, and many amenities like the other resorts.
Disney's Pop Century Resort is a part of the Wide World of Sports Resort area, making it a quick distance from Hollywood Studios, Disney Springs, and Epcot. You are located near the Blizzard Beach and Typhoon Lagoon water parks.
The resort is decorated with playful and vibrant décor and colors from the 20th century. You will find specialized themed areas throughout the resort resembling the periods throughout the 20th century, such as the 1950s, 1960s, 1970s, 1980s, and 1990s. The outstanding décor and colors also offer large supersized icons that you and your kids will love to see.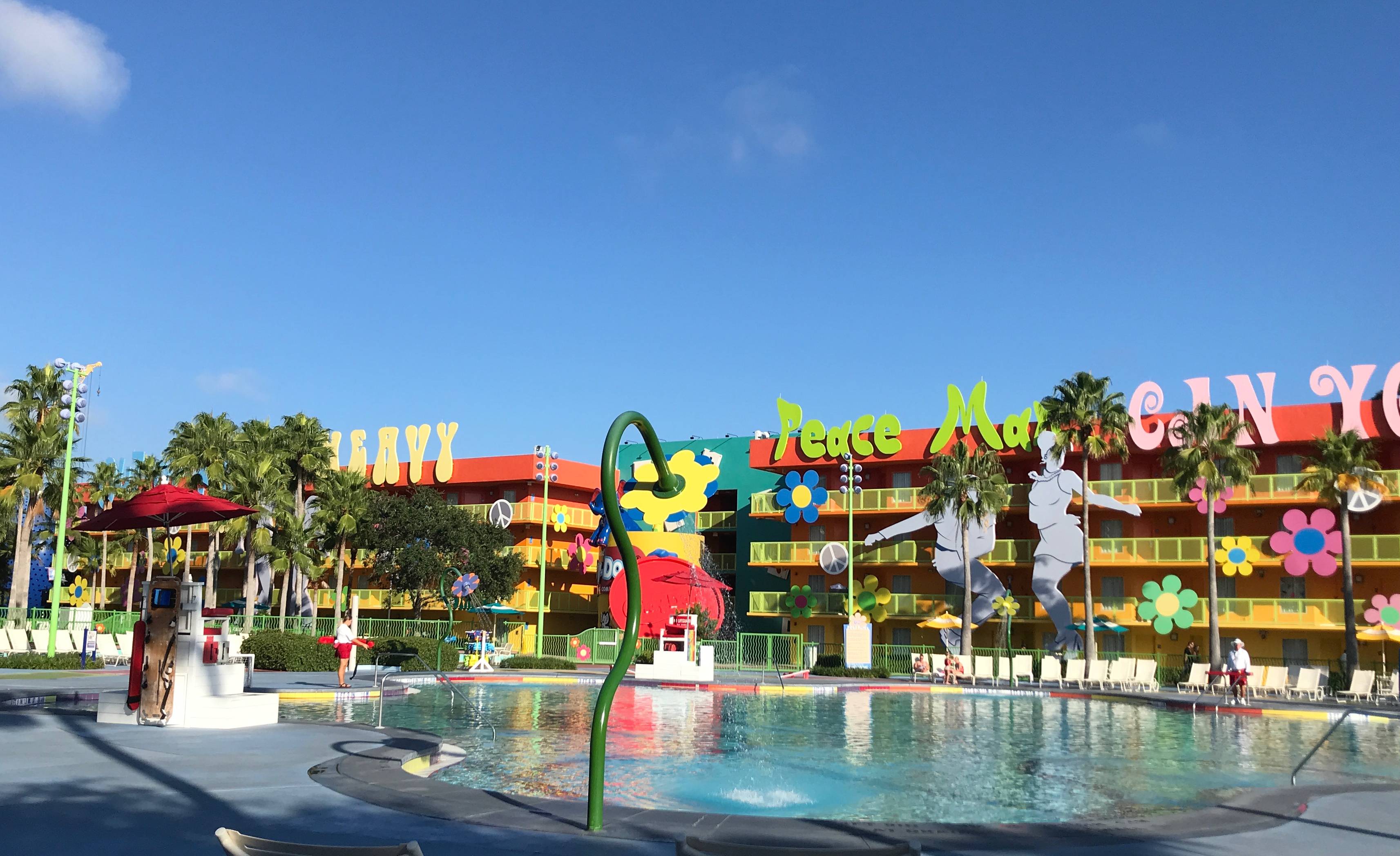 Rooms
The resort has a total of 2,880 rooms within four buildings. It holds a 4.0 review score on TripAdvisor from those who have stayed at the resort in the past. You'll find many desirable amenities in your room, like free Wi-Fi, a mini-refrigerator, coffee maker, in-room safe, telephone with voicemail, hairdryer, iron, and ironing board.
The rooms are small, so we don't recommend them for a large family. You may be better off booking two rooms to give you enough space or looking for another value resort that offers family suites like the Art of Animation or All-Stars resorts.
Due to the size of the room, you will find lots of creative storage ideas, from cubbies around the room to large dressers and nightstands. The resort thought about it when they created the space and even raised the bed so that you have room to slide your luggage under the bed for out-of-the-way storage. If you opt for the queen-sized table bed, you can fold it up when not in use to allow more space in your room.
Unlike the outside décor of the resort, the rooms do not follow the 20th-century theme. The rooms take a more modern to modern century feel with pops of bright colors throughout and various pop art décor.
The bathrooms are luxurious, offering a tub/shower combo with a rainfall shower head and a detachable shower head, which can be helpful for families with little children. One of the best features is the ability to close a door to separate the shower area and toilet from the main sink to divide the bathroom.
Keep reading to find out the difference between the types of rooms.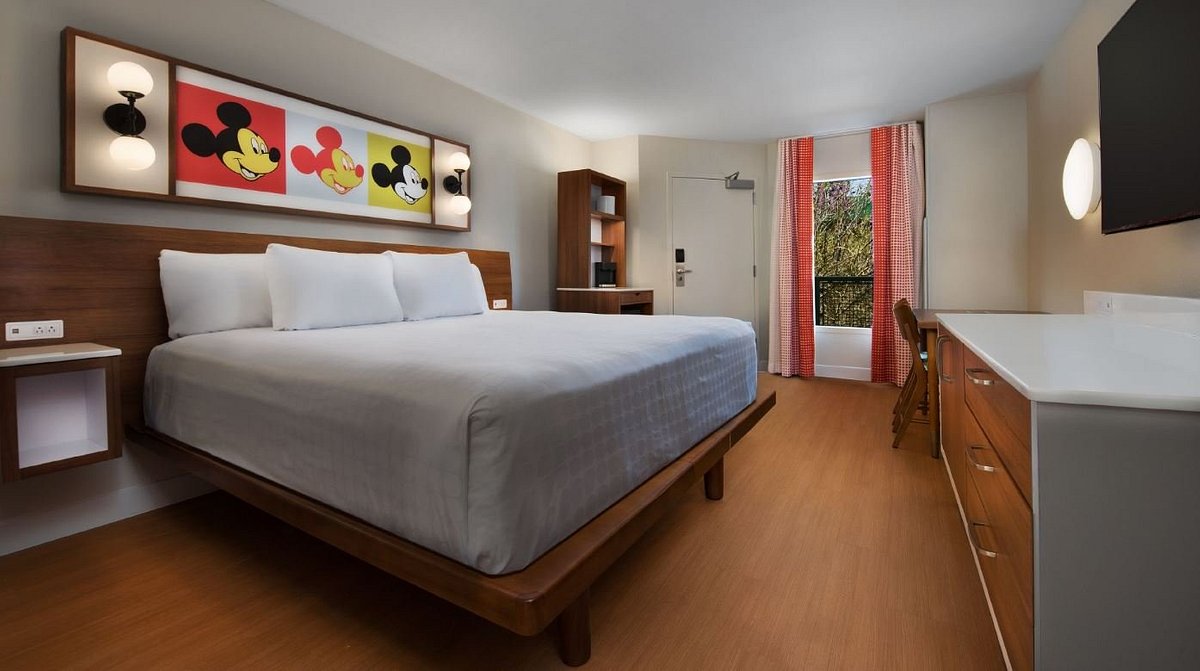 Standard Room
Available with 1 queen bed and 1 queen-sized table bed or 1 king bed
Sleeps up to 4 adults
Views of parking areas or resort buildings
Standard Room with Pool View
Available with 1 queen bed and 1 queen-size pull-down bed or 1 king bed
Sleeps up to 4 adults
Views of Bowling Pool or Computer Pool
Preferred Room
Available with 1 king bed or 1 queen bed and 1 queen-sized table bed
Sleeps up to 4 adults
Close to Classic Hall, dining, shopping, and transportation
Views of landscaping or courtyard
Preferred Room with Pool View
Available with 1 king bed or 1 queen bed and 1 queen-sized table bed
Sleeps up to 4 adults
Views of Hippy Dippy Pool
Close to Classic Hall, dining, shopping, and transportation
Rates for Rooms per Night
Standard room: $174-367
Standard Room with Pool View: $182 – $381
Preferred Room: $194 – $393
Preferred Room with a Pool View: $205 – $403
The rooms run about $200 per night, which is the cheapest rate for a Disney value resort. The resort offers several types of rooms, all different in price points. The room rates at Disney Pop Century depend on several factors like your travel dates and which room you'd like.
Resort rates tend to be higher if you have a room closer to hotel amenities or a better view. Rates also tend to increase over holidays and high travel times like spring break and summer vacation. If you want to travel when rates are lower, try booking during the slow season and choose a room farther away from the hotel amenities or a room with a view of the parking lot.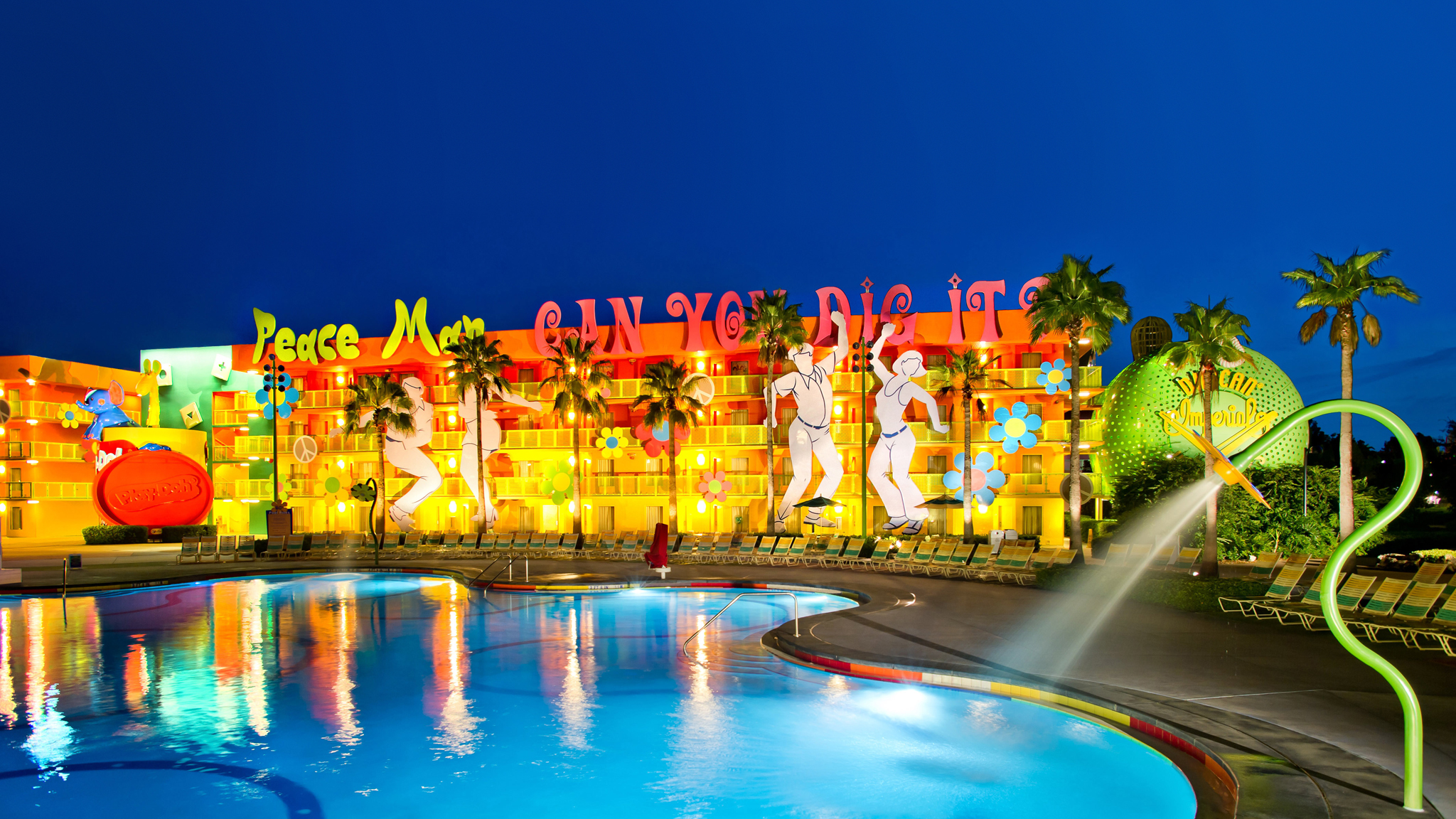 Themes at Disney's Pop Century Resort
Like other parts of Disney, the Pop Century Resort is heavily themed.
1950s Theme
This resort area shows off giant sock-hoppers dancing all over the sides of the buildings. Here is where you'll find bowling pin-shaped staircases along with the Bowling Pin Pool, where you and your family can enjoy a nice swim. "Lady and the Tramp" characters are another added touch to the 1950s area.
1960s Theme
This fun resort area has lots of tie-dyed and psychedelic colors for all the attention to be drawn to them. Play-doh is featured all over the 1960s area with lots of different play-doh containers and animals strategically placed around the area.
You'll also find giant yo-yos staging the areas.
The 1960s section is home to the Hippy Dippy Pool, formed in the shape of a flower and equipped with squirting flower petals.
Keeping with the Disney theme, the 1960s area is home to Baloo and Mowgli from Disney's "The Jungle Book" movie, released in 1967.
1970s Theme
The 1970s are a variety of different nostalgic pop culture icons. From an oversized Hot Wheels riding toy to a classic Mickey Mouse rotary dial phone, you'll have lots of things to keep your eyes on. There are large foosball players you can wander through and around, right in the middle of their imaginary game. The corner of each building in this section will also display an eight-track tape.
1980s Theme
The 1980s resort section is where you'll find the large Rubix cube on display, and it is more than 40 feet tall! Aside from the Rubix cube, you'll find a large Walkman and headphones, which were a big icon during the '80s.
1990s Theme
The last century to be alive in the resort is the 1990s. Here you'll find a technology-themed area composed of computers and cell phones. Besides the large pool, you'll find a giant keyboard you can walk or run on and pretend to be typing a message. To complete the theme, each corner of this area has a large early model cell phone on display.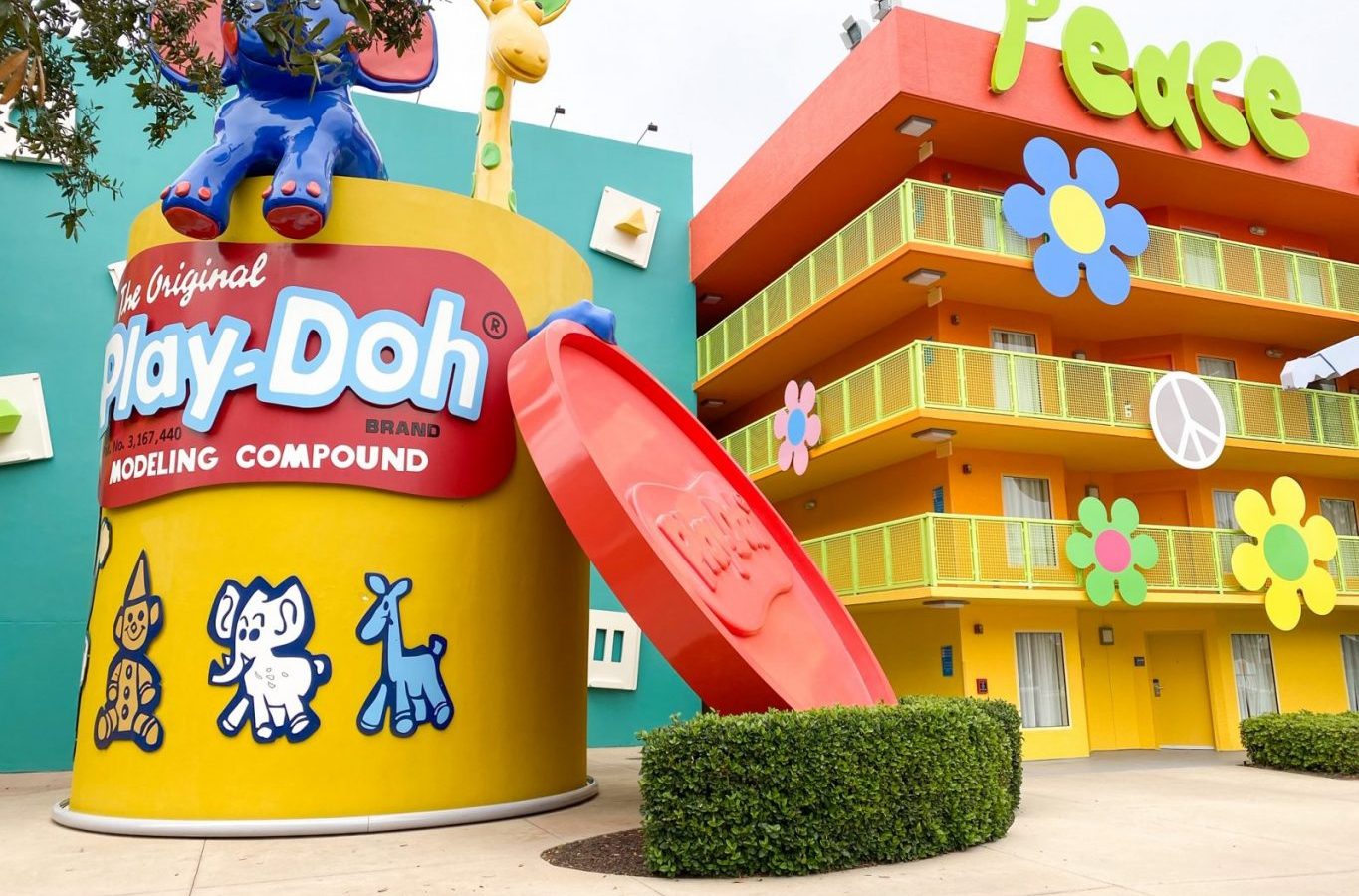 Amenities
Disney's Pop Century resort is full of things you need to enjoy your vacation while saving money. Of course, if you are looking for a state-of-the-art hotel with fancy restaurants and gyms, you won't find that at Pop Century. But, there are lots of amazing amenities we promise you and your family will enjoy!
In addition, the resort offers several other benefits, such as:
Convenient online check-In
Currency Exchange Service
Self-Service Laundry and Dry Cleaning Services
Mail Services
Disney merchandise delivery and pick up
Dining
Disney is known for its food, and there are many options available at Pop Century.
Everything POP
Everything POP offers breakfast, lunch, and dinner from a variety of different food stations throughout the day. Whether you need to grab a quick bite or want to take the time to enjoy a family meal, you will find what you're looking for here.
This American cuisine food court offers the iconic Mickey Mouse-shaped waffles as well as several other breakfast options, from baked items, eggs, breakfast meats, and more. You will find a fun and filling breakfast to give you the energy you need for your day at the theme park.
Lunch and dinner will also be enjoyed with lots of popular items families love, like pizza, chicken, and French fries. They even offer a great dessert menu to go along with the resort's theme, and a must-try is the Tie-Dye Cheesecake.
The food court is reasonably priced for the offerings, and a big perk to most families is the food court is open late, so you can grab something later in the evening when you get back from a long day out in the parks.
Petals Pool Bar
If you take some time to relax by the pool, the Hippy Dippy Pool offers a drink service for pool-goers. While they don't provide food service, you will find many pleasing drinks on the menu, both alcoholic and non-alcoholic.
Shopping
In addition to Everything POP being your main provider for food, it is also a shopping outlet. The shop is very large and has a lot of perfect Disney items. In addition, they carry all your typical travel items, so if there are items that you may have forgotten at home you can purchase them at the shop.
Pools
Disney's Pop Century resort has a trio of pools you can choose from, and you can make sure to enjoy each one during your visit. A nice accommodation offered by the resort is the use of their towel service. Pools are stocked with towels to offer to swimmers, so they don't have to worry about bringing their own.
The Hippy Dippy Pool is a fun 1960s flower-themed pool. Here you'll find the most pool traffic as it's the main water feature of the resort. The water jets are shaped as flower petals, and you'll find fun colors everywhere as you take your relaxing dip to cool off.
You'll also find the iconic Bowling Pool, which is shaped like a bowling pin, and last but not least, the Computer Pool inspired by the technology world which are labeled the quieter pools at the resort.
The Hippy Dippy Pool offers a kiddie pool. None of the pools found at Disney's Pop Century Resort offer a jacuzzi, hot tub, or slides.
Recreational Activities
There are things you'll find to do all around the resort if you need a day off from the theme parks and want to spend some time relaxing there. The resort typically offers different offerings that you can partake in.
Keep in mind that some of the offerings are free, and some cost an additional fee. For the exact recreational offerings, you will want to check with the resort for the newest and up-to-date schedule.
One of the most exciting things to do at the resort is to visit and participate in the nightly campfire. Every night and every day of the week, the campfire is open for about an hour and allows you and your family to roast marshmallows and have a tasty treat, along with creating fun memories.
One thing you'll find is the Fast Forward Arcade located at Disney's Pop Century Resort. Fast Forward Arcade is open 24 hours a day, so you can visit at any time. The arcade is packed with games for both young and old and is certainly an enjoyable way to pass the time.
You can also find a few playgrounds around the resort that the kids will enjoy playing on. In addition to the playgrounds, there is a 1-mile jogging trail that takes you around the resort for you to enjoy a quick walk or jog.
Pop Century Resort offers a free movie program called Walt Disney World's Movies Under The Stars. If you are someone who does not prefer to stay late at the parks, this is a great option for a unique, fun adventure. A friendly family movie is played each night in the resort on an outdoor movie screen, and typically the movie schedule is found in the resort lobby.
Transportation
When you stay at Disney's Pop Century resort, you'll have access to Disney Skyliner Transportation which can make your trip very easy. You can take the gondolas, each decorated with their fun theme, to Disney's Hollywood Studios and Epcot.
In addition to the included Disney Skyliner service, you will receive complimentary Disney Bus Transportation when you stay at Disney's Pop Century Resort. The buses offer service to the different theme parks, water parks, and Disney Springs. Pick-up and drop-off are located outside Classic Hall at the resort.
You'll have access to Minnie Van Service connected by Lyft when staying at the Pop Century Resort, but there is an additional fee aside from your vacation package to use the service. It is easy to access by making your reservations on the Lyft app.
Parking
You'll find overnight self-parking available if you decide to drive to the resort. The price for parking is $15 per night with an applicable parking tax, and the charge will be added to your hotel charges upon checkout.
You'll still get many benefits when staying at Disney's Pop Century Resort, but not as many as a deluxe resort. You can take advantage of the free transportation, Disney's early entry, and the extended advanced dining reservation window. You won't receive extended evening hours at the park, but if you are an early riser, the morning early entry will be enough for you.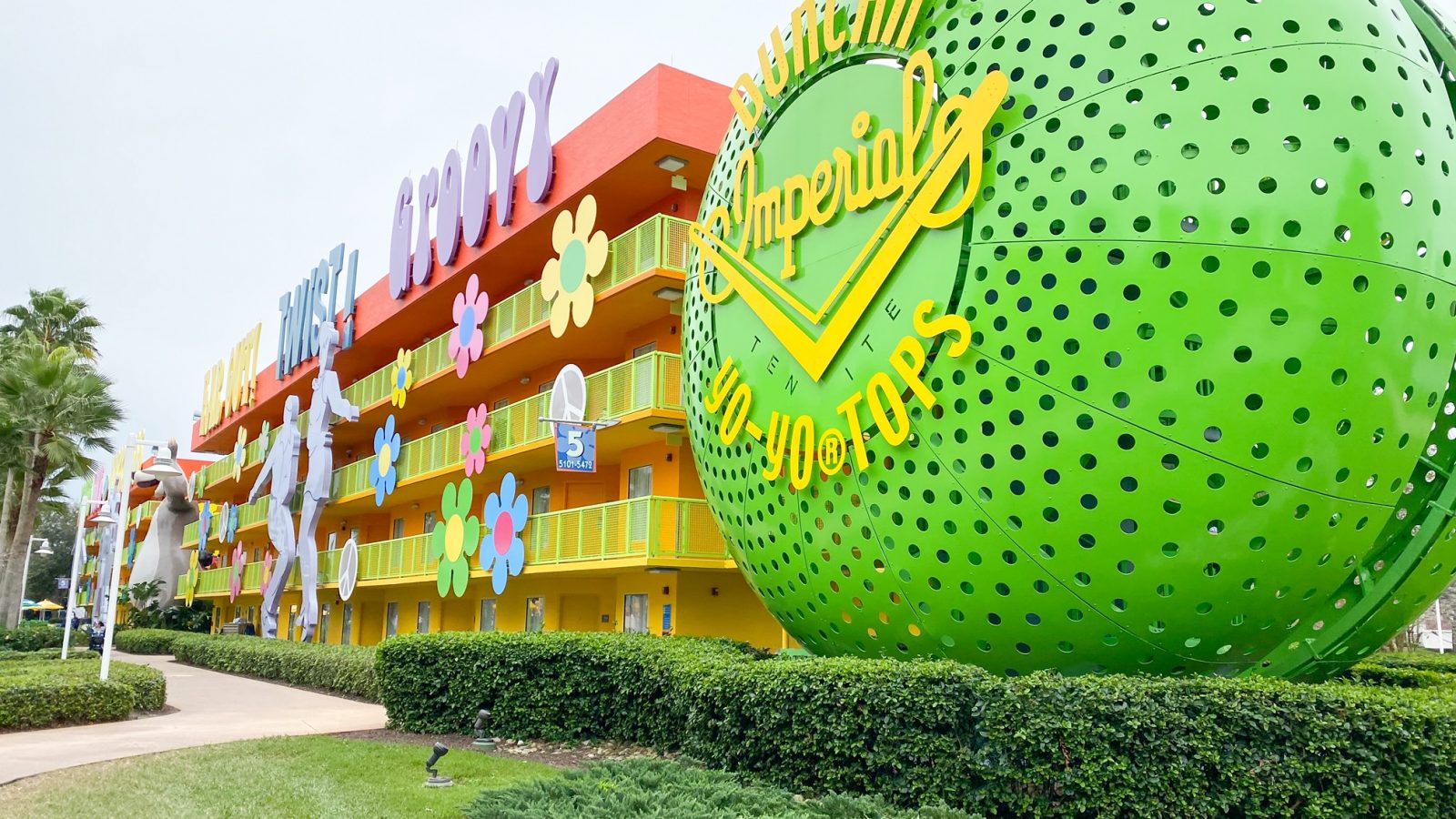 Final Thoughts
We think Disney's Pop Century Resort is a great value resort if you want to stay on Disney property. If you want to save money and have a room you do not intend to spend much time in, Pop Century resort should be at the top of your list.
The room amenities, proximity to the theme parks, and availability to use Disney's Skyliner transportation make this resort the top value pick. Not to mention the enjoyable theme and creative rooms, we are sure Disney's Pop Century Resort has what you are looking for.
More about our TFVG Author
Caitlin is one of The Family Vacation Guide's long standing contributors. She enjoys taking vacation to busy, vibrant cities and has stretched her traveling legs out towards Europe in recent months, enjoying new experiences in Barcelona in Spain, and Nice in France.