Meeting your favorite characters is one of the best things about vacationing in Walt Disney World in central Florida. If you love Frozen, we have good news. You can meet several of the franchise's beloved characters in Disney's theme parks, including Olaf.
Where can you meet Olaf at Disney World? Celebrity Spotlight in Echo Lake in Disney's Hollywood Studios is the best place to meet Olaf. But there's much more to meeting him than knowing where to go!
Below, learn everything you need to know to make your visit with Olaf go perfectly. We'll also provide information about where to spot Olaf throughout Disney World and where to meet other Frozen friends. Let's get started!
Meet Olaf at Disney's Hollywood Studios
Where can you meet Olaf at Disney World? As mentioned above, one of the only places to meet Olaf is Celebrity Spotlight in Disney's Hollywood Studios.
Where is Celebrity Spotlight?
You'll find Celebrity Spotlight in Echo Lake, on Commissary Lane. He's close to the entrance for Star Tours: The Adventure Continues. There are park maps in your My Disney Experience smartphone app or ask a cast member if you can't find it.
Is Olaf the only character who appears at Celebrity Spotlight?
He's the only character stationed there regularly. Nearby, you may be able to meet Minnie Mouse and other characters at Red Carpet Dreams.
How do you meet Olaf?
You have two options for meeting Olaf. First, your family can wait in the standby line. Wait times vary depending on how busy the park is and the time of day, but Olaf's popular.
Unless you get to the attraction first thing in the morning or later in the evening, expect to wait at least 30 minutes to meet Olaf. On packed days, the wait can be over 60 minutes. Have games or tablets to keep kids entertained while waiting.
If you don't want to wait in line, you can make a Lightning Lane reservation. To utilize this service, everyone in your group must upgrade their tickets with the Genie+ service. Prices vary based on demand, but it typically adds $15-$25 to your park ticket daily. 
With Lightning Lanes, you get a time to return to the attraction when you skip right to the front of the line. It's a fantastic service that you can use for most rides and other attractions in all four theme parks. If your family has limited time to stand in line, it's essential.
Is the Olaf Meet-and-Greet suitable for little kids?
Olaf is one of the best character meet-and-greets for young kids. His rudimentary animation means that the costume looks strikingly similar to the Olaf you've seen on screen. That's less scary for little ones who may not be prepared for the shock.
One More Way to Meet Olaf
There is one more way that you possibly meet Olaf, and that's by attending special events. On certain holidays and notable dates, characters you don't usually see appear. For instance, Princess Tiana usually attends Mardi Gras.
There are also many extra characters at Disney's special ticketed events, particularly Mickey's Not-So-Scary Halloween Party and Mickey's Very Merry Christmas Party, both at the Magic Kingdom. 
While the "guest list" changes from year to year, Olaf remains a well-loved attendee, particularly at Christmas. If you love meeting characters, these events are extra enjoyable.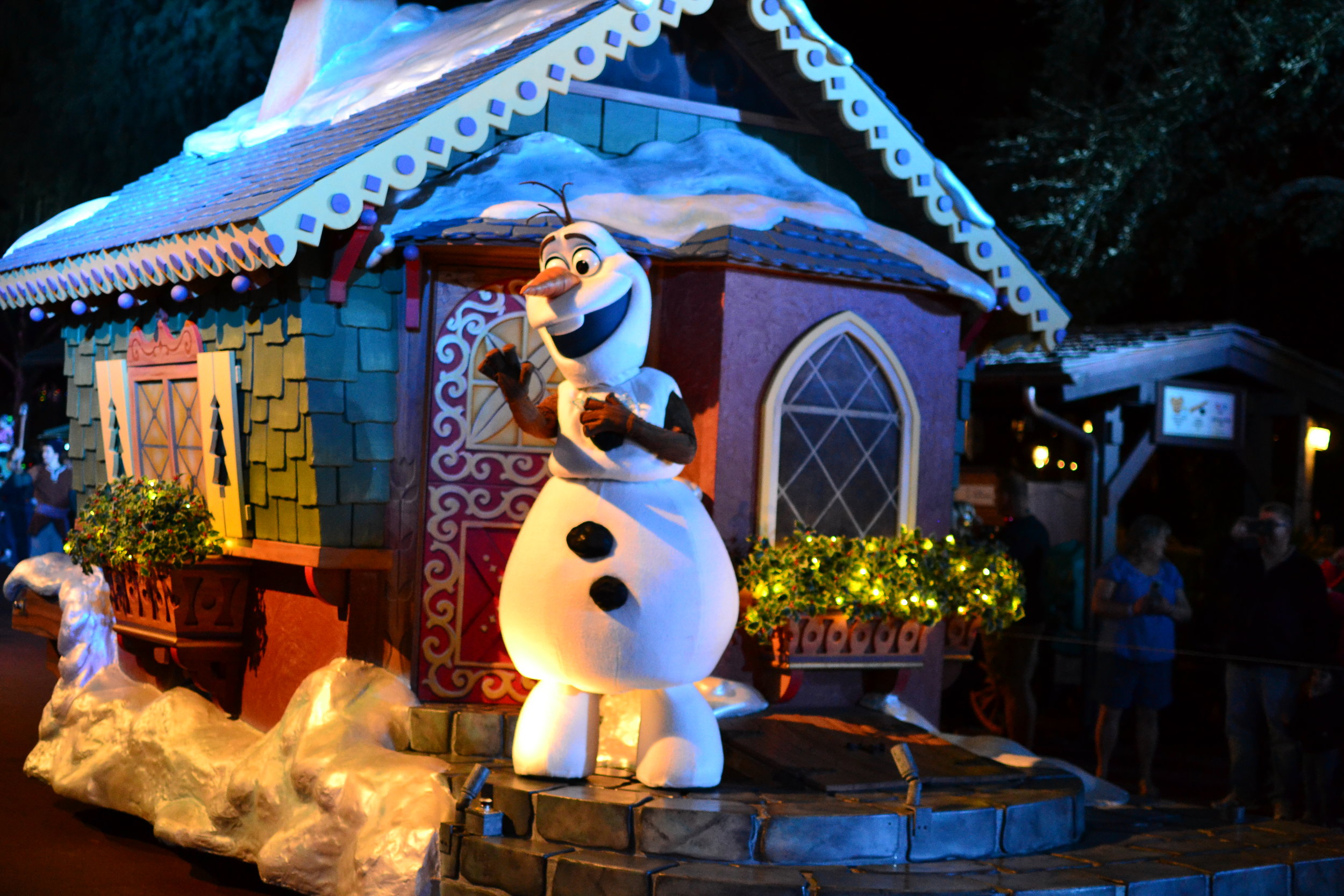 Other Places to See Olaf in the Parks
Even though you can't meet Olaf in the other parks, you'll see him and feel his presence all over.
Before you leave Hollywood Studios, see For the First Time in Forever. This live show is part storytelling and part sing-along. You'll see Anna, Elsa, and Kristoff. Olaf often appears, especially for the holidays.
If you've got Frozen fans in your family, you can't miss Frozen Ever After in EPCOT theme park.
In fact, since Frozen takes place in an imaginary Scandinavian country, the Norway pavilion bursts with Frozen elements (and merchandise).
Norway also houses Disney's other Frozen meet-and-greet. You can meet Anna and Elsa at Royal Sommerhus, also available as a Lightning Lane or standby.
Finally, hop over to Magic Kingdom to watch the Festival of Fantasy Parade and Mickey's Magical Friendship Faire, a show on the steps of Cinderella's Castle. Both feature Frozen characters, including Olaf.
FAQs about Meeting Olaf in Disney World
Let us answer a few common questions about meeting costumed characters in Disney World.
Will Olaf talk to you when you meet him?
No, Olaf doesn't talk to you when you meet him. Very few Disney characters with masks speak directly to guests. He'll interact using body language and non-verbal cues.
Can you take pictures and videos with Disney characters?
You can take photos and videos of yourself and your family with Disney characters. In fact, Disney encourages you to do so.
There may also be a Disney PhotoPass photographer working when you meet characters. Let them snap a few pictures; you can check them out online later, and they often add very magical touches.
Are the lines long because guests take a long time with the characters?
Uniformed cast members manage the lines, so no one has unlimited time with them. They move you through as quickly as possible, so have your camera ready and ensure the kids get prepared to smile and pose.
Are there other Frozen character meet-and-greets?
Besides Olaf, can you meet any other characters from Frozen in Disney World? Yes, you can meet Anna and Elsa at Royal Sommerhus in the Norway Pavilion in EPCOT. They also attend some character dining venues.
Warm Hugs from Everyone's Favorite Snowman
Olaf is one of Disney's most adorable, loveable creations. His love of sunshine, characteristic voice and tone, and happy demeanor endear him to kids of all ages.
Luckily, Olaf is one of the many beloved characters from Disney's canon that you can meet when you visit Walt Disney World outside Orlando, Florida. Use our guide to incorporate a warm hug from Olaf into your next family vacation!
More about our TFVG Author
A seasoned traveller, Dad, and avid sports tourist, James foundered The Family Vacation Guide to share his expert vacation experiences- especially when it comes to being a travelling family man.
Featured in Travel articles such as Travel + Leisure, TripSavvy and SFGate, you know you're reading some of the best vacation tips online.