When traveling with kids, it is critical to choose a hotel with a pool. Not only is it a great way to get out the stored up energy that comes with travel, but it's an excellent way to bring calmness and relaxation at the end of a busy day of sightseeing or activity.
But when traveling to Hawaii, why settle for an ordinary pool when you can have a fun and unique one? This guide outlines 12 of the best hotel pools in Hawaii for kids. 
Having the ability to experience a new style of water fun is beneficial all around. While parents get to relax, the children rid themselves of excess energy – making for a great night's sleep!
To learn more about the best hotel pool options in Hawaii, continue reading below or if you're looking for further inspiration, check out our other guides:
1 Hotel Hanalei Bay is a newly upgraded resort with unique features loved by parents and children alike. Previously known as Princeville Resort, one perk that you will not want to miss out on is the expansive pool.
When you see the large outdoor pool in photos, you assume that it is just part of the ocean. The water blends in with the color of the sea so perfectly that you find yourself doing a double-take. Alas, this pool is so large and beautifully maintained that it projects the same image of beauty as the ocean.
Surrounded by beautiful palm trees and natural landscape, the only thing that will make you feel as though you are in a pool is the faint smell of chlorine in the air.
With its large size, there is plenty of space to spread out. This amount of room makes it easier to separate excited and active children from the relaxing adults.
With a pool this spacious and natural-looking, you may forget that there's a beach just steps away!
Where To Find:
You can find 1 Hotel Hanalei Bay online on their official website and in person at: 
5520 Ka Haku Rd
Princeville, HI 96722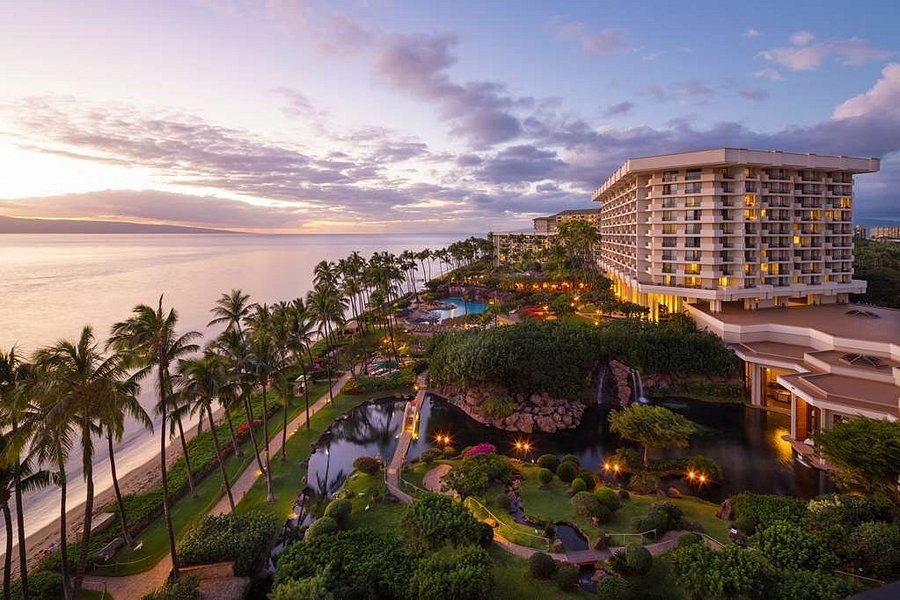 What is better than having a pool at your Hawaii resort? Having six different pools to choose from during your stay, of course! The Hyatt Regency Maui Resort & Spa offers six freeform pools, with one dedicated specifically to children.
Located on the edge of the Pacific Ocean, the pools each have native tropical plants surrounding their landscape. Many also include waterfalls for an additional pleasing aesthetic. The beauty surrounding the pools makes you feel like you are right in the center of nature.
When you visit the children's pool area, you are amongst several different water activities for your kids to take advantage of during their stay. These include:
Lava Tube Water Slide
Whirlpool
Rope Bridge
In Pool Sprinklers
Fun Animal Decor
Jumping Structures
Having a separate children's area allows your child to interact, explore, splash, and have a blast without disrupting other swimmers. There is ample seating surrounding the pools for you to sit and monitor your children while enjoying a drink.
Want to join in on the fun? Adults are allowed in the children's area as well, so no need to feel left out!
Where To Find:
You can find Hyatt Regency Maui Resort & Spa online on their official website and in person at: 
200 Nohea Kai Dr.
Lahaina, HI 96761
Any time that you bring Disney into the equation, you're bound to have a good time. And the Aulani Disney Resort is no exception. Seven pools in total occupy the grounds at Aulani, and each of them possesses particular features that make them unique.
Each swim area has a name that ties into Hawaiian culture. They include:
Ka Maka Grotto
Keiki Cove Splash Zone
Menehune Bridge
Rainbow Reef
Waikolohe Pool
Waikolohe Stream
Wailana Pool
There are also four whirlpool spas to relax in and poolside cabanas available for guest use. The Rainbow Reef offers a private saltwater snorkeling lagoon, the only one of its kind in the area. Waikolohe Stream comes with two tubing paths for you to enjoy, and the Menehune Bridge includes water features fit for the littlest guests.
In addition, there are splash zones for older children and several leisure swim areas, which include a lazy river. There is a swimming opportunity for everyone in your family when you stay at the Aulani Disney Resort & Spa. You will spend your days pool hopping and enjoying every minute of doing so.
Where To Find:
You can find Aulani Disney Resort & Spa online on their official website and in person at: 
92-1185 Ali'inui Dr
Kapolei, HI 96707
The Aqua Kauai Beach Resort in Kauai has four different pools for you and your family to enjoy during your stay. Two of those pools are lagoon-style and include waterfalls. All four are in close proximity to one another, so you don't have to worry about trekking across the resort to experience the others.
The Aqua Kauai also has a pool specifically for children. In this pool, there is a sandy bottom and a water slide. For the adults, the property boasts two hot tubs, poolside lounges, and a poolside bar. There is no need to get out of the water and dry off to refresh your drink – they will bring it right to you!
Each pool and hot tub is surrounded by natural, local tropical plants and palm trees. With the extensive square footage of each pool, you have ample space to enjoy the water without a chance of bumping into other guests.
The dedicated children's area allows for separation between guests as well. You don't have to worry about your kids being too loud or splashing too much. The location is meant for them to do so!
Where To Find:
You can find Aqua Kauai Beach Resort online on their official website and in person at: 
4331 Kauai Beach Dr
Lihue, HI 96766
Sometimes on vacation, you want time away from your children. And there is nothing wrong with that. Because of this, we often appreciate the gesture of a resort making a pool an "adult-only" area. This restriction gives us the ability to relax and unwind without being asked a million questions or having to supervise rowdy behavior.
The Wailea Beach Villas in Maui have two separate pools. One is for adults only, and the other is for families. This separation allows for each group to have the experience they desire without the stress of inconveniencing others.
However, having separate pools is just one of the perks. The size of each is large and accommodating. Additionally, the different levels of depth allow you to float or swim, depending on your mood.
When in the pool areas, you do not need to worry about bringing anything down but your physical self. Both towel and water service are provided, and even sanitizing stations. The chaise lounges are also cleaned between uses, so you can rest assured that you are in a safe space!
Get ready to relax and unwind with a vacation to the Wailea Beach Villas. With a drink in one hand and a pool and beach in front of you, any stress you have will roll away with the waves.
Where To Find:
You can find Wailea Beach Villas in Maui online on their official website and in person at: 
3800 Wailea Alanui Dr.
Kihei, HI 96753
You know that when a resort refers to their pool area as a "water playground", that you are in for a treat. The Grand Hyatt Kauai Resort & Spa not only provides multiple pools but multi-level pools.
To start, you can take a float down the lava rock-lined lazy river. During your journey, you will pass several waterfalls, seating areas, and caves. At the end of the river, you can take a turn down the resort's 150-foot water slide.
If you are still up for more, you can participate in a water volleyball or water basketball match. Sports, not your thing? You can lounge in the adults-only pool area or take a rest in a poolside cabana.
The resort also offers a zero-entry lagoon with 1.5 acres of saltwater. The resort illuminates the pool with underglow lighting at night, making it perfect for a late-night rendezvous.
You will likely forget that you are in a pool, not the ocean, with detailed landscaping and spacious design. You'll enjoy every minute of your time spent in the Grand Hyatt's water playground, and just like the kids – you won't want to leave when it's time to go home!
Where To Find:
You can find Grand Hyatt Kauai Resort & Spa online on their official website and in person at: 
1571 Poipu Rd
Koloa, HI 96756
The first thing you will want to do upon arriving at the Grand Wailea in Maui is to take a ride on their three-story lava tube water slide. Covering over 250 feet and providing a 14-second ride, this slide will give you the thrill of a lifetime.
That's not all that you get to experience during your stay at the Grand Wailea. Another great feature of the resort is the Wailea Canyon Activity Pool.
Although the name implies a singular pool, it is a combination of nine pools on six different levels. The pools connect via a river that has whitewater rafting currents, albeit on a gentler scale.
Included in the canyon are the following features:
Four Jungle Pools
Five Intertwining Slides
Whitewater Rapids Slide
Tarzan Pool (complete with a rope swing!)
Sand Beach
Six Waterfalls
Caves
Three Jacuzzis
Water Elevator
Swim-Up Bar
Additionally, the resort provides an adults-only pool for chaos-free swimming and relaxing. Your family will thank you a million times over for bringing them to this highly entertaining resort, complete with every pool activity available!
Where To Find:
You can find The Grand Wailea online on their official website and in person at: 
3850 Wailea Alanui Dr.
Wailea, HI 96753
Like many other resorts in Hawaii, the Hilton Hawaiian Village Waikiki Beach Resort in Oahu doesn't disappoint, especially with its pool offerings and unique features. There are several pools and water features available during your stay at the resort, including:
Paradise Pool – water slides, waterfalls, spas, amazing views
Super Pool – large, family-friendly
Ali'i Tower Pool – private pools exclusively for guests of Ali'i Tower
Tapa Pool – zero entry, newly renovated
Uke Kahanamoku Lagoon – floating, sandy beach, zero-entry
All of these pools afford a different experience during your family vacation. Each day can bring new adventures, with a pool to match the plans of the day!
As one of the only resorts in the Waikiki area, many people flock to the site for time away and ample relaxation. The family-friendly features make it fun for the whole group and provide several opportunities for burning off energy, making memories, and bonding.
The Hilton Hawaiian Village Waikiki Beach Resort provides fun attractions for younger guests and provides a hidden escape for those who frequent the resort. The addition of Ali'i Tower Pool allows those residents a secluded space for rest and relaxation.
Don't miss out on all the benefits that come with your stay at The Hilton Hawaiian Village Waikiki Beach Resort. Your time will be well spent during your vacation at this elite resort.
Where To Find:
You can find The Hilton Hawaiian Village Waikiki Beach Resort online on their official website and in person at: 
2005 Kālia Rd.
Honolulu, HI 96815
Water is a soothing element for many people. Additionally, a big focus of vacations is relaxing. Therefore, it is fitting that the Hilton Waikoloa Village provides a large pool with enough space for all the guests at the resort.
Additionally, the main pool (Kona Pool Ariel) offers a bridge above. With that, you can enjoy the beautiful pool and its surroundings from above and in the water. There is a large assortment of lounge chairs in the area, so you can easily take a break from swimming to dry off and enjoy the sunshine.
Another fantastic addition is the waterfall that descends from above the pool area. This feature provides a beautiful natural element that makes you feel like you're in the middle of the tropics and have discovered a hidden gem!
But what about the kids? Although they are welcome in the main pool, a smaller pool (Kona Pool Family) is reserved for children, families, and rambunctious water fun. This pool is where you can bring floats and pool toys and spend the day swimming around and jumping into the pool.
Where To Find:
You can find The Hilton Waikoloa Village online on their official website and in person at: 
69-425 Waikōloa Beach Dr.
Waikoloa Village, HI 96738
Maui is one of the most highly sought-after destinations when taking a family visit to Hawaii. The Wailea Beach Resort – Marriott makes it all the more enticing. With five different types of pools, everyone in your family will find the perfect spot for memory-making on your vacation.
Of the five different pool varieties, each has distinct features:
NALU Adventure Pool – four water slides, splash zones, a swim-through grotto, snack bar
Maluhia Serenity Pool – adults only, infinity edging, overwater cabanas
Two 'Ohi Pools – infinity edge, on the edge of the ocean, includes whirlpool spas
Diving Pool – offers introductory scuba diving classes
One of the remarkable traits of the 'Ohi pools is that you can often feel misting water from the ocean's waves as you are in the pool. With this, you get the best of both worlds – ocean mist and calm pool waters.
Each pool area has cabanas for rent of varying styles. Whereas some accommodate an entire family, others are reserved for couples or single occupancy.
There are several food, drink, and snack options surrounding the different pool areas, so you will never be too far from nourishment.
Where To Find:
You can find The Wailea Beach Resort-Marriott online on their official website and in person at: 
3700 Wailea Alanui Dr.
Wailea, HI 96753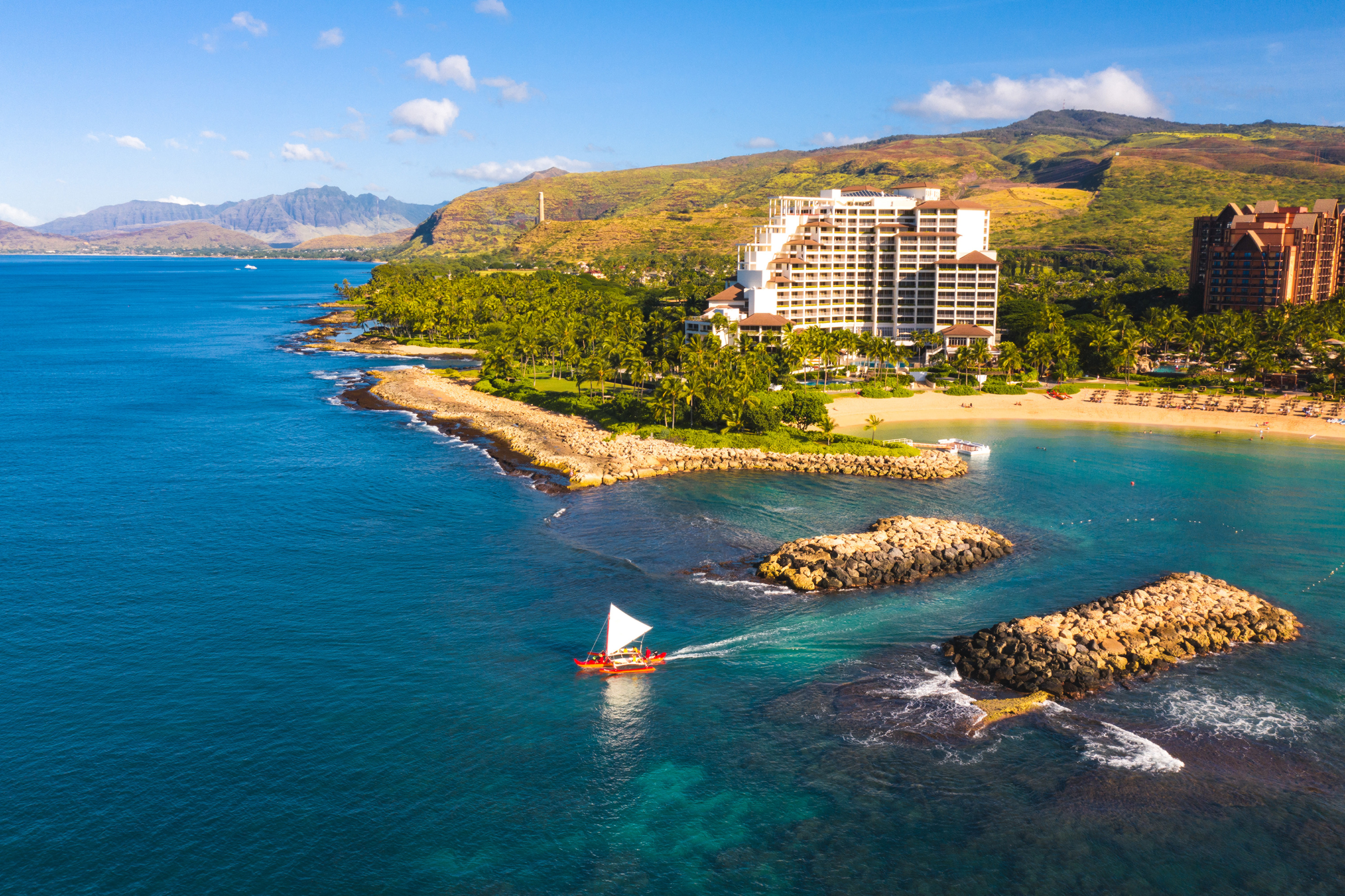 Like other resorts highlighted throughout this list, the Four Seasons O'ahu Resort knows the importance of having more than one pool on its premises, as well as having one designated for family fun. With one for adults only and one for families, everyone can have a fun and joyful time while staying at the Four Seasons O'ahu Resort.
When taking in the luxurious adults-only pool, you are presented with the largest pool of its kind in Hawaii. Not only does it have infinity edging, but it also provides panoramic views of the Pacific Ocean, which lies directly in front of the pool itself. Accompanying the area is a hot tub and covered couples cabanas.
The family pool offers enough space for your family to enjoy themselves without fear of intruding on another group's fun. With plenty of room for rafts and fun pool toys, you and your children can splash and jump and splash some more without repercussion. Smiles will be in abundance during your time at the family pool.
Where To Find:
You can find The Four Seasons O'ahu Resort online on their official website and in person at: 
92-1001 Olani St.
Kapolei, HI 96707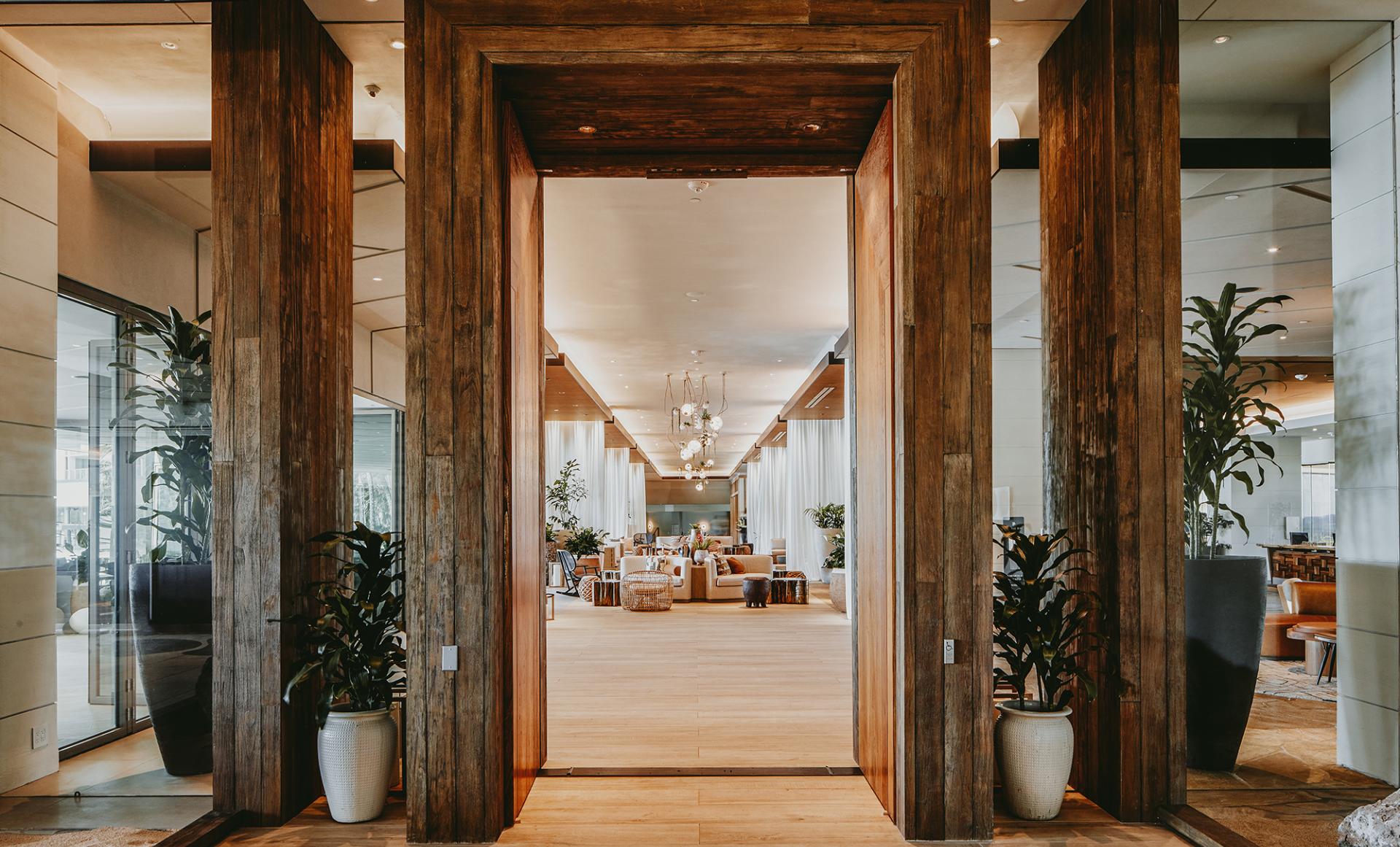 Your time at Turtle Bay Resort in Oahu will be well spent with the four pools available for guests. With the main pool, adults-only pool, private Ocean Villa pool, and children's pool, you won't know what to check out first!
One of the newest features is the pool deck surrounding the adults-only pool. You can enjoy the cool waters from a high level while looking out onto the resort grounds and the surrounding ocean.
The main pool is in the center of the resort and provides swimming to all guests during their stay. Surrounding the pools are several cabanas and lounge chairs to utilize as well as many snack areas.
For guests staying at the Ocean Villa portion of the resort, the private Ocean Villa pool is reserved especially for them. This separate area allows them to retreat to a quiet space and enjoy a bit of solitude during their time at the resort.
The children's pool is where all the energy is. With several water slides and splash areas, children of all ages will be running and jumping in excitement. Their happiness may draw in adults to join in on the fun as well!
Turtle Bay Resort offers fun for all generations, and they cater to the needs of all of their guests. You won't regret your time spent at this resort and the long-lasting memories that will come from your time there.
Where To Find:
You can find The Turtle Bay Resort in Oahu online on their official website and in person at: 
57-091 Kamehameha Hwy.
Kahuku, HI 96731
Conclusion
For many vacationers to Hawaii, the vision of a nice, refreshing swim after a long day of travel is what gets them through the layovers, flight changes, and delays.
This vision is needed even more when traveling with children. When staying at a resort that has several options for fulfilling this need, happiness goes up several levels.
When planning your family vacation to the beautiful island of Hawaii, be sure to consult this guide to find a resort with the best pools available for kids. Besides having a great experience, you will make enough memories to last a lifetime!
More about our TFVG Author
A seasoned traveller, Dad, and avid sports tourist, James foundered The Family Vacation Guide to share his expert vacation experiences- especially when it comes to being a travelling family man.
Featured in Travel articles such as Travel + Leisure, TripSavvy and SFGate, you know you're reading some of the best vacation tips online.