Picturesque shorelines, jaw-dropping geographical features, bustling cities, and quaint towns all sit within the bounds of Northern California. That means the upper areas of the golden state are ripe for exploring with the family.
Whether you have young toddlers, teens, or both, the best family weekend getaways in Northern California provide hours of entertainment as well as an escape for mom and dad.
We compiled the list below to give you your top eleven options. So whether you want city views or astounding natural landscapes, you'll find it here. We also suggest where to stay and eat when traveling with children.
Why not also take a look at our guide to the best family resorts in Northern California?
1. San Francisco
Full of family-friendly culture, history, incredible sights, and drool-worthy cuisine, San Francisco is a perfect weekend destination for the family.
Bring the kids to the waterfront Exploratorium, ranked by CNN as the #1 U.S. attraction for kids. With over 600 interactive exhibits and a waterfront restaurant, it's the perfect spot to spend the day.
If museums aren't your family's forte, though, try Pier 39. Sometimes called the "Disneyland of San Francisco," children and teens alike will love this spot. There, you'll find the infamous sea lions that took over the dock after a 1989 earthquake. You'll also enjoy street performers, arcades, and a classic carousel.
Then, of course, there are the San Francisco musts, like a trip to the Golden Gate Bridge and a ferry ride to Alcatraz. You may also want to twist and turn up Lombard Street just for the fun of it. And, if you have the time, a classic cable car ride is always a blast with children.
Where to Eat
Try the family-style Vietnamese food at Yummy Yummy in Golden Gate Park. Kids will love the vermicelli noodle bowls and the tanks of live crabs!
Give Georgio's Pizza a try. After being in business for over 40 years, they're a staple in the city – and every kid loves pizza.
Take the kids to Mac'D, a marina restaurant entirely devoted to the childhood classic, mac N' cheese.
Where to Stay
Try the Hyatt Fisherman's Wharf, which features an outdoor pool and excellent rooms.
For more luxurious accommodations in a historic area, consider the Palace Hotel in the Financial District.
2. Muir Woods
Just north of San Francisco is another great getaway spot: Muir Woods. Full of stunningly tall sequoias and beautifully maintained trails, it's an ideal spot for a family that loves the outdoors but isn't looking to camp.
Check out the famous scenery in Cathedral Grove, Bohemian Grove, and along the Redwood Creek. Your kids will love seeing the giant, old-growth trees, and you'll love that the trails are easy to access. Many of them are paved with asphalt or boardwalk, making them stroller friendly.
Kids can also take advantage of the Junior Ranger program. Just ask for a Junior Ranger book at the visitor center. Kids will have a blast filling it out as they explore the gorgeous area.
Where to Eat
Stop at Mill Valley Market before hitting the trails. They have incredible take-out sandwiches, salads, and cold drinks.
After a long day in the great outdoors, grab a burger at Super Duper Burger and be sure to try their infamous garlic fries.
Where to Stay
The Mill Valley Inn will give you a room or private cottage nestled amongst the redwoods. A creek that flows through the property will keep the kids entertained for hours.
With older children, check out Acqua, a boutique hotel in Marin County. They offer free mountain bike rentals so you can explore the trails around the property.
3. Berkeley
Even if your children aren't quite ready to look at colleges, Berkeley is an incredible place to visit. This university town is walkable, eclectic, and full of things to explore.
Checking out UC Berkeley's gorgeous campus is a must. There you can wander the university's botanical gardens, which feature over 13,000 plants from across the globe. You should also visit the campanile, a freestanding bell tower. At 200 feet up, its observation platform gives epic views of the bay area.
If your kids are elementary-aged, you'll also want to go to the Adventure Playground. Ranked by National Geographic as one of the top ten playgrounds in the U.S., this Berkeley staple isn't your typical slide and swing set-up. With ladders, ropes, a zip-line, and a fort-building area, your children will want to spend hours here.
Where to Eat
Mom and dad will love the Westbrae Biergarten for its broad selection of California craft ales and delicious Brazilian foods. The kids will love it for its outdoor play area.
For a classic breakfast, try Rick and Ann's Restaurant. There's something for everyone with the fluffy buttermilk pancakes, traditional breakfast hash, and tofu scrambles.
Where to Stay
The DoubleTree at the Berkeley Marina offers excellent value, given the location and subsequent views.
For something nicer, try the Claremont Club and Spa, which features three heated saline pools and three on-site restaurants.
4. Wine Country
When you think of a family-friendly weekend trip, wine country might not be the first place to come to mind. However, the Napa/Sonoma area of Northern California has plenty to offer tourists of all ages.
Sonoma features a darling Train Town for families with little ones. It has a four-mile railroad, carousel, Ferris wheel, and mini roller coaster.
If you have older kids or teens, you might want to check out the Mission San Francisco Solano, which isn't far from the Sonoma Museum of Art. The mission's history, architecture, and stunning collection of watercolor paintings will fascinate everyone.
Or, for those with elementary-aged kids, there's no place quite like Calistoga in Napa Valley. These natural hot springs are home to the "Old Faithful Geyser of California," a petrified forest, and Safari West — a wild animal park that offers open jeep tours through the wilderness.
Where to Eat
In Calistoga, try the Calistoga Inn Restaurant and Brewery. This popular outdoor venue sits on the Napa River and serves excellent food, beer, and wine.
For casual and fun pub-fare, head to Hopmonk Tavern in Sonoma. With an incredible selection of food and drinks in a fantastic outdoor setting, everyone in the family will be happy.
Where to Stay
Carlin's Cottage Court in Calistoga is an excellent spot for larger families. Cottages sleep up to six and include a kitchenette. Plus, the over 50 wineries within a ten-mile radius are perfect for mom and dad.
In Sonoma, check out the Hotel Trio Healdsburg by Marriott. The property features complimentary breakfast, a pool, and full kitchens in every suite.
5. Monterey
Monterey is a popular destination for families, in part because of the world-class Monterey Bay Aquarium. They have sea otters, jellyfish, a giant kelp forest, and a splash zone complete with penguins. Not to mention the Giant Pacific Octopus, who can open jars, solve puzzles, and even recognize aquarium staff!
But Monterey is more than just its aquarium. The Point Shore Lighthouse is worth a tour for the history fans in the family. Built in 1889, the lighthouse offers tours three times a week. Their seasonal ghost tour might be wildly thrilling for older kids and teens.
Whale watching is another great source of family fun. Whales traverse the seas just outside this shorefront city throughout the winter months. And, on a whale-watching tour, you're likely to see more than the giant migrating mammals. Sea lions, dolphins, sea turtles, and unique birds frequent the area.
And, of course, the family will love strolling through Fisherman's Wharf and Cannery Row. Colorful, historical, and full of shops and eateries, everyone will want a souvenir to remember this part of the journey.
Where to Eat
Wave Street Cafe is a favorite for all-American food right off the shore and close to Cannery Row.
After lunch or dinner, be sure to stop at the historic Ghirardelli Ice Cream and Chocolate Shop. They have a lengthy menu of ice creams, fudge, and shakes, plus plenty of packable gift boxes.
Where to Stay
Check out Carmel Valley Ranch, which features a full-fledged kid's program. Children ages 2-5 can join the "Little Ranchers" program, which features fun activities from 9 am – 1 pm each day. Older children can join the "Ranch Hands Kids Camp," which offers full and half-day rates.
Monterey Plaza Hotel and Spa is another fantastic family-friendly option. It's located on the water and provides complimentary bikes to explore the area.
6. Yosemite
Epic waterfalls, incredible hikes, and unforgettable sights await you in Yosemite National Park.
Even if you're not an "outdoorsy" family, Yosemite is a must-see spot in Northern California. Many of the sights are easy to walk to, and there's a variety of lodging options. They also offer tram tours and rental bikes. Since the valley floor is relatively flat, bikes are a great way to take in the sights.
For those who love to rough it, there's camping and plenty of trails to explore. There's also river rafting throughout the summer months. In the winter, you can ice-skate, snowshoe, and cross-country ski your way through the gorgeous landscape.
Where to Eat
Stop by the Meadow Grill or the Village Grill for burgers, sandwiches, and fries.
The Village Store in Yosemite Village is ideal for grab-and-go picnic options that you can enjoy as you explore the park.
Where to Stay
A stay at the Ahwahnee is sure to be memorable. This stunning luxury hotel features jaw-dropping sights of both Half Dome and Glacier Point.
Larger families should check out the Yosemite Valley Lodge. They offer family rooms featuring a king-sized bed, bunk beds, sofa, and dining area.
RV and tent camping is also available throughout the park. Some of the campgrounds require reservations, but others are first-come, first-serve. If you're looking at a no reservation option, though, be sure to get there early. Campsites notoriously fill up before noon each day.
7. Lassen Volcanic Park
Visiting volcanoes is a great way to keep the kids entertained. Lassen Volcanic National Park is a bit remote, but it makes for a great weekend trip if your family loves the great outdoors.
Throughout winter and early spring, snow covers the park. Families can sled down the hillsides, cross country ski, and even snow camp.
During the summer, the hydrothermal areas are a top attraction. Sulfur Works is the most accessible hydrothermal area and features a paved sidewalk for viewing the acidic pools of boiling mud.
Even though its volcano stopped erupting some 360,000 years ago, the kids are sure to love the vibrant colors and pungent odors.
Where to Eat
Less than ten miles from Lassen National Park, in the town of Chester, is Kopper Kettle Cafe. They serve a plethora of diner classics sure to satisfy after a day of hiking the trails.
Pine Shack Frosty, also in Chester, is a great place to take the kids. Their old-time ice cream shakes are always a hit.
Where to Stay
Mill Creek Resort is a mere 13 miles from the park. It offers one and two-bedroom rustic cabins perfect for families.
Stay in a picturesque meadow at the Highlands Ranch Resort. It's a luxury hotel in the forest that offers seven cottages, each of which could easily fit a small family. They also offer an on-site restaurant, horseback riding, and nearby fly-fishing experiences.
8. Fort Bragg
The small town of Fort Bragg might not be top of mind when you think of a mini-vacation, but this picturesque spot is definitely worth a visit. 150- miles north of San Francisco, this charming town is steeped in gorgeous coastal views. There are hiking trails, museums, and year-round whale watching.
Be sure to check out Glass Beach. It's more than worth a stop. The beach was once the site of a trash dump. Over the years, the waves tumbled the broken refuse into smooth, multi-colored pebbles. So, the beach looks like it's covered in vibrant marbles, creating a stunning sight.
The historic Skunk Train – named for its unique smell – is another great stop for family fun. The train travels through the redwoods, across old bridges, and into deep, dark tunnels. The kids are sure to love it!
Where to Eat
Noyo River Grill features fresh seafood and American classics with waterfront views. The river will provide plenty of entertainment for little ones while adults enjoy their meals.
Everyone loves good Mexican food, and La Playa Mexican Restaurant doesn't disappoint. It's casual, right off of Glass Beach, and they serve great margaritas!
Where to Stay
Try the Surf & Sand Lodge. It's on the beach, relatively inexpensive, and kid-friendly.
For something on the nicer side, consider North Cliff Hotel. There are balconies with ocean views and cozy gas fireplaces in every room.
9. Santa Cruz
Santa Cruz delivers classic California beach city vibes. The family is sure to enjoy the old-school boardwalk, complete with a giant arcade, vintage roller coasters, and carnival games.
Of course, Santa Cruz is also famous for its beaches. It offers some of the best surfing in the world and features a surf museum.
UC Santa Cruz is in the area if any of your kids are nearing college age, and the arboretum there is worth seeing if you have any interest in natural landscapes. It features a stunning Eucalyptus grove and a sweet-smelling butterfly garden.
For a more unique stop, check out the Mystery Spot. Inside a Redwood forest, this site doesn't make sense. The normal laws of gravity don't seem to apply, and no matter how straight you stand here, you'll look tilted to an outside eye.
There are all sorts of theories as to why this happens at the Mystery Spot, but scientists still haven't figured out the exact mechanism. Some swear it's due to the presence of extraterrestrials!
Where to Eat
Linda's Seabreeze Cafe is ideal for either breakfast or lunch, and it's less than a mile from the boardwalk.
Marianne's Ice Cream is a must after a lazy beach day. It's a local gem packed with off-the-wall flavors like "2am Truffle Ice Cream."
Where to Stay
Beach Street Inn offers a ton of family-flexible rooms. It's located on the beach next to the boardwalk and wharf.
The Dream Inn, also near the boardwalk, offers a heated swimming pool that overlooks the beach. And, every room promises a stunning view of nearby Monterey Bay.
10. Big Sur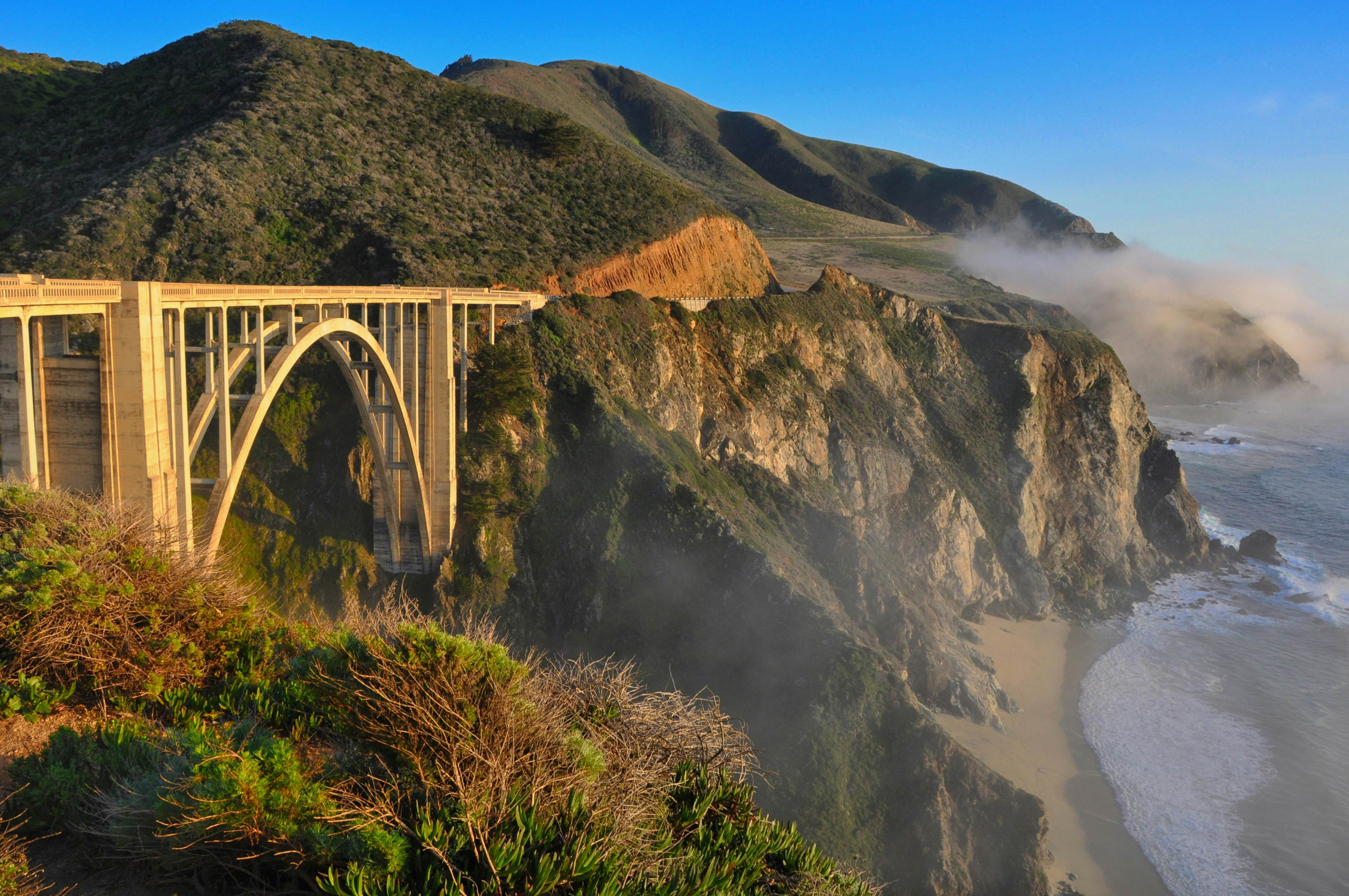 Take the family to Big Sur for some rugged coastal scenery far from city life. Flecked with sandy beaches and towering rocky cliffs, the entire family will love exploring this region of California.
Here, Sand Dollar Beach is a favorite for surfing and fishing, but its biggest attraction for most families is beachcombing. Washed-up sand dollars and bright-colored minerals like serpentine and jade often hide in the sand. Kids and adults can dig up the buried treasure while taking in the sights. Sand Dollar Beach is also perfect for whale watching.
Julia Pfeiffer Burns State Park is another must-see location. It's full of caves, waterfalls, and redwood forests that families can roam through.
McWay Falls within the park is perhaps the most sought-after sight. It features a secluded beach, jagged bluffs, and endless wildflowers. Best of all, the trail to get there is under a mile long. So, it's a moderate trek, even with little ones.
Where to Eat
The Big Sur Lodge Restaurant offers delicious food in a picturesque setting. Nestled amongst the Redwoods, families can enjoy breakfast, lunch, and dinner in a sports-bar-like atmosphere.
Fernwood Bar and Grill serves pizza, sandwiches, and other family favorites in their rustic dining room or on their spacious outdoor deck.
Where to Stay
Big Sur Lodge is the top pick for families. They feature several rooms with kitchenettes and are close to all sorts of hiking experiences.
Big Sur Campground and Cabins works well if your family enjoys time in nature. Located right off the 1, the campground features traditional tent camping, several cabin options, and RV spots, all nestled within the giant Redwoods.
11. Tahoe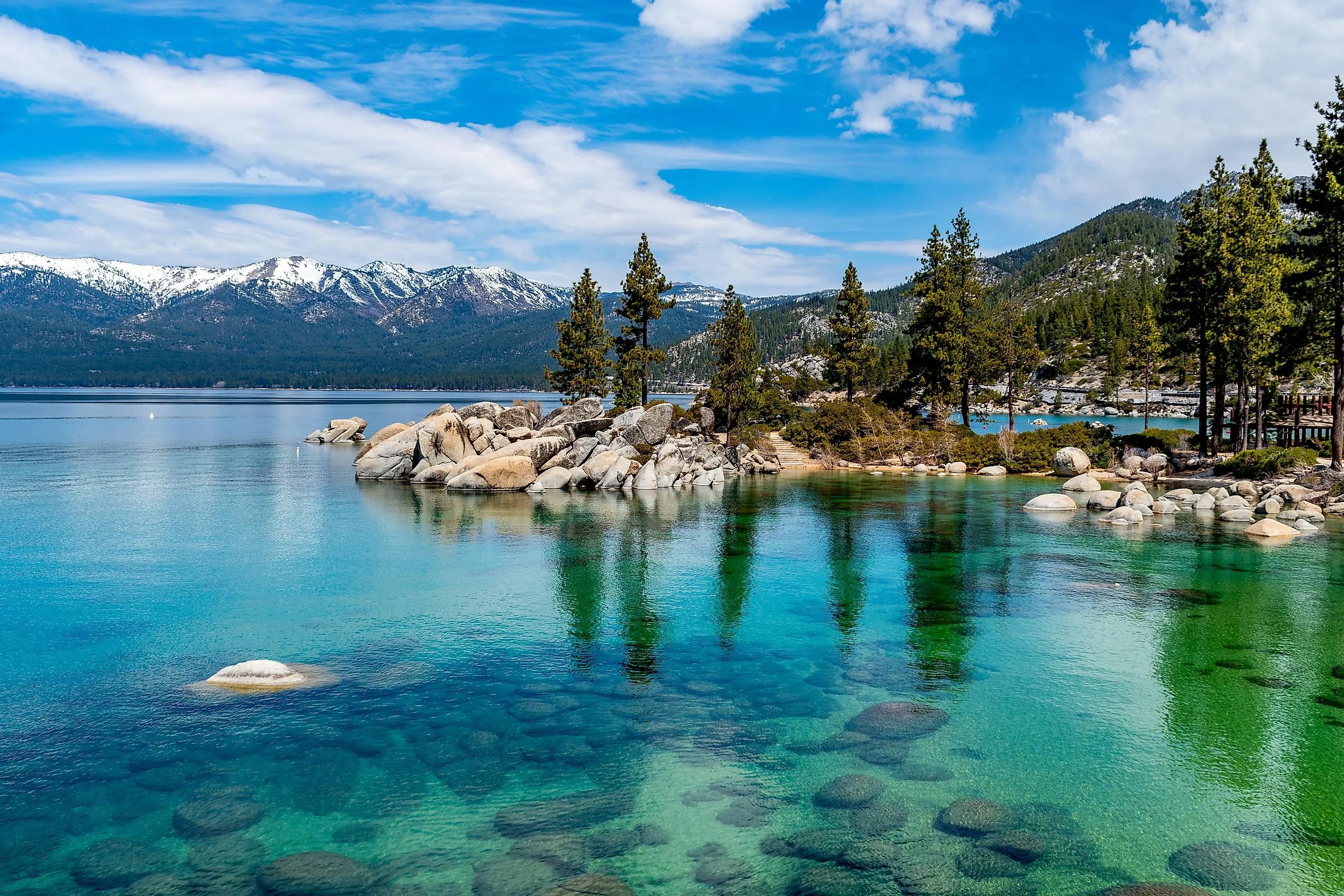 Tahoe has a lot to offer families that need a weekend escape. During the summer, there's the lake to explore with its remarkable turquoise waters and golden sand beaches. There's a renowned Shakespeare Festival every summer for older kids and teens that's absolutely worth seeing.
In the winter, there's skiing, snowboarding, and snow play at the nearby resorts. There's also an Olympic-sized ice rink that offers weekend night skates as well as black light skating hours.
Checking out Squaw Valley in Tahoe makes for an exciting afternoon regardless of the time of year. Built to house the 1960 Olympics, this ski resort offers a tram to the top of the mountain that you can take any time. The views are breathtaking, and you'll be able to see the downhill run they used for the Olympic games.
For younger children, nearby Truckee offers an impressive Kidzone Museum. It has giant jungle gyms, interactive science projects, and traveling exhibits that will keep anyone under ten years old busy.
Where to Eat
Getaway Cafe offers a delightful mix of American and Mexican dishes that the whole family will enjoy. Breakfast there is particularly delicious, and the chilaquiles are a must-try.
After a day on the slopes or the lake, head to Base Camp Pizza. This super family-friendly place is located in convenient Heavenly Village.
Where to Stay
Stardust Lodge in South Lake Tahoe offers superb accommodations, including a pool and complimentary breakfast. Plus, it's within walking distance of Heavenly Ski Resort, which is ideal if you plan to partake in any winter sports.
Beach Retreat and Lodge at Tahoe is perfect for lakefront stays. The resort offers canoeing, jet skis, kayaks, and beach access.
Explore Northern California with the Family
Maybe you want to stroll the streets of San Francisco on a sunny Saturday, or perhaps the trails of Yosemite are calling your family's name. Whatever the case, a weekend getaway in Northern California is sure to excite everyone.
From the beaches to the redwood forests to the countryside covered in grapevines, there's nothing quite like Northern California for adults and kids alike.
Looking to stay longer than a weekend? We created a guide to the best places in Northern California for a family vacation that you might find helpful in inspiring your next trip.
Other places to consider for your family weekend getaway
If you're considering other destinations for your weekend away with the kids, take inspiration from our other handy guides below!
More about our TFVG Author
A seasoned traveller, Dad, and avid sports tourist, James foundered The Family Vacation Guide to share his expert vacation experiences- especially when it comes to being a travelling family man.
Featured in Travel articles such as Travel + Leisure, TripSavvy and SFGate, you know you're reading some of the best vacation tips online.