One of the biggest decisions you'll make about your family's vacation to Walt Disney World near Orlando, Florida, is when to visit. Is September a good time to go to Disney World?
We believe there's never a wrong time to go to Disney World, but there are some factors to be aware of in September before you commit. How big are the crowds and what are they like? How's the weather? Are there any special events? Are there any downsides to a September visit?
All in all, September is a fantastic time to visit Disney World. The crowds are smaller, and temperatures are a bit lower. The EPCOT International Food and Wine Festival is in full swing, and the parks are decked out for autumn.
Below, read about everything an early fall visit to Walt Disney World entails. We'll answer all your questions and some basics to help you start planning. Before you know it, September will be here, and you'll be in the most magical place on earth!
What Are the Crowds Like in September?
One of the first things people want to know when choosing when to visit Walt Disney World is about the crowds. September is quieter relative to the rest of the year, but be warned: Disney World almost always feels busy.
Moreover, the parks and resorts scale to accommodate the more meager crowds. While the amount of physical space doesn't change drastically, the parks don't run at total capacity. Read more information about that below.
Early September and Labor Day Weekend
There can sometimes be a big difference in crowds at the beginning and end of September. Summer is jam-packed, but summer crowds dwindle around mid-August when kids start heading back to school.
Most parents don't like their kids to miss school at all, but this can be especially true at the start of the year when they're still adjusting. It tends to be much quieter in the parks in the middle of the week in early September.
Even early September isn't as busy as June and July, but Labor Day Weekend can be. While Labor Day tends to see lower numbers than other holiday weekends, they all draw very high attendance at Disney World, so expect long waits for rides, food, and other experiences.
Mid-Late September
As September wanes on, the crowds tend to get smaller. In past years, September crowds have gotten a modest boost from the Food and Wine Festival's start, but that's now earlier.
In fact, the second half of the month (usually until Indigenous People's Day Weekend in October) is considered the off-season – this means that attendance is at its lowest during this time of the year.
What's more, the temperatures tend to drop as the month wears on. While it's still possible to get some oppressively hot days later in the month, it's less likely. These factors combine to make it an enjoyable time to vacation at a more leisurely pace.
How Do Crowds Impact Genie+?
Disney continues to update and tweak its ride reservation system, so predicting how smaller crowds will impact Genie+ is challenging. It's certainly possible that Disney will limit the number of reservations available according to crowd size, but they could also leave capacity high to help guests better plan their day.
The bottom line is that lines will almost certainly be shorter with fewer people in the parks, even if all attractions don't run at full capacity. Even if you don't snag a Genie+ reservation for a favorite attraction, you should still be able to ride it.
Who Goes to Disney World in September?
At all times of the year, there are people from every walk of life in Walt Disney World. Still, there are some trends to be aware of if you're planning an early fall visit.
School-age kids and their families are focused on returning to classes, so fewer are in the parks. You can expect more retired folks, young adults without children, and young families whose children haven't started school.
The word is certainly out that September is an excellent time to come if you like things quiet so that the crowd can be a bit tamer. However, it's also a popular time for locals to visit. Since Orlando is such a vibrant city, they add more character to the resort, especially on weekends.
How Is the Weather in September?
It's even harder to generalize the weather in September in central Florida than in the rest of the year. A vast range of conditions is possible or even likely.
In terms of temperatures, it will be warm or hot. The average high is 89, and the low is 74 for the month, and it typically rains 11 days. While it tends to be hotter at the beginning of the month, late September can also reach well into the 90s, and it's often still quite humid.
Most days are mostly sunny or partly cloudy. As temperatures moderate, the region experiences fewer passing showers, especially those late-afternoon storms that are so common in the summer.
What About Hurricanes?
You should be aware that September is still hurricane season in the Atlantic, and Florida is often impacted by these massive storms, even when they don't make landfall in the Sunshine State. Even a hurricane hundreds of miles out at sea can cause rain and other miserable conditions in the Orlando area.
There's no way to predict when a hurricane could develop, and since the season lasts until November, later in the month isn't necessarily safer. Experts recommend purchasing travel insurance covering natural disasters and watching the hurricane reports for at least a week before departure.
What Are the Parks Like in September?
Aside from declining crowds and unpredictable weather, what is a trip to one of the parks like in September? Disney has done a great job in ensuring that the parks are different every time you visit, and includes seasonal decorations, merchandise, and more.
The Magic Kingdom
Fall decorations start to make appearances in late August so that by September 1, they're ready to go for the autumn season. You'll see classic fall hues of oranges, yellows, reds, and natural colors throughout the park. You'll also see hundreds of pumpkins, squash, gourds, and other fall produce.
If you really love fall decorations and Halloween, consider attending Mickey's Not-So-Scary Halloween Party. During autumn, the Magic Kingdom plays host to a delightful romp, which is a special ticketed event. It's described in more detail below, but many of the decorations you see during the day come to life at night during this event.
If you like fall food, be sure to eat at the Liberty Tree Tavern in Liberty Square. They serve a Thanksgiving-style dinner throughout the season.
Fun fact: Disney employs teams of cast members who work overnight, making improvements and, at times, putting up seasonal decorations. You'll rarely see a cast member doing this kind of work during the day.
EPCOT
EPCOT is a bit tamer during the fall than the Magic Kingdom, but that doesn't mean they don't infuse fall fun. The biggest thing in EPCOT during the fall is certainly the International Food and Wine Festival, an annual event.
Make your way to the World Showcase, which is a World's Fair-style expo of eleven pavilions from countries around the world. In addition to stops in Mexico, Germany, Japan, and Morocco, sample fare from other far-flung destinations such as Brazil, India, and Belgium.
In addition, there are themed kiosks, such as one devoted to chicken wings, beer, and cider, another just for noodles, Earth Eats hosted by Impossible, and many others. Most kiosks serve three or four small plates (tapas style) and a couple of drink selections.
The Food and Wine Festival isn't just for adults. Disney has engineered some special activities just for the younger members of your family that are not to be missed. The best is Remy's Ratatouille Hide and Squeak, a culinary-themed scavenger hunt. It's available only during the festival.
Hollywood Studios
Admittedly, EPCOT and the Magic Kingdom have more fun in the fall than Hollywood Studios. Still, you'll see some fall decor throughout the park (except for Galaxy's Edge, since it doesn't fit the theme) and be able to browse some special fall merchandise.
One event that does take place at the park in September is Minnie's Halloween Dine at Hollywood and Vine restaurant. Minnie always plays host to a character breakfast at this dining venue along with her Disney Junior friends, but everyone gets decked out in their Halloween costumes in the fall.
Animal Kingdom
There aren't a lot of additional activities in Animal Kingdom in the fall. Part of the reason for that is the importance of maintaining the animals' routine, which is Disney's top priority. Another is that fall decor and theming don't work as well in the lands of the Animal Kingdom.
Still, you'll see some unique elements as you make your way through the largest of the four theme parks. Like the rest of the parks, you'll see some decorations and be able to buy special fall-themed merchandise and edible treats—more on those below.
Special Events and Festivals
There are a few special events and festivals to keep an eye on for the fall. They may be the reason you make a memorable trip in September!
Mickey's Not-So-Scary Halloween Party
This Halloween-themed party in the Magic Kingdom is a long-time favorite for Disney die-hards (in the past, it has gone by the name Boo Bash). It's part trick-or-treating event and party that occurs on select nights from August until October 31.
There are several things that make this event worth the extra money. First, kids and adults alike can trick-or-treat throughout the park at attractions, stores, kiosks, and other surprise stops. Halloween costumes are strongly encouraged! You'll encounter many of your favorite characters in their own Halloween costumes, with lots of opportunities for photo ops.
There is a special fireworks display and parade along Main Street, U.S.A. Many attractions get a spooky makeover, and the decorations throughout the park come to life. What's more, there are much smaller crowds with shorter waits for attractions.
Be aware that admission to the Halloween party is not included with park admission. The park closes early, and anyone without a ticket is asked to leave (no, you can't sneak in). You'll need to purchase separate tickets for everyone in your family. Prices vary depending on the date and demand, but prices start at $99 for children under ten and $109 for everyone else.
The EPCOT International Food and Wine Festival
We already discussed the EPCOT International Food and Wine Festival in some detail above, but it's certainly worth mentioning again since we're talking about fall festivals.
One awesome thing about this festival: unlike Mickey's Not-So-Scary Halloween Party, admission to the festival is included with park admission. You can browse the kiosks and sample the nosh (sold separately) at will.
That being said, the festival features several separately-ticketed events, including food and drink tastings and pairings. The Eat to the Beat concert series is free, and you can enjoy a headline act almost every night throughout the entire festival.
Each year, the festival has a theme and a marketing campaign surrounding it. You can find merchandise and more for the annual theme throughout the park.
Special Fall Merchandise and More
If you're a fall-a-holic, you'll find plenty of ways to indulge in your favorite season at Walt Disney World. Disney certainly never misses an opportunity to capitalize, and autumn is no exception. Throughout the parks, you'll see limited edition merchandise in fall hues, fall decorations for your home, and much more.
In addition, look for fall flavors throughout the parks. In addition to the festival, many bakeries and other eateries feature special menu items featuring the flavors of the season, particularly pumpkin. You'll also find seasonal beers and ciders available at many restaurants.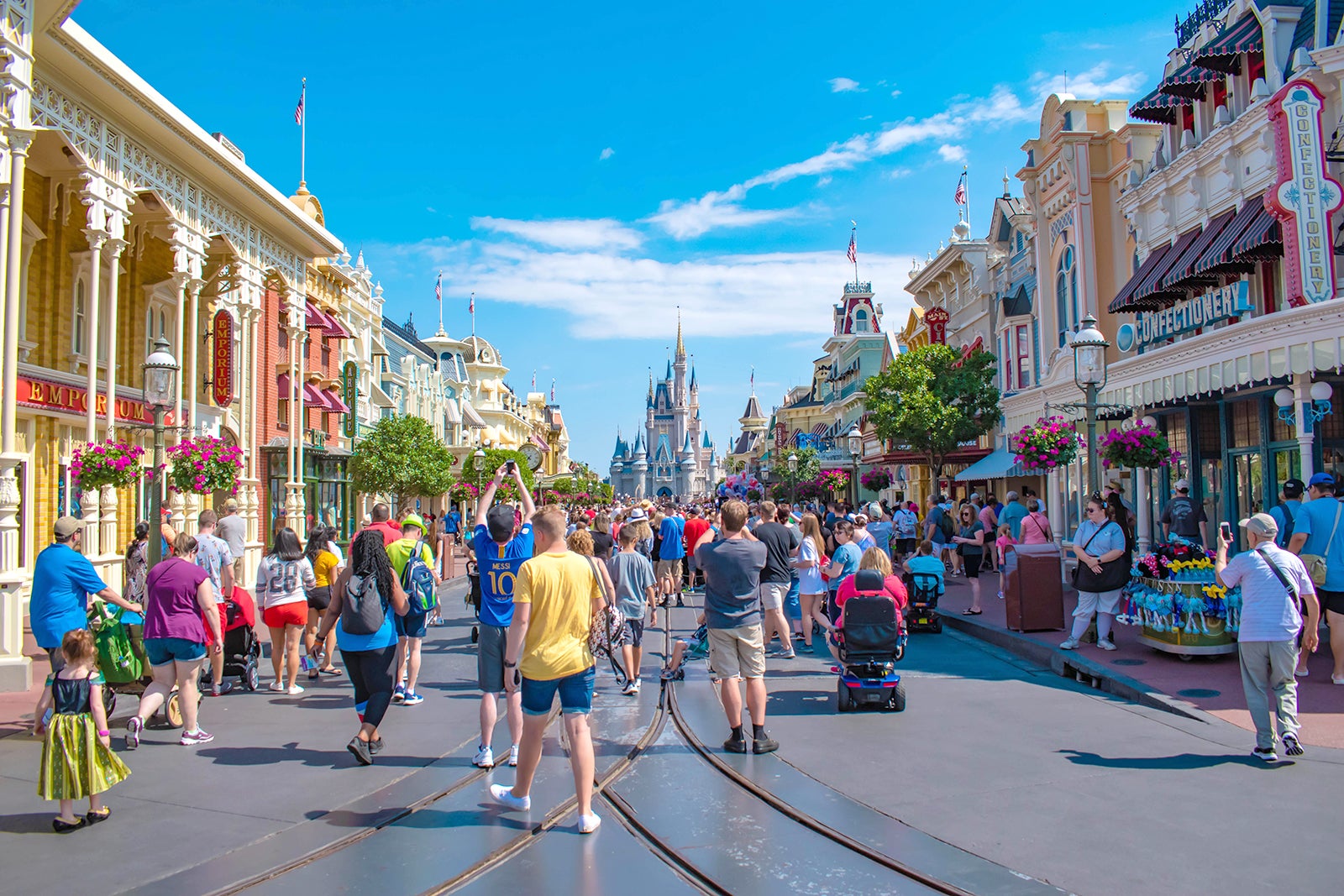 Planning Your September Visit to Disney World
We cannot stress this enough: you can't book a hotel and flight and then show up for your Disney vacation without doing significant planning in between. We'll provide an overview of what to do to plan your trip, but visit some of our other pages for more details.
Step One: Check Availability
There's no point in planning a September vacation if it isn't available. Check to ensure that you can book your preferred accommodations and find an affordable flight or other transportation.
You also need to check park availability. Disney requires its guests to make reservations ahead of time to visit any of its four theme parks.
Step Two: Make Essential Reservations
Now that you know your dates are available, go ahead and book them. Be aware that Disney frequently offers specials and packages, so look into that before booking. It can save money on tickets and hotels.
Currently, park reservations are open for more than a year out, so there's no need to wait to book your parks either. Don't forget to order MagicBands.
Step Three: Don't Miss Dates for Other Reservations
If you're staying in a Disney hotel, dining reservations open precisely 60 days in advance, usually around 5:30 AM EST. Mark that date for your trip on your calendar and snag those coveted reservations.
This is also an excellent time to decide whether you want to do any special tours or other events. If you're going to attend Mickey's Not-So-Scary Halloween Party during your September visit, buy tickets now since they tend to sell out.
Step Four: Stay Up To Date
As always, everything with Disney is subject to change, so stay aware by checking their website and press releases periodically.
One thing to pay close attention to is park hours. Disney could decide to extend or restrict park hours depending on anticipated crowds, park reservations, and other factors. You may want to alter your plans accordingly, or at least not get caught off guard when you arrive.
It's unlikely that a main hotel pool would be closed as early in the fall as September since it's still quite hot, but you should look into that as well as closures for your favorite rides.
Step Five: Learn How To Use the App
Disney has made it much more difficult to visit without utilizing their smartphone application, My Disney Experience. We strongly recommend downloading it and learning to navigate it before you get to Florida. It isn't always user-friendly.
In particular, if you plan to purchase the Genie+ add-on, read about how to use that.
Step Six: Finalize the Details
In the last few days before your trip, think through the rest of the details. How will you get from the airport to your hotel? Where will you eat when you don't have dining reservations?
Make essential plans, have ideas for the rest of the time, and then embark on your September adventure!
Are There Any Downsides to Visiting in September?
Even with a trip to Walt Disney World, there are bound to be a few cons, and some are specific to a September visit. It's certainly true that crowds are tamer and the weather is more temperate (other than the possibility of a hurricane), but Disney likes to take advantage of this time of year in their own way.
In addition to the issues discussed below, if you're a big fan of EPCOT, be warned: the Food and Wine Festival traditionally draws a lot of locals to the park, especially on the weekends. With the festival running two months longer than in years past, this may wane, but it's too soon to tell. If you can, try to visit EPCOT in the middle of the week on your September vacation.
Ride Closures and Downtime
Because crowds tend to be lower, it makes sense for Disney to work on the rides during this time. Don't worry; there will still be plenty to do, and Disney rarely takes multiple popular attractions down at once. But ride closures–even temporary ones–are more likely.
Similarly, you might notice more ride downtime or slower lines, even when the rides aren't being refurbished or worked on. If park attendance is sparse, Disney may not want to pay as many employees to keep every attraction running at total capacity. You may notice this phenomenon close to the park opening and closing.
Fewer Characters and Experiences
It makes sense for Disney to go all-out when the crowds are most considerable. There are multiple parade times, lots of little extras, and even sometimes multiple fireworks show displays.
Don't expect the same in September, when fewer people are in the parks. Operations will scale back out of necessity, so don't be caught unawares. Plan what you want to do ahead of time, so you don't miss anything.
With fewer cast members working, you may also see some food kiosks or small shops out of operation. It might take longer to receive certain other services as well.
Is There a Bad Time to Go to Walt Disney World?
The answer to this question depends much more on the visitor than any objective statement of fact. Some people love the vibrancy of high-volume times of the year when the parks and resorts are in full swing. However, if you like things on the quieter side while still enjoying the summer weather, then September might be the perfect time for your visit.
In this article, we've covered everything there is to consider about a trip to Walt Disney World in September, from the weather to the crowds to possible attraction closures. That way, you can make the most informed decision about whether to schedule your family vacation in September.
The most critical element is that you enjoy your time with your family, regardless of what time of year you travel and where you vacation. You'll carry the memories home with you and cherish them for a lifetime.
More about our TFVG Author
A seasoned traveller, Dad, and avid sports tourist, James foundered The Family Vacation Guide to share his expert vacation experiences- especially when it comes to being a travelling family man.
Featured in Travel articles such as Travel + Leisure, TripSavvy and SFGate, you know you're reading some of the best vacation tips online.