The Bahamas consists of over 700 islands, but only 30 are inhabited, while the others primarily consist of deserted cays or islets.
The Bahamas is located in the Atlantic Ocean and is home to three different groups of islands called the Inagua Islands, Mayaguana Island, and the Family Islands. Grand Bahama and New Providence house most of the population, but there are still many great options for family trips throughout the rest of the island chain.
If you're looking for a Bahamas cruise, most itineraries will begin in Florida or Miami before stopping at several Bahamian sights. Such sights often include Nassau (New Providence) and Great Stirrup Cay. The best island for families depends on what atmosphere and activities you prefer.
However, if you aren't wanting to go on a cruise, there are a variety of resorts and hotels available that will allow you to see the sights of the Bahamas islands. These include:
There are many family-friendly beaches where kids can play safely, plus exciting attractions like dolphin encounters or thrilling rides at some of the best water parks in the Bahamas. Let's look more in-depth at some of the best islands for families in the Bahamas.
The Best Islands in the Bahamas for Families
Are you planning a trip to the Bahamas with your family? There are plenty of islands available to visit on your trip. Some, more than others, are better for families and offer an array of activities, resorts, and entertainment during your stay. Let's look at the top six Bahamas islands for families, and then we'll go into our top pick.
Grand Bahama Island
The island of Grand Bahama is ideal for those who want to relax by the water or have endless activities. The beaches here tend to be less busy than on New Providence Island, and there are great activities like swimming with dolphins. Furthermore, many of the resorts on this side of the island cater heavily towards families.
Grand Bahama Island is great for vacationers who enjoy beach activities and excitement, but some other beautiful islands offer different experiences for those looking for a change of scenery.
Eleuthera
Eleuthera is home to some of the longest and most beautiful beaches found anywhere in The Bahamas. It's peaceful and tranquil, with lots of opportunities to go fishing, diving, and snorkeling as well as swimming and boating.
This largely undeveloped island can fascinate the kids with its pink sand beaches. Utilize the inland swimming spot that has tropical fish and turtles.
You can also do reef surfing. The waters surrounding Eleuthera provide some of the most consistent and powerful surf in the Bahamas. It's always an excellent time for the family to learn how to surf, especially during October through April.
Explore the caves and rock formations with the kids. In fact, over half the island is protected as a conservation area that you can explore. Eleuthera also has some great resorts to stay at, like The Cove Eleuthera and Ocean View Hotel.
The Exumas
The Exumas consist of over 365 islands, also called cays, so you will never run out of fun things to do here.
Visit Staniel Cay, a protected area where you can swim with wild pigs, or visit Big Major's Spot (a beautiful beach). Diving enthusiasts may explore reefs and shipwrecks, including 110′ Christ of the Abyss.
Other attractions include water sports like jet-skiing, kiteboarding, fishing, and kayaking on the Exuma Cays Land and Sea Park, full of natural beauty.
Salt Cay
Located right in the center of the cays lies Salt Cay, a private island with white sand beaches and pristine blue waters. Although it is known as a quiet destination where you can relax and enjoy nature, fun activities like horseback riding, kayaking, and snorkeling are available and great for families.
New Providence Island
The most populated island in the Bahamas, New Providence (Nassau), makes about 70% of the entire island. It is known for its beaches, including Cable Beach, where you can relax on white-sand beaches.
There are several beachfront resorts and luxury spas, such as The Cove Atlantis (TUI Sensima), to choose from.
There's no shortage of things to do here, so visitors will never get bored. Try:
Parasailing
Waterskiing
Scuba diving
Snorkeling
You can also visit the Atlantis aquarium when it reopens. Kids will enjoy the hands-on activities offered by the interactive exhibits of the National Art Gallery.
Nassau is known for being one of the Caribbean's most popular cruise ship ports because it offers many activities, including casinos, resorts, and beaches. If you're looking for more adventure, try zip lining at Paradise Island, home to awe-inspiring views from its cable bridge.
The cable bridge links Nassau with Paradise Island, which has a casino that looks like Venice. You will also find Atlantis here, an underwater hotel that you can explore via glass-bottom boats or scuba diving. Atlantis features several stunning water slides and habitats for dolphins, sea lions, and tropical fish.
San Salvador
Another choice that is different than most Caribbean destinations is San Salvador. It is one of the minor islands in The Bahamas and has an authentic Bahamian lighthouse and cave exploration tours.
It is known for its amazing beaches and snorkeling opportunities, along with no traffic, laid-back feel, and the absence of crowds.
The best beach on San Salvador Island is known as "the Wall," north of Columbus Beach. The wall itself is a white sand shelf that drops off into deep blue crystal waters, and the reef only goes out a few feet – giving you lots of space to swim.
This place is also an excellent snorkeling spot. Just watch out for the occasional sea urchin.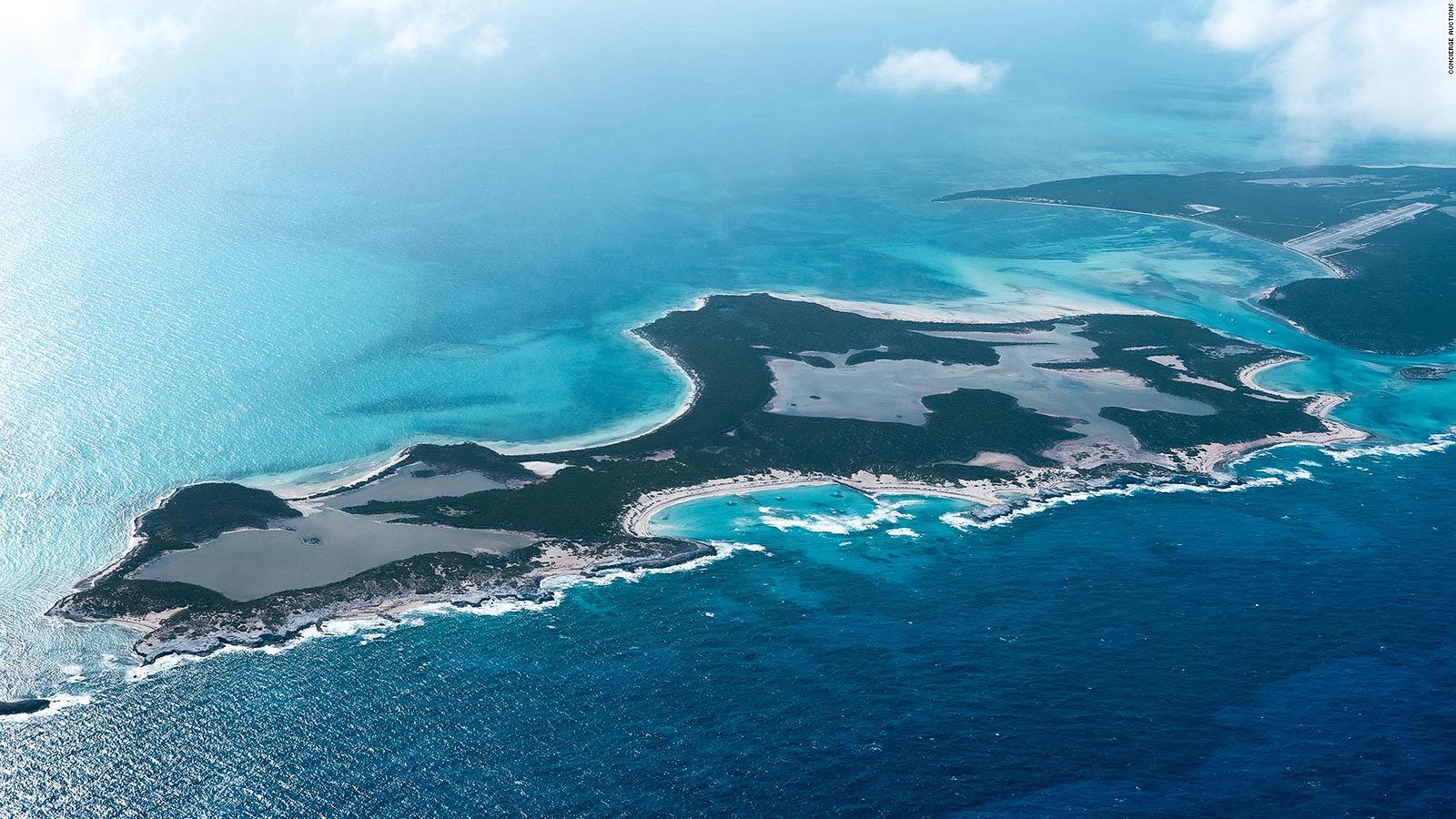 The Best Island in the Bahamas for Families
Now, let's take a look at our top pick for the best Bahamas island for families. We picked Grand Bahama Island due to its large variety of activities.
Our Pick: Grand Bahama Island
Why is Grand Bahama Island the best island for families in the Bahamas? There is an excellent mix of activities and beaches on this island that is unbeatable. You're sure to please everyone! Enjoy a family-friendly resort that also caters to adults, such as the Bahama Beach Club.
There's plenty to do on Grand Bahama Island, including:
Ice skating
Bowling
Mini-golfing
World-class snorkeling
An extraordinary activity to try here is swimming with the pigs at Crystal Sands Beach. It's sure to be a unique experience that everyone in your family will remember for years to come. You can also enjoy dolphin excursions or tours of Black Beard's castle.
Family activities include:
Swimming
Snorkeling
Dolphin adventures
Fishing
Kayaking
Historical site visits
Grand Bahama Island
Grand Bahama Island (Port Lucaya Marketplace) is pretty good for families because there's no entrance fee to enter any national park. However, traffic can be heavy near Freeport. Grand Bahama Island has several casinos for the adults in the family.
Grand Bahama Island is the third-largest in the country and has a variety of family-friendly accommodations, attractions, and activities. Grand Bahama consists primarily of beachfront resorts that boast numerous amenities along with luxurious touches like spas, water parks, golf courses, and other diversions.
Almost all hotel properties on this island offer facilities for families, including kid's clubs or supervised activities programs.
Wildlife on the Island
Wildlife lovers may enjoy a trip to the National Art Gallery of The Bahamas or Junkanoo Beach, where you can see various types of freshwater sharks. Also, try to take in some shows like Pirates Unleashed (featuring Captain Jack Sparrow) and the Jungle Queen Riverboat Cruise.
Within Grand Bahama are the resorts at Freeport/Lucaya, which is west of the international airport. These include family-friendly hotels like the Sheraton and Westin.
Freeport/Lucaya is also known for its beautiful beaches, excellent food, and shopping venues. People also enjoy a variety of attractions like boat tours and horseback riding.
Resort Options
One of the most well-known spots on Grand Bahama Island is The Grand Lucayan Resort. This gorgeous four-star property sits directly on Lucaya Beach and offers a kids' club, water park, full-service spa, and four dining options.
Their sister property, The Westin Grand Bahama Island, also offers these amenities plus conference facilities, shopping venues, and special onsite activities designed for families with children. It has 7.5 acres of beachfront and a 25,000-square-foot Senses Spa & Fitness Center.
Flamingo Bay Marina
Another good place to stay is Flamingo Bay Marina. It is located at the Freeport end of the island.
It has a pool with a water slide, private beach access, beach sports, and a water taxi available. There's also the usual assortment of kid-friendly activities, including supervised programs for kids aged 4-12.
Wyndham Freeport
Another fun, family-friendly resort in the Freeport/Lucaya area of the island is the Wyndham Freeport Resort. It has something for everyone, including two pools, five restaurants, a waterpark, and beachfront access.
Pelican Bay Hotel
The Pelican Bay Hotel offers an array of family-friendly activities on the island. These include:
Motorized bike rides
Swimming with dolphins
Beach access
Wedding services
It is close to the main attractions on the island as well, so you can leave your hotel to participate in family-friendly activities and try the restaurants in the area.
Food Options
Dining options and typical food choices on this island include local and international cuisines, seafood, and Bahamian comfort foods. Well-known restaurants include:
Randi's
Tacos on the Beach
Leatherback's
They also have many upscale options that are perfect for special occasions or to celebrate a family vacation. Great options for special occasions or higher-end family dinners include:
Giovanni's (Italian)
Makoto (Japanese Hibachi)
Diamond Club (steakhouse/seafood)
Bahamian Club (seafood)
Lighthouse (seafood)
Are you looking for more options? Try some of the restaurants below.
More Popular Options
The Grand Bahama Island is full of delicious restaurants for any taste. With a large selection of seafood, Mexican, Italian, and Bahamian cuisine, you can find something for the whole family.
This restaurant is an excellent place to try their highly-praised conch fritters and lobster salad.
Cappucino's Fine Italian Restaurant
In the mood for Italian? Cappuccino's Fine Italian Restaurant offers vegetarian-friendly, vegan, and gluten-free options for your meal.
Banana Bay Restaurant
At Banana Bay, dine on a seafood meal near the water. This restaurant serves both genuine Bahamian and Italian cuisine. They don't currently offer a website, but you can find them by asking locals or hotel staff.
Rum Runners
This restaurant is a fun eatery on the beach, and they have a variety of seafood options.
Cleveland's Beach Club also has a variety of seafood and Bahamian cuisine. Try The Snapper and the Bahama Mama dishes.
Family Activities
There are plenty of family activities available on Grand Bahama Island and nearby. Try some of the following, and have a family vacation you'll never forget.
The Blue Holes
Visit the blue holes of East Grand Bahama. These blue holes are a cave system underneath the ground with abundant fish life. The blue holes can appear to be bubbling and hot, but they are not.
Bring the underwater camera to capture various marine life such as:
Spotted eagle rays
Stingrays
Wild spotted dolphins
Starfish
Sea urchins
Sea cucumber
Blacktip shark
Conch
The blue holes are an excellent spot to go snorkeling or scuba diving if you know how to. You can also bring along a tour guide.
This location offers archaeological sites you can tour on foot or by car, including Fort Fincastle, Fort Montagu, Port Lucaya Marketplace, and the Taino Towers. It's also a beautiful area to explore with the family, with hiking and adventure opportunities.
Pirate's Cove Zipline and Waterpark is Grand Bahama's very first Adventure Theme Park and sits on nearly 7.5 acres of beachfront property. This is an excellent spot to bring the kids.
Go snorkeling or scuba diving in Peterson Cay National Park. The park features a fantastic reef abound with turtles, nurse sharks, and colorful fish.
Beaches
The beaches on Grand Bahama Island include public and private stretches of sand, some with resorts while others are public beaches. A few popular ones include:
Taino Beach (in Lucaya)
Boss Reef (in Freeport)
Gold Rock Beach (in Port Lucaya)
Taino Beach
Taino Beach is one of the best beaches on Grand Bahama Island. It's near pre-Columbian sites that you may want to explore. There are several restaurants and a mishmash of water activities, straw items, and hair braiding.
For a culinary tour of several beach-shack eateries such as Tony Macaronis, head to the Fish Fry sector for mouthwatering local cuisine and exotic drinks. Taino is a short ride from Port Lucaya Marketplace, making it an ideal stop for travelers staying at hotels in Lucaya.
The Taino Beach Park has a beautiful garden, playground equipment, and sitting areas. It is well-maintained with restrooms, as well as other amenities. Visitors may be greeted by Tea Parties in the park. If you are lucky, you and the family may be there in time for the annual Junkanoo Summer Festival.
Bring the family to take in indigenous vegetation on the walking trail as you all stroll through the nature preserve and bird sanctuary.
Gold Rock Beach
Gold Rock Beach is another popular spot, thanks to its striking beauty and pristine conditions. It's in the Port Lucaya area, which has a variety of shopping venues and restaurants to explore.
Boss Reef (Freeport)
Boss Reef (in Freeport) is another beautiful stretch of sand on Grand Bahama Island. It has a lot to offer in terms of amenities, including chair and umbrella rentals, showers, restrooms, beachside bars, restrooms, and more.
Mather Town Beach
Mather Town Beach in Mather Town is also a popular option. It's in the north part of Grand Bahama and is perfect for swimming. It's also near a stop for fantastic local cuisine or a specialty frozen drink at the popular Margarita Villa. Talk to the locals over a drink while the children splash about in the sea.
Williams Town Beach
Williams Town beach is secluded and offers a quiet, tranquil setting. It's an excellent option for families that want to escape the crowds and bustle of other parts of Grand Bahama Island.
Xanadu Beach
Xanadu Beach is a great family option in the north part of Grand Bahama Island. It has a restaurant, beachside items rental, and is near some exciting snorkeling spots. Go parasailing or take a ride in a banana boat. You can efficiently run into cruise ship passengers.
Churchill Beach
Churchill Beach is a quiet, upscale strip that hosts a row of luxury private residences.
Lucayan Beach
Finally, Lucayan Beach is the most popular beach on Grand Bahama Island. It's near the Atlantis Resort, Port Lucaya Marketplace, and Gold Rock Beach.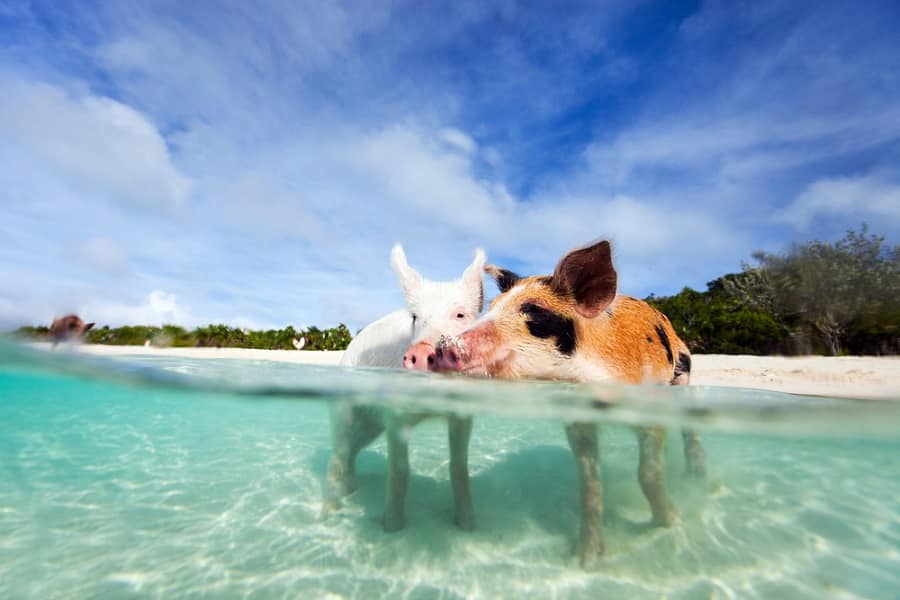 Transportation: Grand Bahama Island
The Grand Bahama Airport is about an hour's drive from the city of Freeport. Traffic in the area can be frustrating, so it's best to leave early to allow for delays.
Another option is taking a ferry to Green Turtle Cay or Walker's Cay. This second option will take you longer to get to Freeport, but it is more scenic. Ferries depart from several locations, including Fort Lauderdale, Florida, and Nassau.
The best way to get around once in Freeport/Lucaya is by taxi or rental car. If you want to venture outside of Freeport/Lucaya, there are a variety of rentals available, from full-sized vehicles and SUVs to scooters and motorcycles.
You can find most car rental companies at the airport, including Avis, Hertz, Royal Rent a Car, and Thrifty.
Conclusion
In conclusion, Grand Bahama Island is the best island for families in The Bahamas. It has a variety of activities and food options for people of all ages. From resorts such as Atlantis that are perfect for an adults-only vacation to historical sites like Taino Towers, Grand Bahama is the best island for families of all ages.
Overall, the Bahamas are a delightful and relaxing place for a family vacation. The destination offers something for everyone, from water sports and surfing to fishing, bicycling, and exploring caves. You can go scuba diving, swim with pigs or island hopping. The choice is yours!
More about our TFVG Author
A seasoned traveller, Dad, and avid sports tourist, James foundered The Family Vacation Guide to share his expert vacation experiences- especially when it comes to being a travelling family man.
Featured in Travel articles such as Travel + Leisure, TripSavvy and SFGate, you know you're reading some of the best vacation tips online.