A family trip to the Bahamas isn't complete without a trip to a water park. Thanks to the warm temperatures and sunny weather, it's possible to hit the waterpark pretty much any time of year. The Bahamas offers plenty of options with suitable entertainment for kids and adults alike.
To help with your travel planning, we've compiled a list of the six best water parks in the Bahamas. Read on for an overview of the best parks, including information about their most popular rides.
If you're traveling for a vacation, why not also check out our guides to the best Bahamas resorts for families and the best all-inclusive family resorts in the Bahamas.
1. Aquaventure
Aquaventure Water Park is part of The Atlantis Paradise Island Bahamas, making it the most convenient choice if you're already staying at this location. This water park is a globally recognized brand—and its offering is tough to beat.
Aquaventure is enormous, spanning 141 acres. You'll find 20 swimming areas, a kids' water-play fort, 11 swimming pools, and a mile-long river ride with wave surges and rapids. You genuinely need an entire day to see it all.
If you're a thrill-seeker, you'll love the Atlantean-themed towers. These are home to high-speed water slides. For the ultimate adrenaline rush, check out the Power Tower, considered one of the best water slides in the Caribbean.
However, the water park is more than high-intensity rides. There are also white sand beaches, a dolphin cay, a marine habitat, and plenty of places to chow down. Whether you want an adrenaline rush or to relax, there's something for you.
Book a private cabana for the day, so you have a place to rest. The private cabanas come with a drink and food service, a personal safe, fan, and refrigerator. They're located within walking distance from the water attractions and pools.
Note that guests must be at least 48 inches tall to use the water slides. Smaller children can enjoy the Splashers pool play area. Although there are lifeguards on hand, parents should stay with their kids when using this area.
You can get a day pass that gives you access to the marine habitat, beaches, Dolphin Cay, and water park. When you get in, you'll get a wristband. Life jackets are provided at no cost. It's advisable to wear water shoes or sandals, as the walkways can heat up in the midday sun.
2. Waterscape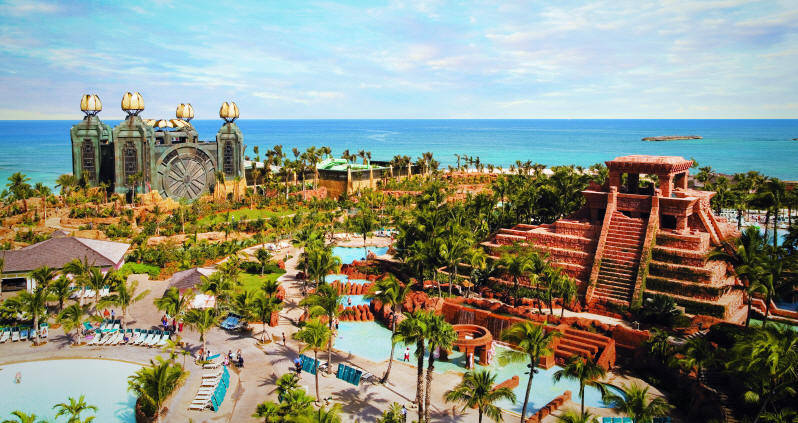 Waterscape at Atlantis Bahamas is like the little sister of Aquaventure. This more subdued water park covers 14 acres. It features 19 slides, water pools, and other aquatic fun. There are kids' pools located throughout the property.
Highlights include the Royal Baths pool with its colorful tile design and shady palm-lined shores. The Grotto Pool and River Pool are zero-entry pools, meaning they gradually get deeper as you walk in.
Waterscape also offers beaches that are seriously Instagram-worthy. Atlantis Beach features miles of white sand. You can rent lounge chairs, beach towels, and umbrellas. Paradise Lagoon Beach is your other option, spanning seven acres and offering paddle boats and snorkeling.
If you're looking for some thrilling adventures, you'll undoubtedly want to check out the slides. The Abyss slide kicks off with a 50-foot drop that's almost vertical, launching you down a 200-foot-long slide in just 14 seconds.
The boldest option of all is undoubtedly the Leap of Faith. This is a 60-foot almost-vertical drop. In the end, you'll float through a transparent tunnel surrounded by a lagoon with real live sharks. It's an adrenaline rush from start to finish! Note that guests must be 48 inches at least for water slides.
Another option is the Deep Water Swim area. Six guests at a time are allowed in here. You'll get a hand-held water scooter to propel yourself through the water, where dolphins accompany you.
3. Baha Bay Water Park
Baha Bay brands itself as a luxury waterpark—and it delivers on its promise of a five-star experience. The beachfront waterpark is set on 15 acres of verdant beachfront property. If you're staying in the resort, you'll get unlimited access.
Highlights of the park include Stingray Cove, a maze of twisting slides. This kids' area also features surprise tipping buckets to splash and surprise little ones. For younger kids, Turtle Beach is the place to go. It features small slides that are perfect for kids and shallow pools that are great for splashing around.
Some slides are positioned side-by-side, giving kids the chance to race. If you're looking for a lazy day, head to The River. This extended stretch of water is excellent for simply sitting back in a tube and relaxing. You'll be surrounded by tropical foliage as you drift along, creating a serene experience overall.
Ready to ramp up the adventure factor? Head to the Dueling Riptide Coaster, where you can race your family down steeply sloped slides. The high-speed water coaster is one for adrenaline junkies. If you're feeling even bolder, head to the Thunderball. This is an ultra-extreme freefall slide. You plummet straight down, giving you a rush you'll never forget.
Afterward, head to the Baha Bay lagoon to calm down. This 500,000-gallon wave pool is set on a white-sand beach. Wade out into the water and let the waves carry you. Finally, finish up your day hanging ten at The Surf, a surf simulator.
4. Pirate's Cove Zip Line and Water Park
Pirates Cove Zipline & Water Park is located in Freeport on the Grand Bahama Island. This family-friendly attraction spans 7.5 acres and is set right on the beach. You'll find an array of activities, from tranquil pools to thrilling rides.
Rent a lounger and sun umbrella and hang on the white sand beach if you want to relax. You'll enjoy complimentary WiFi access with your entry ticket, allowing you to stay connected. Soak up the sun while browsing on your phone.
Ready for more action? Consider renting jet skis and heading out on the water. Other water activities include the banana boat, kayaking, water obstacle course, and paddleboarding. There is also a freshwater shower or use to rinse off after you've been in the sea.
When you're ready for some land activities, try playing a round of beach volleyball or tug-of-war. Consider challenging your family to a little friendly competition to get everybody engaged (especially if you have teens to deal with)!
If you're ready for something different, then you've got to try the zip line park. This is what makes Pirate's Cove truly stand out from the other parks on this list. It's a thrilling ride, zipping down from one of the high towers to the ground below.
Have little ones in tow? Don't worry. There are activities for them too. The Kiddie's Corner area is made for children and includes shallow pools for paddling and swings. While t's safe and kid-friendly, make sure to keep an eye on your kids.
After a busy day of activities, your whole family will likely be ravenous. Pirate's Cove offers some fantastic food options. You can enjoy local favorites from the sea, including grilled conch, lobster, and fried shrimp.
5. Master Watersports
If you're looking for a more low-key water park experience, Master Watersports is it. Located on Harbour Island, this water park provides fun activities in a picturesque natural setting. You'll have access to a natural beach with white sand and blue water lined with verdant foliage.
What kinds of activities can you enjoy? If you're looking for adrenaline-pumping slides, this isn't the place for you. However, if you're an athletic family with a competitive spirit, you'll love it. Check out the water volleyball court, where you engage in some friendly competition.
Other options include a water trampoline and water obstacle course. You'll have the chance to test skills like balance and agility as you make it across the course. Highlights include the "walk on water," gyroscope, and seesaw ride. Another favorite is the human water balls.
For little kids, there are also water and land activities suitable for ages zero to three. You'll find sandboxes and little paddle pools, perfect for tykes. This is also a great place to take a break, sit in the shade, and have a snack.
Master Watersports may not have the high-tech flair of places like Atlantis, but it's still worth visiting. Especially if you have older kids who like to be active, it offers lots of opportunities for fun. Plus, it's an affordable alternative compared to the more high-price waterparks on the islands.
6. Jungle Float
Jungle Float Nassau is a mobile water park that floats on the water. It's an upgraded water obstacle course. Since it's less comprehensive than some of the other options on this list, it's also reasonably affordable. Just $35 gets you unlimited entry.
What can you enjoy once you're in? You'll find one slide, two trampolines, and a rope swing for fun. There are also two different jumps, one high and one medium. The Jungle Slide starts from a 12-foot platform and jets you down into the water.
Then, the Gorilla Bounce has you jumping from a 12-foot platform onto a trampoline. Opt for the lower Monkey Jump (only eight feet instead of twelve). There's also a Monkey Jump, which requires you to leave from a six-foot tower directly into the water instead of on a trampoline.
Thrill-seekers will love the Gorilla Jump, which gives you a 14-foot freefall into the water. Want to make like Tarzan? Head to the Tarzan rope swing. In general, this water park is probably best for people with kids that are a bit older since there are limited facilities for babies.
This water park is located in Nassau, and you can get there via Junkanoo Beach or Prince George Wharf. Take a ferry from the cruise terminal. Your ticket includes beach pickup. If you want to plan a more extensive excursion with extended family, note that you can even book a private party group package.
The Final Word on the Best Water Parks in The Bahamas
As you can see, there's no shortage of family-friendly water parks to choose from when you're visiting the Bahamas. Take your pick from the list above—you're sure to be satisfied. Each of these parks offers options suitable for kids and adults so that the whole clan can have fun.
When planning your water park adventure, prepare in advance. Make sure to pack sun protection, extra clothes, and towels. Some water parks will rent out towels if needed. Water shoes are also helpful. A high-proof SPF sunblock is another must-have.
Now, there's just one thing left to do: Have fun! Make the most of the day of sun, sand, and surf with your family. It's going to be a memory you'll cherish for years to come.
Other fantastic water parks to consider for some family fun
If you're hoping to find some more of the best water parks, our round-up below will be the perfect place to start.
More about our TFVG Author
A seasoned traveller, Dad, and avid sports tourist, James foundered The Family Vacation Guide to share his expert vacation experiences- especially when it comes to being a travelling family man.
Featured in Travel articles such as Travel + Leisure, TripSavvy and SFGate, you know you're reading some of the best vacation tips online.