The Caribbean is a perfect destination for your family, with its beautiful turquoise waters and breathtaking scenery. All of the islands in the Caribbean offer unique experiences, so you have a lot to choose from, depending on your travel needs. 
If you're planning to travel with your family, you can definitely enjoy the Caribbean no matter your budget. But exactly how much does it cost to go to the Carribean? it's important to consider several factors such as activities, accommodation, convenience, and transportation costs.
You can find great deals if you plan ahead of time. While accommodation can get expensive, costs of activities, food, and transportation can vary significantly from island to island.
With so many islands to choose from, you can surely find a destination to suit your budget.
Best Family Vacations in the Caribbean
The Caribbean can be divided into three main island groups: the Greater Antilles, the Lesser Antilles, and the Bahamas. This massive archipelago has 13 sovereign island nations and 17 dependent island territories.
So, how much does it cost to go to the Caribbean?
Each Caribbean island is unique, even in terms of price. The most expensive islands in the archipelago are Anguilla and St. Barts, with luxury accommodations reaching a four-figure mark per night during peak seasons. You can find better deals in Riviera Maya, Jamaica, the Dominican Republic, Cuba, and Puerto Rico.
If you're looking for the best family vacations in the Caribbean, here are some of the best islands you might consider visiting:
U.S. Virgin Islands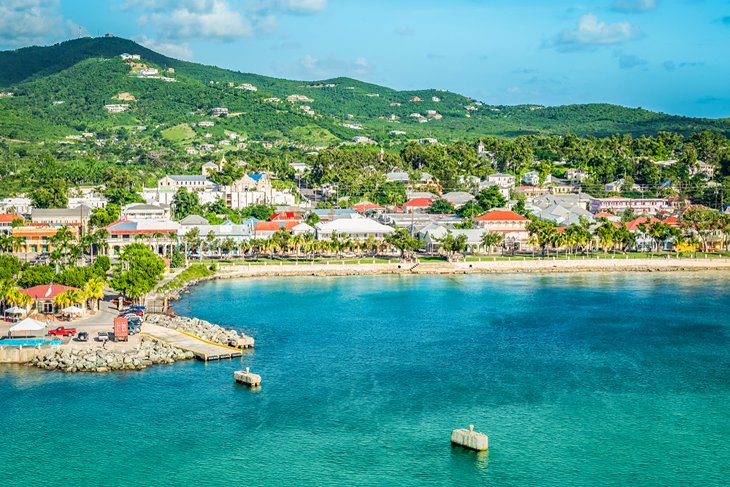 The U.S. Virgin Islands are the perfect destination if you're looking forward to relaxing scenery and impressive vacation snapshots. They are regarded as America's Caribbean Paradise. You can visit either St. Croix, St. John, or St. Thomas, or spend time on all three islands. Seeing the three islands is the perfect combination of getting plenty of pampering, learning colonial history, and being one with undisturbed nature.
All the islands offer unique features. St. Thomas is the most popular of the three, and it features sparkling turquoise waters, pristine beaches, and beautiful coral reefs, making it a top choice for tourists. It's also known as the Rock City and the gateway to the Caribbean. It also features natural harbors and bays and several tourist spots within the vicinity.
Known as the Love City, St. John appeals more to nature lovers and couples on a honeymoon. It's located a few miles east with over 7,000 acres of parkland along with beautiful beaches. While it's the smallest among the three main islands, it has earned the reputation of having the most pristine beaches.
Located south of the Caribbean Sea, St. Croix is the perfect destination for exploring the history and colonial heritage. Here you can also find the Cruzan Rum Distillery and have a more laid-back experience in the area.
The Cost of a Family Vacation to the U.S. Virgin Islands
The U.S. Virgin Islands is one of the most expensive islands in the Caribbean. Hotel rooms can reach up to $1,000 per night, while taxi fare ranges from $10 to $20 per person. Typically, a vacation can cost around $1,400 per person for a week-long stay in the U.S. Virgin Islands.
But if you're traveling with your family of four people or more, the average price per person goes down because kids' tickets are lower, and hotel accommodations can be shared. The daily budget also lowers if you stay longer.
Why not check out our guide to the best all-inclusive family resorts in the U.S. Virgin Islands for inspiration on where to stay?
Barbados
Barbados is the perfect island if you're traveling with kids. It's considered the most child-friendly and safest destination in the Caribbean. Locals warmly welcome tourists of all ages because tourism boosts the island's economy.
Barbados features pristine beaches and offers more activities than other Caribbean islands, such as historic sites, wildlife parks, golf courses, and annual festivals.
There are many activities for the whole family, with its dozens of beautiful beaches with many great spots for swimming, paddle boarding, snorkeling, and other watersports. If you don't want to get wet, you can also find some of the best Caribbean cruises and boat tours.
After a day on the beach, you can head to Bridgetown, the island's capital city, to visit shops, museums, and other attractions. Don't forget to visit the local Wildlife Reserve and explore the underground Harrison's Cave.
The Cost of a Family Vacation to Barbados
In general, a family vacation to Barbados can be expensive because almost everything on the island needs to be imported from the U.S. and the U.K. Additionally, the standard of living in Barbados is usually higher compared to other Caribbean islands. A vacation to Barbados for one person usually costs around $800. If you're traveling with a large group, a large villa is the most cost-effective option.
Why not check out our guide to the best all-inclusive family resorts in Barbados for inspiration on where to stay?
St. Lucia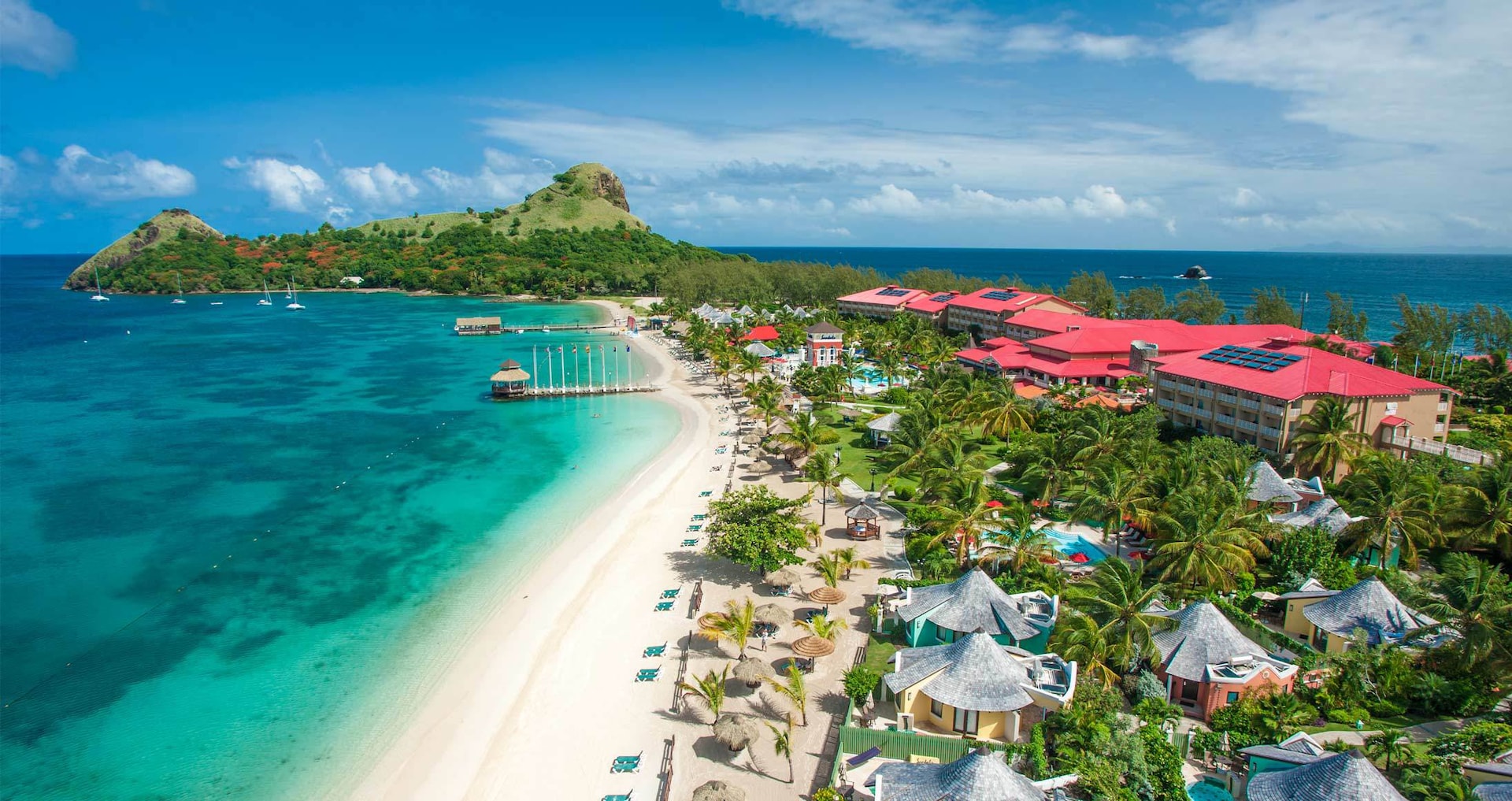 Another popular destination in the Caribbean is the nation of St. Lucia. It's perfect for travelers because it has almost everything, from beautiful volcanic sand beaches to the Piton mountains to beautiful reefs and quaint fishing villages, and many more. St. Lucia is also home to many incredible family-friendly resorts that allow you to do as much as you want with its quality facilities in a spectacular setting.
For example, the Windjammer Landing Villa Beach Resort has a wonderful kids' club that features interesting lessons about the local culture. Kids can also enjoy themed nights, nature walks, Patois language lessons, and Caribbean dance classes. The resort also features kids' pools, game rooms, and fun watersports.
Ride an aerial tram and witness a magnificent bird's eye view of the forest's canopy. You can also enjoy watching endangered leatherback turtles and see the drive-in volcano. Take your family to a picnic at Pigeon Island, or head to the top of Signal Hill and witness breathtaking seascape views.
The Cost of a Family Vacation to St. Lucia
A week-long trip to St. Lucia can cost over $1,800 for a solo traveler and $6,000 for a family of four. Accommodation on the island ranges from $40 to $200 per night, while vacation rentals range from $180 to $500 per night for an entire home.
If you're on a tight budget, it's best to visit the island during the off-season. This is because hotel prices tend to be significantly lower. Another factor to consider when going to St. Lucia is the transportation cost. Ferries and helicopters are popular on the island, and they are the fastest modes to cross the island.
Why not check out our guide to the best all-inclusive family resorts in St. Lucia for inspiration on where to stay?
Jamaica
Jamaica is a top-notch destination for some exciting family time. This island is a place your family will love in this world overtaken by digital screens and time spent indoors.
In Jamaica, you can find a long stretch of shoreline to roam. It also features many family-friendly resorts, and most have shallow beaches suitable for your kids. Don't forget to visit famous beaches such as Ocho Rios Bay Beach, Long Bay Beach Park, and Doctor's Cave Beach. These beaches have various amenities such as beach chairs, lifeguards, and showers. You can also find excellent restaurants offering authentic Jamaican seafood.
Bring your family and ride an ATV or go dune-buggy if you seek thrills. You can also try ziplining over the forest to experience more adrenaline rush.
Don't forget to bring your family to the Jamaican Institute at Kingston and Montego Bay. It's an excellent way for the kids to learn about the Jamaican cultural heritage through past stories and art exhibitions. You can also shop for authentic artifacts to bring home with you.
The Cost of a Family Vacation to Jamaica
A week-long vacation to Jamaica can cost around $700 per person and over $3,000 for a family of four. While Jamaica is less expensive than other Caribbean destinations, costs can add up if you don't plan ahead. It's recommended to avail of inclusive resorts because they generally offer services at a lower cost than buying them individually in your time of need. A cheaper alternative is renting a private home with exclusive amenities.
Indeed, Jamaica is one of the cheapest islands in the Caribbean. While you spend extra on the accommodation, you find that most of the parks and beaches in Jamaica are free to visit. Hotels and shops also accept U.S. dollars, but you get a better rate if you pay them in local currency.
Why not check out our guide to the best all-inclusive family resorts in Jamaica for inspiration on where to stay?
Dominican Republic
The Dominican Republic is the perfect destination if you're looking for a relaxing escape with your family. It features plenty of beautiful resorts with fun activities for kids and adults. You can check Casa de Campo resort located near La Romana. It has around 7,000 acres of accommodation, an artisan village, an impressive marina, a private beach, and restaurants.
If you want more fun activities, there are many things to do onsite. The resort features a tennis center, water sports facility, fitness center, and world-renowned golf courses.
The Cost of a Family Vacation to the Dominican Republic
A week-long trip to the Dominican Republic per person costs between $757 and $1,889. Hotels can cost up to $400 per night, while vacation rentals can cost up to $1,000 per night for the entire space. The peak season is from November to January, while August is the cheapest month to visit the island.
Why not check out our guide to the best all-inclusive family resorts in the Dominican Republic for inspiration on where to stay?
Bahamas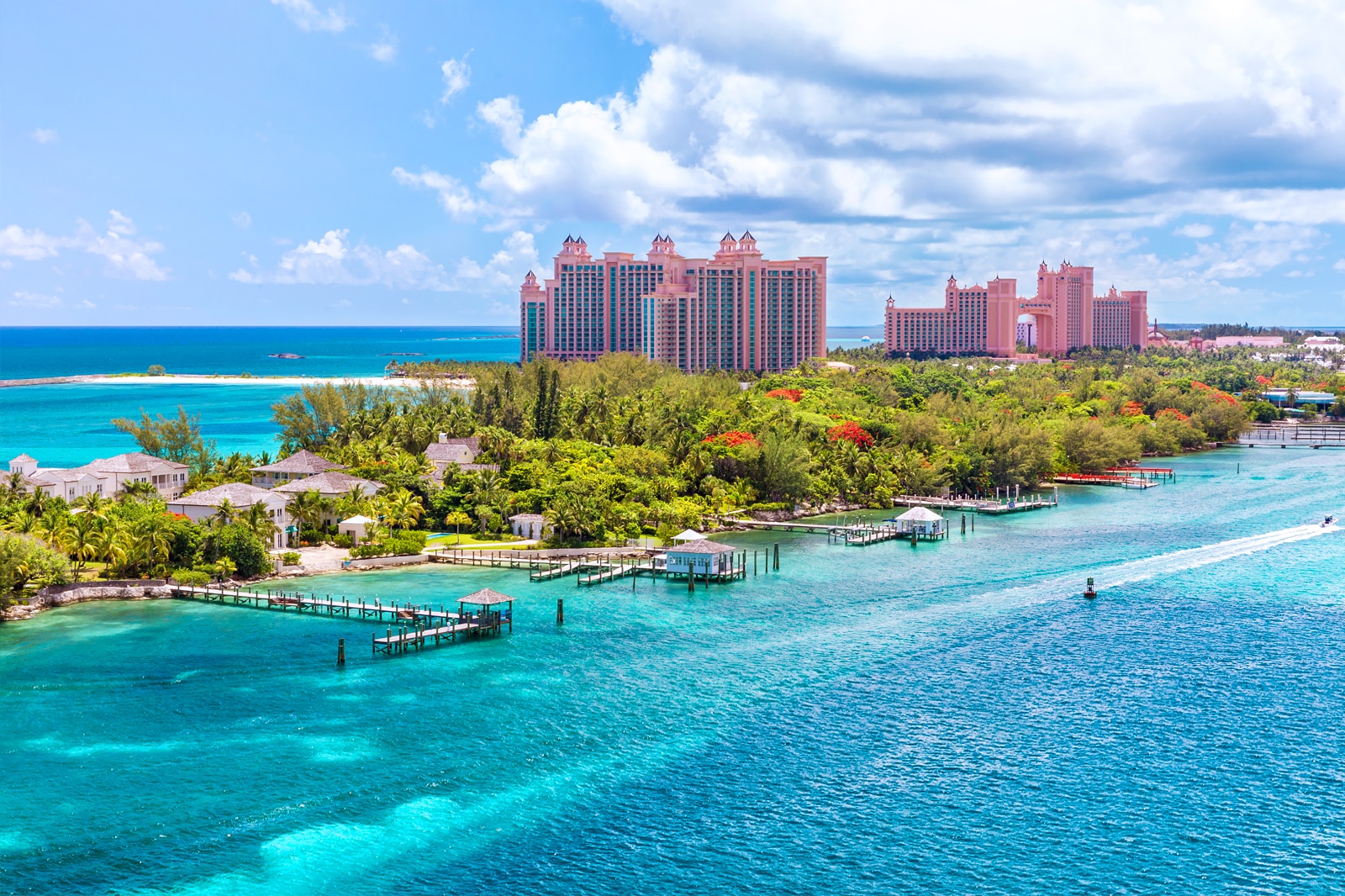 The Bahamas has approximately 700 smaller islands luring millions of visitors worldwide. It features white sandy shores, fishing spots, scuba diving excursions, duty-free shops, and beautiful accommodations. Most of the tourists coming to the Bahamas are lured to Paradise Island, Atlantis, and other resorts. But this chain of islands provides a wide range of activities and hotels.
If you love nature, you can visit the protected areas of Lucayan National Park, Leon Levy Native Plant Preserve, or have a relaxing day at any of the many private beaches. For history buffs, you can visit the ruins and find artifacts from the indigenous peoples and the colonial era. Cruise deals are offered all year-round, making the Bahamas a top-notch tourist destination for families.
The Cost of a Family Vacation to the Bahamas
A week-long vacation to the Bahamas costs around $4,550 for a family of four, including hotel accommodation, transportation costs, food, and other entertainment. Another factor is the time of year you go to the Bahamas. Your trip may be more or less costly than this general estimate. It's great to visit the Bahamas during the off-season because it's less expensive and less crowded.
Why not check out our guide to the best all-inclusive family resorts in the Bahamas for inspiration on where to stay?
Curaçao
The C in the ABC islands (Leeward Antilles) stands for Curaçao. It's known for its beautiful beaches tucked into coves, rugged landscapes, historic settlements, beautiful coral reefs, and plenty of fun activities under the sun.
Willemstad, the central port city of Curaçao, is known as the center of trade, tourism, banking, petroleum storage, and refining. The town has brightly painted Dutch-style colonial buildings, and once you leave the city, the scene shifts into a desert-like landscape.
However, the main attraction at Curaçao is the beautiful beaches, with magnificent bays, coves, turquoise waters, and powdery white sand. Additionally, it features gorgeous reefs that reveal underwater playgrounds for snorkelers and scuba divers. Finally, the island is protected from the worst effects of the hurricane season. With this, tourists can enjoy the place all year round.
The Cost of a Family Vacation to Curaçao
Going to Curaçao can get quite expensive, except from Amsterdam. But don't worry, because once you're there, most things are relatively cheaper compared to other Caribbean destinations. Usually, a week-long vacation to Curaçao costs around $1,800 per person. If you're traveling as a group, the price typically goes down per person. Food and drinks are generally inexpensive, and the island has a lot to offer with a reasonable price range.
The best time to visit the island is during the off-peak season, from May to November. During this time, you can find the lowest airfares and hotel accommodation rates that are about 50 percent lower than the high-season.
St. Kitts & Nevis
If you're looking for a more secluded destination in the southern Caribbean with a mix of magnificent landscapes and resorts of relaxation, these two luxurious twin islands, St. Kitts and Nevis, are what you're looking for.
St. Kitts has more outgoing vibes with its wide selection of hotels, bars, and restaurants. It's home to some of the world's best beaches, authentic Caribbean cuisine, and five-star hotels and resorts. St. Nevis, known as the Queen of the Caribees, is the birthplace of Alexander Hamilton. Many of its then sugar plantations became inns and atmospheric ruins today.
Seclusion is the number one reason why tourists are lured to these islands. However, other attractions include the sloping greens of Royal St. Kitts Golf Club, St. Kitts Carnival during winter, the annual music festival, Brimstone Hill Fortress, and St. Kitts Scenic Railway. If you want a beach escape, they offer good spots on white-sand oases, such as Frigate Bay and Oualie Beach.
The Cost of a Family Vacation to St. Kitts & Nevis
The cost of a family vacation to St. Kitts & Nevis is relatively moderate. Since most of the products in the islands are imported, it's more expensive to travel to St. Kitts & Nevis than to other Caribbean destinations.
A week-long vacation to St. Kitts & Nevis costs around $1,750 per person. The best time to visit the island is during the off-peak season, from May to June, when the hotels are at the lowest rates.
Budget Tips for Traveling to the Caribbean
It's possible to bring your family on vacation to the Caribbean without hurting your pocket too much. For less than $2,000, you can find great vacation deals for a family of four. This already includes a week-long stay at an all-inclusive property, food, and round-trip airfare. However, it would be best if you remembered to allot extra budget for some unexpected costs to cover, such as transportation and tips.
Depending on the accommodation you book, airfare options, and travel time, you may pay more or less. If you want to achieve that Caribbean trip of your dreams within budget, here are some of the best ways to save on the trip:
Look for Deals
Shop around for discount vacation packages from online websites. If you're lucky, you can find cheap deals with huge discounts.
Plan Your Itinerary Wisely
If you're on a budget, try not to be lured to the pricier Caribbean destinations, such as Grand Cayman, St. Barthelemy, and Anguilla. Instead, look around for spots like Jamaica, Ochos Rio, Riviera Maya, or the Dominican Republic, and your money can go further.
Avoid Peak Seasons
It's best to travel off-peak and avoid traveling during holidays and school breaks. The cheapest time to go to the Caribbean is from May through August. You can find great deals if you don't mind some rain showers during your getaway.
Look for Cheap Flights and Discount Airlines
You can check out Southwest Airlines for flights since they offer discounted rates with free checked bags per person.
Have Patience and Plan Early
Great deals may not be there right away, so ensure there is enough time to do some searches. Additionally, book and plan early so you can find discounts you're excited about.
Planning a Trip?
So, how much does it cost to go to the Caribbean? To recap, one of the best ways to save for the trip is to go all-inclusive. Planning and knowing how much you might need for the vacation help you avoid overspending. Thus, before booking your getaway to the Caribbean, do your research and find great deals. Otherwise, there might be extra charges after that dream vacation.
More about our TFVG Author
A seasoned traveller, Dad, and avid sports tourist, James foundered The Family Vacation Guide to share his expert vacation experiences- especially when it comes to being a travelling family man.
Featured in Travel articles such as Travel + Leisure, TripSavvy and SFGate, you know you're reading some of the best vacation tips online.