As a parent, your idea of a vacation might be relaxing on a warm beach with powdery sand and gazing out into a sparkling blue ocean. Your kids, however, probably crave some excitement in the mix. So lounging around all day won't exhaust their boundless energy level.
Fortunately, the Caribbean has it all: amazing beaches, all-inclusive resorts, and water parks that appeal to children of all ages.
We've rounded up 13 of the best water parks in the Caribbean. Of course, your heart may be set on a specific island or location, and if so, you can peruse the list below to find your ideal spot with a water park option.
If you're open to suggestions, you may decide where to vacation based on the exhilarating water fun you'll experience at one of these prime parks.
The Caribbean offers both natural beauty and modern convenience so that everyone will be a happy vacationer. Read on to find the perfect fit for your next family vacation.
1. Aquaventure at The Royal at Atlantis, Bahamas
If you're looking for an incredible waterscape with a wide variety of activities for all ages, check out the water park at The Royal at Atlantis in the Bahamas. Paradise Island's Aquaventure park has 141-acres of pools and water rides that will take you a full day to explore.
Aquaventure is a lush, tropical environment with 20 swimming areas, 11 swimming pools, a kids water-play fort, high-speed water slides, a mile-long river ride, and more.
Older kids will enjoy daring attractions like The Abyss 200-foot body slide, the Challenger, and the Leap of Faith. Younger ones will enjoy the Splashers Mayan-themed kid pool and slides where they can play safely but still have a blast.
The park is complimentary for overnight Atlantis guests, or you can purchase an Atlantis Day Pass to enjoy Aquaventure and other amenities. For a relaxing pause, consider a walk on the beach or renting a private cabana for the day.
2. Sugar Mill Falls Water Park, Jamaica
You'll find Sugar Mill Falls Water Park at the family-friendly Hilton Rose Hall Resort & Spa in Montego Bay, Jamaica. With 400 beachfront acres, this all-inclusive Caribbean resort offers unlimited outdoor fun coupled with modern conveniences.
The staff aims to provide parents with all the resources they need, such as children's menus, babysitting service, cribs, high chairs, and baby equipment.
Water park features include a 280-foot water slide, lagoons and waterfalls, and three terraced pools. Parents and kids can float in inner tubes along the lazy river or enjoy one of three secluded spa tubs.
The Hilton resort staff provide other perks like poolside concierge service, various daily family activities, and live music to complement the water fun.
3. Kool Runnings Water Park, Jamaica
Kool Runnings Adventure Park boasts a variety of water and land attractions, and it's more than just a water park. You'll find Kool Runnings in Negril, Jamaica.
You can jump into the park's nine water slides and other water attractions for your first bit of fun. Their signature slide is the Jamaica Bobsled, a tribute to the famous Jamaican Bobsled team, which you can ride in a single tube or with up to three people in a triple tube.
The Adventure Zone features attractions on land and water. This includes the Kayaking Adventure in a two-person kayak, Go-Kart racing, Outdoor Laser Combat with electronic-infrared head held transmitters, Jamboo Rafting (on a signature bamboo raft), Paintball Adventure, and 4Spin Human Gyroscope that simulates an outer space experience.
Onsite eating includes the Sweet Potato Grill, Knot Out Sports Bar, Kool Blendz Juice Bar, and the Dash-een Restaurant with fast food, grill items, and pizzas.
You can also grab a coffee or sweet treat at the Guava Jelly Cafe. Finally, be on the lookout for fun park events. The entertainment coordinators organize fun interactive games throughout the day, and in-house DJs bring live entertainment so your family can have a dance party.
4. Water Park at Memories Splash Punta Cana, Dominican Republic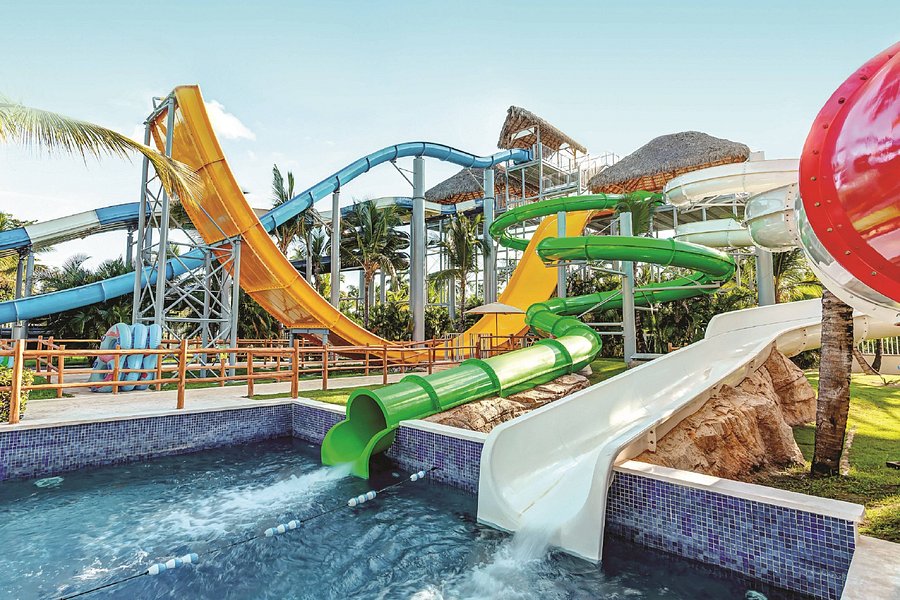 Memories Splash Punta Cana is an all-inclusive resort in the Dominican Republic that features fantastic attractions enjoyed by kids and adults.
This tropical resort is only a short walk from the pristine Bavaro Beach. The water park is a great spot to enjoy a few hours off the beach and keep children entertained.
Resort guests can enjoy unlimited access to the on-site water park. In addition, guests of neighboring hotels can look into day passes for park entry.
Activities at Splash Punta Cana include a wave pool, seven monster slides, inner tubes, and splash pads and spray grounds for smaller children. You can also swim the day away in one of the refreshing pools.
Note that you must remove all jewelry and cannot take any cameras on the rides. Also, there's no alcohol inside the park, as it caters to younger children, but attendees of all ages can enjoy a non-alcoholic drink as they lounge poolside.
5. CocoLand Water Park, St. Lucia
Coconut Bay has two experiences: Harmony, an adults-only oasis, and Splash, perfect for families. Splash has great activities for kids, including Cocoland, an animal sanctuary, kite surfing, paintball, and the Coconut Bay Water Park.
The Water Playground is a splash pad with spilling buckets, water cannons, and fountains perfect for toddlers and younger children.
The Coconut Coaster is a long slide with twists and turns, ending with a plunge into the pool for more adventurous family members. CocoLand's lazy river is perfect for both children and adults to lounge and enjoy the day.
You can find many excellent spots to chill in the sun or shade around CocoLand's pools, grassy areas, and the water playground. Then, for a thrilling ride, shoot down the enclosed Coconut Cannon, the fastest slide in the park.
6. Five Islands Water & Amusement Park, Trinidad & Tobago
If you're vacationing in Trinidad & Tobago, be sure to visit Five Islands Water & Amusement Park on Chagville Beach. The Five Islands team ensures strict safety protocols to keep employees and guests healthy. Visit their website to read more about park safety.
Five Islands has a vast number of attractions. Pirate's Bay caters to the younger crowd with over 13 slide experiences, sprayers, and splash pad fun.
The Hurricane Terrain contains thrilling water slides, which you must be 48 inches or over to enjoy. Also, for children over 48 inches, Mokoland takes the adrenaline up a notch with slides that are over 50 feet tall.
If you're not a fan of heights, visit Gundee Beach with its two interconnected wave pools. You can also float along the lazy river or visit the adult swim-up bar.
When you want a break from the water, Five Islands also features land attractions in the amusement park. You can participate in go-kart races, paintball, roller skating, climb the coconut tree, or enjoy a cocktail at the Wahoo Beach Bar.
7. Pirates Island Water Park, Turks & Caicos
Beaches Turks & Caicos resort features the incredible Pirates Island Water Park. The park is located near the back of the resort by the French Village.
It's a dream come true for kids! While still enjoying the natural beauty of the Caribbean, kids will also love the real-life pirate experience featured in the decor and attractions.
Kids can splash the day away in kid-friendly pools and the pirate-themed splash playground with geysers and water cannons perfect for younger kids.
For a relaxing experience, you can meander around the water park on the 650-foot lazy river journey, traveling through acres of idyllic tropical scenery.
If you want to turn the fun up a notch, try one of the gigantic waterslides. Older kids can also try out their surfing skills on the SurfStream Surf Simulator.
Fun in the sun isn't complete without a sweet treat, and kids will be eager to raid the swim-up bar serving ice cream, sodas, and frozen concoctions.
8. Splash Island Water Park, St. Lucia
The Splash Island Water Park is located on Reduit Beach on the northwest coast of St. Lucia. Splash Island Water Park is near the Bay Gardens Beach Resort & Spa in Rodney Bay, right in the middle of St. Lucia's natural beauty.
This unique park is literally a floating island of fun featuring water attractions and activities.
Splash Island has only been open since August 2015 and was the Caribbean's first open-water sports park. The obstacle course features include water volleyball, flip, double rocker, hurdles, swing, slide, monkey bars, a climbing wall, and a trampoline.
Safety is a priority on Splash Island. The water park is staffed with certified lifeguards, and all water park users must wear a life vest.
Note that there is an age limit for this water park: all users must be at least six years of age. The park also has safety precautions in place to mitigate the spread of disease and keep everyone healthy.
9. Jewel Lagoon Water Park, Jamaica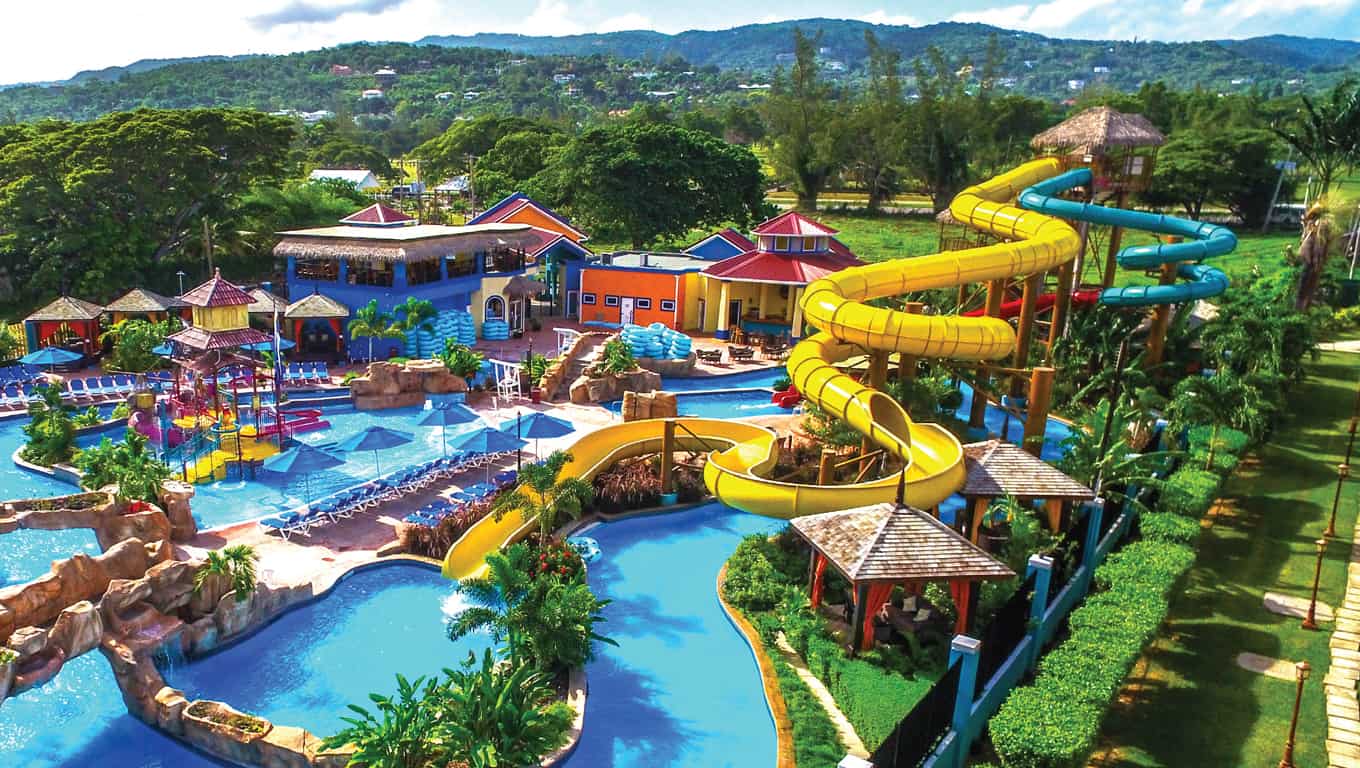 You'll feel like a kid again at the Jewel Lagoon Water Park in Jamaica, featuring attractions for toddlers, teens, and all kids in between. You can purchase a Day Pass to enjoy the park any time of year from 10:30 a.m. to 6:00 p.m.
The family raft ride is perfect for bonding and making memories together, and the lazy river with a rock grotto and waterfalls is also a spectacular experience.
Water attractions include a zero-entry beach lagoon with geysers, two splash-down pools, a kids gang slide, a speed slide, and a multi-level kids slide and splash zone.
Other attractions at the water park include a 5,000 square foot oceanfront sundeck, a dining area with a full-service bar and grill, the Pirates snow cone hut, and a stage with daily music. Make a day of it and use the private lockers and cabanas for rent.
10. Aqua Nick
Do you love Spongebob and other beloved Nickelodeon characters? Well, Aqua Nick Punta Cana is a unique experience combining Nickelodeon themes with the natural beauty of the Caribbean beaches.
This all-inclusive Karisma hotel in the Dominican Republic features a Gourmet Inclusive experience and a wide variety of fun activities for kids (and adults).
It's not Nickelodeon without some slime, and you won't want to miss the Mass Sliming or poolside Slime Time photo opportunity. Then, after getting nice and slimy, you can wash off in the water slides, splash pads, and spray grounds or chill in the lazy river.
Next door to Aqua Nick water park, you'll find Plaza Orange entertainment, Character Central, and Club Nick free play clubhouse and artist studio.
11. Splash Park Aruba
If you like the look of Splash Island, but you're headed to Aruba, then you're in luck! Splash Park Aruba is a similar inflatable park with obstacle attractions located just off Surfside Beach. This floating jungle gym will provide fun and challenges for kids and adults.
Their slogan is, "Ocean fun in the sun! Our mission is to provide healthy fun for the family, we want every person who visits our park to enjoy a unique experience with innovative water attractions in Aruba."
You can purchase a Water Park Magic pass for one hour of fun on the Ocean Floats or get the Surfside Beach Experience which includes shuttle service and two hours of fun at the park.
12. Ocean World, Dominican Republic
Ocean World Adventure Park in the Dominican Republic provides the opportunity to get close to nature. The Ocean World interactive marine park is three miles west of Puerto Plato in Confresi Beach on the beautiful ocean.
Ocean World does have water slides, but the main attraction is swimming with dolphins, where you can hug, pet, and feed these intelligent and friendly animals.
You can also participate in Sea Lion, and Shark Encounters guided by expert staff members. If you want to go even deeper, you can invest in the Dolphin Trainer for a day experience to understand the life of a dolphin inside and out.
Visitors with the day pass can snorkel in the reef aquarium, feed exotic birds, walk through a tropical rainforest, learn more about marine mammals, and watch fantastic animal shows.
13. Sirenis Aquagames, Dominican Republic
Sirenis Aquagames is a water park covering 12,000 square meters part of the Grand Sirenis Punta Cana Resort.
The water park is not only for hotel guests but also open to other vacationers. So spend the whole day enjoying the restaurant area serving hamburgers, pizza, and grill items.
Sirenis Aquagames features a large swimming pool in the central area and guarantees fun for the whole family. The ten-meter high tower has thrilling slides with water tubes, open toboggans, kamikaze, the free fall, and an open four-lane aqua racer speed slide.
Younger children two to four years old can enjoy the children's swimming pool with animal statues and a water sprinkler.
For more mature kids, four to 11 years old, the children's area with water jets and sprinklers is tons of fun, and they can also enjoy the Caribbean Pirates-themed area with ten water slides and four splash barrels.
Visit One of the Top Caribbean Water Parks
A Caribbean vacation is an experience your family will remember forever. Adding a water park to the mix will enhance the fun factor and ensure your kids fall into bed at night tired but content.
These water parks feature fun activities that appeal to thrill-seekers and those who want to chill, from toddlers to teenagers to parents.
Other fantastic water parks to consider for some family fun
If you're hoping to find some more of the best water parks, our round-up below will be the perfect place to start.
More about our TFVG Author
A seasoned traveller, Dad, and avid sports tourist, James foundered The Family Vacation Guide to share his expert vacation experiences- especially when it comes to being a travelling family man.
Featured in Travel articles such as Travel + Leisure, TripSavvy and SFGate, you know you're reading some of the best vacation tips online.