Is there anything better than spending time in the sun and water during the summer? Whether you're a kid or a kid at heart, water parks are an excellent way to spend a hot summer's day.
Whether you live in Maryland or are planning on spending some time there over the summer, you'll have your pick of water parks to visit. Before you head out for the day, take a look at eight of the best water parks in Maryland.
Approximately 35 miles from Washington D.C. is the waterfront down to Chesapeake Beach, Maryland. This small beach town is right on the Chesapeake Bay, and for those who aren't interested in spending time at the beach has one of the best water parks in Maryland.
Chesapeake Beach Water Park first opened to locals and visitors in 1995 and has remained one of the best places to spend a warm day in the entire state. While you're adventuring around the water park, you'll have some of the best views of the Chesapeake Bay.
One of the best things about this water park is that it's family-friendly. There's something for everyone of all ages to enjoy while visiting. There are eight water slides, plenty of waterfalls, and a lagoon for swimming. There's a zero-entry kids' pool that the little ones will love and a lazy river for those who want to float without a care in the world.
The park is open from Memorial Day through Labor Day, so you'll want to visit while you can. They offer summer camp for the kids, plenty of lounging areas to catch a tan, and a restaurant that has kid-friendly options, so you stay the whole day.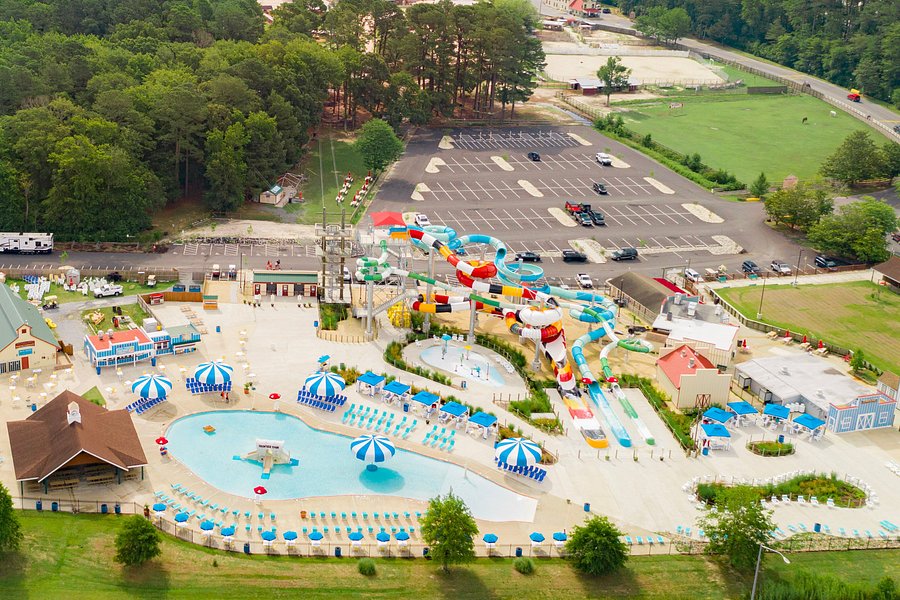 If you're looking for a great water park to visit that's on the other side of the state, Frontier Town Water Park is fantastic. Frontier Town Water Park is in Berlin, Maryland, which is over 100 miles from Annapolis.
Frontier Town is a water and amusement park that has an old western theme that resembles the 1880s old west. In addition to all the attractions, the theme makes this a great place where you can make memories that will last a lifetime with your friends and family.
There is the beloved lazy river, a shallow wading pool that has wagons and sprays features, and plenty of slides to enjoy. They have calm and family-friendly slides, and they have a few that are for the more adventurous person. These include the Red Bird's Mountain and Tubin' Fumes.
If you want to let the kids frolic and play in the water, but you don't want to get wet, you can kick back and relax in one of their lounge chairs. When you need a break from the water, they have a mini-golf course and ropes course you can use.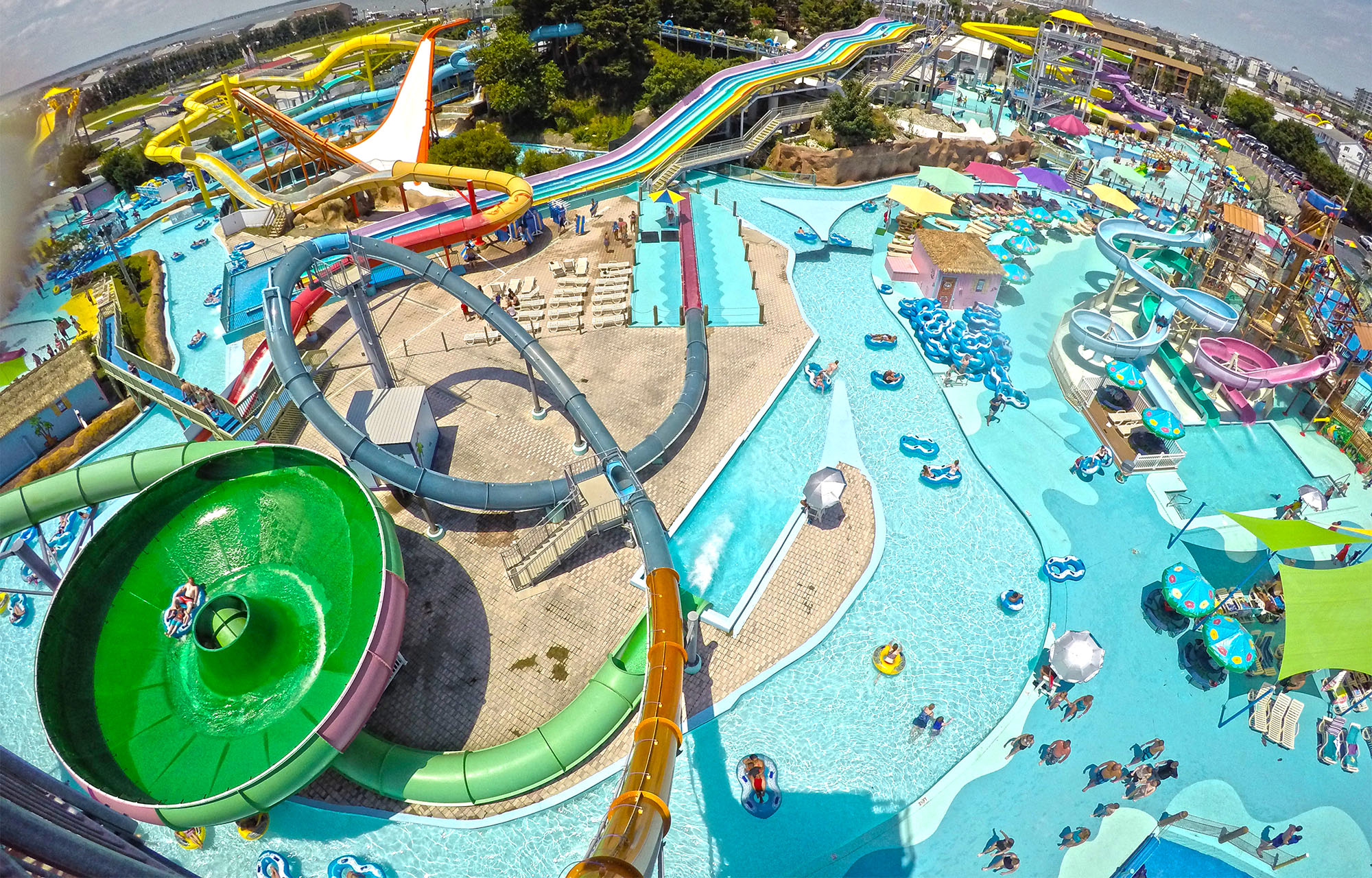 Ocean City, Maryland, is one of the most popular places to vacation during the summer in the state. Besides the beautiful Atlantic beach, the famous Splash Mountain Water Park is for all your water fun.
Of all the water parks in Maryland, this is one you have to visit at least once in your lifetime. It's massive and is situated right on the boardwalk, surrounded by other fun things to do throughout your vacation. It also has some of the most unique water rides of all the water parks in the state.
For the adrenaline junkies, you'll love their Aqualoop. It has a 360-degree loop, and there are several other exhilarating slides to ride. There are 45 feet tall slides, slides that require a tube, and an 80 feet slide with several twists and loops.
Even if you don't like fast-paced or thrilling rides, there's something for you here. There's a large pool you can wade in or swim. There are also some kid areas that the little ones will love playing in. There are also plenty of places to sit and call home base while you wander around and play all day.
Don't forget to visit the restaurant for a souvenir cup and something delicious to eat. It'll help keep you full throughout the day and allow you to experience everything without getting too tired.
Northwest of Washington D.C and about 40 miles from Baltimore is Gaithersburg, Maryland. This large suburban area is close enough to the hustle and bustle of larger cities but quiet enough that not everyone comes to visit here.
If you're looking for a water park that's not one of the most obvious choices, the City of Gaithersburg Water Park is a great option. The water park sits on the south side of Bohrer Park and is the best way to beat the summer heat in the area.
The City of Gaithersburg Water Park is smaller than some of the others mentioned on this list, but it's still worth a visit. When you walk in, you'll find a large recreational swimming pool. There's plenty of room for families to swim and play without being on top of one another.
The best part about this pool is that it has a zero-depth entry, so young visitors can quickly get into the pool too. The water park has plenty of palm trees and tropical decor, including some floating animals. There's a splash pool where you can't avoid getting wet.
They have one large water slide that almost everyone can enjoy. If you need a break from all the water fun, there are areas where you can rest in the shade or work on your tan.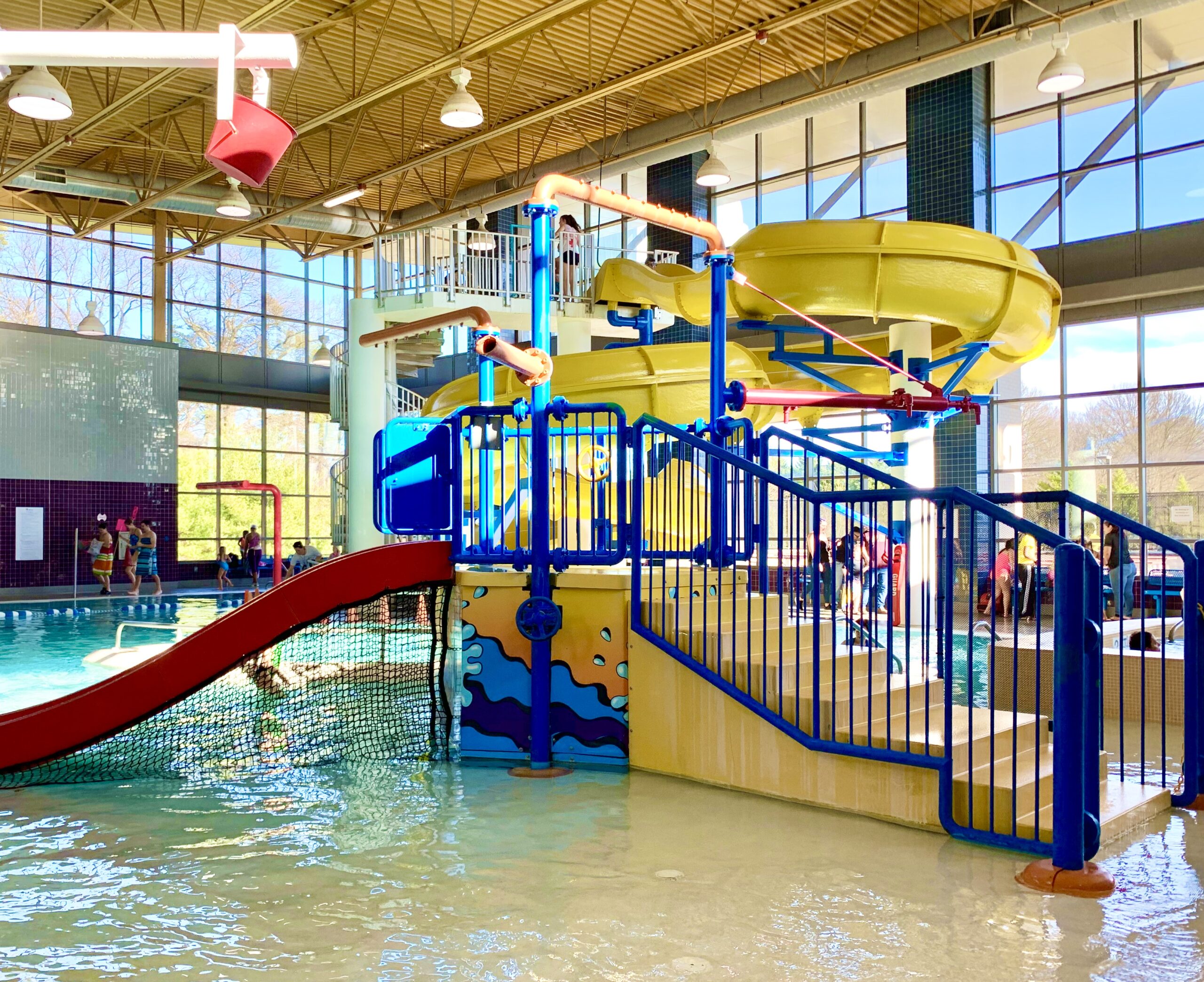 About 14 miles from Baltimore is the city of Glen Burnie, Maryland. This suburban area is home to a fabulous aquatic center and water park. The North Arundel Aquatic Center is on the outskirts of town and a great place to have some water fun.
Depending on how you look at it, the best or worst part is that this center is indoors. This means you can use it regardless of the time of year. In the winter, they make sure the water is warm enough to still be enjoyable, and during the summer, you don't need to worry about getting a sunburn.
The North Arundel Aquatic Center has a massive, eight-lane swimming pool for those who want to show off their athleticism and practice swimming laps. They have another 25-yard pool that competitions are hosted at and a standard pool with a zero-depth entry for playing and hanging out with friends or family.
Even though it's indoors, you'll find some water slides. There's a 134 feet water slide for those who aren't scared of heights and a preschool water slide for the young ones. If you're over 18 years old, you'll want to check out their adults-only hot tubs.
It's probably safe to say that everyone has heard of Six Flags America. This famous amusement park has locations throughout the country, and there's one in Bowie, Maryland. Besides their roller coasters and Looney Tunes themed rides, they have a water park on the property.
If you're looking on a map of the park for the water rides and attractions, you'll need to look for Hurricane Harbor. This entire area or neighborhood of the park is centered around various water attractions and rides.
One of the attractions everyone loves is its 800,000-gallon wave pool. You can get closer to the waves for an exhilarating experience or stay closer to the shallows where the waves aren't as large. Either way, people of all ages love spending time in the pool.
Other than their wave pool, they have over 25 water slides for you to try. Some are for older kids and adults, while some are made for the little ones. Some of the attractions you can't miss while you're here are the Bahama Blast, Hurricane Bay, and Halfpipe.
Want to know more about Six Flags? Our ultimate guide to Six Flags locations in the US should come in handy.
Hampstead, Maryland, is less than 30 miles north of Baltimore, close to the Pennsylvania border. In the small town of Hampstead is Cascade Lake. This is a different type of water park than you're probably used to thinking of, but the lake offers more than just swimming in the beautiful water.
Cascade Lake is a spring-fed lake that people flock to when the weather gets warm for fun in the sun. The lake's park stretches for more than 70-acres and is one of the most beautiful places to spend time. You can see mountains, forests, and of course, the lake.
The swimming area of the lake is exciting. There are several water slides to plunge you into the water and platforms for you to jump off of into the spring water below. For the smaller visitors, there's a playground with water features.
You can also rent paddle boards or tubes to use in the lake. When you need a break from the water and sun, you can head to the cafe within the park and grab a bite to eat. They also have a souvenir shop that you'll have to visit before leaving.
If you drive 12 miles south of Chesapeake Beach, you'll reach Frederick, Maryland. When you're craving some water fun in town, you can visit Edward T. Hall Aquatic Center. This massive indoor aquatic center allows for water fun, regardless of what the weather is like outside.
Edward T. Hall Aquatic Center has something for everyone. They have a heated pool that is enjoyable to swim in, another area with diving boards, and a lap pool for those who want to practice. The leisure pool is the one that's heated and perfect for people of all ages.
For the kiddos, they have an area dedicated just for them. They can use the small slides, swim with a lifeguard watching over them, and play in the splash pad with water buckets.
If you want a little bit of time away from the kids, they have an adults-only area. It includes a spa and hot tub, plus a therapy pool for older adults.
Final Thoughts
Splashing around in a pool, sliding down adventurous water slides, or floating in a lazy river make for the perfect summer day in the sun. While Maryland may not be the first place that pops into your mind when you think of a great water park day, there's more than enough to choose from this list of the best water parks in Maryland.
Whether you're staying on the coast, inland, or looking for a larger water park to spend time at, you'll find your next water park adventure in Maryland.
Other fantastic water parks to consider for some family fun
If you're hoping to find some more of the best water parks, our round-up below will be the perfect place to start.
More about our TFVG Author
A seasoned traveller, Dad, and avid sports tourist, James foundered The Family Vacation Guide to share his expert vacation experiences- especially when it comes to being a travelling family man.
Featured in Travel articles such as Travel + Leisure, TripSavvy and SFGate, you know you're reading some of the best vacation tips online.