Oklahoma has lots of great attractions, from great museums to gorgeous green spaces. But there's no better way to spend an action-packed family vacation than at one of the state's great water parks.
From exhilarating slides taller than most buildings and exciting water playgrounds to animal adventures and fantastic food, Oklahoma's water parks are perfect destinations.
Whether you live in the state or are just visiting, keep reading for the best water parks in Oklahoma!
Water-Zoo Indoor Water Park – Clinton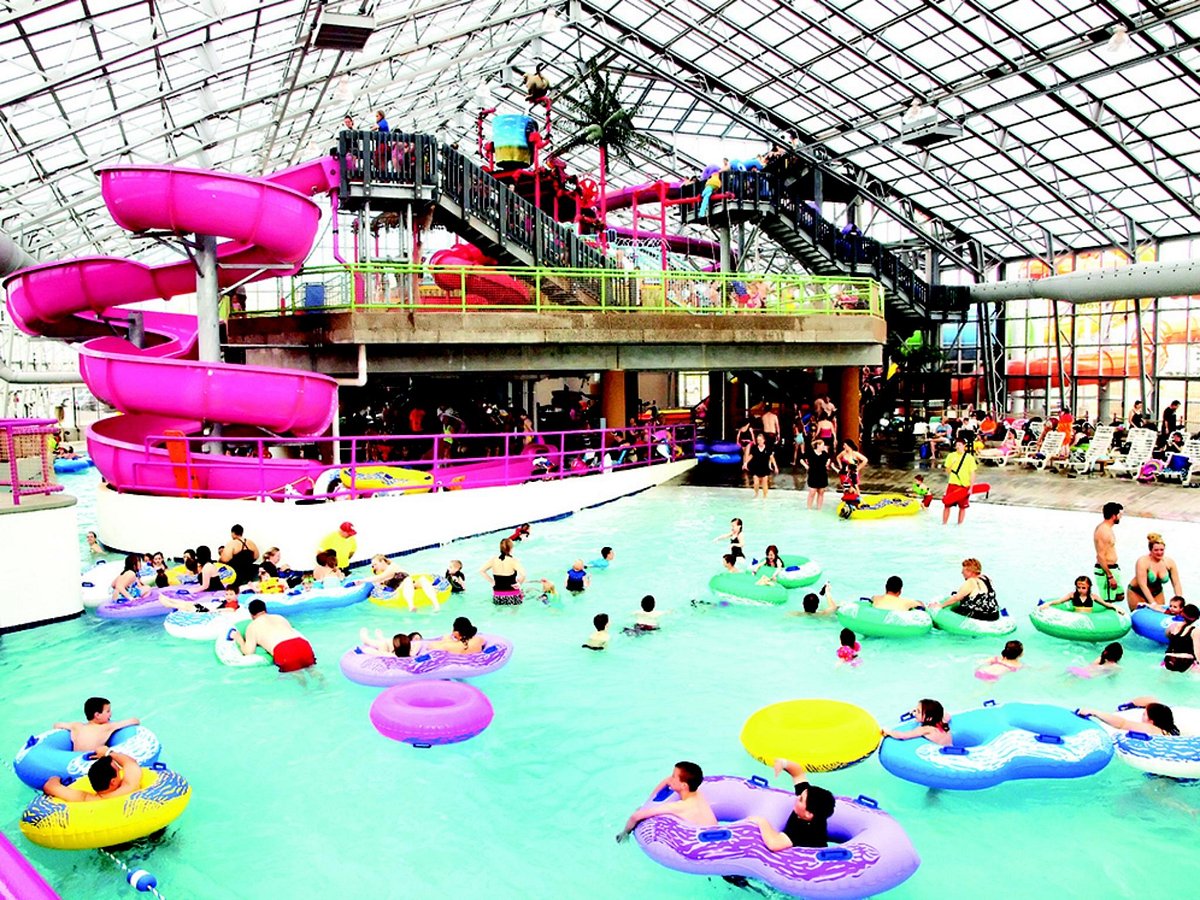 As the first indoor water park in Oklahoma, Water-Zoo Indoor Water Park knows how to bring the fun. Located right outside of the Clinton Regional Airport in Western Oklahoma, you can easily make a whole vacation out of this park.
For those who want some adventure, they can try out the Water-Zoo's four-story water slide. One of them even includes an outside Tornado-Bowl.
If you prefer some relaxation, you can take a dip in the 400-foot lazy river or hang out on a lounge chair or a private cabaña.
Young kids can have fun too as they play in Cub's Cove, which has a splash pool and tons of fountains. Or, they can try out one of the park's smaller waterslides.
And, of course, the park also has delicious food so that you won't go hungry while you're playing. Options at the on-site cafeteria include pizza, burgers, hot dogs, and nachos.
Water-Zoo even has its own lodging, so the fun doesn't have to end. You can choose between renting a room at the Hampton Inn or staying at the campground. Both of these options are right outside of the park.
Six Flags Hurricane Harbor – Oklahoma City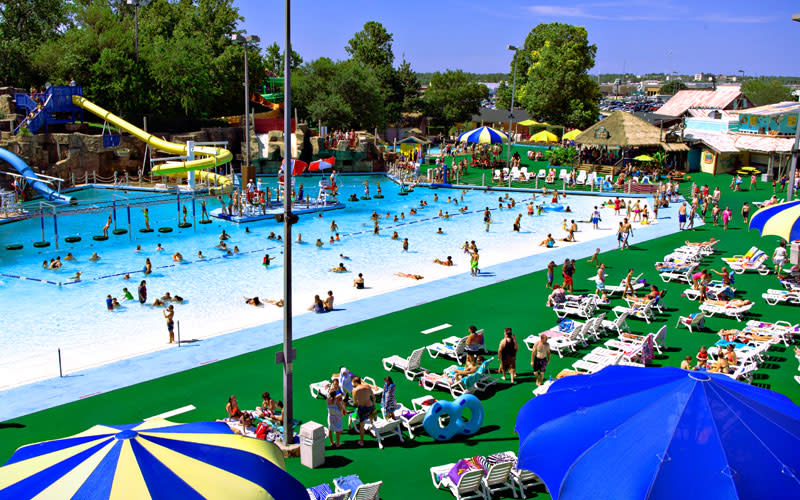 Conveniently located in Oklahoma City, Six Flags Hurricane Harbor is definitely one of the best water parks in Oklahoma. This park holds so many things to do that no one can get bored here.
Older patrons and thrill-seekers will enjoy rides like the Bermuda Triangle, a three-story water slide with plenty of twists and turns. Or, they can try out the Dive Bomb free-fall slide, the largest slide in the park, that will take you zooming from breathtaking heights.
You can also sample attractions suitable for the whole family like Hurricane Bay, a huge wave pool containing half a million gallons of water. And, of course, there's Castaway Creek, the park's lazy river.
This Six Flags park also has plenty of food options so that you can fill up on some good eats during your stay. If you're looking for treats, you can try Papaya Pete's Sweets, where you can get desserts like fresh fudge and caramel apples. However, if you want something more substantial, there are nine other food locations to choose from, and they serve items ranging from pizza, boneless wings, and corn dogs.
And, just like all Six Flags locations, there are also places to shop so you can bring home a souvenir.
Finally, especially if you are visiting, don't forget about other great things to do in the city, like walking through the First Americans Museum or seeing the animals at the Oklahoma City Zoo's Sanctuary Asia.
The Station at Central Park – Moore
Just south of Oklahoma City sits The Station at Central Park in Moore, Oklahoma.
The center's top attraction is its three slides. Two of which will take you 25 feet above the ground for a thrilling ride before emptying you out directly into the lazy river. Similarly, the Green Body Speed Slide towers 32 feet and takes patrons on a 320-foot adventure.
However, younger kids don't have to miss out on the fun. There's an extra-wide family slide as well that allows two people to venture down together so that toddlers can feel the rush of excitement too.
Plus, those who want to practice their diving or just want to feel the rush of free-falling 14 feet into the waiting water can try one of the center's two diving boards.
Meanwhile, children seven years old and younger can have a safe time exploring the water in the kiddie pool that includes a child-proof gate. Here, young kids can splash around in the pool that doesn't get any more than one foot deep. This area also has water sprayers and a spill tower so that kids never get bored.
Finally, the park includes a 439-foot lazy river if you want to relax and a five-lane lap pool for those who want to get some exercise.
Then, when you're done with the water or for those who don't like to get wet, the park has a recreation center that includes basketball courts, a track, and a fitness area.
Safari Joe's H2O Water and Adventure Park – Tulsa
A park with plenty of fun, Safari Joe's H2O Water and Adventure Park doesn't just have fun water adventures but also includes a bar, boutique, and reptile center.
The water park portion of the center has lots of fun adventures, such as Raptor Rapids, which is Oklahoma's only water roller coaster. There's also the Mermaid Mountain and Reptile Rush, where you can speed down four-story slides and enjoy some of the fastest descents in the area.
Additionally, you can take a slow ride down Rex's River or lounge in the 24,000 square foot Shark Beach Wave Pool. Meanwhile, smaller children can climb on the structures in Tiny Turtle Lagoon or splash around in Big Foot Bay.
For those who don't want to get wet or want to take some time to dry off in the sun, they can play volleyball, basketball, or explore the Adventure Playset.
Or, you and the family can always take some time to see all of the park's animals, like tarantulas, parrots, and emus.
For a yummy break, you can venture over to one of the park's eight eateries. For a whole meal, try out burgers at the Shark Beach Grill, burritos at the Ocean View Cafe, or fried cheese at Karen's Concessions. If you're craving something that will cool you down, you can eat some Dippin Dots or shaved ice.
The site even has the Shark Beach Bar, where adults can sip on a beer or fruity drinks for ultimate relaxation.
River Country Water Park – Muskogee
Right in the city of Muskogee lies one of the best water parks in eastern Oklahoma, not far from Arkansas and Missouri. River Country Water Park has everything that you can want from a water park with the added benefit of being nestled in one of the most beautiful areas of the Midwestern plains.
Little ones will adore Crawdad Corner, an interactive water playground that anyone can access. There's also Frog Pond, the main pool filled with a massive 100,000 gallons of water.
For those addicted to water slides, there are two giant slides at Whoop'n Holler Hollow, where patrons can try to guess where all the twists and turns are. Or, those who like a challenge can attempt the Gator Walk, where you have to balance across lily pads. But beware, making it to the end is harder than it looks.
The park also has a sandy volleyball court called the Sand Storm. Here, everyone can try out their athletic skills by battling it out to see who is the superior team.
Finally, stop by the Bait Shop, but not for fishing gear. Instead, this concession stand offers guests delicious food, and you can even get a full meal so you can re-energize after an entire day of fun.
Comanche Nation Water Park – Lawton
Southwest of Oklahoma City and not far from the Texas border lies the Comanche Nation Water Park. Spread across twelve acres, Comanche Nation Water Park is one of the most thrilling family centers in the area.
Comanche Nation Water Park contains nine waterslides, four of them rising to exhilarating heights. The most popular of these slides ends inside a bowl that takes you rocketing up its sides. There are also two 69 foot speed slides where you can race your friends to the bottom.
The park also has a large wave pool and a lazy river for those not too keen on thrills. Similarly, there are plenty of playground structures and a kiddie pool so that the little ones don't feel left out.
But water adventures aren't all the park has to offer. You can also explore the Nation of Fun, a bounce center with video games and a giant play gym.
Additionally, there's a food court inside the water park that offers daily and weekly specials.
Plus, don't forget to check out the city of Lawton while you're there. As the headquarters of the Comanche Nation, you should stop by the Comanche National Museum and Cultural Center to get to know the people that this park is named after.
Parting Words
If you are wondering which water park in Oklahoma is the best for you to visit, there isn't a clear answer. They all have adventures for everyone in the family, so you can pick whichever seems the most interesting to you.
So, take your pick, pack those bathing suits, and get ready for some watery fun in Oklahoma!
Other fantastic water parks to consider for some family fun
If you're hoping to find some more of the best water parks, our round-up below will be the perfect place to start.
More about our TFVG Author
A seasoned traveller, Dad, and avid sports tourist, James foundered The Family Vacation Guide to share his expert vacation experiences- especially when it comes to being a travelling family man.
Featured in Travel articles such as Travel + Leisure, TripSavvy and SFGate, you know you're reading some of the best vacation tips online.